Steaks, ribs and burgers are the specialties of The Grilll Shack (yes that's Grilll spelled with 3 L's) in Dubai Mall and we got to experience these when we visited the restaurant on a Sunday. Located at the food court of the mall, The Grilll Shack primarily offers a meaty menu in a casual and industrial style set-up. We got a seat that overlook the Dubai Ice Rink.
They have an open style kitchen which makes for an interesting visual treat when you watch the huge steaks and meat being grilled on display.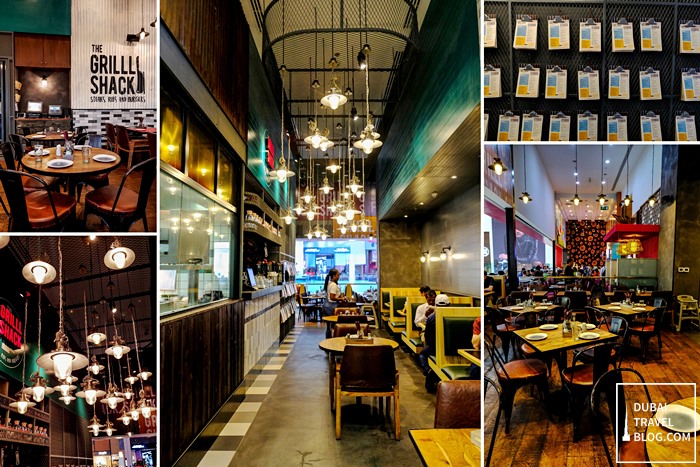 inside the restaurant – industrial design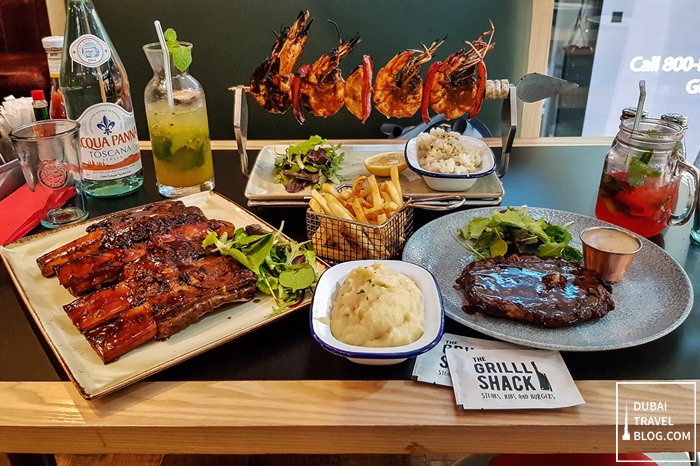 ribs, steaks, burgers and more
Restaurant Review: The Grilll Shack – Steaks, Ribs & Burgers
The Grilll Shack is homegrown in Dubai and upon settling in our table, the staff gave each of us an iPad to scan the menu. They have a digital interactive menu where you can immediately see pictures of the food and makes for an easier visual of what you're going to expect. But even with the photos on display, I was not expecting the food to be as huge when they arrived.
While the restaurant offers steaks as the main items, they also offer chicken, seafood and burrito, and burgers on its menu.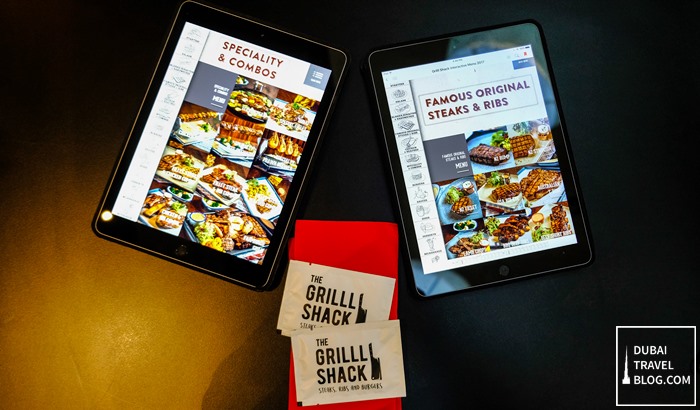 interactive menu on iPads
Starters
For starters, there were a few items that sounded interesting such as the chilli prawns and the calamari. I also wanted to get a piece of the cheetos chicken and the short ribs spring rolls. We ended up ordering the appetizer platter as it included a bit of most of the starter items.
For our drinks, the staff recommended us to try their homemade lemonade called Passion Gingerada which was really refreshing. We also ordered a strawberry mojito.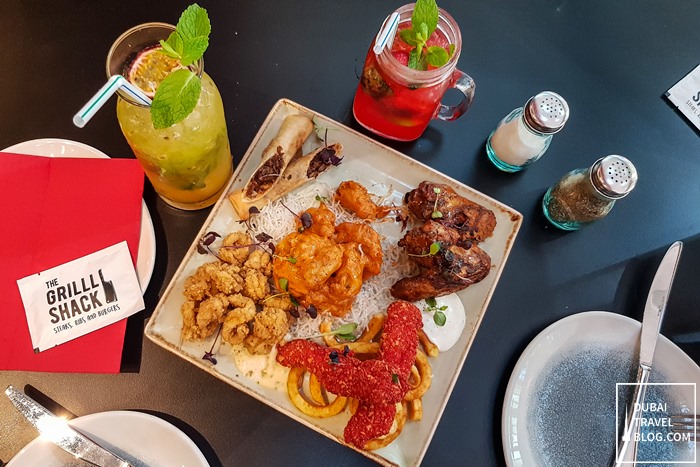 Tasty Platter-Sharing – 137 AED
Chicken wings, Crispy Fried Salt & Pepper Calamari, Sriarha Chilli Prawns, Short Rib Spring Roll, Cheetos Chickent Tenders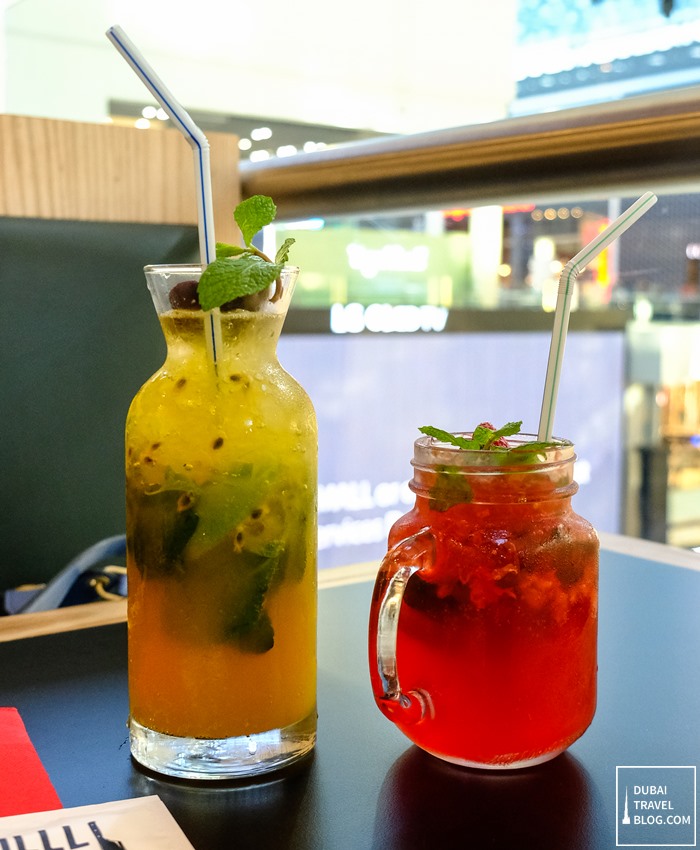 Strawberry Mojito – 30 AED
Passion Gingerada Lemonade – 62 AED
Main Course
On to the main course, I ordered the BBQ Beef ribs (full rack) which was quite a lot. I was surprised when it the staff brought the food to our table just for the enormity of it. The Grilll Shack is American at the core, with influences of food from across the globe. Hence the servings are big.
My wife ordered a rib-eye steak, very tasty meal that really paired great with the mushroom sauce. We also ordered garlic & chilli prawns as it really looked good and we initially thought that the prawns were 'bite-size'.
Note: Please don't be fooled by the photos on the menu. They may look 'okay' in servings but they're actually quite huge that after already having a good share of the food, ended up bringing them as takeaways.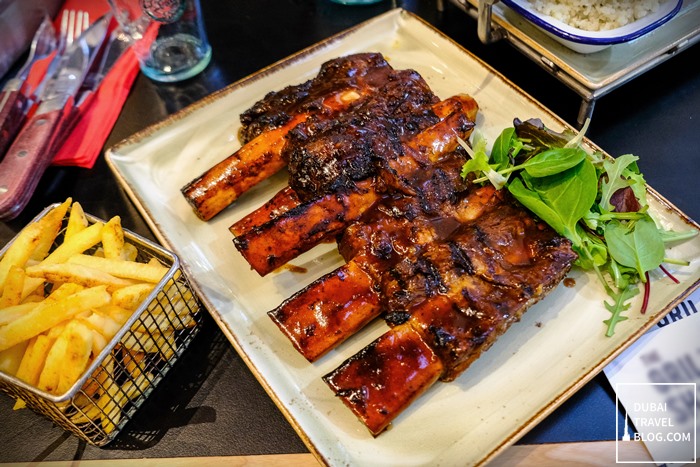 USA RIB EYE – 163 AED
Prime US Rib-eye flame-grilled with their unique basting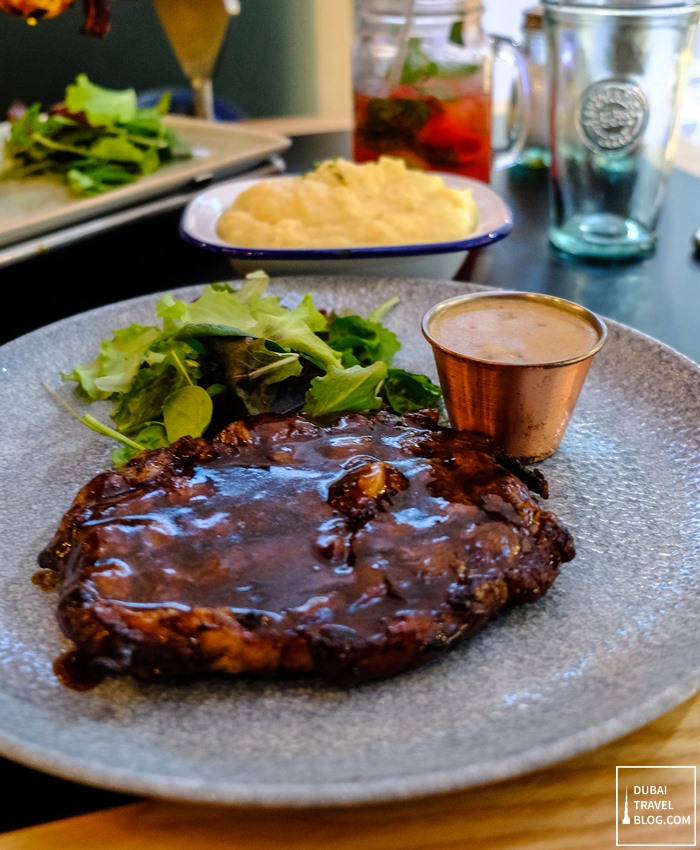 BBQ Beef Ribs – 168 AED
Huge, mighty meaty ribes, specially marinated & dipped in their secret rib basting.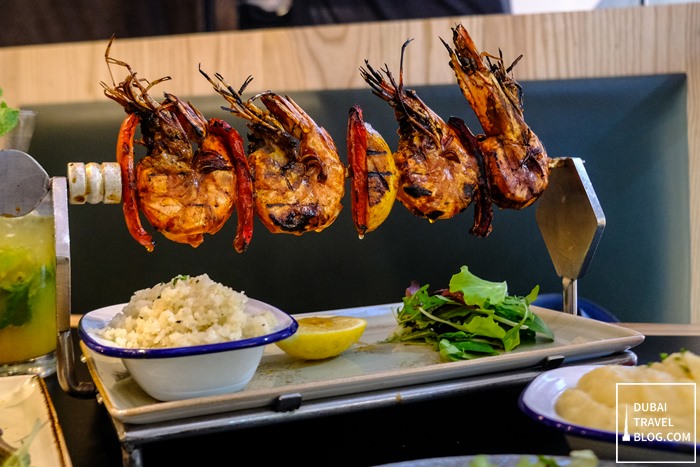 Garlic & Chilli Prawns – 116 AED
20/30 prawns grilled, tossed in Chef's special spices & Peri Peri sweet chilli sauce, served with garlic rice and fresh greens.
Dessert
Lastly for dessert, The Grilll Shack offers 3 desserts: date & toffee pudding, hot choco brownies and cheesecake. However, I was eyeing myself for some cake milkshake when I saw the beverage list, and ended up ordering one. They have a variety of cake shakes available and I ordered the cheesecake topping with sprinkles.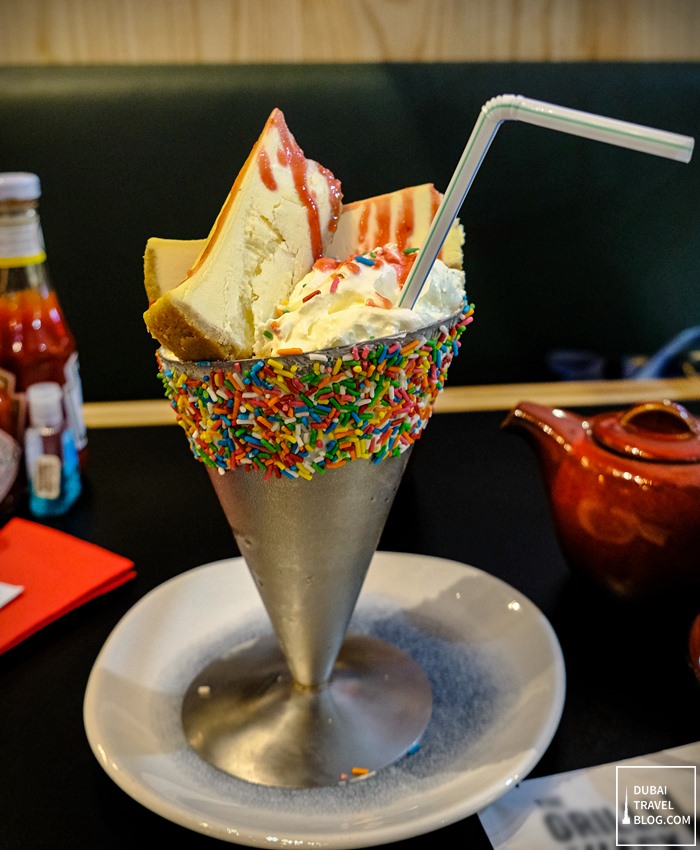 Cheesecake Milkshake – 41 AED
Vanilla Milkshake topped with slice of cheesecake
Check out this short video clip I made about the cheesecake milkshake:
We were glad that we didn't stuff ourselves in finishing the food items and ended up bringing some home instead. So try not to take the food lightly when you see the pictures on their menu. The Grilll Shack offers packed dishes that will surely satiate any hungry stomach.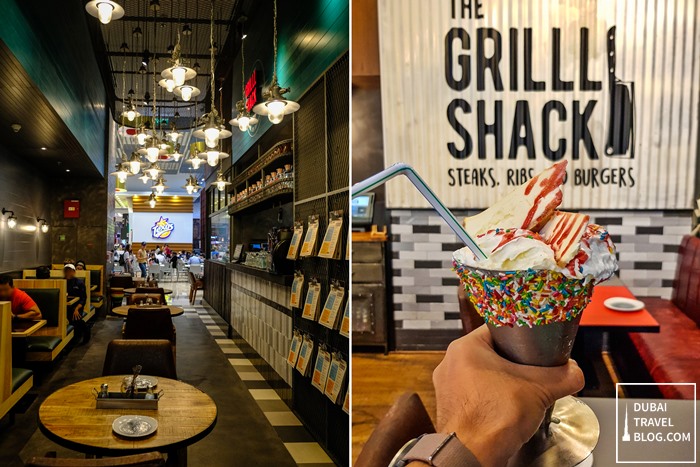 dining area – the grilll shack
Video: The Grilll Shack Dubai Mall
Here's a video of our experience at The Grilll Shack.
Contact Information
Location: Grill Shack / Level: Second Floor / Parking: Cinema Parking (Green), P7
Phone Number: +971-4-388-2382
Website: http://www.thegrilllshack.com
Instagram:
Google Map Location: The Grilll Shack
The Grilll Shack is located at the food court (2nd level) of Dubai Mall. Here's a map guide to take you to the mall.