We dined during the Grilled theme night of the Fountain Restaurant in Movenpick Hotel Bur Dubai. I've visited before during their Friday Art of Brunch in Fountain restaurant and that event was surely a satisfying one that I immediately agreed to visiting the hotel again to sample their Grill Night.
We arrived before 7pm when the chefs and staff were doing final touches of the display in the food stations. I remember that they carefully decorate the food and make it a point to present their dishes in a creative manner that is also pleasing to the eyes.
our grilled food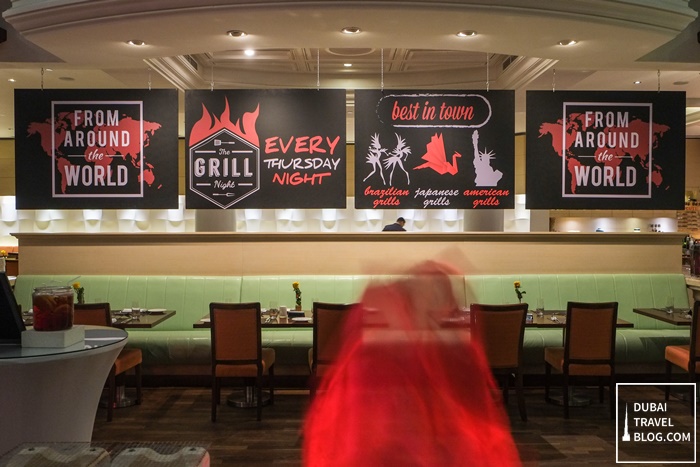 Grill Night Every Thursday Night
Fountain Restaurant Review: Thursday Grill Night
The concept of the Grill Night is that they offer various meat and seafood for you to pick so the chef can grill it for you. As you wait for your chosen food to be grilled, you can enjoy some servings of salads and appetizers, grab various potatoes (fried, mashed, baked, etc.), help yourself with some cold cuts or soups, or even start enjoying some roasted beef or lamb and other main menu items like short ribs and sausages.
I kept coming back and forth the potatoes section so I could grab some servings of curly fries and sweet potato fries.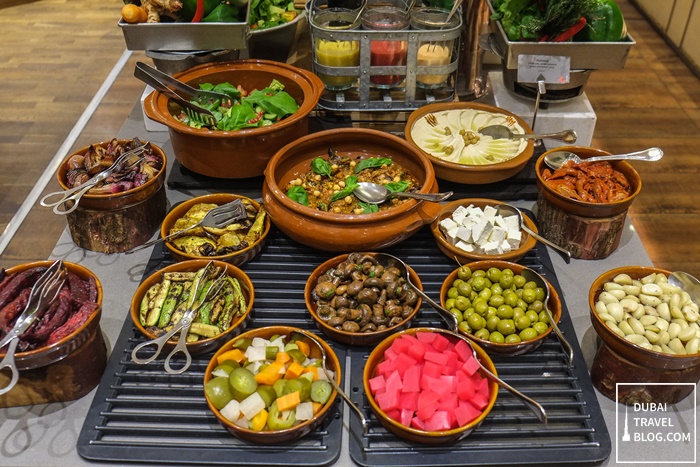 Arabic appetizers
salads etc.
short ribs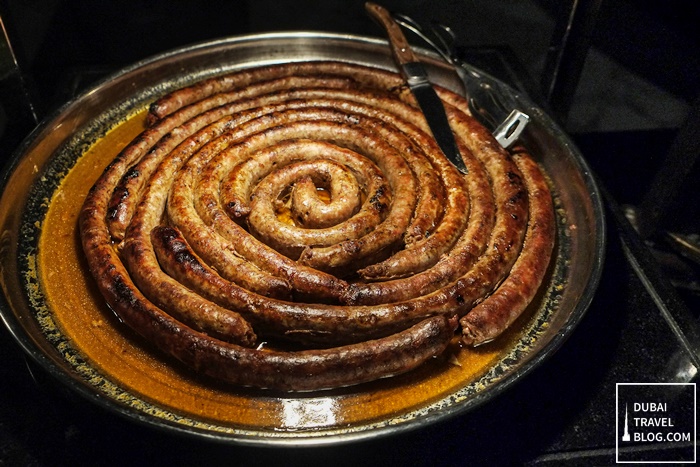 sausage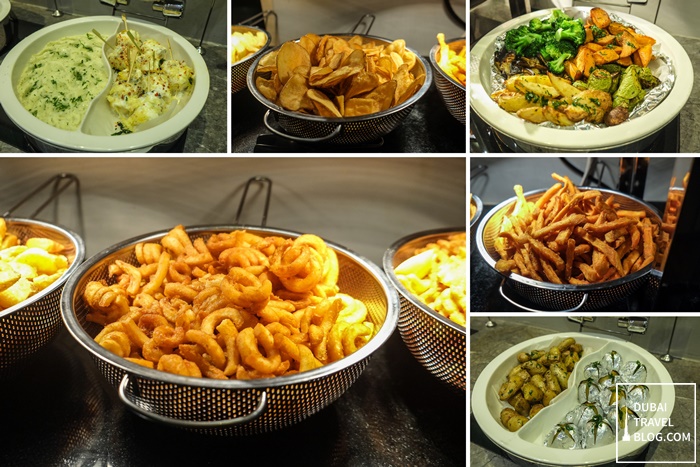 potatoes, mashed, potato chips, sweet potatoes, curly fries, french fries, etc.
Choose your food and they will grill it for you. It was great to know that we could pick from a wide variety of cuts from Australia, South Africa, USA, New Zealand, etc. I ordered some lamb chops, steaks, and some sea food too. Once it's cooked, the waiters will deliver the food to your table.
They also have a Ketchup and Mustard Bar where you can sample various sauces for your grills according to your preference. As I didn't know which condiment to pick, I got a tiny portion of each sauce available. There is another bar where you can mix your own spice. From pepper, to chili flakes to salt, etc.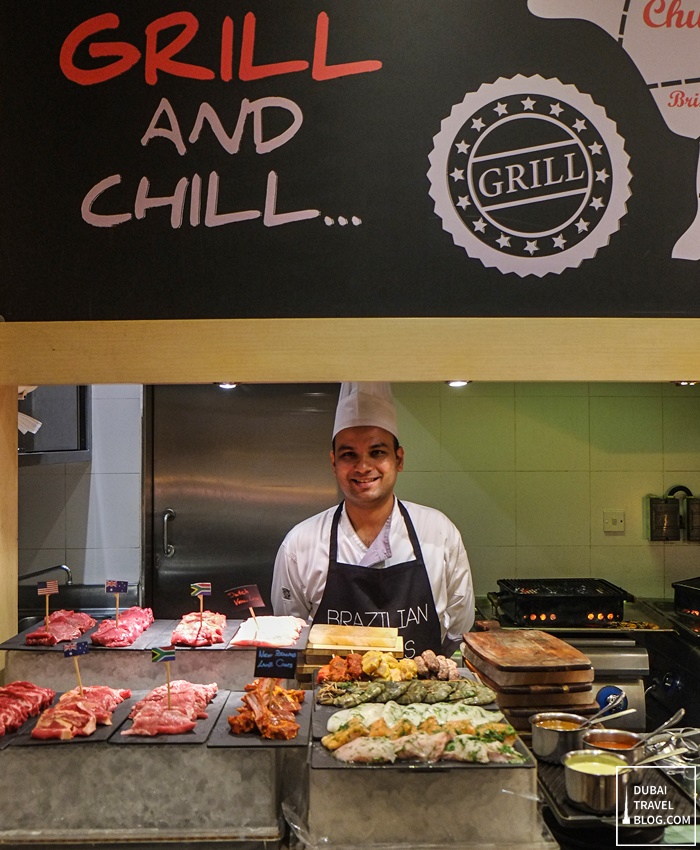 Chef Suhib
steaks, lamb chops, squid, tiger prawns, salmon ,etc.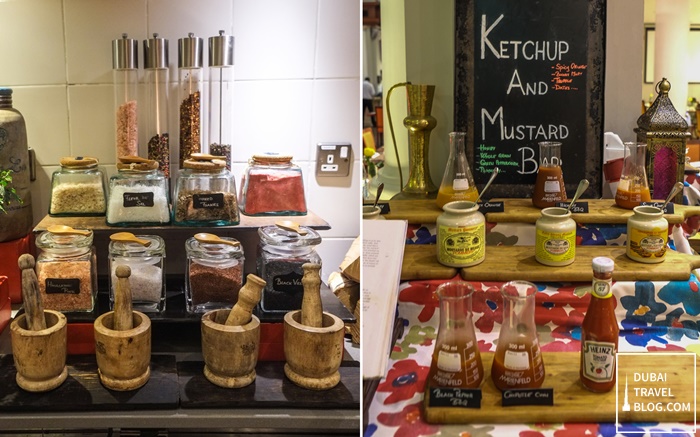 spices bar and ketchup & mustard bar
My wife and I had a lovely dinner and this was truly a satisfying night of fresh grilled food. This was a buffet so don't forget that you can keep ordering as you like. We were already full even from our first round that we just came back for small portions afterwards.
The staff were very friendly and made sure that we were well-accommodated. I remember the same great service provided during a previous visit.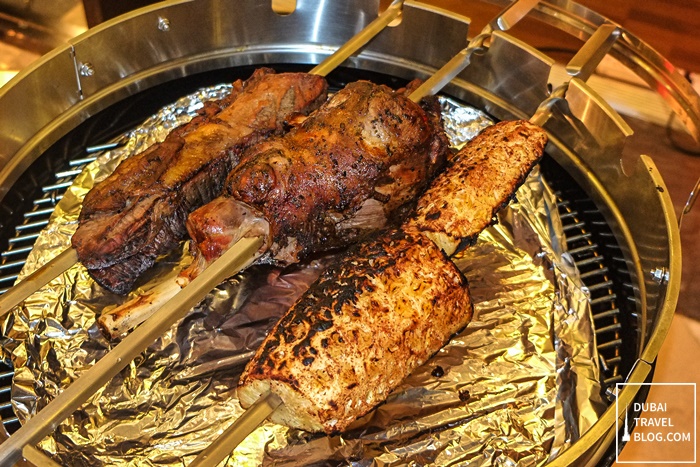 roasted lamb, roasted beef and roasted pineapple
Asian grill and Japanese grill stations
Grill Night at Fountain Restaurant Movenpick Bur Dubai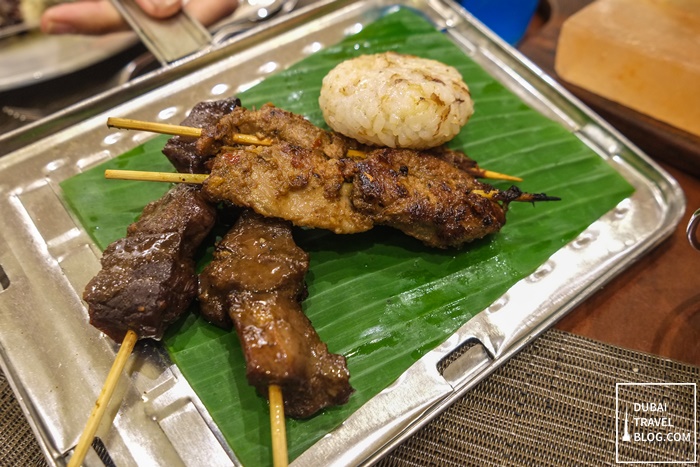 chicken and beef skewers with rice cake
Desserts at Fountain Restaurant
After we were done with our main course, I went to the dessert station and helped myself with their sweet offerings. The highlight of the Friday brunch of Fountain restaurant are the desserts because they have a variety of cakes, tarts, pastries, chocolates, etc. As this was a different themed night, although the desserts were not as many, they still provide an assortment to satisfy your sweet tooth.
What's more, as I was grabbing some desserts, the staff asked me if I wanted some ice cream. My eyes lit up and I immediately said yes to some caramel, strawberry and chocolate Movenpick ice cream flavours.
preparing the dessert station
desserts: cakes, etc!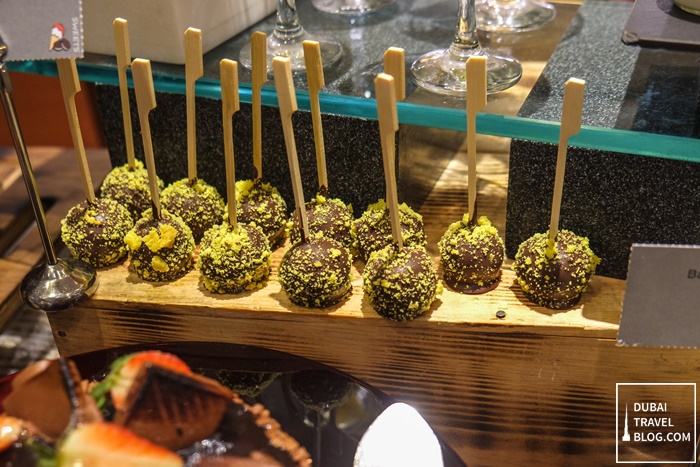 chocolate lollipops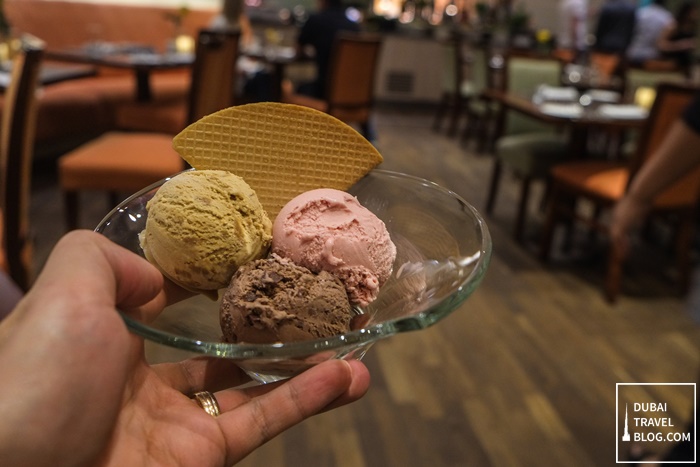 Movenpick ice cream!
The Thursday Grill Night didn't have any pork options, but there were plenty of selections to satisfy us. The drink coolers and wine were also a great addition to the buffet. You should check it out!
Thursday Grill Night
Dig into the sizzling US prime steaks, mouthwatering ribs and strips, along with a selection of Indonesian, Japanese and Arabic grills and so much more.

Discover the different flavours and tenderness of meat cuts at Fountain restaurant starting from AED 175 including soft drinks.

– Movenpick
Contact Information
Website: Fountain Restaurant at Movenpick Bur Dubai
Address: 19th Street, Oud Metha Area P.O. Box 32733, Dubai United Arab Emirates
Telephone Number: +971 4 336 6000
Email: hotel.burdubai@moevenpick.com
Facebook: facebook.com/Movenpick.Hotel.BurDubai
Instagram: instagram.com/movenpickhotelburdubai
How to Get There:
The nearest metro station is: Oud Metha Metro Station (Green Line). After getting off the metro, you can hire a cab to Movenpick Bur Dubai. The Fountain restaurant is located at the lobby.
Google Map Location
Below is a location map of the Movenpick Hotel & Apartments Bur Dubai for your reference.