I was excited to dine at Seafood Shack upon learning that this was going to be our dinner experience during our second night in Radisson Resort Ras Al Khaimah Marjan Island. The restaurant is located just at the terrace area of the hotel building so it was easy to find.
Also Read: La Med Bistro &  Bar Dinner at Radisson Resort Ras Al Khaimah
Seafood Shack serves sumptuous seafood with a wide variety of dishes to choose from. They also have great cocktail drinks and shisha. It looks casual and relaxed with many seats available overlooking the poolside.
Alcohol: YES
Shisha: YES
Seafood Shack RAK
interior
Restaurant Review: Seafood Shack in Ras Al Khaimah
Seafood Shack is a wonderful place to visit if you are craving some seafood. They have chilled and marinated dishes, small plates, bigger plates, wood-fired dishes, and items to share.
Appetizers
They have a variety of appetizers such as Steamed Mussels, Grilled Monkfish Tacos, Seafood Salad, Shrimp Scotch Egg, etc. They also have some chilled and marinated dishes like Tuna Ceviche, Steak Tarte, Dibba Bay Oysters. We only ordered Grilled Scallops for our appetizers but it was really delicious.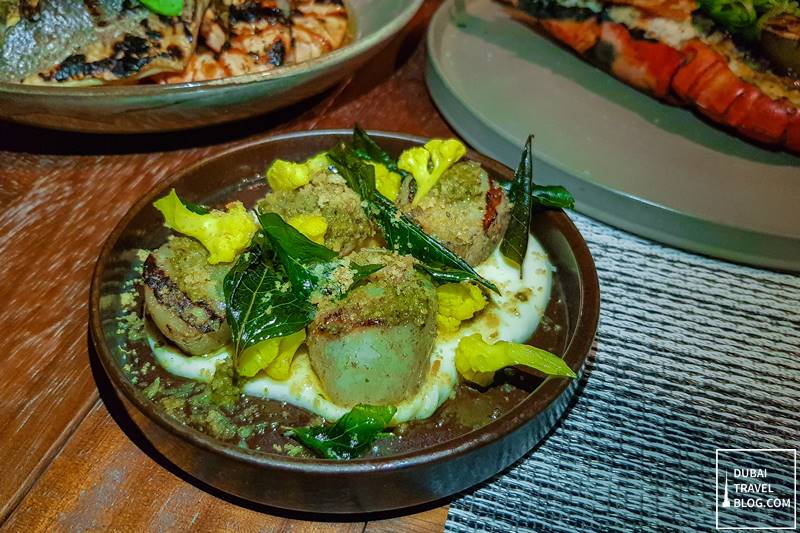 Grilled Scallops – AED 75
Cauliflower, Curry Leaf Salsa, Burnt Butter
Main Course
For the main dishes, they have Fish & Chips, Shack Seafood Curry, Split Prawns, Grilled Seabream, and Blackened Fished Burger.
Among the many main course items, we opted to have the Seafood Mixed Grill and the Lobster & Fries. The lobster was fresh and had a great flavor and their fries were made in-house by the chef, which were interestingly good!
The Mixed Grill was something we wanted to order so we could sample some fresh items like prawns, salmon, sea bass, and grilled oyster.
Lobster & Fries – AED 145
Garlic & Lemon Butter, House Fries
Seafood Mixed Grill – AED 155
Split Prawns, Squid, Salmon, Sea Bass, Grilled Oyster, Crab-Tomato Broth & Smashed Her butter
Desserts
They have a separate menu for desserts and we opted to get the White Chocolate Cheese Cake and Chocolate & Tahini Tart. We paired these with Americano coffee.
White Chocolate Cheese Cake – AED 45
Mango Ice Cream, Passion Fruit Sauce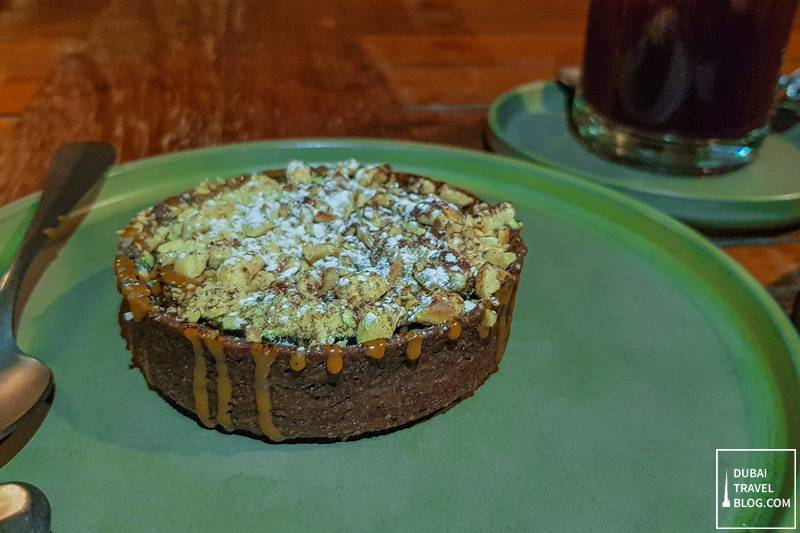 Chocolate & Tahini Tart – AED 50
Hazelnut Cream
Drinks
Another highlight during our dinner at Seafood Shack was sampling their cocktail drinks. We were delightfully surprised by the drinks in the resort's other restaurant (La Med) that we were looking forward to the drinks menu here.
The mixologists can create classics cocktail beverages, but they have a number of drink specialties. We sampled their Shack Berry Sangria which was really a hit for us that we ordered another glass. We also had their Watermelon & Pomegranate Paloma, and their Pina Colada.
Shack Berry Sangria – AED 50
House White Wine, Prosecco, Elderflower Liquor, Simple Sugar Syrup, Mixed Berries
Watermelon & Pomegranate Paloma – AED 50
Jose Cuervo Tenampa Blanco, Watermelon Juice, Pomegranate Juice, Lime, Agave
If you Like Pina Colada…! – AED 50
Takamaka Coconut Rum, Pineapple, Coconut, Lime, Green Tea Syrup, Baking Spice
16 Photos of The Seafood Shack in Radisson Resort RAK
Check out these photos of Seafood Shack Grill and Bar to get a better idea of what the restaurant looks like.
Summary
Looking for a place to relax and enjoy some good food and drinks? Look no further than the Seafood Shack! Featuring a raw bar, internationally inspired seafood dishes, and a live-fire barbecue station, the Seafood Shack has something for everyone.
Whether you're looking to sample some unique cocktails or simply enjoy a refreshing non-alcoholic drink, the Seafood Shack is the perfect place to unwind. And be sure to check out their sunset sessions with bespoke drinks and a live DJ each night!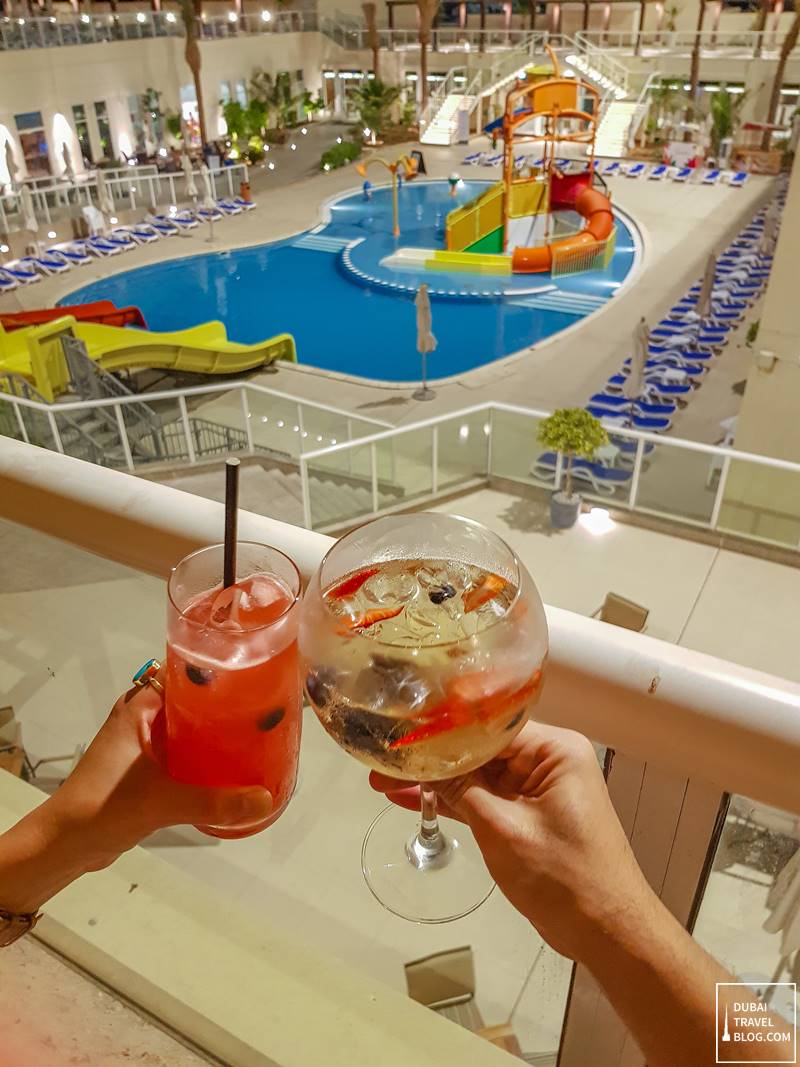 cheers to the night. view of the children's pool from the terrace of Seafood Shack
Contact Information
Seafood Shack
Opening hours: Daily 4pm to 1am, Saturday Brunch 1pm to 4pm
Address: Radisson Resort Al Marjan Island Blvd – Ras al Khaimah
Telephone Number: +971 4 204 9070
Email: seafoodshack.rasalkhaimah@radisson.com
Website: https://www.radissonhotels.com/en-us/hotels/radisson-resort-marjan-island/restaurant-bar/seafood-shack
Google Map Location