I just purchased the Entertainer Dubai App 2016. As a travel blogger in Dubai, this smartphone app gives me huge savings as we visit different restaurants and tourist spots, and eventually blog about these experiences. So if you're a resident or even a tourist who wants to explore Dubai, you might want to consider buying this App.
What is the Entertainer Dubai?
If you're wondering what this Dubai Entertainer is, basically, it's a collection of Buy One Get One offers from various establishments in Dubai. Food restaurants, entrance tickets to theme parks, desert safari adventures, etc. are included in this packed mobile application. We are regular customers of The Entertainer because it's just so great to use if you want to save.
The Entertainer Dubai app also makes us explore different parts of Dubai. This helps us acquaint ourselves with both new and beloved restaurants and shops in the city. This is truly a sweet deal when you buy meals good for 2 people, yet you're only paying for one! Last year, we saved over 3,515 Dirhams on various food trips here in Dubai. And we only bought the mobile App for 395 AED!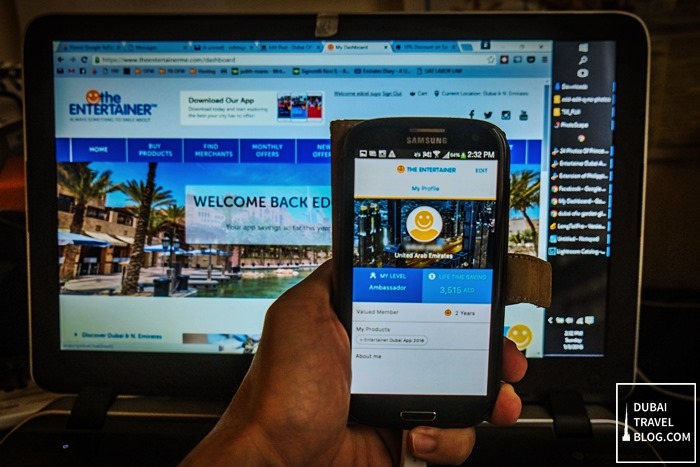 bought the app from their website
Dubai Entertainer Mobile App 2016
We used to get the physical Entertainer books (which are are also currently available) but we figured it would be much more convenient to buy the smartphone app. You only need to download the application on your Smartphone and access the coupons in your device. You activate the coupon and present it to the staff of the restaurant or shop where you're going to use it.
The book took a long time for us to scan through various coupons. With the mobile app, it only took us a few filtered searches to check the available discounts.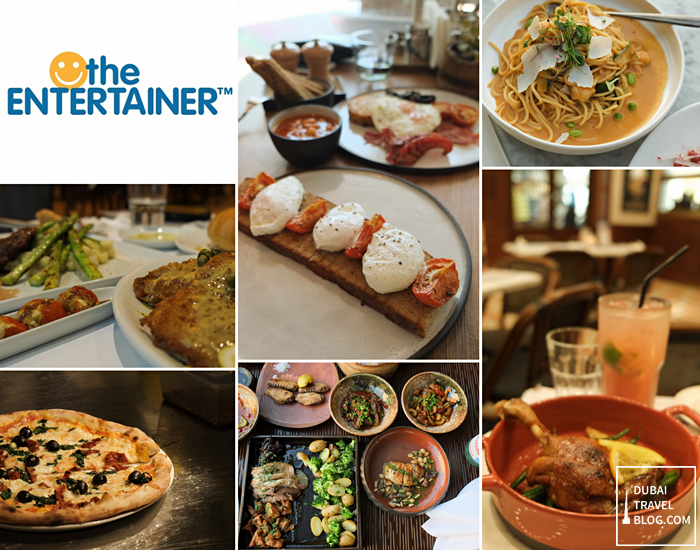 Buy One Get One Discounts!
food restaurants were the shops where we used the coupons the most
Another thing I was initially thinking was to get the Entertainer Dubai Fine Dining App, because most of the coupons we've used last year were in restaurants. But after scanning the available merchants and stores, it turns out that the Fine Dining option was for more upscale places (in hotels, etc.) The Dubai App is the more practical one for our lifestyle.
As I continue blogging about Dubai's food and adventures, I will surely use this mobile app.
Where to Buy the Entertainer Books?
In case you're interested to buy the book, you can get the book in major Supermarkets like Carrefour, Choithrams, Spinneys, etc. or bookshops like Borders, Kinokuniya, Hallmark, Virgin Megastore, etc.
Where to Buy the Entertainer Smartphone App?
If you want to get the Smartphone App, you have to download the App from Google Play or the App Store. After downloading, you can purchase through the mobile app, or you can also create an account online from the Entertainer website here – www.theentertainerme.com