My wife and I have been loyal customers of The Entertainer Dubai App for 8 years now. This has been a very helpful 'hack' for us as we go out to eat in restaurants or try various activities in Dubai. It saves us money because of these Buy One Get One deals available.
Just recently, The Entertainer team announced that the 2022 app is now available and with a new subscription model.
What's New?
In the past years, users could only use the app during a Calendar Year. When you buy the Entertainer App, it would only be valid during 31st December of that same year.
But now, the subscription is based on the date when you purchase the app. This is big news cause even if you buy the Entertainer during the middle part of the year, the subscription will expire after 12 months from the date of purchase.
No more excuse to say "I cannot maximize my App because you only have XX number of months remaining to use it." It's surely a maximum benefit for the owner!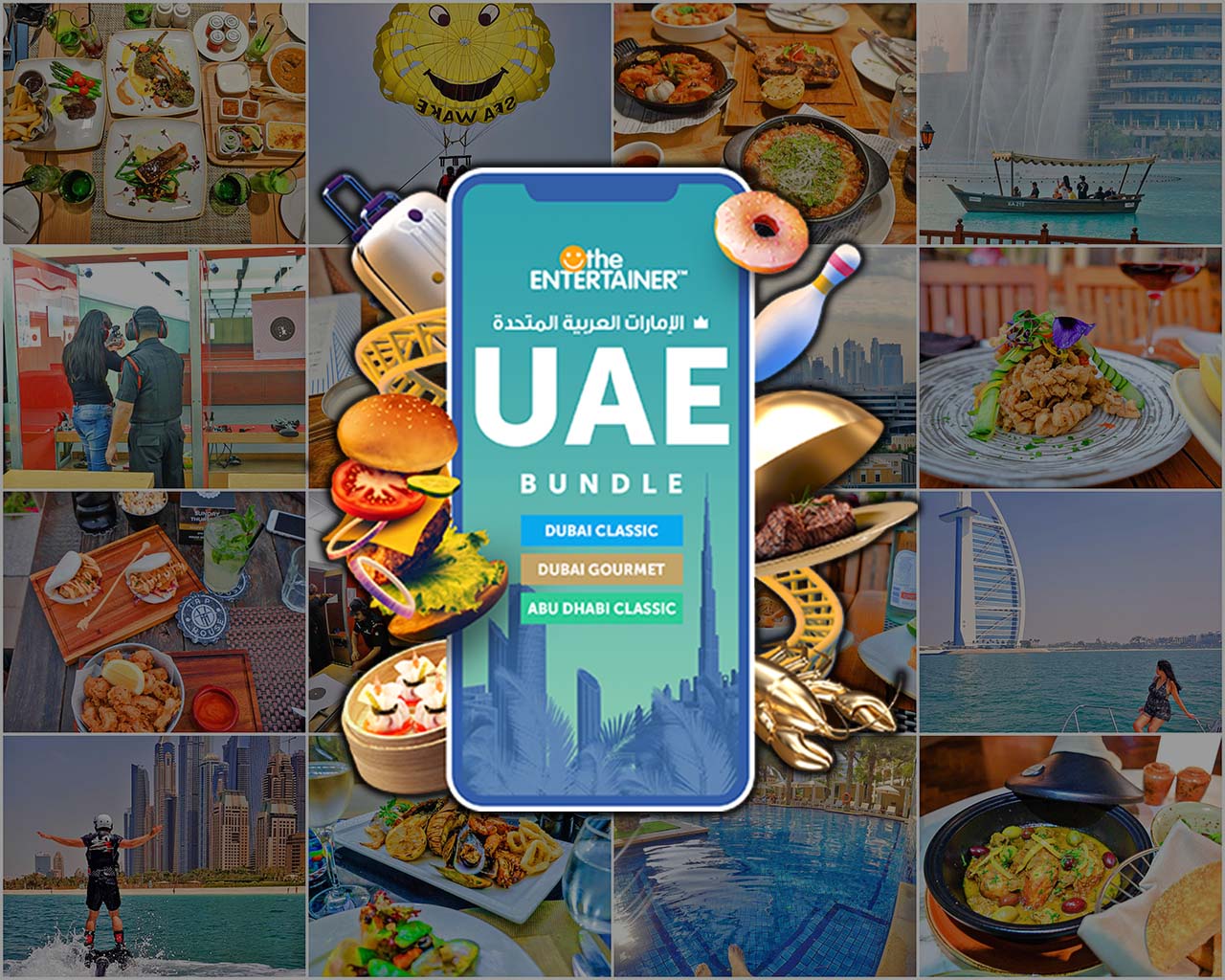 The Entertainer Mobile App – Subscription Based Discount App
The Entertainer Dubai has always been on the list of must-haves when you are in the city. Plenty of magazine sites, food, travel, and lifestyle blogs in Dubai have already featured it as a money-saver both for tourists and for long-time residents.
Features
Here are some of the things we love about the Entertainer Dubai App:
You can just do a quick search and filter by location and it gives you a list of stores that have the Buy One Get One offer.
You can also keep track of how much you've saved for the year (we've saved over a few thousand Dirhams).
You can take advantage of some monthly offers that are exclusive to digital product customers.
You can also share the app with your family – so that your family members can simply access it using their own Entertainer accounts.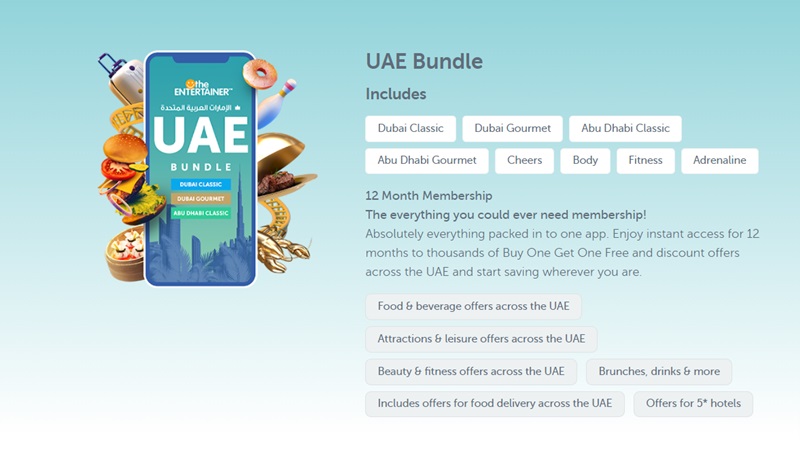 Entertainer UAE Bundle – Best Seller
You can buy the bundled Dubai and Abu Dhabi products together as one package. Instead of getting it at AED 1035, you can purchase it at the EARLY BIRD price of AED 645.
What can you expect from the UAE Bundle? Here are the following products included:
Dubai Classic
Abu Dhabi Classic
Dubai Gourmet (Fine Dining)
Abu Dhabi Gourmet (Fine Dining)
Cheers
Body
Fitness
Adrenaline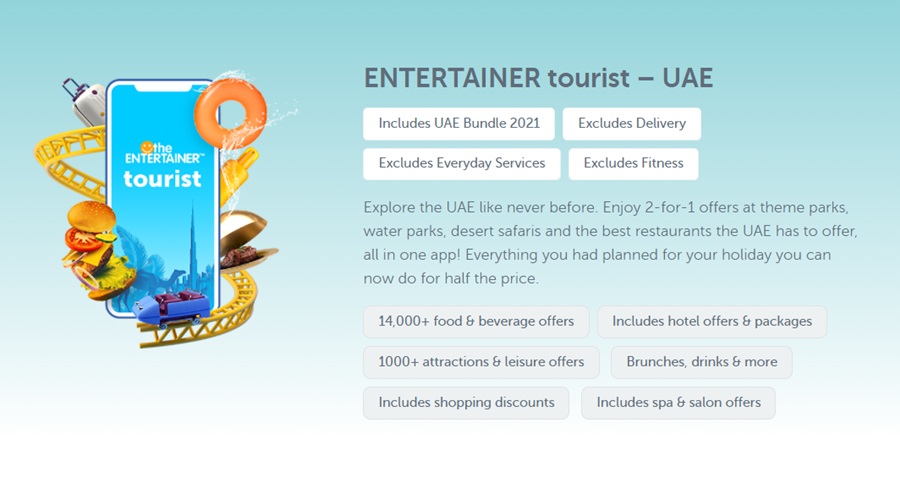 ENTERTAINER tourist – UAE – Valid for 30 Days
the ENTERTAINER tourist is the only app you need to maximize your short-term vacations in the UAE! Tourists can take advantage of the Buy 1 Get 1 offer within 30 days. This is perfect for holiday-makers who want to get the most of their stay in the UAE.
Discover the UAE like you've never done before. Enjoy 2-for-1 deals on theme parks, water parks, desert cruises, and the country's finest restaurants in one app! You may now do everything you wanted to do for half the price thanks to these special offers.
If you wish to just get the Dubai Classic 2021 App, you can certainly do so! 🙂
The ENTERTAINER Classic
Entertainer Dubai Classic – In case you don't want to buy the UAE Bundle, you can purchase just the Dubai 2022 app separately at AED 495. Existing members will only pay AED 365 (Early Bird Offer) and includes the Cheers, Body, Fitness, and Adrenaline at no extra cost too.
Entertainer Abu Dhabi Classic – The Abu Dhabi 2022 product will also be AED 495 for new joiners and AED 365 (Early Bird Offer) for members but you'll also get the Gourmet product included at no extra cost along with Cheers, Body, Fitness, and Adrenaline.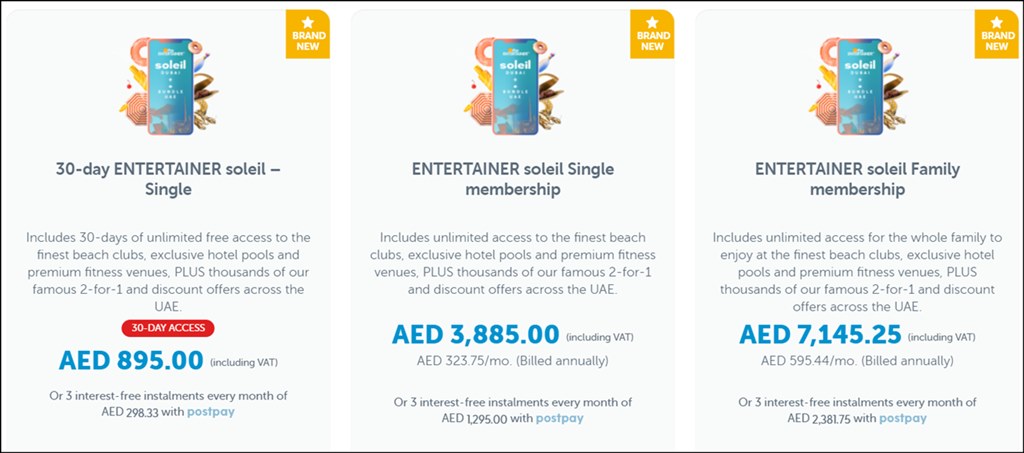 Introducing the Entertainer Soleil
The ENTERTAINER soleil membership provides unlimited access, benefits, and discounts to a wide range of social, recreational, fitness, and beach clubs throughout the UAE for 12 months. This premium membership is for people who enjoy a luxurious lifestyle soaking up the sun at 5-star pools and beach clubs while living their best life at the spectacular gym facilities across the UAE.
After all, there are so many luxury properties here that it's almost a necessity for people who enjoy these clubs and recreation facilities to have access.
Entertainer soleil has 3 packages you can purchase: 30-day membership, a single annual membership, and annual family membership. You can choose among these options that would suit your preference.
How to Buy the Entertainer App?
One of the common questions we've received in our previous Entertainer Dubai feature is how to get the Entertainer App. It's just an easy process. You can just download it through the App store and even if a tourist who is still planning his journey to Dubai may be able to get it.
Step 1: Download the Entertainer on the App Store or Google Play store.
Step 2: Register/Create an account
Step 3: Purchase the 2021 version via the app.
You can simply explore the App and check out various shops with their discount offerings.
Summary
The later part of 2021 has definitely been a lot better for us residents in the UAE due to the borders and businesses being open. I'm glad that we got to utilize the app, especially for our dinner dates as well as going out for different activities. We also get to share the app with our families.
It's really important to save money and avoid spending much whenever we are outside. We tend to use The Entertainer app 90 percent of the time whenever we go out. The partner merchants are already top-notch and it's a great way for us to save cash on dates and activities. As a blogger in Dubai, I get to blog about the experience too.
If I might sound too much of a salesman now, it's because it's really a good investment if you get the Entertainer Dubai App, especially at an earlier time. This will help you maximize your spending without actually spending as much.
For more information, visit theentertainerme.com