My wife and I have been loyal customers of The Entertainer Dubai App for 4 years now. This has been a very helpful 'hack' for us as we go out to eat in restaurants or try various activities in Dubai. It saves us money because of the Buy One Get One deals that are offered in the app. We've written about the Dubai App last year and we're still going to write about it especially when they 2017 version is now available for purchase.
We are home buddies but whenever we go out, we use the Entertainer App 90 percent of the time. The partner merchants inside the Dubai App are already top-notch and it's a great way for us to save cash on dates and tours. As a Dubai travel blogger, I get to blog about the experience too. Here are some posts I've published where we used the Entertainer vouchers: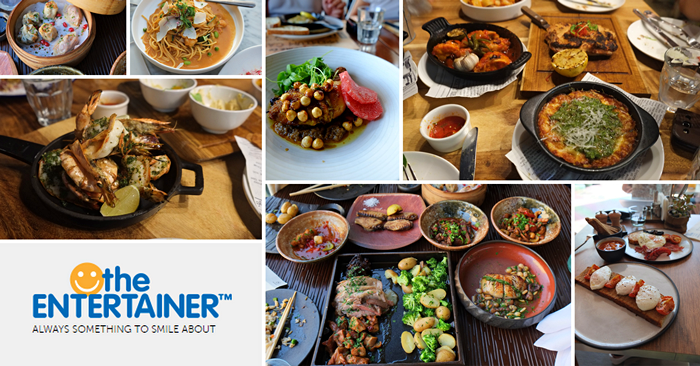 same as last year, we used our coupons mostly for food adventures
The Entertainer Dubai Mobile App 2017
The Entertainer Dubai has always been in the list of must-haves when you are in the city. Plenty of magazine sites, food, travel and lifestyle blogs in Dubai have already featured it as a money-saver both for tourists and for long-time residents. This is because the coupons really provide value so you can save money while dining out. It's an instant discount that you can carry with you as you explore the city.
Getting the Mobile App
We used to buy the books but the App is so much more convenient for us. Aside from not having a thick book to flip the pages through, here are some of the things we love about the Entertainer Dubai App:
You can just do a quick search and filter by location and it gives you a list of stores that have the Buy One Get One offers.
You can also keep track of how much you've saved for the year (we've saved over a few thousand Dirhams).
You can take advantage of some monthly offers that are exclusive to digital product customers.
The books are still available, and it's still totally fine if you buy them for you and your family. It's sometimes a unique experience when you let your kids decide where you want to take them. Flipping the booklet, searching for the correct coupon, and carefully tearing it from the page can be fun. It all boils down to preference and the digital app has been our choice.
Dubai Entertainer App Early Bird Rate
The team from Entertainer just launched the 2017 app at an early bird discount. For a limited time, the Dubai App 2017 can be purchased with a 50 AED off the regular price. Aside from this, you will also have the option to get either a Cheers Dubai App or a Dubai Body App for FREE. Let's not forget that for every purchase of any 2017 digital product, there is also a "Hotels Worldwide" included.
Cheers Dubai – Buy One Get One Deals on Drinks
Dubai Body – For discounts on gyms, spas, and pampering.
Hotels Worldwide – Buy One Night, Get One Free offers from over 500 hotels worldwide.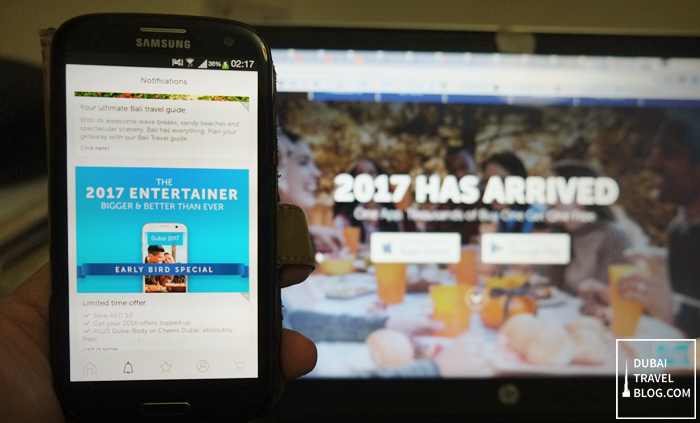 Early Bird offer
How to Buy the Entertainer App?
One of the common questions we've received in our previous Entertainer Dubai feature were how to get the Entertainer App. It's just an easy process. You can just download it through the App store and even if a tourist who is still planning his journey to Dubai may be able to get it.
Step 1: Just download it on the App Store or Google Play store.
Step 2: Register/Create an account
Step 3: Purchase the 2017 version via the app.
You can simply explore the App and check out various shops with their discount offerings.
If I might sound too much of a salesman now, it's because it's really a good investment if you get the Entertainer Dubai App especially at an earlier time. This will help you maximize your spending without actually spending as much.
For more information, visit theentertainerme.com