My wife and I have been loyal customers of The Entertainer Dubai App for 7 years now. This has been a very helpful 'hack' for us as we go out to eat in restaurants or try various activities in Dubai. It saves us money because the Buy One Get One deals available. Just recently, The Entertainer team announced that the 2021 app is now available!
While 2020 has definitely been a challenging time for everyone given the health crisis, we are blessed to be in the UAE where the government has put a lot of effort in keeping us safe as go about our daily routines. Strict safety measures are also set in place in order to  keep shops, establishments, and leisure destinations open.
For us, it's even more important to save money and avoid spending much whenever we are outside. We tend to use The Entertainer app 95 percent of the time whenever we go out.
The partner merchants are already top-notch and it's a great way for us to save cash on dates and activities. As a blogger in Dubai, I get to blog about the experience too.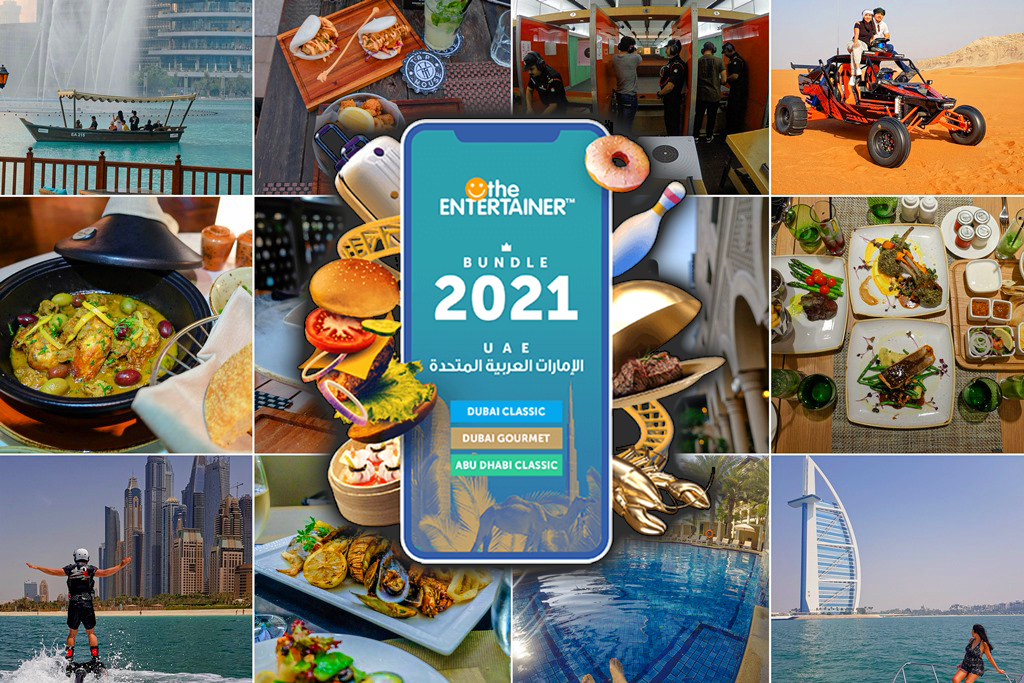 The Entertainer Mobile App 2021
The Entertainer Dubai has always been in the list of must-haves when you are in the city. Plenty of magazine sites, food, travel and lifestyle blogs in Dubai have already featured it as a money-saver both for tourists and for long-time residents.
Features
Here are some of the things we love about the Entertainer Dubai App:
You can just do a quick search and filter by location and it gives you a list of stores that have the Buy One Get One offers.
You can also keep track of how much you've saved for the year (we've saved over a few thousand Dirhams).
You can take advantage of some monthly offers that are exclusive to digital product customers.
You can also share the app with your family – so that your family members can simply access it using their own Entertainer accounts.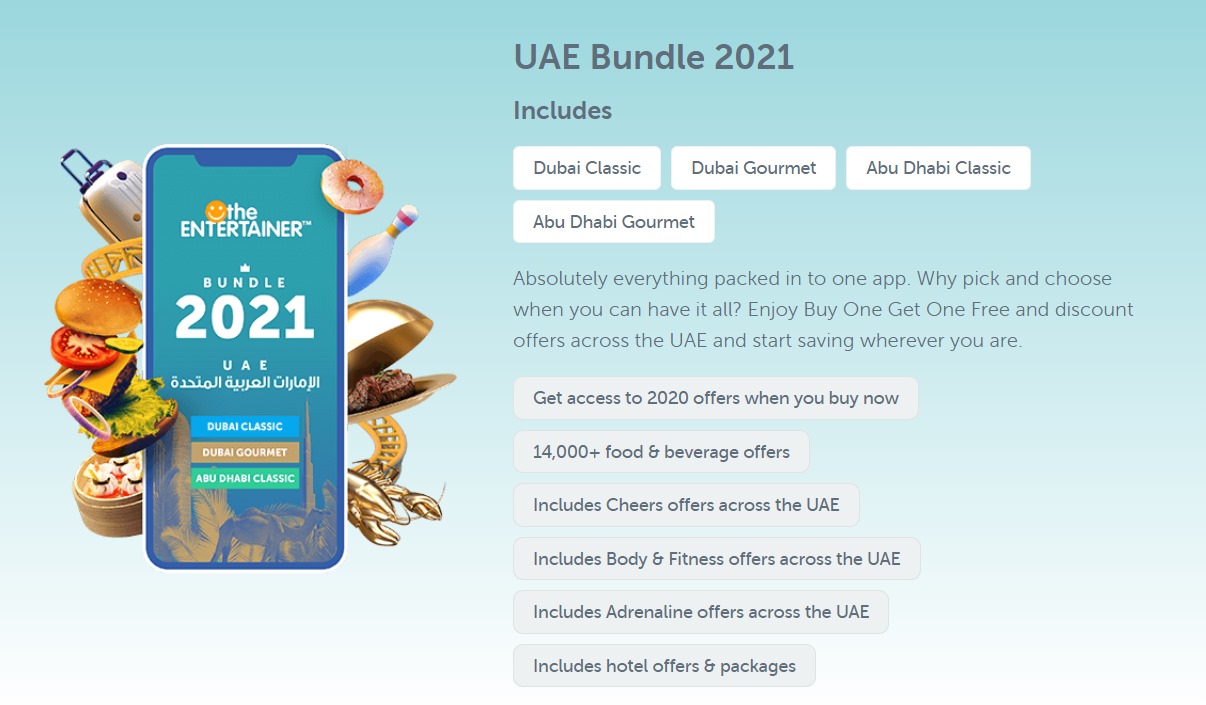 Entertainer UAE Bundle 2021
This 2021, you can buy a packaged Dubai and Abu Dhabi 2021 products together as a bundle. Instead of getting it at AED 945, you can purchase it at the EARLY BIRD price of AED 624.75. Existing members can buy it for AED 519.75.
What can you expect from the UAE Bundle? Here are the following products included:
Dubai
Abu Dhabi
Dubai Gourmet
Abu Dhabi Gourmet
Cheers Dubai
Cheers Abu Dhabi
Dubai Body
Abu Dhabi Body
Adrenaline Dubai
Adrenaline Abu Dhabi
Dubai Fitness
Addition: 2 Dubai Parks and Resorts tickets (1,000 free tickets up for grabs when you buy the UAE Bundle, while stocks last. Worth AED 275. Valid for use until 30th November. T&Cs apply)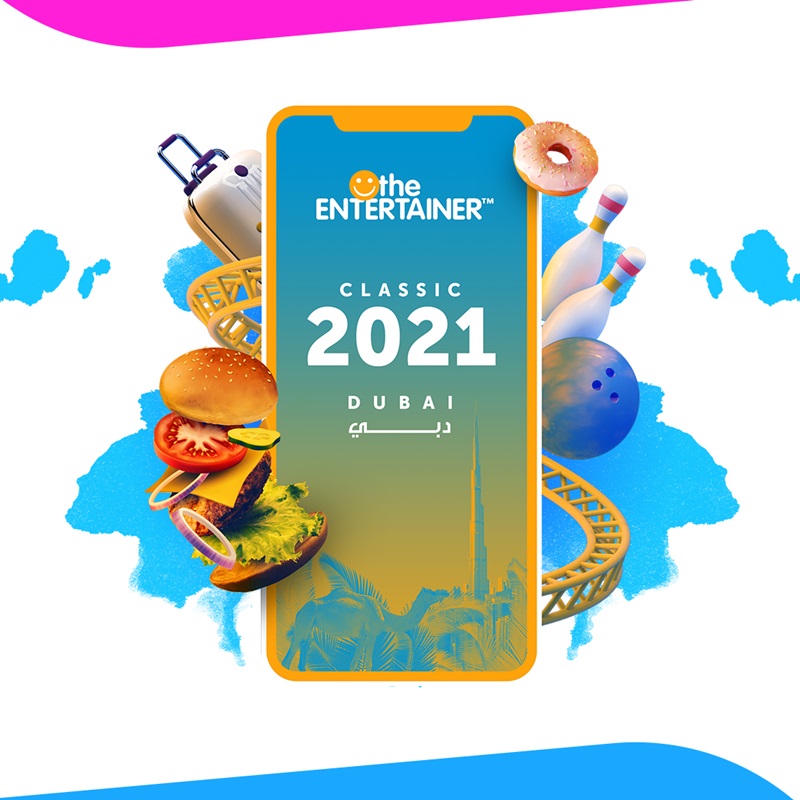 The ENTERTAINER 2021
Entertainer Dubai 2021 – In case you don't want to buy the UAE Bundle, you can purchase just the Dubai 2021 app separately at AED 495. Existing members will only pay AED 309.75 and includes the Cheers, Body, Fitness, and Adrenaline at no extra cost too.
Entertainer Abu Dhabi 2021 – The Abu Dhabi 2021 product will also be AED495 for new joiners and AED

309.75

 for members but you'll also get the Gourmet product included at no extra cost along with Cheers, Body and Adrenaline.
NOte: If you aren't already a member, the add-ons will cost an extra AED95 for full access to all the products and offers. (All prices subject to 5% VAT)
How to Buy the Entertainer App?
One of the common questions we've received in our previous Entertainer Dubai feature were how to get the Entertainer App. It's just an easy process. You can just download it through the App store and even if a tourist who is still planning his journey to Dubai may be able to get it.
Step 1: Just download it on the App Store or Google Play store.
Step 2: Register/Create an account
Step 3: Purchase the 2021 version via the app.
You can simply explore the App and check out various shops with their discount offerings.
If I might sound too much of a salesman now, it's because it's really a good investment if you get the Entertainer Dubai App especially at an earlier time. This will help you maximize your spending without actually spending as much.
For more information, visit theentertainerme.com