We had a relaxing staycation experience at Radisson Blu Yas Island in Abu Dhabi, one of the Yas Plaza hotel properties managed by Aldar hospitality.
The Radisson Blu Abu Dhabi Yas Island is a hotel where you can enjoy easy access to Abu Dhabi city center as well as the popular leisure attractions nearby like Ferrari World, Yas Marina Circuit, Yas Waterworld, Yas Beach, CLYMB, Warner Bros. World Abu Dhabi. etc.
Also Read: 16 Photos: The Beautiful Sheikh Zayed Grand Mosque in Abu Dhabi
After quite some time, we had another staycation experience in the emirate of Abu Dhabi. My wife and I are glad that the number of COVID-19 cases has dropped in the UAE and travel restrictions have eased between Dubai and Abu Dhabi. That's why we took the opportunity to have a staycation at one of the hotels in Yas Island.
Note: You need to have a Green Pass via Al Hosn App (PCR Test with Negative Result) before you can go out and use the facilities of hotels or enter malls/attractions in Abu Dhabi. You can still enter Abu Dhabi from Dubai, but you will not be able to go out of your hotel room without the Green Pass. We took a PCR test via SEHA drive-thru in Citywalk Dubai. It cost us AED 50 per person for the test and we got the result within 24 hours. Download the SEHA App to book your PCR test appointment.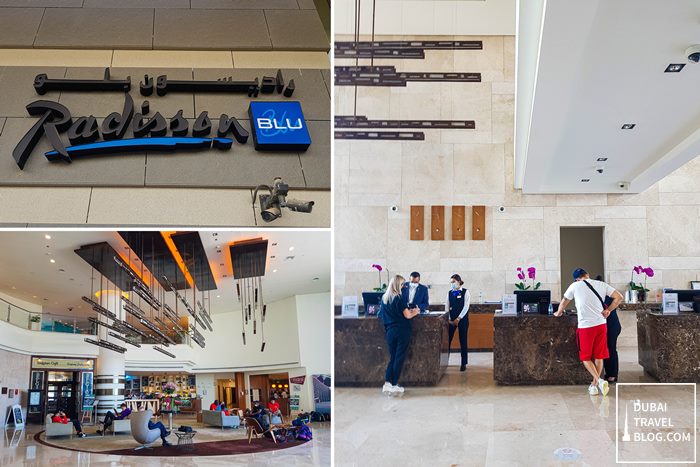 hotel lobby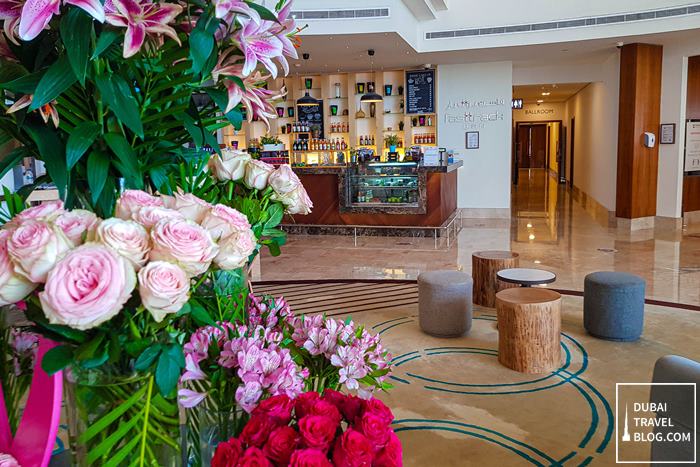 Radisson Blu Yas Island
Staycation at Radisson Blu Hotel Abu Dhabi
Check-in was quick despite the busy schedule given that a UFC event was ongoing. We dropped by Belgian Cafe to grab lunch and afterward, we headed straight to our room.
hotel lobby and 7th floor hallway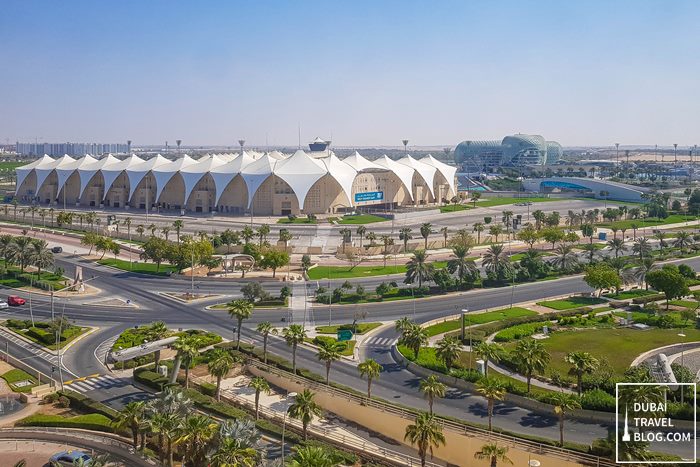 city view
Bedroom
At 36 sqm, our room features a king-size bed, free Wifi, coffee and tea facilities, iron and ironing board, in-room safe, professional hairdryer, TV with mirror casting, minibar, etc.
We enjoyed the view from the balcony as we got to see a panoramic view of the pool, golf course, creek, and the sea. It's something different from our usual beach resort/city staycation experiences.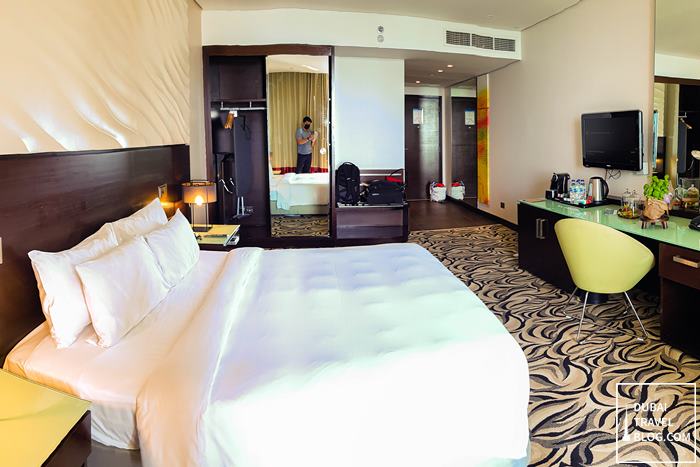 king-size bed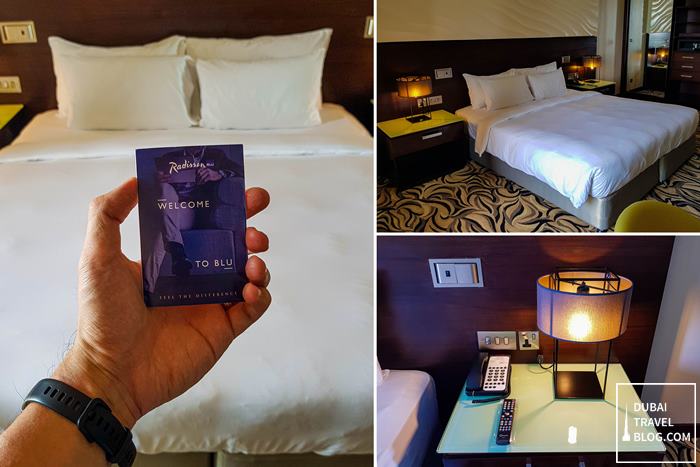 Radisson Blu Yas Island Abu Dhabi
inside the room
Bathroom
The bathroom includes a bathtub, a shower, a toilet, separate bidet seat. We love the spacious countersink so we could put our personal toiletries for the staycation.
bathroom toiletries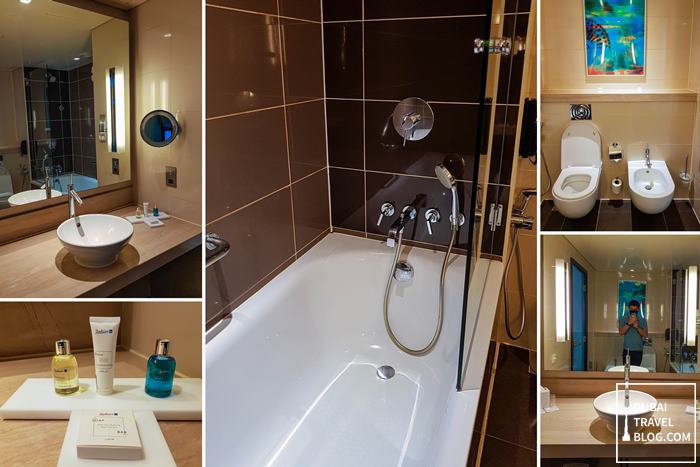 hotel room bathroom
WiFi Speed
To gain access to the internet, you need to enter your room number and last name. The internet is free and the download speed when I tested it was 19.26 Mbps which is fast.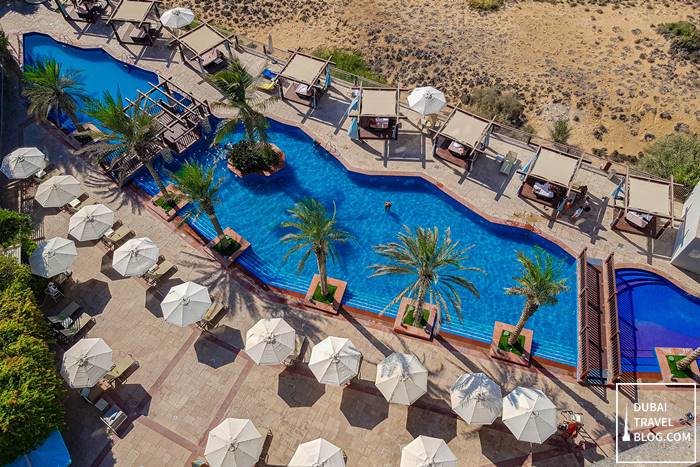 view of the pool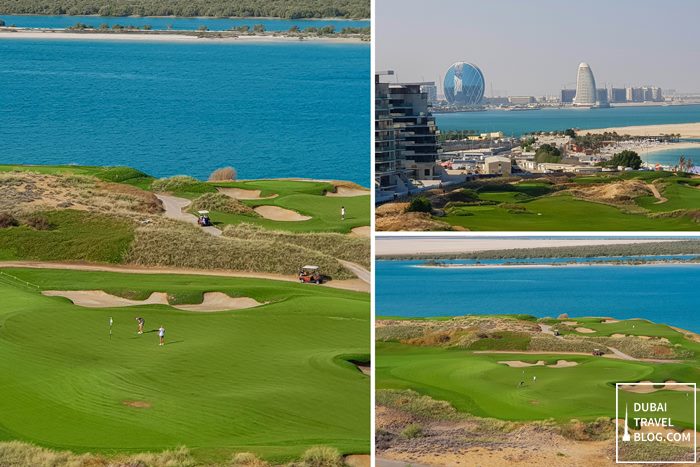 view of the golf course and Creek from the balcony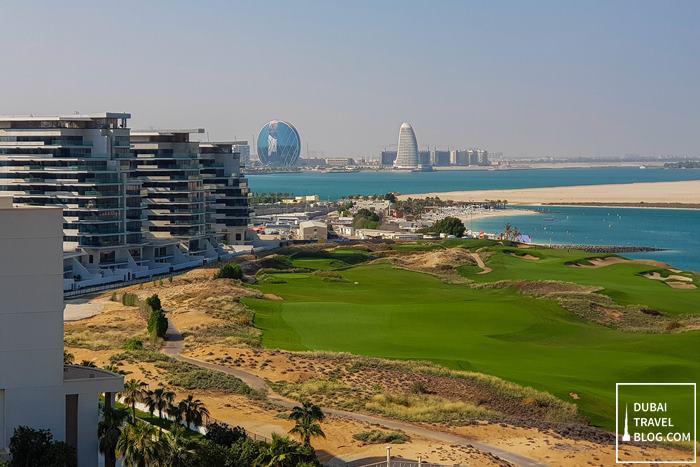 view from the balcony
Restaurants
Radisson Blu Yas Island features a number of restaurants and dining experiences, including:
Belgian Cafe Yas Island – Belgian cafe lets you indulge in Belgian classics from food to drinks. This is one of the best pub grub places in Abu Dhabi. We had our first dining experience, a lunch, in this place.
Assymetri – the all-day dining restaurant of Radisson Blu Yas Island. This is where we had our buffet breakfast in the morning.
Filini Garden – a place where you can enjoy Italian favorites including pizza and pasta. You can also enjoy sunset in an open-air environment while enjoying the view of the creek and golf course.
Amerigos – a colorful restaurant featuring a slice of Mexico as you indulge in Mexican cuisine.
Pool Bar – You can also order drinks and light bites from the pool area as you enjoy the sun while sipping a cocktail.
In-Room Dining – the hotel also features an in-room service in case you just want to dine in the comfort of your room.
breakfast at Assymetri restaurant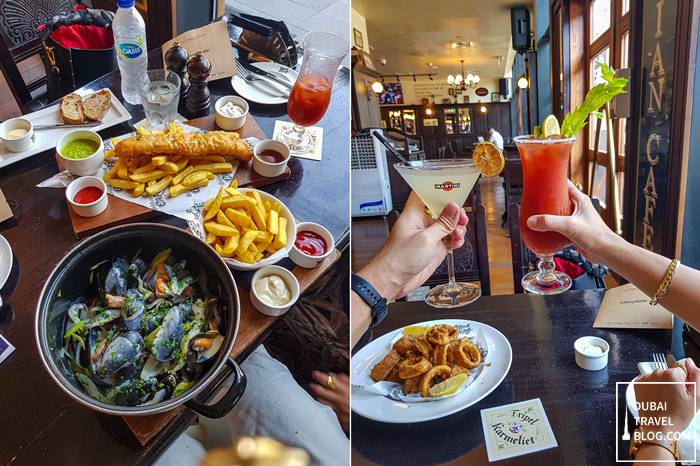 lunch at Belgian Cafe Yas Island
Dine at Other Restaurants in Yas Plaza Hotels
Radisson Blu is one of the hotels in Yas Plaza Hotels. As this is in a hotel plaza area, there are other hotel properties within walking distance of each other. This means that there are more dining options for guests to choose from as each of the hotels have their own dedicated dining restaurants.
During our stay, we also dined at Jing Asia and Barouk Lebanese restaurant in Crowne Plaza Yas Island, and Y Brunch Friday at Yas Island Rotana. I'll be writing separate topics about each of these dining experiences.
Swimming Pool
Guests of the Radisson Blu Hotel Yas Island can enjoy a swim in their beautiful swimming pool which overlooks the golf course.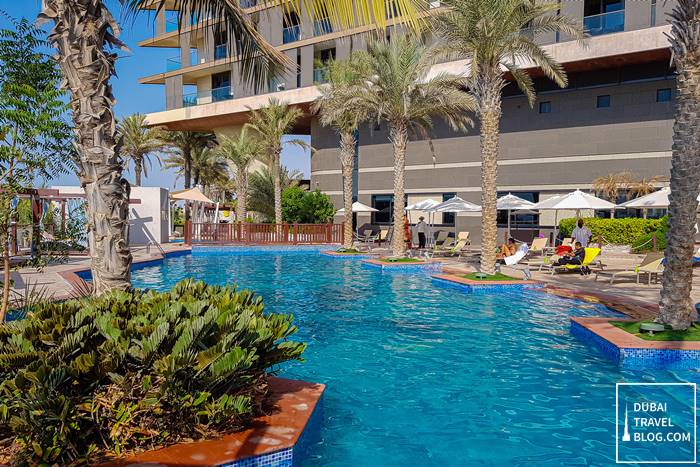 swimming pool
Radisson Blu Yas Island pool
great place to lounge
Gym / Fitness Centre
Guests of the hotel can also work up a sweat in their state-of-the-art gym filled with strength and cardio machines, as well as some free weights.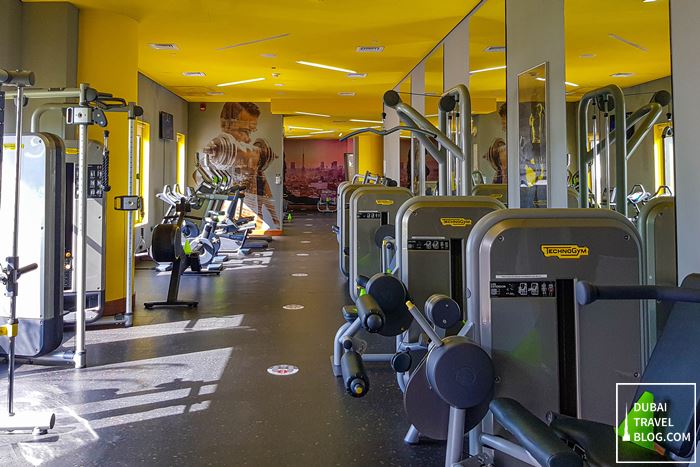 gym at Radisson Blu Yas Island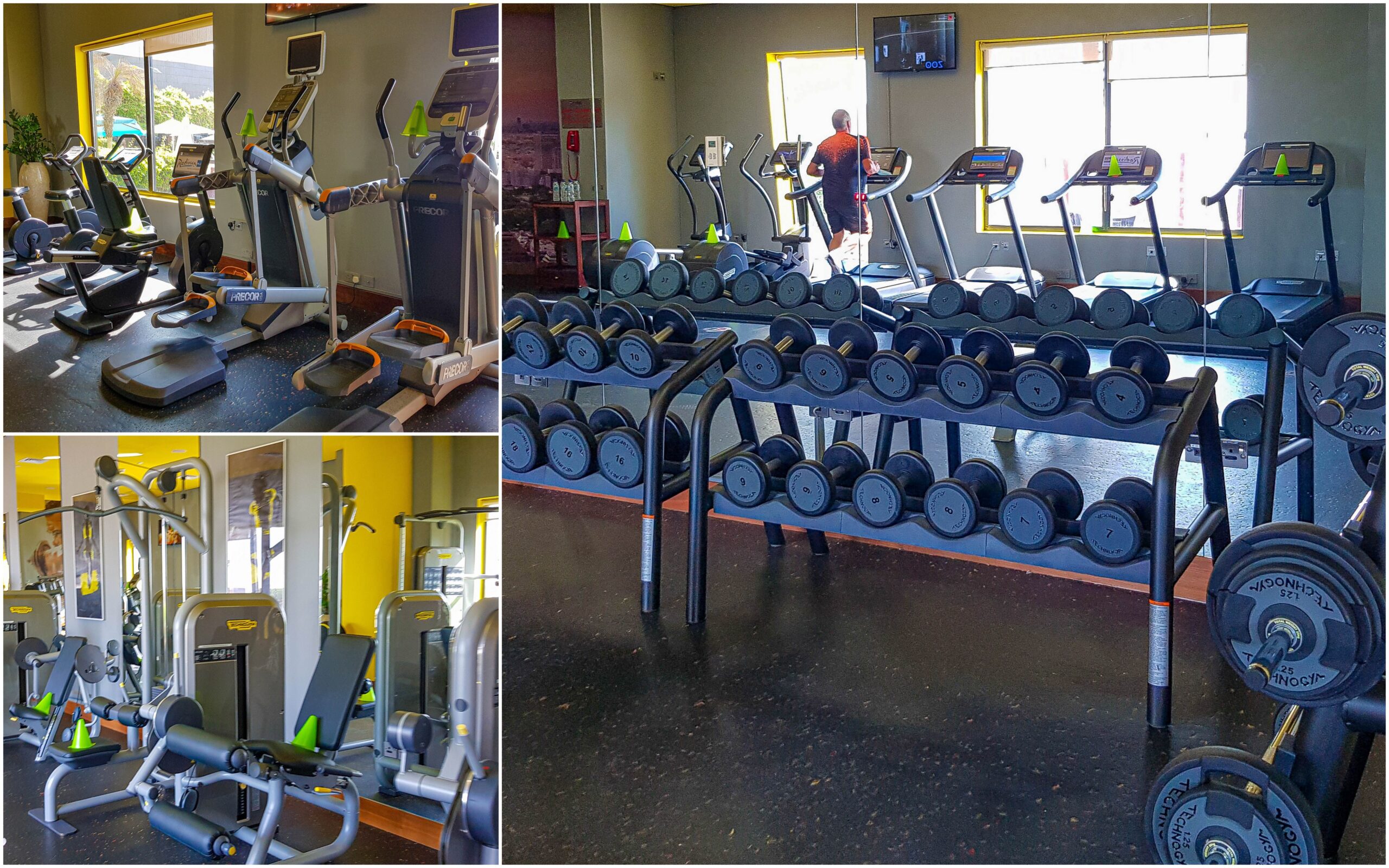 fitness centre
Spa
Guests can book an experience in which they get pampered. The spa offers various packages to suit every guest's needs and desires, including couples massages or facials for two people that could be held at one of their private rooms.
Video: Staycation at Radisson Blu Hotel Yas Island
Check out this video clip of our staycation experience to give you an idea of what to expect when you check into this resort:
42 Photos of Radisson Blu Hotel Yas Island
Here are some pictures of our staycation experience in this hotel:
It was really nice to have a staycation experience at Radisson Blu Yas Island in Abu Dhabi. It's been a while since my wife and I had a staycation experience and this was a great way to relax and enjoy the amenities in Yas Island. Visitors in Abu Dhabi can choose among the many hotels available on Yas Plaza Island. Check out Radisson Blu when you have the time.
Contact Information
Radisson Blu Hotel Abu Dhabi – Yas Island
Address: Yas Island, Abu Dhabi, United Arab Emirates
Telephone Number: +971-2-6562000
Email: info.cp@yasplazahotels.com
Website: http://www.yasplazahotels.com/
Google Map Location
Below is a map guide to the location of Radisson Blu Hotel, Abu Dhabi Yas Island: