Thrill seeking tastebuds will delight in a taste in any of this month's 5 Thai Noodle Specials at Benjarong Royal Thai Cuisine located at the 24th floor of Dusit Thani Dubai. So if you're a fan of Thai noodles, you can definitely sample a variety of noodle dishes when you dine in this award-winning restaurant.
This Thai Noodles offer runs daily until July 31 from 12 noon to 3pm and from 7pm to 11pm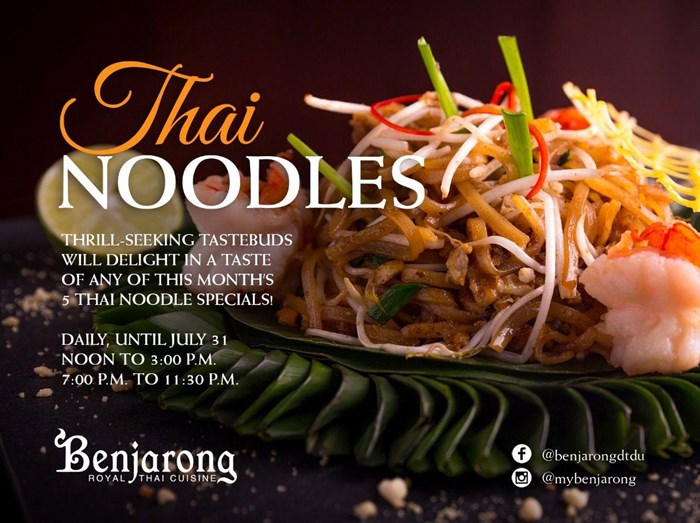 5 Thai Special Noodles Menu
Below you can find the menu options available for the Thai noodles dishes available for you to try this month:
Guey Tiew Lui Suan – AED 52
Prawns, chicken and vegetables wapped in ie sheet seved with Thai spicy sauce
Guey Tiew Lord – AED 55
Rice noodles and bean sprout with prawns, bean curd and chicken in special soy sauce
Bamee Pad Kihimao Goong – AED 66
Stir fried spicy egg noodles with prawns and basil
Khanom Jeen Nam Ngiew – AED 65
Thai rice noodles with Northern chicken sauce
Goey Tiew Gaeng – AED 65
Rice noodles with yellow chicken sauce and boiled egg

Head over to Benjarong and sample their must-try specials. Terms and conditions apply.

Check out our other experiences at Dusit Thani Dubai in these articles below: