Something new for all health conscious individuals in the UAE – Smoothie Bombs has arrived! These are organic food nutrients shaped into balls that you can simply drop into your blender and mix with your choice of milk to make an exciting super smoothie.
These tasty organic balls increase your overall daily consumption of vitamins & minerals, as well as iron, protein and fiber. As somebody who tries to regularly go to the gym, and likes to make a smoothie every now and then, this is a fresh way to add a nutritious kick to breakfast. They currently offer two variants: Raw Cacao and Super Greenie. Read more about them below:
Smoothie Bombs Now in Dubai!
Rev Up Your Mornings With Smoothie Bombs – A Novel Way To Upgrade Boring Breakfasts
** Vegan – Gluten Free – Raw – Paleo – Low Fructose – Handmade – And now available in the UAE! **
Whether you're a crunchy cereal lover or always have your Nutribullet plugged in and ready to go, boost your morning routine with a delicious, health-enhancing Smoothie Bomb.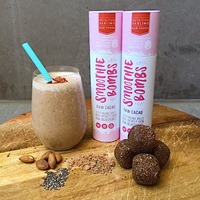 Newcomers to the UAE health food market, The Smoothie Bomb Company was founded by Nutrition Darling Cinzia Cozzolino, a busy working nutritionist and former rock chick, whose passion for music and health food have been on a collision course all her life. With previous jobs including personal assistant to Billy Idol, Cozzolino knows a thing or two about staying in tip-top condition 'on the road'.
Inject A Little Raw Into Your Routine
When you're health conscious and time poor, just one organic super-food bomb will increase your overall daily consumption of vitamins, minerals, protein, iron and fibre.
Cozzolino's Raw Cacao Smoothie Bombs are available in a fun, tactile tube containing 5 super-food balls which can be eaten as-is or crumbled into your Crispies and are available in two variants, Raw Cacao and Super Greenie.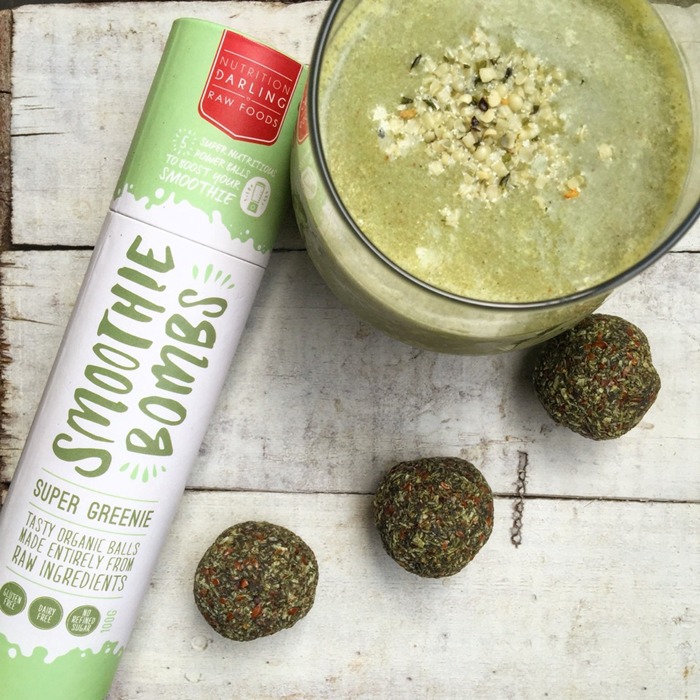 Simply add a Smoothie Bomb to your choice of milk, banana and other tasty fruits, then blend. Or alternatively enjoy as a bliss ball on its own or crumble on top of your cereal or smoothie bowl.
Where to Buy
Smoothie Bombs are available in the UAE from January 2016 and are priced AED 69. They are available to buy in the Detox Delight shop in Gold & Diamond Park, Greenheart Organic Farms Shop or can be delivered by calling Health Angels at 052 3978204. For more information visit: www.thesmoothiebombs.com
About Smoothie Bombs
Smoothie bombs are an organic handmade superfood bomb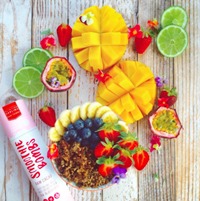 to boost your smoothie, designed by nutritionist Cinzia Cozzolino of Nutrition Darling. Ideal for the health conscious and time-poor, who are looking for an easy way to get the best results in a nutritious and delicious smoothie. The perfect way to increase overall vitamin, mineral, protein, iron and fibre intake. Smoothie bombs are all vegan, gluten free, low in fructose and suitable for a paleo diet. For more information visit: www.thesmoothiebombs.com