So I upgraded my phone and got a Samsung Galaxy Note 8 a few months back. My wife got it for me as a Christmas present and I've been wanting to write a review of this device as I'm really satisfied with it. It goes so well with my lifestyle as a Dubai blogger and social media manager.
Just a brief background, I've been a Samsung user for quite some time. My first smartphone is a Samsung Galaxy S3 and I also own an Samsung Tab S10. I don't follow a craze of needing to have the latest smartphone once it arrives. In fact, I've had my S3 for 4 years and it's actually still functioning alright, though there are a few lags when I open a few applications. But it was already time for a upgrade.
BUY A SAMSUNG GALAXY NOTE 8 HERE
Gadget Review: Samsung Galaxy Note 8
While I've also considered switching over to an iPhone, I've heard great reviews online about the latest Galaxy series and opted to get the Note8 after reading the great feedback of its camera.  I was also contemplating on choosing between the s8 Plus vs the Note8 due to its near identical specs. But after reviewing the processor and the camera reviews, I decided on getting the Note 8. As blogger and freelancer in Dubai, it has helped me tremendously when going out and exploring the emirate.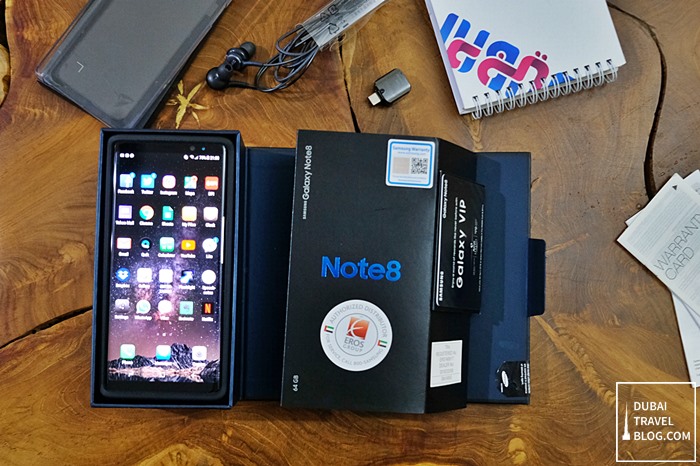 BUY A SAMSUNG GALAXY NOTE 8 HERE
Inside the Box
I got the device from the Samsung Booth in Carrefour Deira City Centre after checking that this was cheapest among the other shops inside the mall. Unboxing the smartphone, it came with 128 GB Micro SD card, earphones, charger, charger adapter, and a phone case.
Specifications
Just a general specifications overview of the Samsung Note 8 just based on a first-look. I haven't gotten into all the specs as I'm highlighting the important ones for me.
RAM – 6GB
Internal Memory – 64 GB
Expandable Memory – 128 GB (micro SD)
Processor – Octa-core (2.3GHz Quad + 1.7GHz Quad), 64-bit, 10nm processor
Display – Galaxy Note8 6.3″ Quad HD+ Super AMOLED (2960 x 1440)
Camera: 12MP AF
My Requirements
There were only two things that I was really keen on having which made me pick the Note 8 over the rest of the smarthones: fast processor and camera quality.
Processor – I needed something that can handle a variety of applications especially with my full time job as a blogger. My previous phone had already been acting up and it couldn't handle the social media apps and media anymore that's why I've been wanting to upgrade. The ability to multi-task is really important to me.
Camera Quality – I am a photography enthusiast and it's important for me to have good quality photos so I can use and upload when I share updates online. Based on reviews, the Note8 produces one of the best (if not the best) photos among all smartphones released during this lineup. I can rely on the Note8 to provide me great photos even during night time. During a recent adventure visiting the Dubai Frame, most of the pictures I used in the blog post came from my Note8.
BUY A SAMSUNG GALAXY NOTE 8 HERE
The above were the only main things I carefully made sure were above average performance. But aside from these features, some of the points that made the smartphone even more worth it are:
Huge Screen Size – The size of the screen is just huge that it was quite a pleasure to view webpages and videos cause there's plenty of room for the sight.
S Pen – The S-Pen was something I wasn't so sure about but this has since become a game-changer for me. It just feels good to use and makes it easier for me to type or click links, buttons, applications. I feel I just manage my tasks much better with the S-Pen. Plus I feel very cool and professional using it. lol
Con: A month after I used the S Pen, it snapped. I had to buy a replacement from the Samsung shop in Dubai Mall. It cost me 126 AED for the replacement. A note to self to avoid too much grip when holding the S Pen though I feel like the material could be a bit stronger.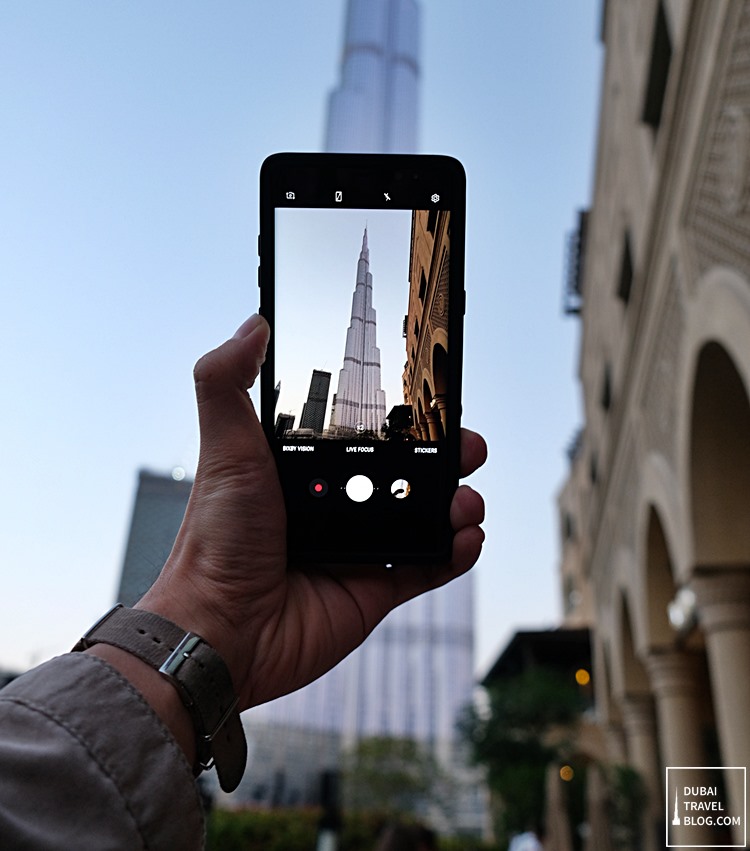 BUY A SAMSUNG GALAXY NOTE 8 HERE
Main Mobile Apps I Use as a Blogger
The top mobile applications I use for social media and my Dubai blogging set-up are:
Facebook
Instagram
Dropbox
Evernote
Google Sheets
Quik Video Maker/Editor
Having a smartphone that can handle a lot of heavy media and apps, the Note8 has made my uploading and multi-tasking much easier. I really give this Note8 a Thumbs up!
Price
This is the most expensive among the Galaxy series and it was priced at 3399 AED but I got it a 300 AED discount during a promotion in Carrefour supermarket in City Centre Deira.
BUY A SAMSUNG GALAXY NOTE 8 HERE
Conclusion
The Samsung Galaxy Note8 really makes my blog managing tasks easier especially with my lifestyle. It allows me to capture quick snapshots when I go to different places and then post them on my social media accounts quickly. As I maintain different Facebook and Instagram pages, I get to multi-task and open many applications at my convenience.
I would recommend anybody who is looking for a smartphone that packs a quite a punch in performance and camera to try it out especially to those who are serious in managing various applications.