We visited the Dubai Frame two days after it opened to the public. On January 3, around 4:30pm, we headed to Zabeel Park so we could tour this new Dubai attraction. I was initially hesitant to drop by The Dubai Frame since the weather visibility wasn't the best at the time. It was only a few days after the emirate had been experiencing a foggy weather so I wasn't so sure if it would be worth it for us if we were to see the skyline in a foggy state.
My wife convinced me that we didn't need to have the clearest view of the Dubai skyline, as the Dubai Frame structure in itself is already its attraction. Hence, we arrived at the park and proceeded to the entrance and purchased tickets at 50 AED each (BOOK HERE). Let me share with your our experience during our visit.
Note: There is a separate entrance to the frame. Go to Gate #4 in Zabeel Park.
Photos were taken mostly with a Samsung Note 8. Edited in Lightroom.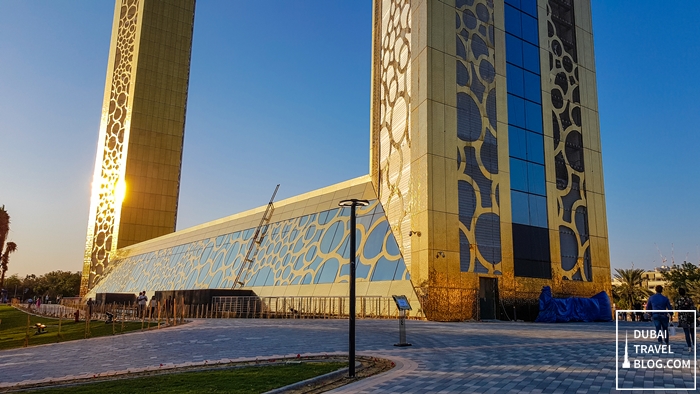 the base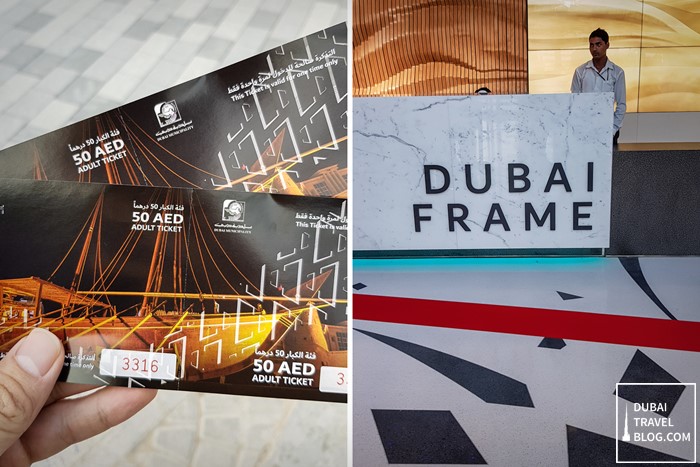 tickets, Dubai Frame entrance
Review: Our Dubai Frame Experience
The Dubai Frame rises 150 meters above Zabeel Park and has a 93-meter long gallery for viewing at the top floor. People can walk on a pathway made of glass and enjoy the views of the city from both sides (with Old Dubai from one side and New Dubai on the other). The concept of this structure as a vantage point sounds interesting and would make for another good spot for tourists to check out.
As a resident for 5 years now, it took some time for this structure to shape up as we would normally pass by the building whenever we drove to Downtown Dubai. But finally it has completed and it's nice to have had the opportunity to visit it early on.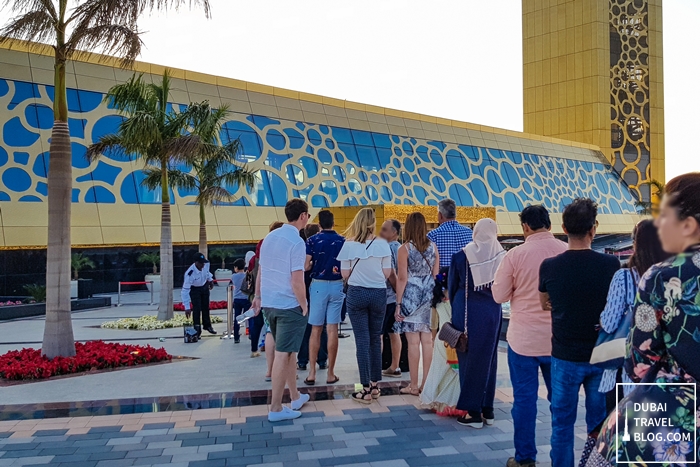 queuing at the base of the frame
Upon arriving at the base, people were already lining for their turn to go up. The queue is needed because the Dubai Frame can only accommodate a certain number of people at the time, around 200 visitors per hour.
We stayed for about  15 minutes. You can watch the fountain while waiting in the queue and listen to Arabic music played in the background.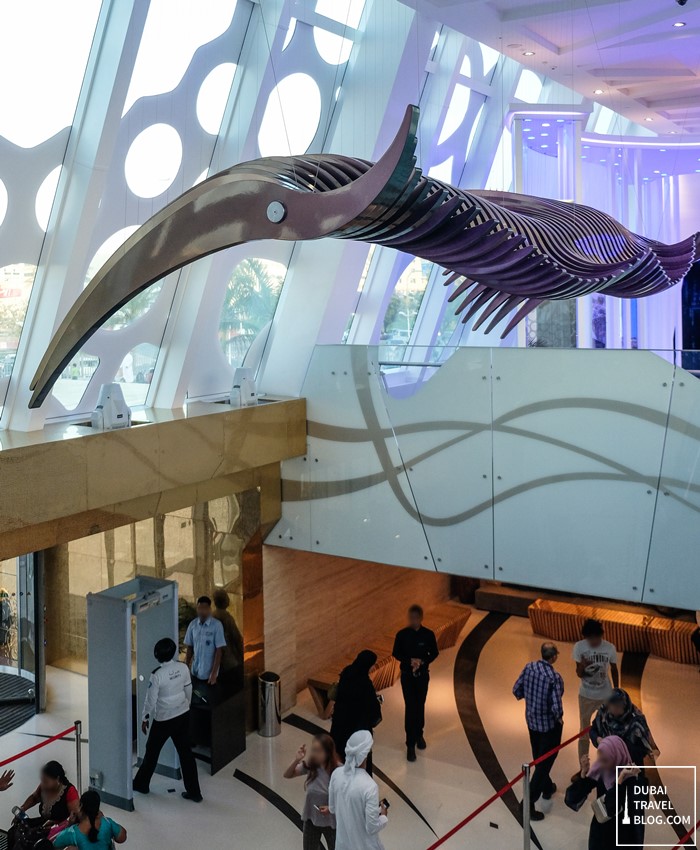 view from the mezzanine
that object above would slowly move
Past Dubai: Museum and Old Souk
When they were ready to let us in, we were ushered to a mezzanine level with a museum showcasing Dubai's past and information about the frame. Afterwards, we were taken to a hallway with a preview of Old Dubai souks featuring projections and mist effects.
There are quotes from His Highness Sheikh Mohammed bin Rashid Al Maktoum displayed on the wall and changes from Arabic to English continuously. The experience is quite immersive as it is intertwined with modern technology and makes for a great insight while waiting for the elevator to be ready.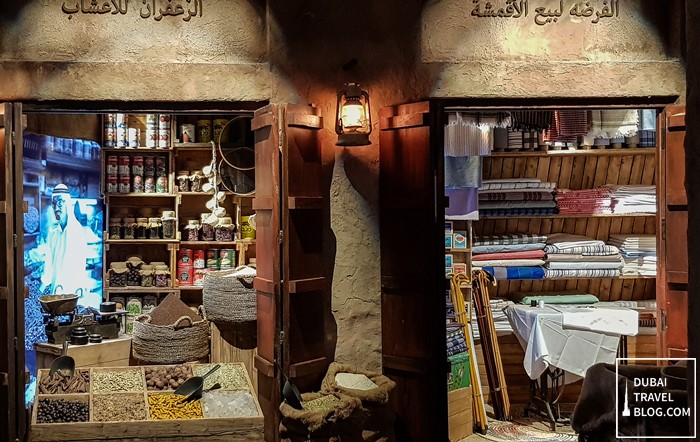 Old souk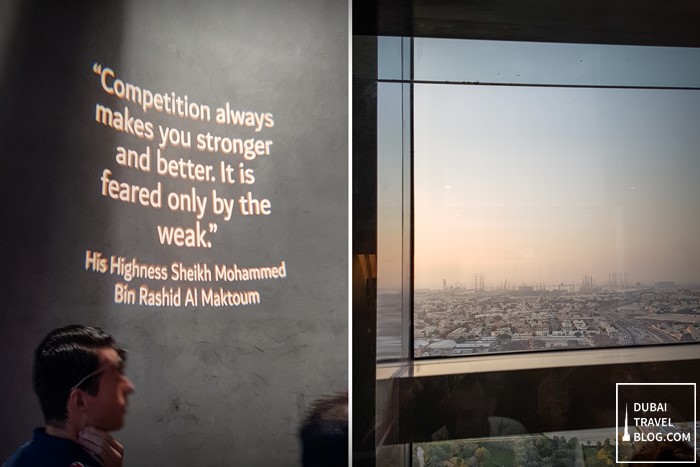 HH Sheikh Mohammed quote, elevator view going up
As we rode the elevator going up, the staff mentioned us to look through the glass so we could already see a glimpse of the city as we ascended to the Sky deck level.
Present Dubai: Sky Deck Level / Top Floor Bridge
The second experience in this tour is the Sky Deck Level which represents Dubai in the present time. Visitors can see a spectacular skyline from both sides, one representing Old Dubai (Al Karama, Deira, Bur Dubai, Umm Hurair) and the other showcasing New Dubai (Sheikh Zayed Road, Downtown Dubai).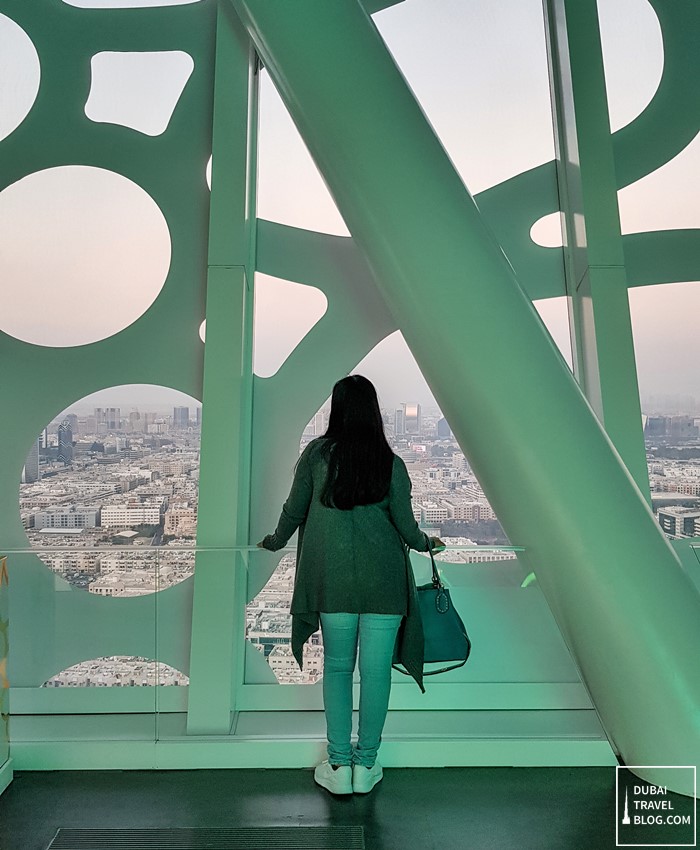 my wife admiring the view of Old Dubai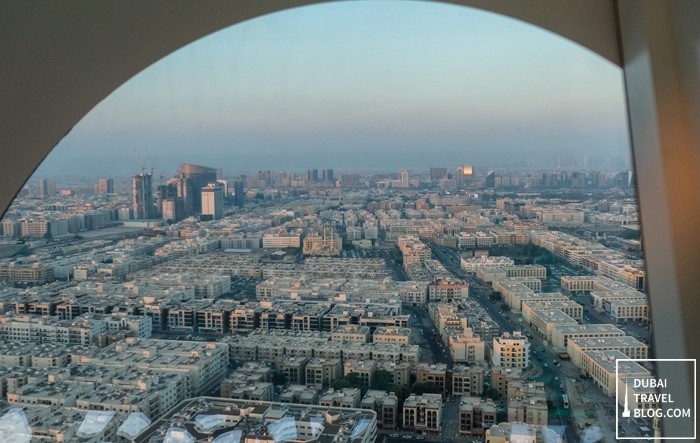 view of Old Dubai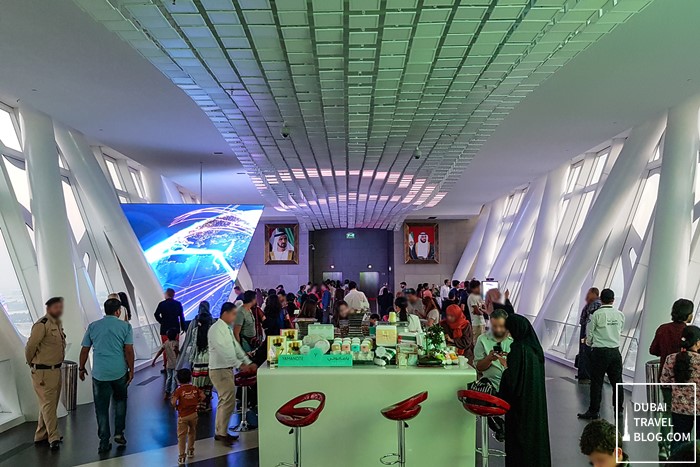 inside the bridge, there's a cafe stall in the middle
There's a strip on the floor that is made of see-through glass so you can definitely see that the height below is no joke.
There are inverted pyramid-shaped displays where you can write your names and it will show in the projector. The design from the outside is based on the Expo2020 Dubai logo. There's also a small café stall in the middle of the bridge.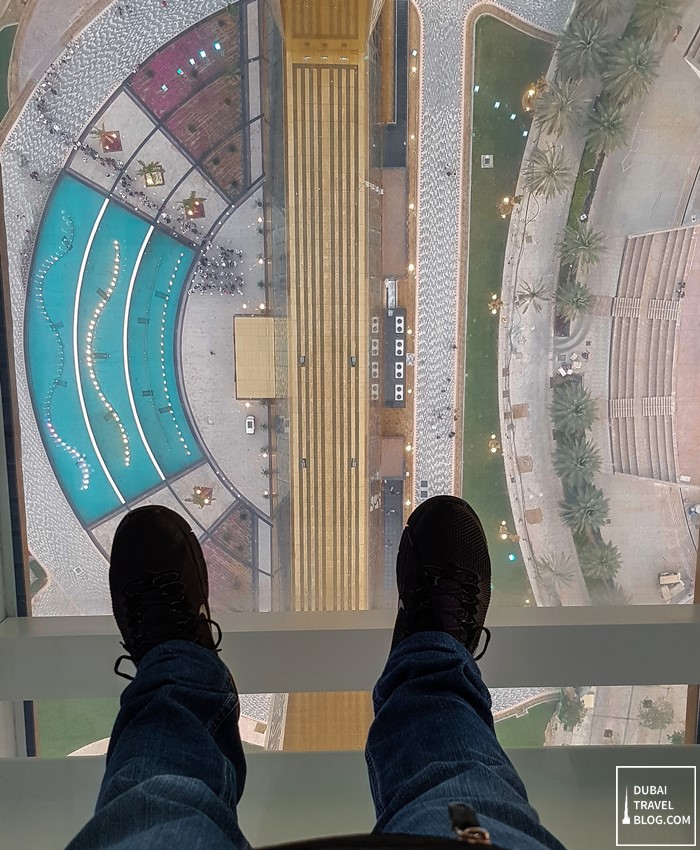 my feet on the glass walkway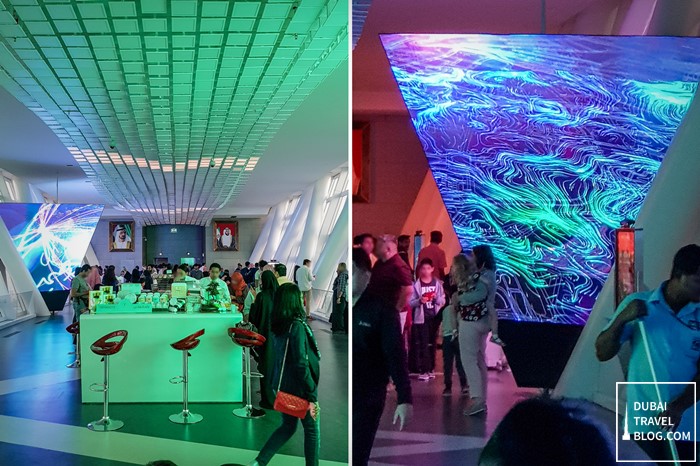 cafe, projector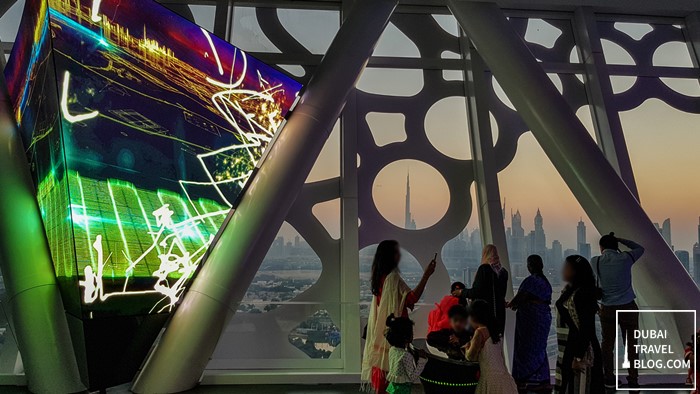 inverted pyramid projection – you can write your name or doodle and it will show on the display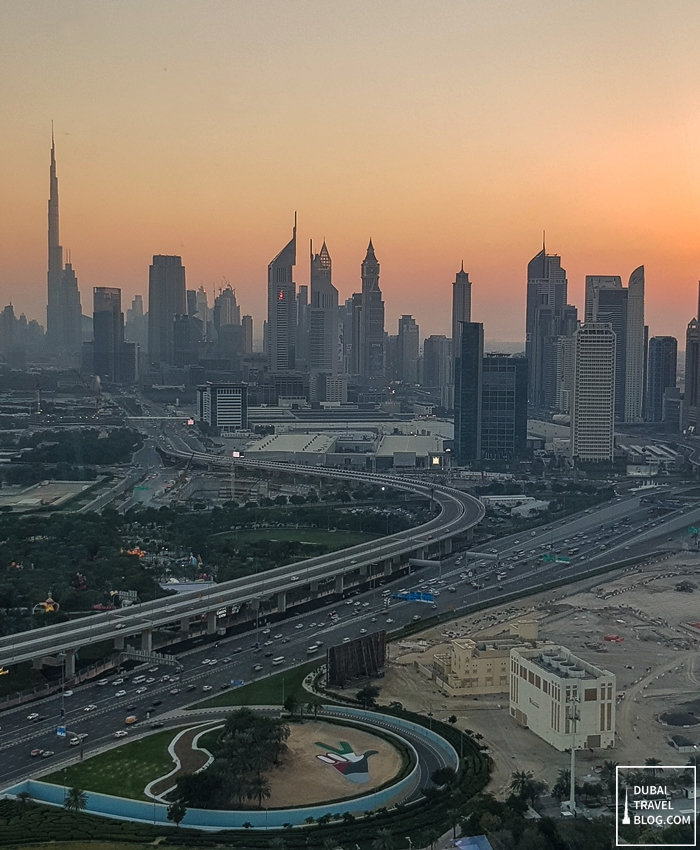 shot on Samsung Galaxy Note 8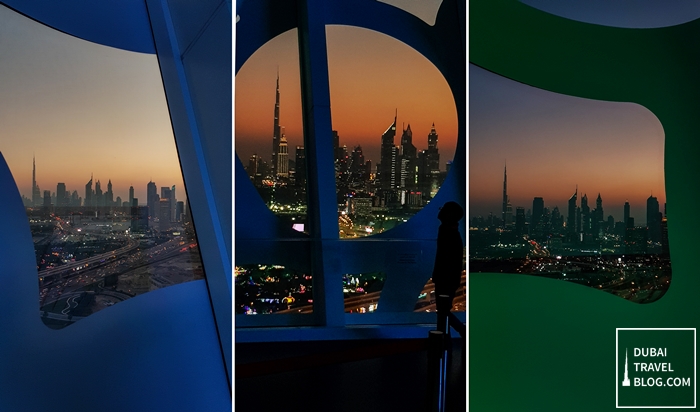 last views before going down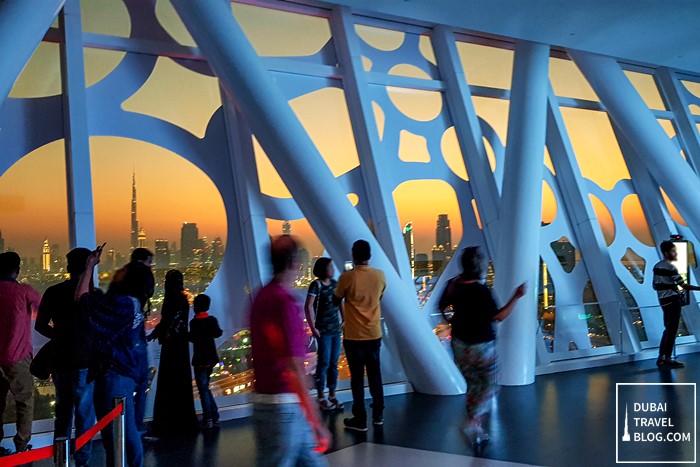 sky deck
Security would remind us to move forward from time to time so that other guests could come in. At the end of the bridge is the next elevator going down.
Future Dubai: 50 Years into the Future
We were taken to a room where we saw a glimpse of the future of Dubai. It's a virtual reality gallery that depicts Dubai 50 years from now with Dubai's famous skyscrapers and even more structures and developments. It felt very futuristic and would give you a sense of pride for being in fast-paced city that constantly innovates itself.
While I wished to share some snaps and videos in this area, photos and videos are not allowed and staff were strict enough in implementing this policy in this area, in which I understand since the insight to the future has not yet been broadcasted publicly. It was a great tour and one that would leave a delightful impression as the presentation finishes.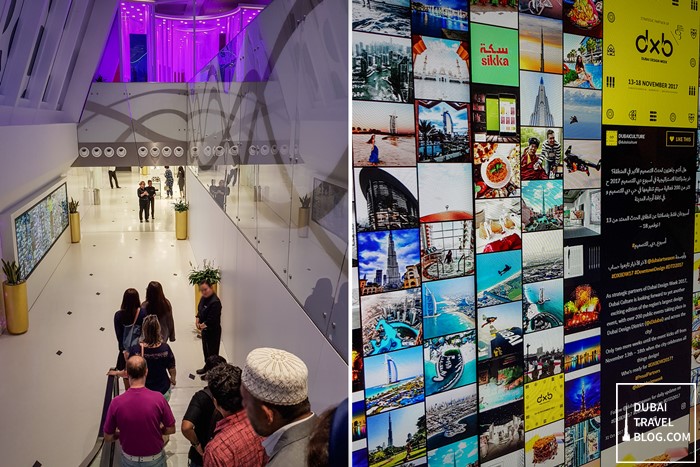 escalator towards the souvenir shop, a display of Dubai photos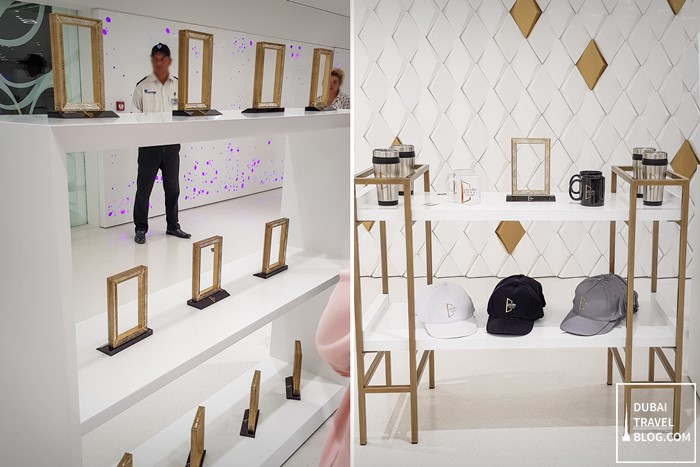 souvenir area
Final Thoughts
I'm glad that my wife convinced me to check this newest attraction out.  The frame is carefully crafted. The concept of Past, Present, and Future is interesting and smart. It made me appreciate that the nice thought process of building the structure as we assumed that the frame is just a place where you go up, take pictures and then go down.
It's unique so don't think of it as a viewing deck only. Our 50 AED was worth it and would recommend it to others for a different experience.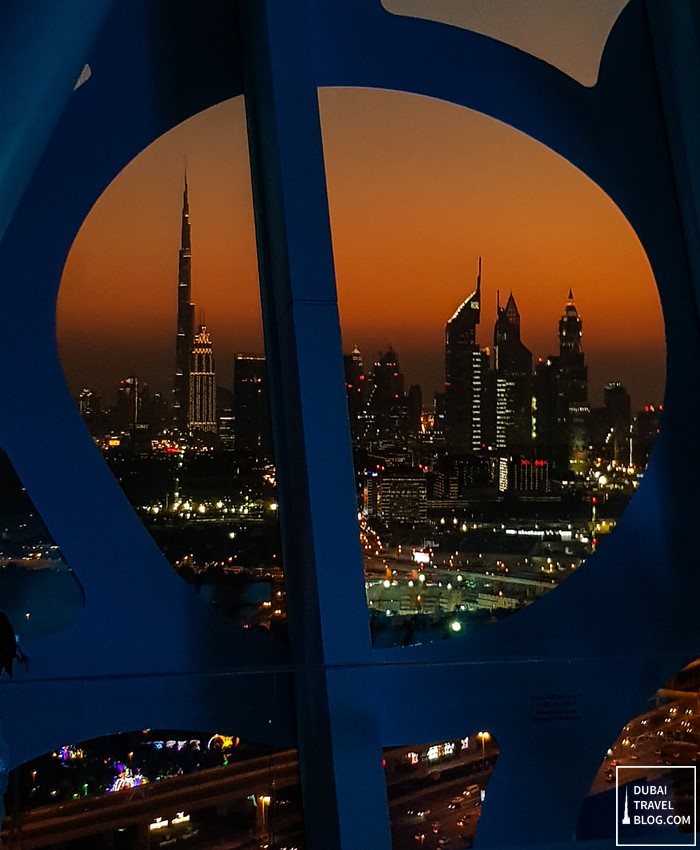 Dubai Frame at night
Reminders when Visiting The Dubai Frame
The staff and security would always remind tourists to avoid jumping on the glass strip at the Top Floor.
Keep in mind that time is limited as they need to accommodate other incoming visitors. Only 200 visitors per hour.
For photographers, you may need to adjust your camera due to the reflection from the glass. If you don't care about reflections at all, enjoy the view. 🙂
As a tip, I think it's good to visit just before sunset. So you can witness the during day and night.
Parking spaces are available for visitors.
Entrance Ticket Cost
Adults: 50 AED (BOOK HERE)
Children: 20 AED
Free for children under three and people with disabilities
Opening Hours is from 10am to 7pm
Google Map Location: The Dubai Frame
Below is a Google map guide to take you to the Dubai Frame. Be advised that there is a separate entrance gate in Zabeel Park. Parking is also available for visitors.
Zabeel Park Gate #4 – Dubai