During our trip in Paris, the first tourist spot we visited after settling in our hostel was the Sainte Chapelle. This is a gothic-style chapel that is home to historic and important Christian relics. I was quite surprised by its beauty and its colors.
Upon arriving, there were plenty of tourists waiting in line. It was good that we purchased tickets online beforehand and we were able to enter the building right away. BUY TICKETS HERE
Also Read: How to Apply for a Schengen Visa for France in Dubai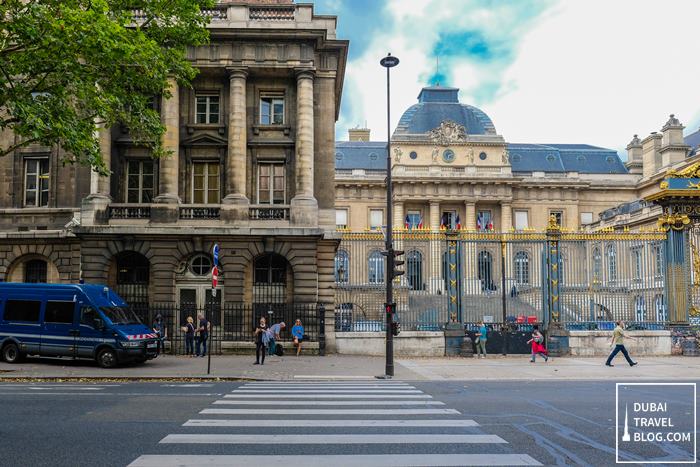 walking towards Sainte Chapelle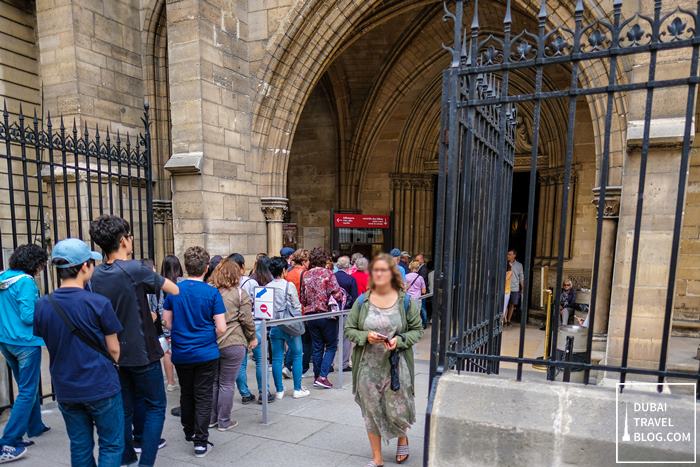 didn't have to wait in the queue
Visit to Sainte Chapelle in Paris, France
A bit of history, the Sainte-Chapelle was built between 1238-1248. This is located in the courtyard of the Palais de la Cite, a former palace which is currently part of the Palace of Justice. This chapel was commissioned by King Louis IX of France to keep his collection of relics of Christ.
Parts of Sainte Chapelle got damaged during the French revolution, but most of the stained glass windows remained intact. The Christian relics live under a chapel with 15 windows spread strategically across the building, which all stands 15 meters tall, with each of the stained glass windows laced with 1,113 stories from the old and new testament.
Sainte Chapelle is divided into two chapels; the lower and the upper chapel.
BOOK ST. CHAPELLE TICKETS HERE – SKIP THE LINE
Lower Chapel
The lower chapel is known to be the place of worship and is also the place where the oldest wall painting that can be found. It was interesting to see the gold pillars with Fleur de Lis designs.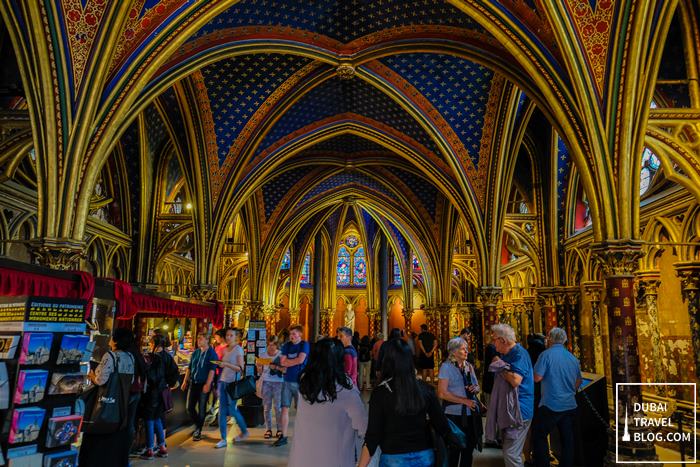 after getting through the entrance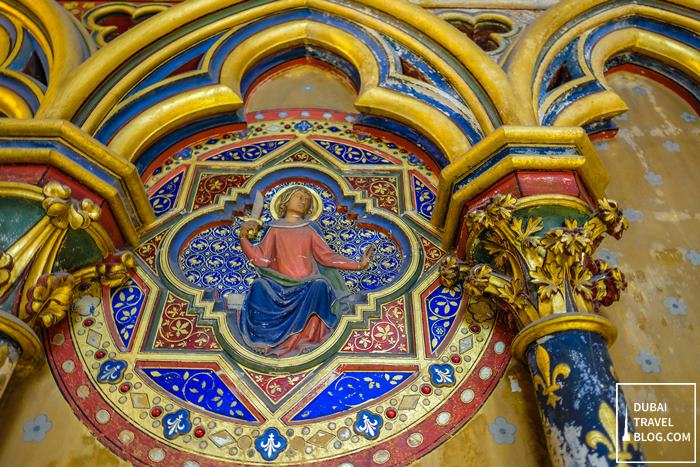 one of the walls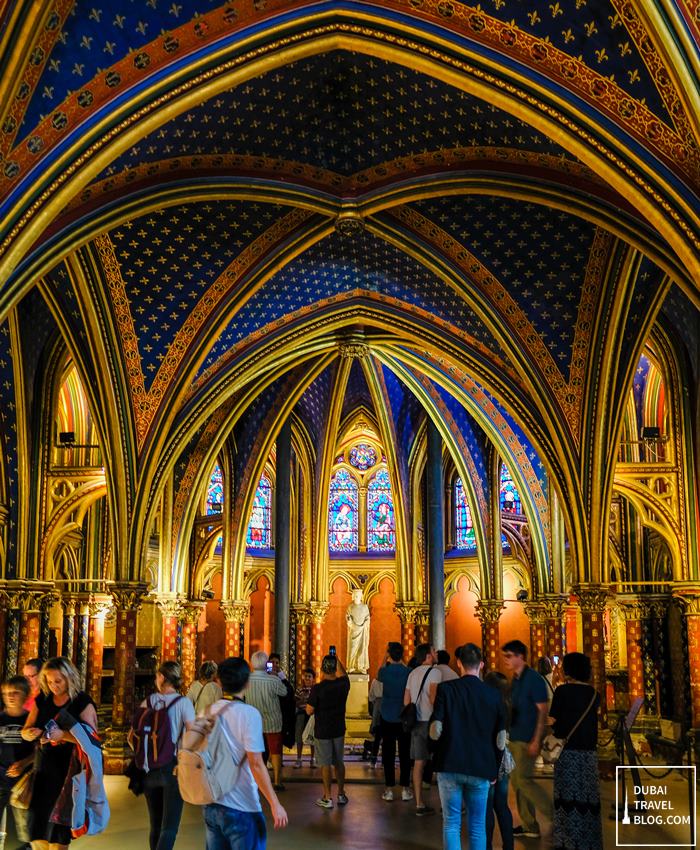 lower chapel
Upper Chapel
The upper part of the structure is really the main highlight of this place. We were able to reach it by climbing narrow staircase. Upon getting here, we were amazed by its height and its design. It is composed of high-ceiling stained glass windows that sparkle in different colors due to the natural light. Striking colors of purple, blue and pink would play around the walls.
I took plenty of pictures of the upper chapel and I had to stop in between because the architecture and design is beautiful. I heard one tourist even mention the photos do not justify the marvelous design.
BOOK ST. CHAPELLE TICKETS HERE – SKIP THE LINE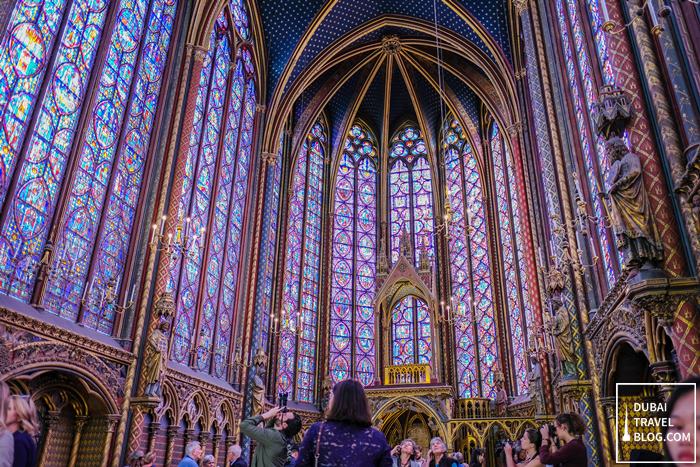 after climbin a narrow staircase, this is what greeted us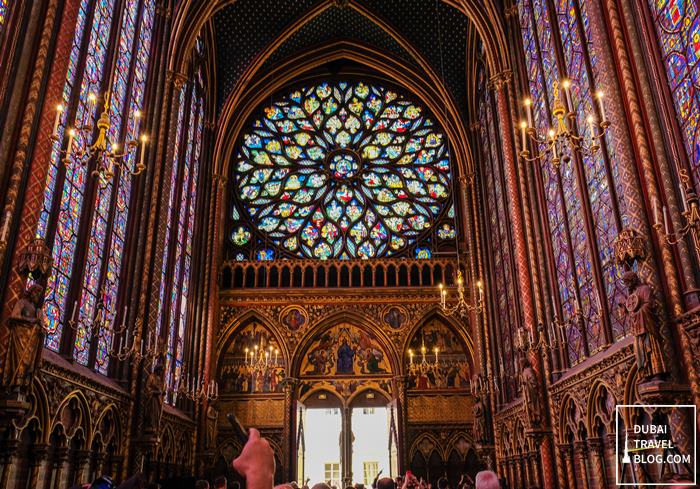 Western Rose stained glass window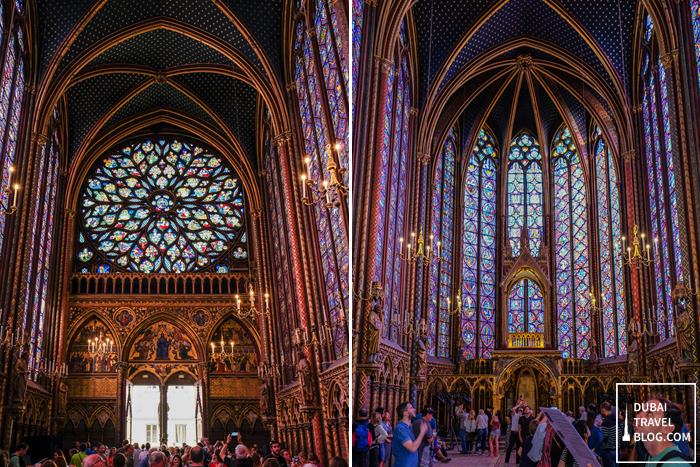 high ceiling
The intricate designs of the upper chapel is really dramatic and I had to adjust my eyes to the pictures in each stained glass Each glass depicts a story of the Bible, from Genesis to the Resurrection of Jesus.
Entrance to Sainte Chapelle
To see the magnificent building of Sainte Chapelle, one must pay an entrance fee and the fee also varies.
Full Price – 10 EUR
Reduced Price – 8 EUR
Group Price (At least 20 people in a group) – 8 EUR
Price for School – 30 EUR
BOOK ST. CHAPELLE TICKETS HERE – SKIP THE LINE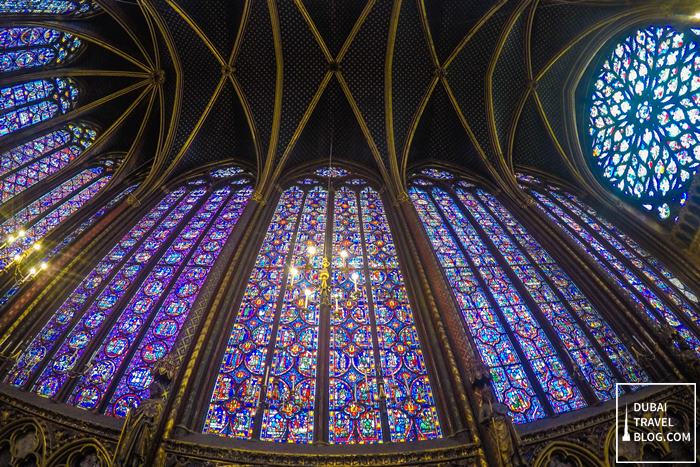 intricate designs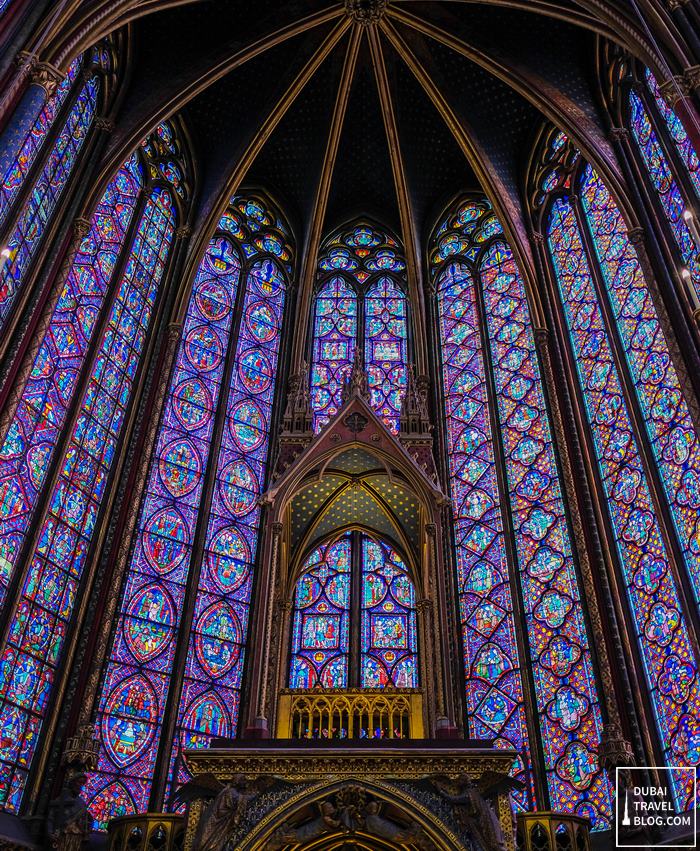 the colors are very dramatic
Tours in Sainte Chapelle
Individual
Self-Guided (Usually last for 1 hour)
The available guides speak in English, German, Spanish, Italian, Japanese, Polish, Russian, Dutch, Chinese, Portuguese.
Guided tours (Last for 45 minutes)
Available daily with no reservations needed at 11:00 am and 3:00 pm
Tour Lectures (1 ½ hours)
Available in French
Conducted by a guide from Centre des Monuments Nationaux
Cost: 15€ per person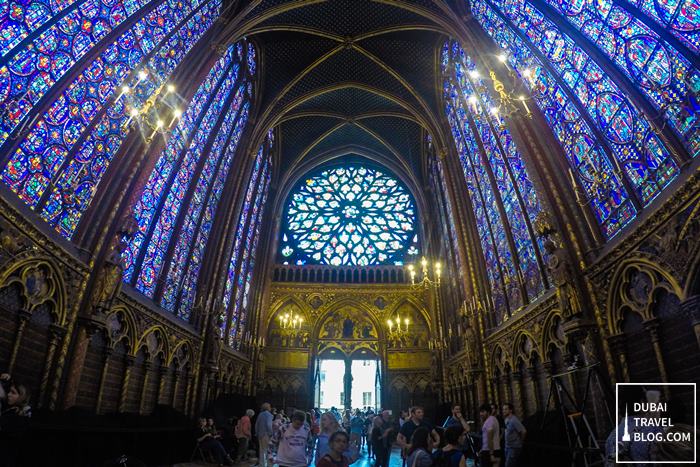 it was a busy time, but we cared less of the crowd because of the beauty of the windows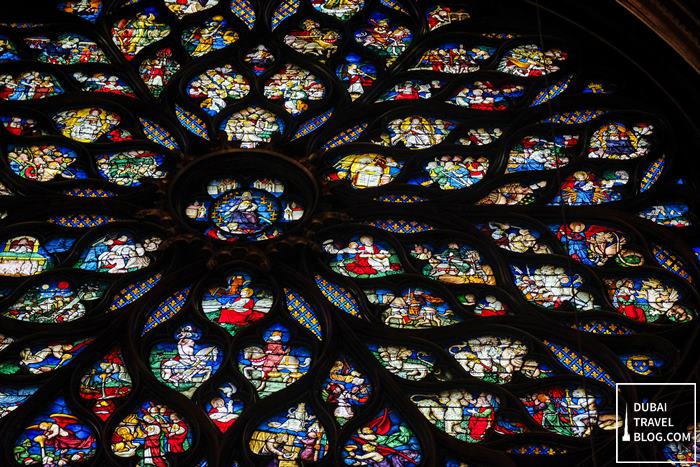 Western Rose window
Group Tours
Group Tour Lectures (1 ½ hours) – The group tour lectures are available in: English, Spanish, French. These are conducted by a guide from Centre des Monuments Nationaux. Guided tour lectures on group are required to be reserved beforehand.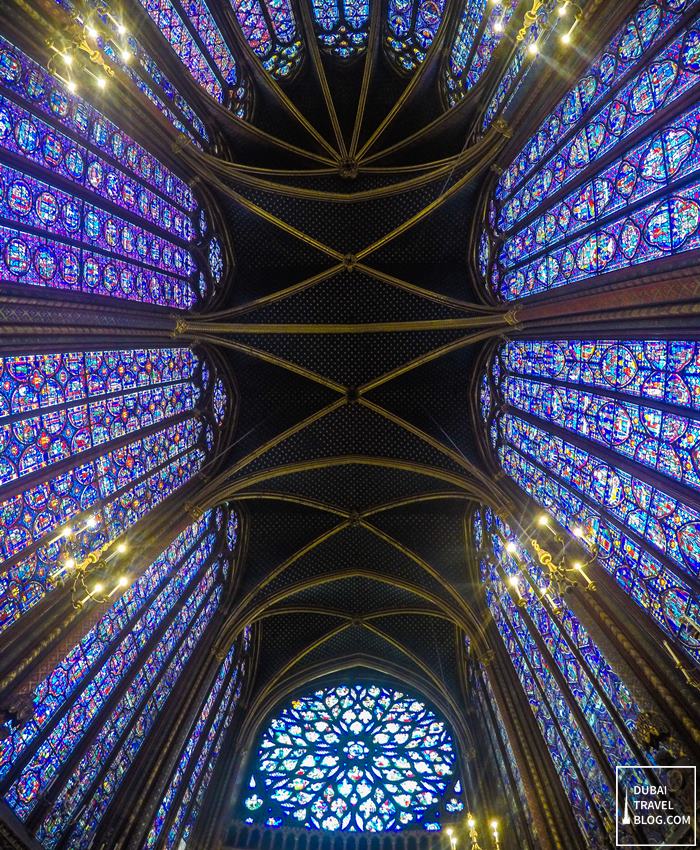 looking up
Audio Guide
Audio Tours – The audio tours have an extra charge of 3€ in addition to the admission fee and they are available in: English, German, Italian, Spanish, Japanese
Book Guide – An electronic copy of the booklet guide is available through this (link)
By the way, prior to visiting Paris, my wife and I watched the Da Vinci Code (Tom Hanks movie) as we wanted to picture ourselves as if we were in the movie. lol. For someone like me who's not much into history, the film really helped in making me want to visit the places that were featured. But even if you have not watched the film, the chapel is really a dramatic sight to behold and definitely worth the visit.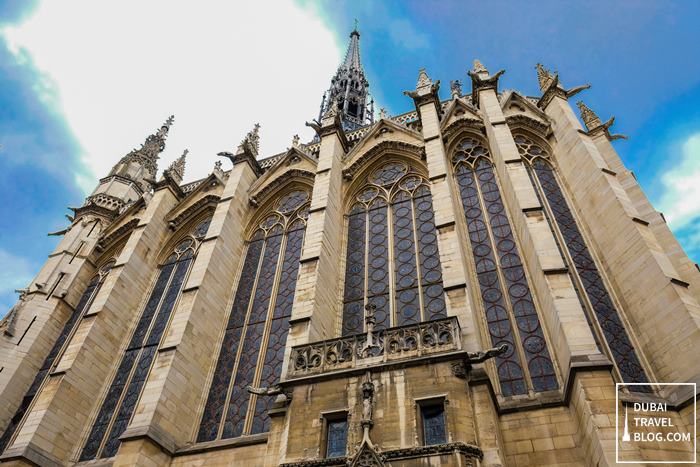 outside the chapel may be quite simple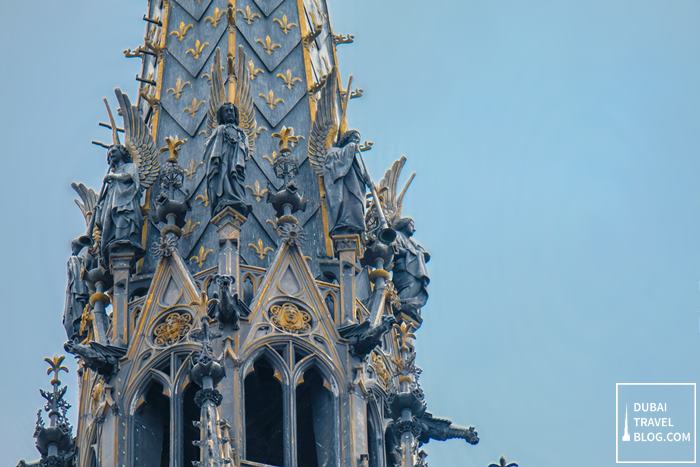 gothic designs
How to get to Sainte Chapelle
Subway: Line 4, station Cité
Bus: Lines 21, 27, 38, 85, 96 and Balabus
Entering GPS coordinates: Latitude: 48.8554 Longitude: 2.3450
Things to remember
Dogs are prohibited within the premises of Sainte Chapelle. (except for assistance dogs)
Every visitor must undergo a compulsory police check in which prohibited items will be confiscated like metallic/sharp objects and etc.
Depending on the season there's a chance that people needs to queue in first before getting inside.
There are no lockers inside to check in excess baggage
No big bags and suitcases will be allowed inside the chapel
Tip: For anyone planning to go at Sainte Chapelle during peak season it is recommended to book a ticket through here, to get priority access and avoid the long queues
BOOK ST. CHAPELLE TICKETS HERE – SKIP THE LINE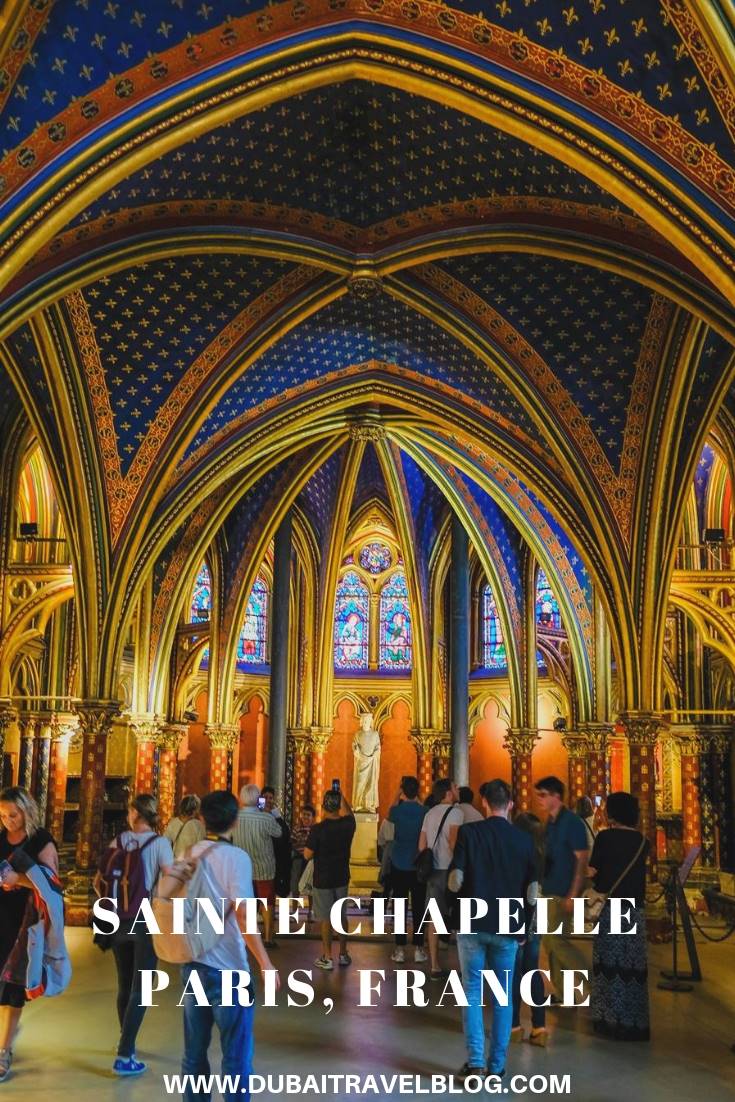 Address: 8, boulevard du Palais 75001 Paris
Phone: 33 / (0)1 53 40 60 80
Website: http://www.sainte-chapelle.fr/en/
Location Map of Sainte Chapelle
Below is a Google map guide in getting to the Sainte Chapelle.