One of the most famous ensembles in the world- Sukhishvili Georgian national dance company, also known as "flying Georgians", is returning to Dubai Opera with the show from 7 to 9 November 2021 after a triumphal tour in January 2020.
My wife and I have been to Georgia before and this was one of the attractions we missed during our visit. So it's nice that this dance organization are coming to Dubai to perform at the Dubai Opera.
Visit DubaiOpera.com to Book Tickets
"Dance with Georgia" show by Sukhishvili Georgian National Dance Company is coming back to Dubai Opera on 7-9 November 2021! 
Founded in 1945 by legends Iliko Sukhishvili and Nino Ramishvili in Tbilisi, Sukhishvili was the first professional state dance company in the Soviet Union. The company rapidly gained a reputation that spread far beyond the borders of Georgia itself, however, they have retained the essential spirit of their homeland.
Since its establishment, the company has performed in 98 countries, including the top stages of London, New York, Paris, and Milan. Sukhishvili has undertaken more than 300 tours and over 20,000 performances, entertained an estimated 90 million people, and put Georgian dance on the world map.
Visit DubaiOpera.com to Book Tickets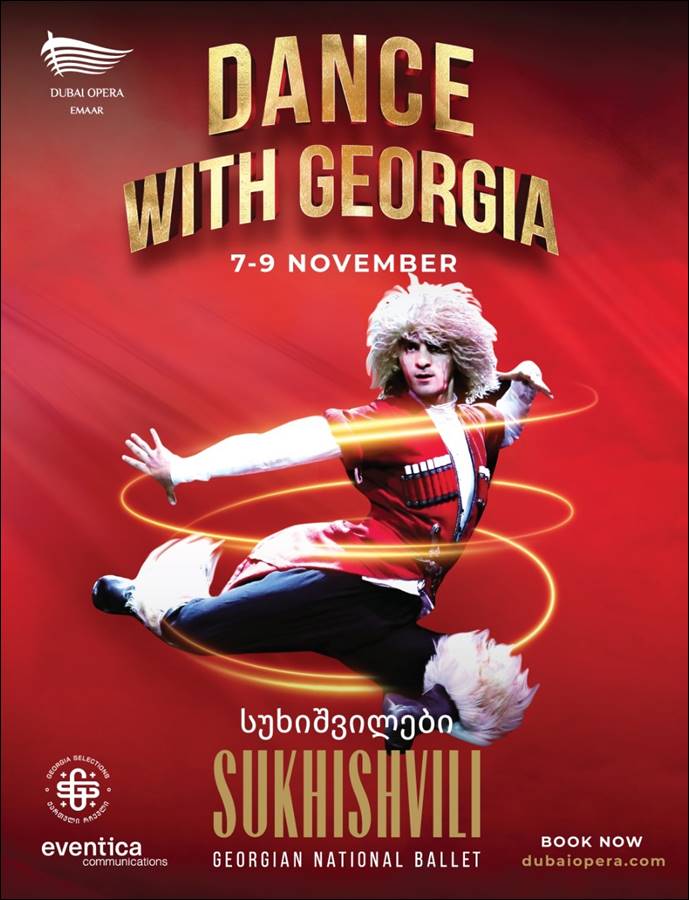 Sukhishvili has broken the Guinness Book world record in "La Scala" stage in Milan when the curtain of the theater was drawn 14 times for the spectators' appraisal of the show.
The company has influenced the fashion world. After seeing their tour in France, Yves Saint Laurent has included largely stripped belts with a bow into his collection – the design which is popular up until the modern day.
In the 1950s and 1960s, the stage costumes were created by Nino Ramishvili along with the houses of Chanel, Yves Saint Laurent, Giorgio Armani, Christian Dior.
Sukhishvili embodies Georgia: a proud nation, fierce and beautiful, majestic mountains and vine-clad valleys, endowed with natural wonder and rich cultural heritage.
Nino Sukhishvili: We have traveled all over the world, visited all continents, more than a hundred countries, and many of them more than once. Sukhishvili performed in Dubai for the first time in 2018. This is a wonderful city and the country as a whole, has achieved such development and success – it causes a sincere delight. Our visit to Dubai gave a vivid impression. This is a real mecca for culture lovers. The performance at the Dubai Opera, which is one of the best venues in the world, was sold out and with great success. The audience very warmly received the team and our art, received many rave reviews.
The Washington Post: "The world's greatest dancers".
Sukhishvili Georgian National Dance Company in Dubai Opera