Dubai's entertainment scene is developing and one of the attractions where you can expect a unique and enjoyable evening is the La Perle by Dragone live show in Al Habtoor City.
Conceptualized by the legendary Franco Dragone, this is an aqua-based theater presentation that expresses the spirit of Dubai and will amaze you with its stunts and acts. We were able to witness the full show ourselves and we can assure you that it does not disappoint.  The 1.5 hours show went by pretty fast that we wished that we craved for more.
Book La Perle Dubai Show Tickets Here

Buy La Perle Dubai Tickets Online
La Perle Dubai is a must-watch spectacle. You will witness flying acrobats, artists diving into the on-stage pool, light displays, larger than life props, motorcycle stunts and so much more. It's not only an incredible display of human strength, but the theater itself and the overall artistry is hard not to commend.
Book La Perle Dubai Show Tickets Here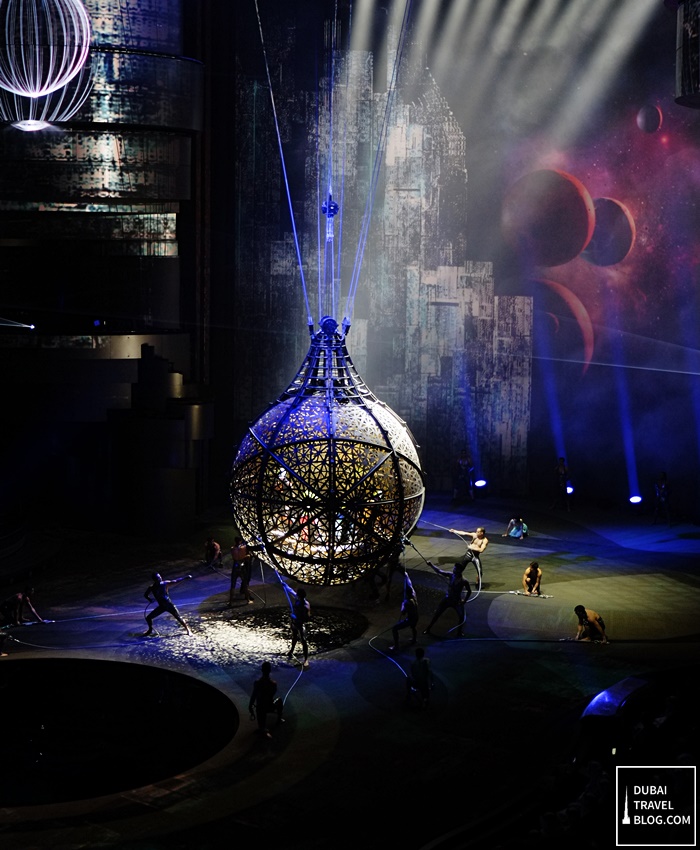 Tips When Visiting the Show
Duration – 90 minutes without intermission
Photography – Allowed but no flash
Arrival – Arrive 30 minutes prior to the show so you can find your seats. Snacks and drinks are available outside the theater.
Book Tickets Online – eTickets are available and you can book online and just show the online receipt once you've successfully booked – BOOK HERE
Show Schedules:
Tuesday to Friday – 7pm and 9:30pm
Saturday – 4pm and 7pm
Book La Perle Dubai Show Tickets Here
Hamster and Motorcycle Globe Act
One of the main highlights was this giant hamster act (dunno how to call it). An acrobat leaps on this spinning wheel contraption while performing death-defying stunts.
The other one is the motorcycle globe act where 5 men in motorbikes drive and spin inside a giant globe.  Here's a short video clip of the motorcycle globe act in the La Perle Dubai show.
This La Perle Dubai show is the first permanent aqua-based show that it is establishing itself in Dubai. You don't have to travel to Las Vegas, Macau, Paris or other places as you can watch it here in Al Habtoor City.