We recently applied for a Schengen tourist visa for our Paris and Rome trip at the France embassy VFS Global office in WAFI Mall, and it only took us 3 days for our visa to be approved. This post aims to share our experience to help those who are also planning to travel to European countries and need to know how to apply for a visa. VFS Global in Dubai handles the visa procedure of many Schengen countries.
Dubai is a really great place for expats who want to travel to other destinations in Europe, Asia, Africa and so on. Dubai has busy airports, you can basically choose among many countries to visit with the UAE as a starting point. We hope this guide will help you as we tackle our experience applying for Schengen visa so we could visit France and Italy during our 9-day Europe trip.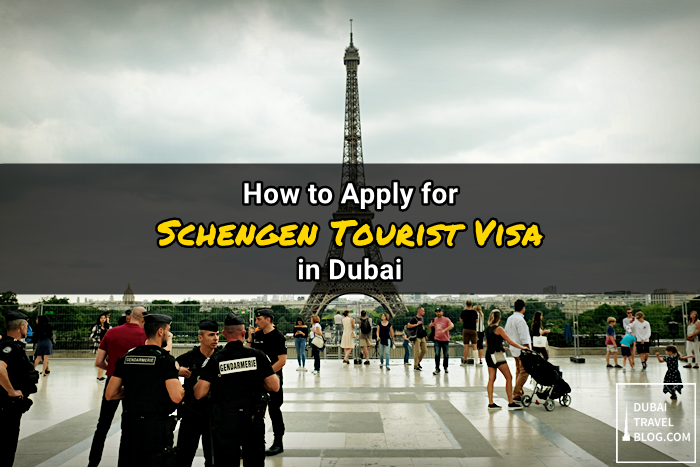 How to Process a Schengen Visa in Dubai at VFS Global in WAFI Mall
Please be advised that the information here is based on our experience applying at the WAFI Mall for a France tourist visa. Other country offices (Italy, Greece, etc.) may have a different processing time of approval.
What is a Schengen Visa? Before anything else, you might wonder what a Schengen visa is.
Certain European countries have made an agreement/treaty which eliminates border checks between Schengen states. The following are the countries part of the Schengen area: Austria, Belgium, Czech Republic, Denmark, Estonia, Finland, France, Germany, Greece, Hungary, Iceland, Italy, Latvia, Liechtenstein, Lithuania, Luxembourg, Malta, the Netherlands, Norway, Poland, Portugal, Slovakia, Slovenia, Spain, Sweden, Switzerland
This makes it easier because of you are travelling to these countries for a holiday, you can apply for a Schengen visa and be granted to visit them using that visa.
Step by Step Guide in Getting a Schengen Visa in UAE
1. Choose your main country of travel. Choose the country or countries you want to visit. This will determine which VFS application center (or other assigned office/agency) you will need to go. In our case, we were travelling to 2 countries, France and Italy, but our first point of entry and main destination is France, hence we needed to apply at the France VFS Global center.
Note on Travelling to More than one Schengen country: In the event that you will travel to different countries in the Schengen area, the embassy that you need to apply for the visa will be based on the country where you will spend the most number of days. But if you will spend equal amount of days in 2 or more countries, you will need to apply for the embassy of the first point of entry.
Also, make sure you go to the office assigned to handle the country. While many countries are under VFS Global, there are some countries where the visa is handled by a different agency. If your main country of travel is Italy, the agency handling it is Cox & Kings handles Italy, If your main country of travel is Spain, the office that handles it is BLS Intl. So make sure to decide which country so you can go to that specific office.
2. Book an Appointment online. After choosing the country, you should set an appointment where you will submit all your documents and your application. You should book an appointment based on your main country. For France, we scheduled an appointment via VFS Global France site – you need to sign up for an account to log in.
Tip: Kindly make sure that you book an appointment early (maybe 2-3 months before your trip) as the processing for approval may take time and to save you worry. When we booked our schedule, we realized the next available schedule was already less than 2 weeks before our actual date of travel. This caused us a bit of stress and worry because we're not sure if our visas would get approved on time. 
3. Prepare Your Documents. Now that you have a date of appointment for appearance, you need to  prepare your documents. Make sure they are correct and complete. Below are the documents we've gathered:
– Filled-out Application Form – download the Schengen visa application form here.
– short-stay visa checklist – download the checklist here
– 2 passport photos – please make sure the photo is taken in the last 6 months as this what they asked from us during our appointment.
– passport – valid for at least 90 days
– UAE residence visa – valid for at least 90 days
– NOC from employer – stating purpose of travel, position, monthly salary and begin date of employment in the UAE.
– copy of 3-months personal bank statement
– copy of itinerary (if the trip is prepared by travel agency)
– copy of medical insurance – we bought the cheapest travel insurance from AXA Gulf (around 62 AED for 10 days)
– copy of airline tickets
– confirmed hotel booking – we booked a hotel via BOOKING.COM 
It took some time for us to create our itinerary (as this is a DIY Europe trip for us). But we were able to complete everything as requested which was great.
4. Go to the Appointment at VFS Global Office. On the date of our appointment, we went to WAFI Mall to the VFS office to submit all our documents. There's a bit of queue even if you've already booked a specific time. We probably stayed about less than an hour while waiting for our turn. Your documents will be scanned by the rep and they will assess what else may be lacking from the checklist. Once everything is good, you will line up for the fingerprinting and snapping of photo (to be used in the visa stamp). You will then be given a receipt to claim your passport once you will
5. Wait for the status approval. The VFS Global process will send an SMS message on your registered phone about the status of your application for every update. So you will be updated when the application is received, when it's sent to the Consulate, when it's sent back to VFS, and when it's ready for pick-up. This was a very nice touch so you stay posted on the procedure. It took only 3 business days overall (including the day of appearance) for us to get our passports with our visas which was really nice.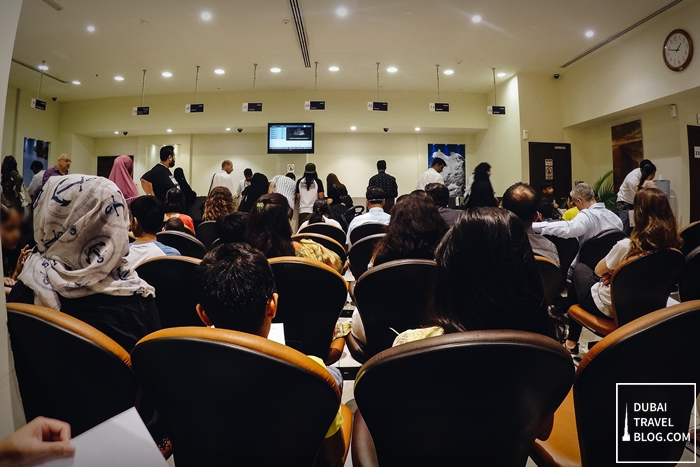 waiting for our turn at the VFS Global office – France
Schengen Visa Fees
How much is the cost of the Schengen visa application?
The fees for the application may vary per country. Based on our France Schengen visa fees, we paid the following:
92 AED – appointment schedule booking at the VFS Global site
245 AED – visa processing
30 AED – Courier Service (Optional) – the passport will be delivered to your office workplace instead of picking it up back at WAFI Mall.
250 AED – Premium Lounge Service (Optional) – The VFS office has a premium lounge which is basically a much better service area while you wait for your turn in submitting your documents, you will also be given priority while you submit your application. However, this will not guarantee that the approval of your application.
The required payments were just the appointment and the visa processing which totalled to about 337 AED.
Status Approved – 90-Day Multiple Entry Visa
Overall, we were glad to have processed our application swiftly. We were very happy upon seeing our passports with stamped visas with Multiple-Entry valid for 90 days (even if we only applied for a Single-Entry).
This means that after our trip, our Schengen visas are still valid so we could travel to other Schengen countries.
Please be advised that this may differ from every applicant so it's really helpful if you have all documents required and completed. Also, try to make sure you have enough 'funds' in your bank statement to pay for the trip.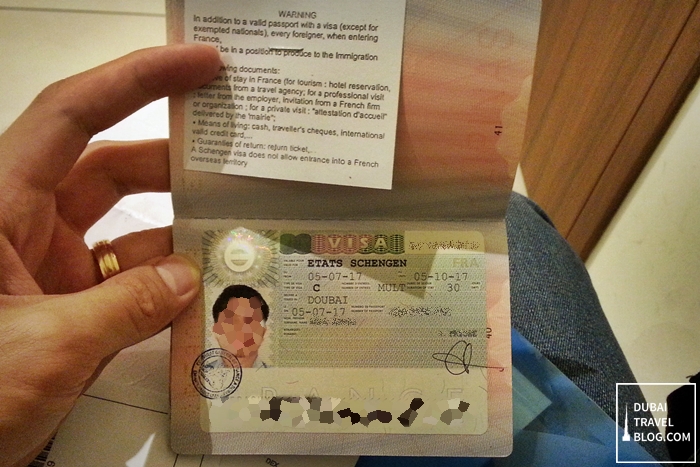 Schengen visa stamp – approved – multiple entry for 90 days
We hope you find this guide helpful as you try your luck in processing a visa. To get a more updated list of requirements and procedure, visit the France visa application center in Dubai website: http://www.vfsglobal.com/France/UAE/
For inquiries in your France visa application, you can also contact this number – +971 4-2055999
VFS Global France
Address: 2nd floor, WAFI Mall Level 2, Falcon Phase 2 – Dubai – United Arab Emirates
Website: www.vfsglobal.com
Phone Number: +971 4 205 5666
Google Map Location of VFS Global in WAFI Mall
Below is a map to provide directions on how to get to VFS Global office in WAFI Mall.