Had a very lovely Friday brunch at the Fountain Restaurant in Movenpick Hotel Bur Dubai. The restaurant is located at the lobby of the hotel and has plenty of food options, cooking stations, wide array of dessert selection, and even a pork station. The Art of Brunch is offered every Fridays 12pm to 4pm.
The first thing you will notice at the restaurant are the desserts situated at the bottom of their beautiful stairs.
Related Post: Dinner Buffet at Nosh Restaurant in Movenpick JLT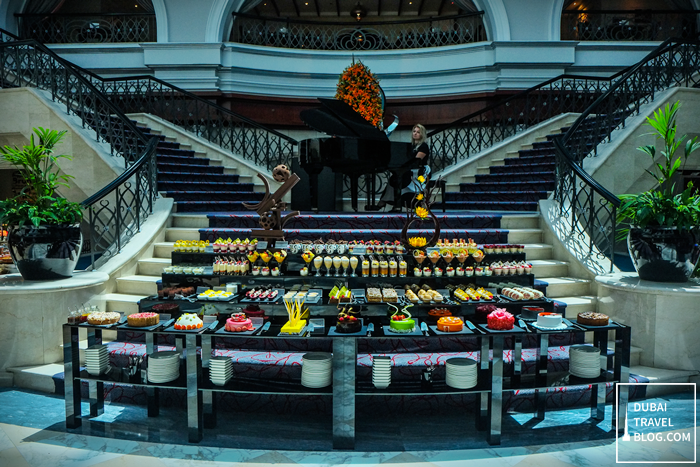 sweets station
closer look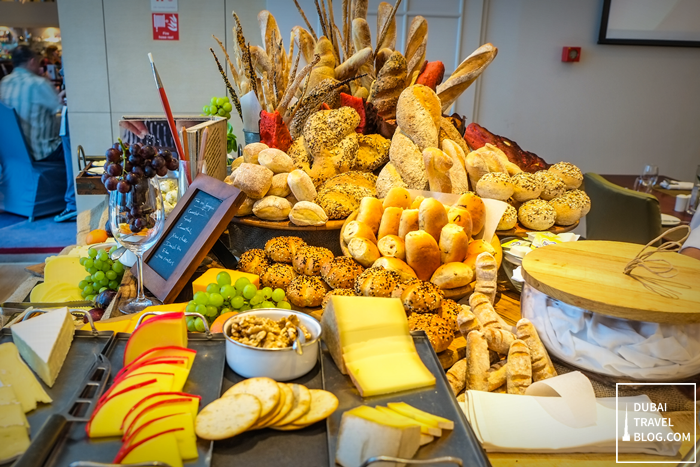 bread and cheese station
Art of Brunch
Friday Brunch at the Fountain Restaurant at Movenpick Hotel & Apartments Bur Dubai
Upon arriving, I noticed that they have plenty of stations for diners to choose. The food choices may not look as vast because the stations are scattered in different areas in the lobby. You have Indian food on one side, bread and cheese on the other, street food, sushi & sashimi, oyster bar, sweets, international cuisine.
The staff of the hotel make it a point to present the food servings in an artistic manner.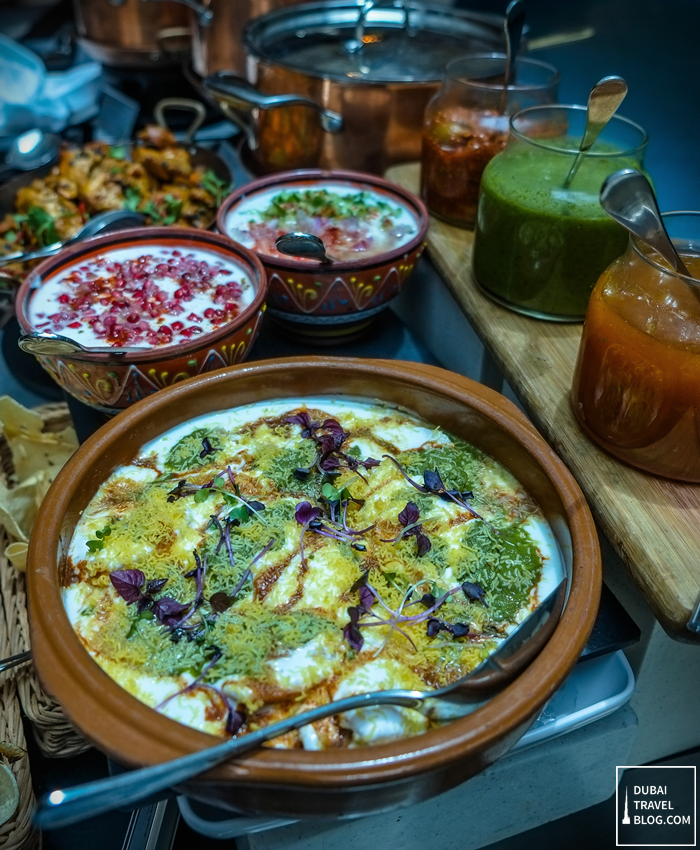 Indian food station

international cuisine
Natural Lighting Ambiance
The lobby of the hotel has a very high ceiling with transparent glasses where the daylight can just seep through and provide a beautiful natural lighting.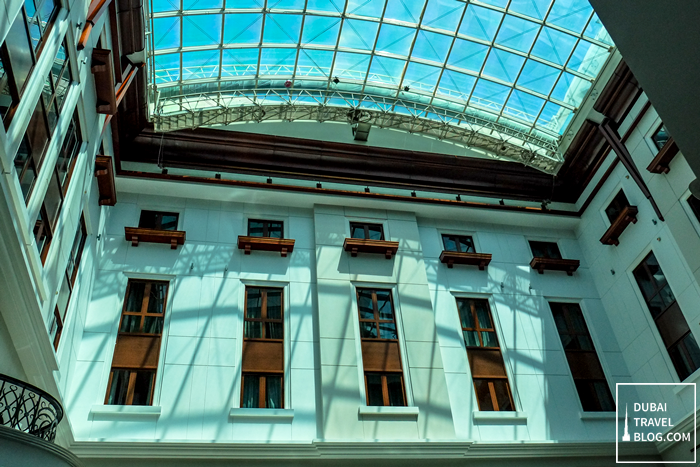 ceiling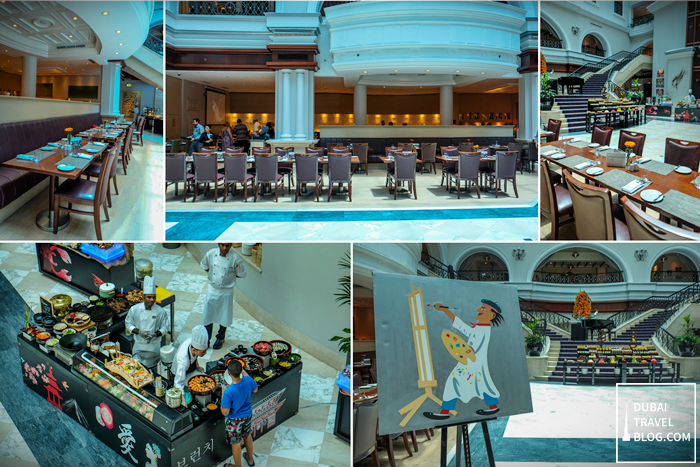 Art of Brunch at Movenpick
Diners also get to listen to a live piano music while having their Friday brunch which makes it an even more relaxing experience while enjoying the food.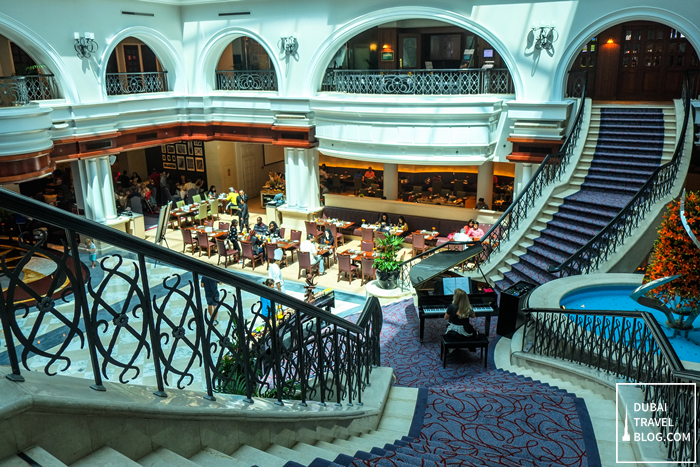 Kids Paradise at Movenpick Hotel
The hotel has a "Kids Paradise" section which is like a mini buffet area designed for children. This is also a play area where there are inflatables, video games, and movie screen where kids can spend the hours playing and having fun. Staff are there to look after your children while they play with other kids.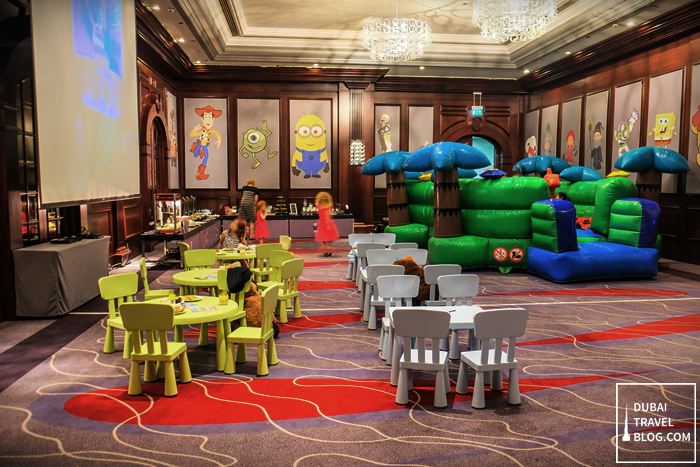 Kids Paradise area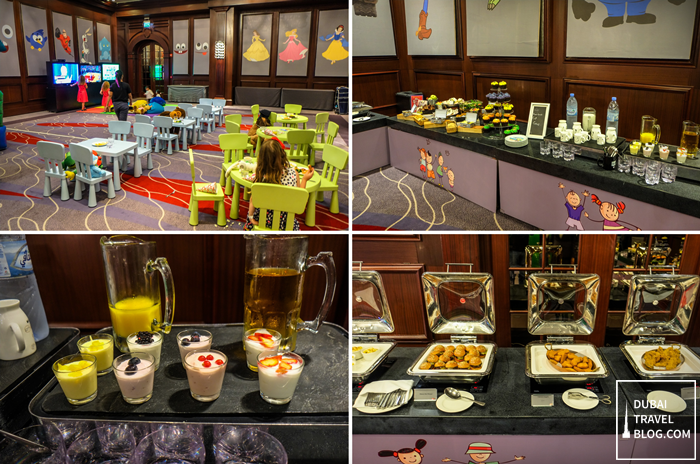 kids buffet inside Movenpick Hotel & Apartments
In other occasions, they even have a mascot entertainment. This helps you in making sure you can enjoy your brunch. While you have some time alone, you can be rest assured that your kids are taken care of while you eat.
Chefs Preparing Fresh Dishes
The chefs at the live street food station prepared this thick noodles with chicken, chorizo bilbao and beef with a bit of everything.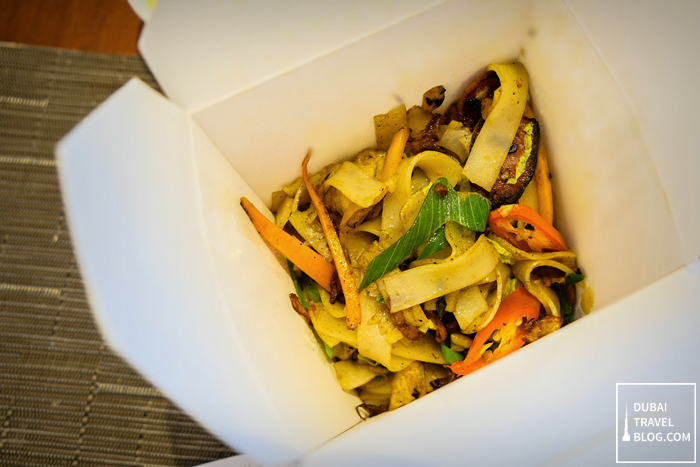 Fresh from the kitchen at the Fountain Restaurant, you can order from their menu and the chefs will deliver it to you fresh.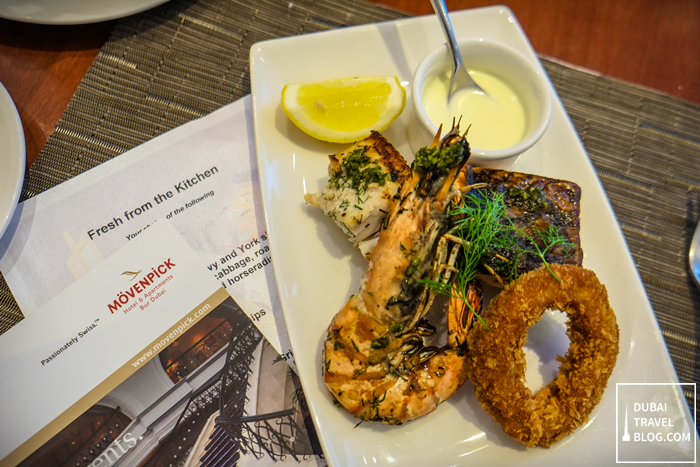 Fresh from the Kitchen
Was pleasantly surprised to see some pork food offerings in one corner of the stations. This would be an added highlight to those who are looking for more choices on the type of food.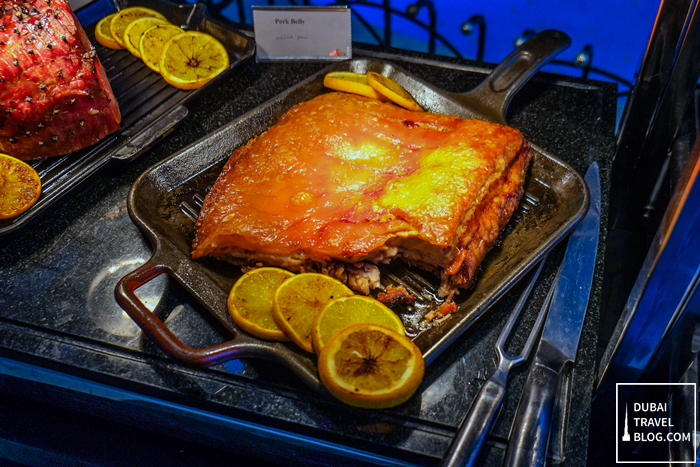 pork belly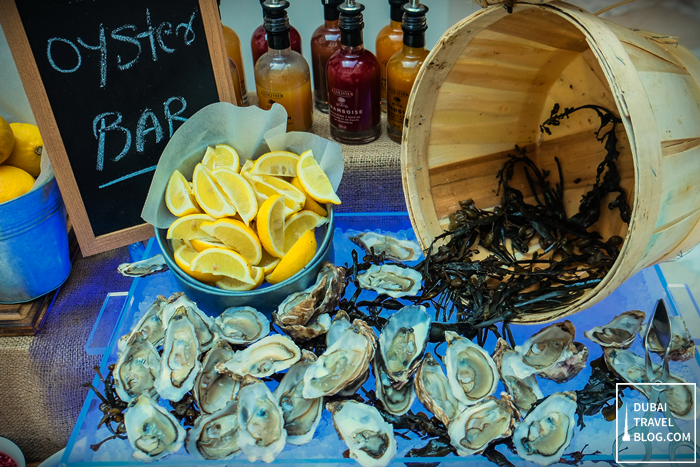 oyster bar
Sweets / Desserts Station
Probably the main highlight of this restaurant, in my opinion, is the desserts and sweets station. They have so many options of cakes, mouse, trifles, etc. that I had to take a second to think which desserts I would get first.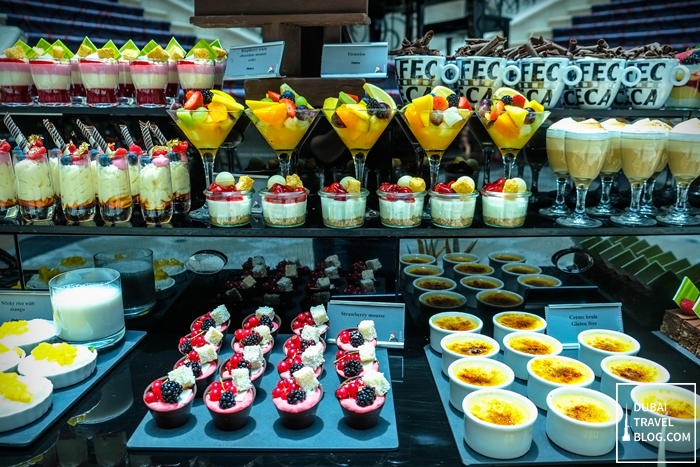 desserts and sweets, take your pick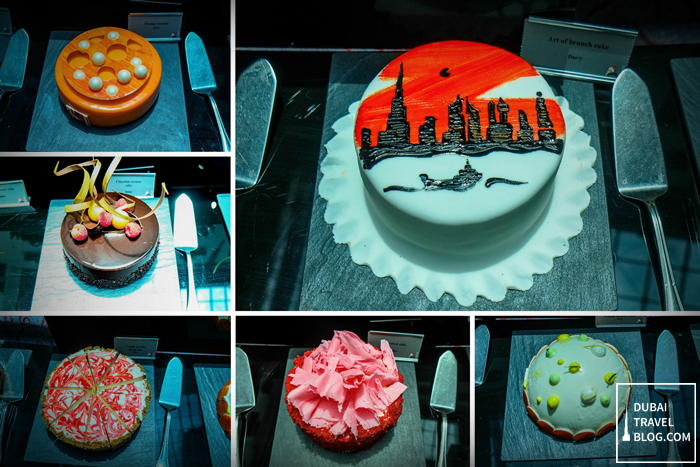 cakes!
Movenpick ice cream is also available and you can take as many scoops as you like! You can request the pastry chef to make waffles and pancakes for you. They also have a huge container filled with sugary gummies.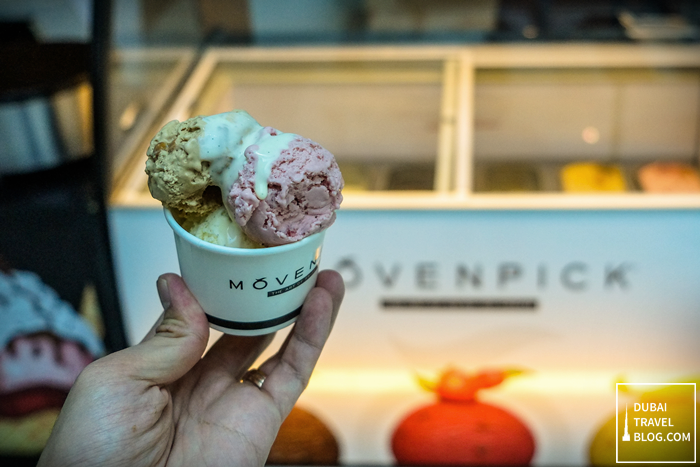 unlimited Movenpick ice cream!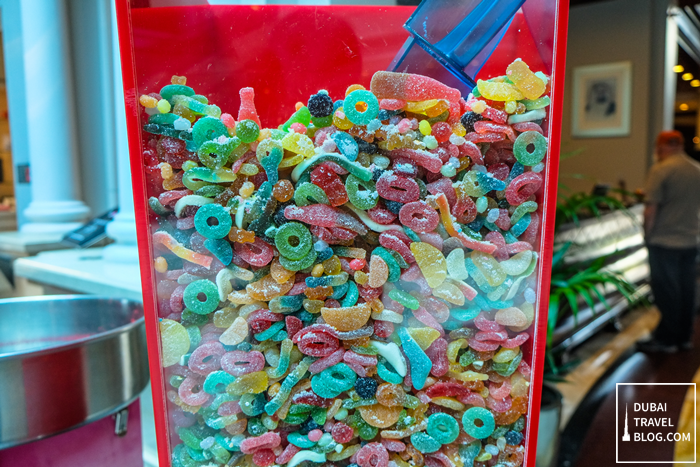 gummy candies
Art of Brunch
Every Friday from 12pm to 4pm
Every Friday, explore the newly launched Friday brunch at Fountain Restaurant. Designed by talented chefs and accompanied by a unique performance from a beautiful and talented pianist, the "Art of Brunch" offers a tempting selection of international delicacies, complemented with an extensive à la carte menu, live street food cooking station with an Asian twist, featuring a dedicated section for mussels and prawns, and a wide selection of deliciously crafted sweets and bites.

For the little ones, we prepared "Kids Paradise", a place where kids can eat, drink and play under the supervision of our staff. Kids will enjoy tons of activities such as painting, jumping castle, video games and much more.

-Movenpick Hotel Bur Dubai
Beautiful natural lighting at the lobby of Movenpick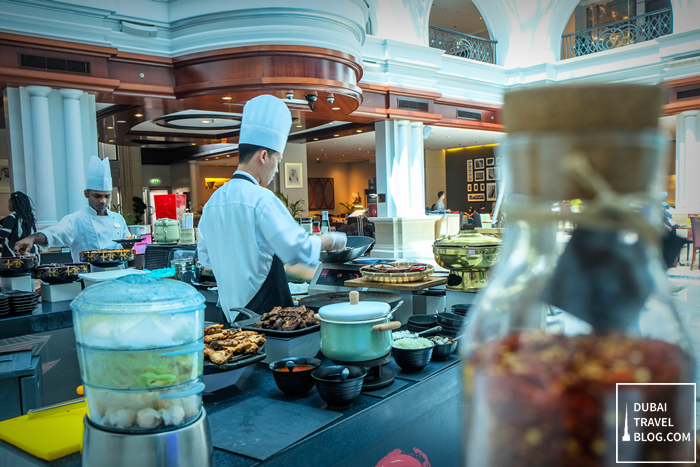 live cooking station
If you're looking for a wide selection of international cuisine, try to drop by the Fountain Restaurant in Movenpick Hotel & Apartments and have a relaxing art of brunch on a Friday afternoon.
Contact Information
Website: Fountain Restaurant at Movenpick Bur Dubai
Address: 19th Street, Oud Metha Area P.O. Box 32733, Dubai United Arab Emirates
Telephone Number: +971 4 336 6000
Email: hotel.burdubai@moevenpick.com
Facebook: facebook.com/Movenpick.Hotel.BurDubai
Instagram: instagram.com/movenpickhotelburdubai
Location Map
Nearest Metro Station: Oud Metha Metro Station (Green Line). After getting off the metro, you can hire a cab to Movenpick Bur Dubai.