A New Vietnamese gourmet street food concept has arrived in Dubai and it's called GOI Rolls. These are rice paper rolls filled with protein and vegetables which is quite healthy and features low calories.
My wife and I were able to enjoy a box of GOI Rolls for dinner. We tried a few of these items carefully set up in beautiful and colorful packaging! Aside from the packaging, the presentation of their rolls are very creative with names like Vegan Vince, Smokey Sam, Rainbow Rush, etc. There's even a whole backdrop note with a story of how the food was conceptualized.
Aside from the rolls filled with protein and veg, they also have refreshing drinks and dessert options too. Goi Rolls is only getting started as they will soon offer bowls and other Vietnamese items.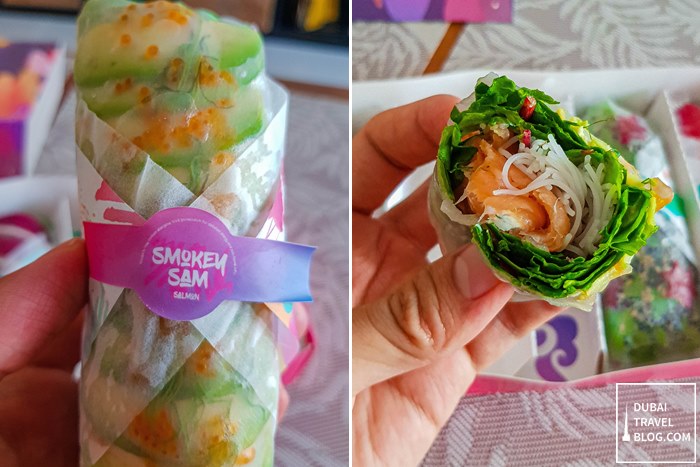 Smokey Sam – Smoked Salmon & Avocado, Cream Cheese and Mixed Vegetables, topped with Tobiko.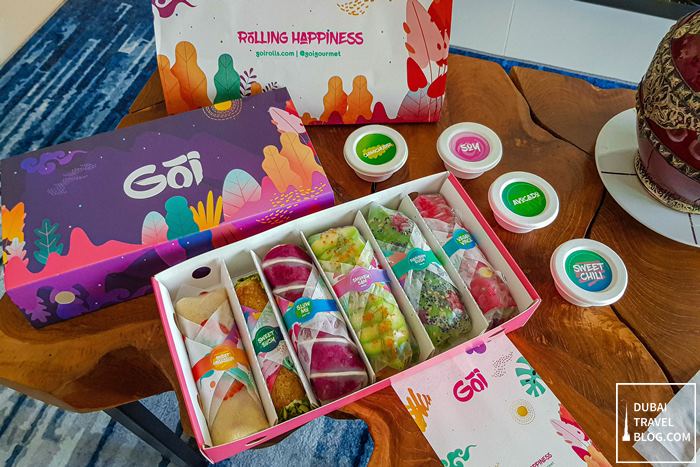 colorful package
—————-
Craving the Taste of Vietnamese Food?
Look no further because now you can satisfy your cravings right here in UAE without having to step foot in Vietnam.

GOI Rolls, a gourmet street food concept, has recently launched their traditional Vietnamese rice paper rolls – with a healthy and gourmet twist, exploding with flavour and nutritional benefits right here in Dubai. Launched by the founders of UniQitchen and Dash Hospitality Group, they are redefining the way street food is created and presented.
The food concept is inspired by the kingdom of Goitopia, where centuries ago the kingdom rose to fame across Asia for its moreish street food that was bundled together with rice paper and filled with concoctions of gourmet ingredients. The food was known to evoke the senses, stimulate endorphins and awaken the spirit of happiness in everyone who dared take a bite.
The GOI menu is purposely specialized with Rolls being the only items on the menu but very soon venturing into bowls and other Vietnamese delicacies. There is a wide choice of fresh summer rolls or crispy fried and baked rolls. The selection of dips is endless with chef recommendations to pair with every roll. The GOI selection of fresh cold-pressed juices will suit every taste and they are packed with nutritional benefits. There are vegan and vegetarian options on the menu but stay tuned for a full plant-based meat menu launching in September.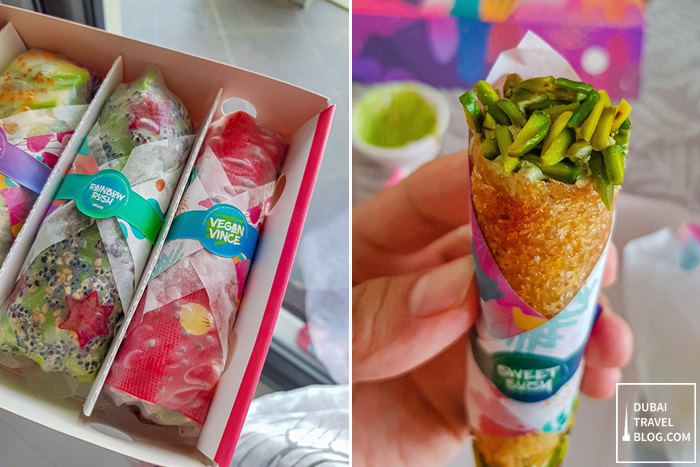 Rainbow Rush – Herb Roasted Vegetable Mix and Quinoa.
Vegan Vince – Herb Roasted Vegetable Mix with Tofu.
Sweet Suzy – Light & Crispy on the outside and filled with Pistachio cream crunch on the inside.
Their packaging is 100% sustainable with biodegradable and compostable dip containers made from sugarcane pulp. The packaging is out of this world, with every detail thought about from the sliding paper tray boxes to the colorful branding.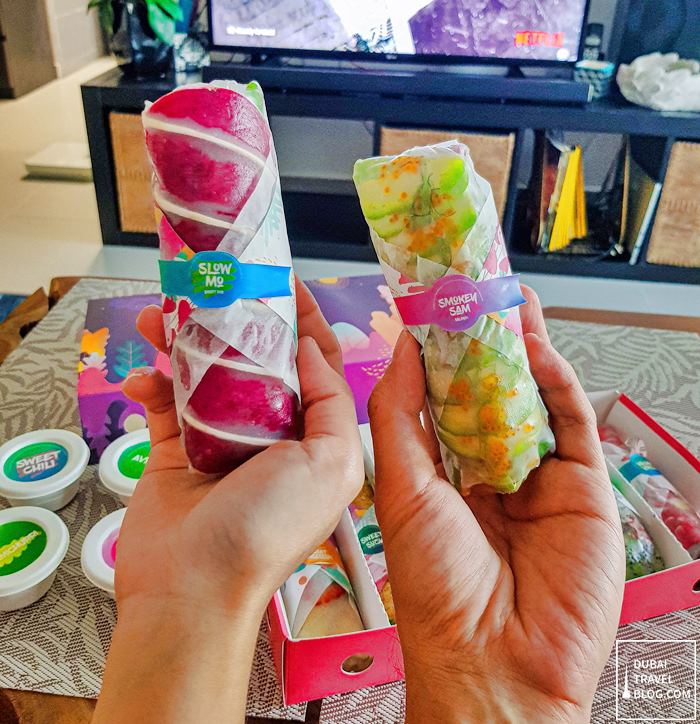 GOI started with delivery only around Dubai but due to the huge demand on their menu, they are opening soon a bricks n mortar kiosk right in the heart of Jumeirah, at the entrance to Ripe Market – police academy park. There are still some areas where their delivery doesn't reach though, including Dubailand, but they have plans to roll out to that area very soon!
Follow @GoiGourmet on Instagram and you can order from goirolls.com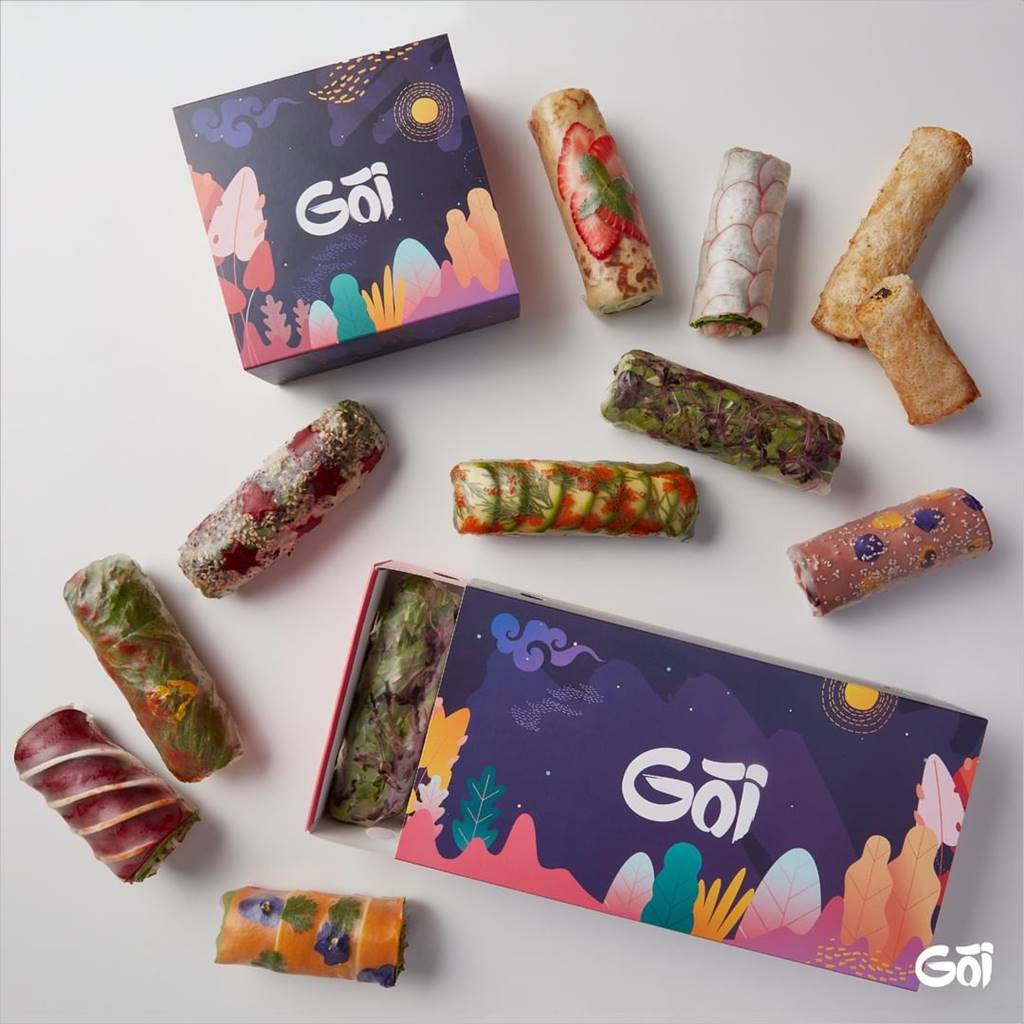 Contact Information
Email: info@goirolls.com
Mobile Number: +971 52 526 2145
Website: goirolls.com
Instagram: @goigourmet
Facebook: @goigourmet