We had an overnight staycation experience at Fairmont The Palm Dubai on a weekday and had a grand time. This 5-star resort is located in the heart of Palm Jumeirah Islands and features views of Dubai Marina and the Arabian Gulf.
We took advantage of a UAE resident's offer that they were running. About AED 599 for an overnight stay which includes a complimentary daily AED 599 credit to be used in their F&B outlets and in-room dining. Quite a good deal!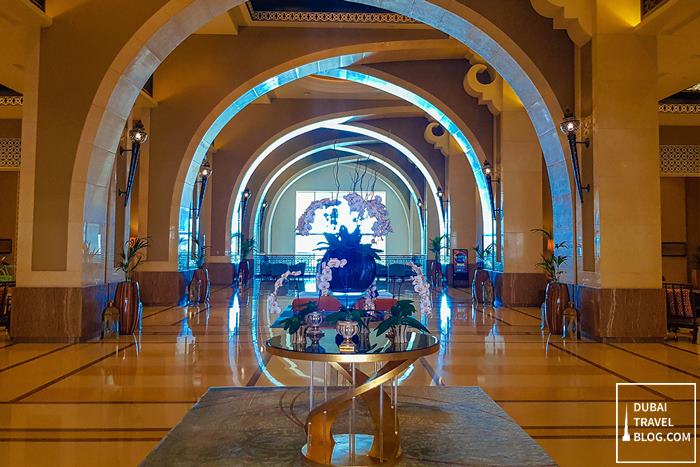 Hotel lobby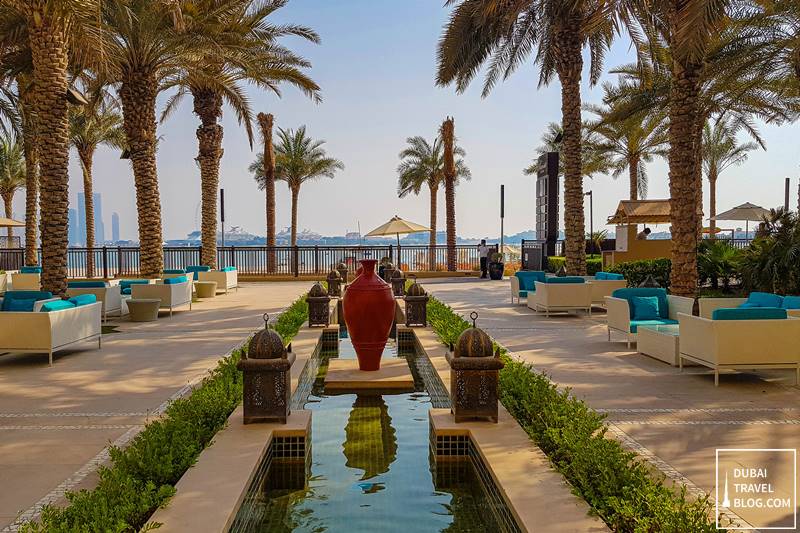 Fairmont The Palm
Staycation at Fairmont The Palm Dubai – Beachside
Fairmont The Palm is an Arabian-style sanctuary where you can enjoy a relaxing staycation experience. Check-in was quick and Mariamu from the reception informed us of what's included in our hotel package. She was very helpful and courteous. She also informed us that Fairmont is part of the Accor Hotels group so if ever we wanted to join the Accor membership, we could enjoy exclusive perks from various hotel properties under this brand.
The lobby is grand and very spacious. We headed straight to our room.
Deluxe Sea View Room
We were glad to have gotten a Deluxe Sea View room. This is one of the most popular rooms – Arabic touches, warm colors, elegant surroundings, and breathtaking panoramic views of the Palm and the Dubai Marina skyline. It's perfect for your next romantic date night.
king-size bed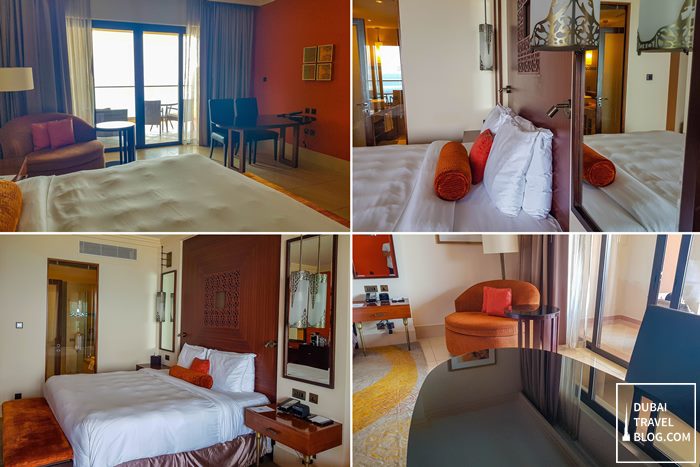 Deluxe Sea View room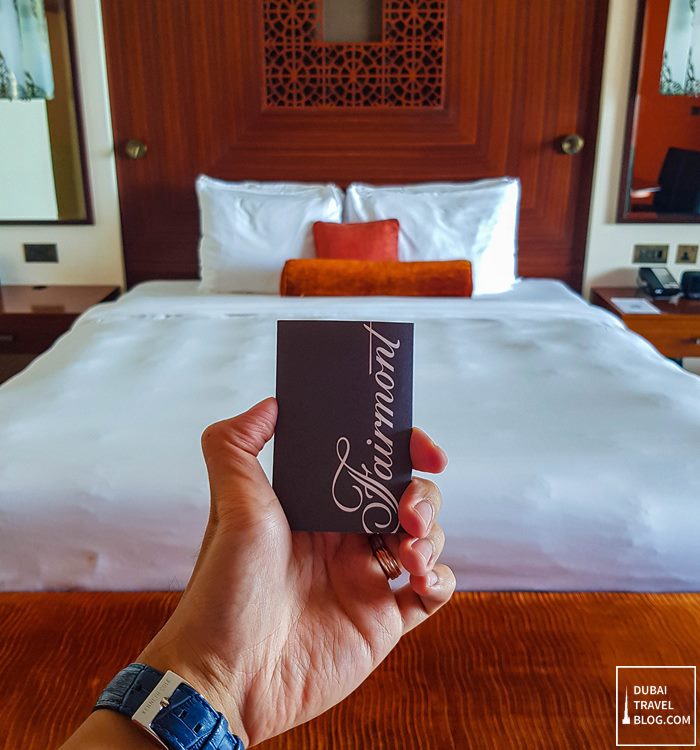 Fairmont hotel key card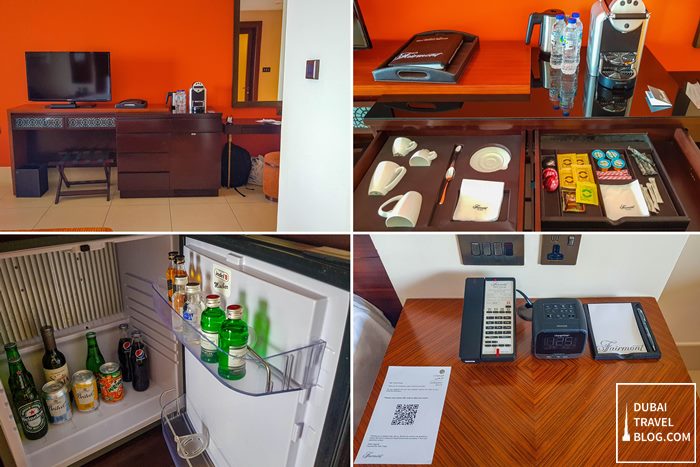 stocked mini bar – tea and coffee facilities, TV and phone stands
The Deluxe Sea View room features a comfortable king-size bed, stocked mini-bar, coffee and tea facilities, a spacious balcony with beautiful views, and many more.
WiFi Internet
After checking in, I checked the free WiFi speed and it registered a Download Speed of 8.26 Mbps. It's good and fast to browse emails and check some social media stuff. This Dubai Travel Blogger still needs to work in between staycations so it's good to have accessible WiFi internet in the hotel.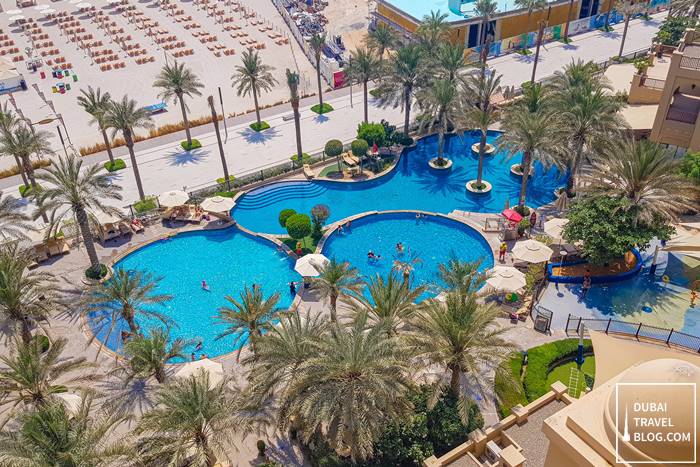 view of the pool from our balcony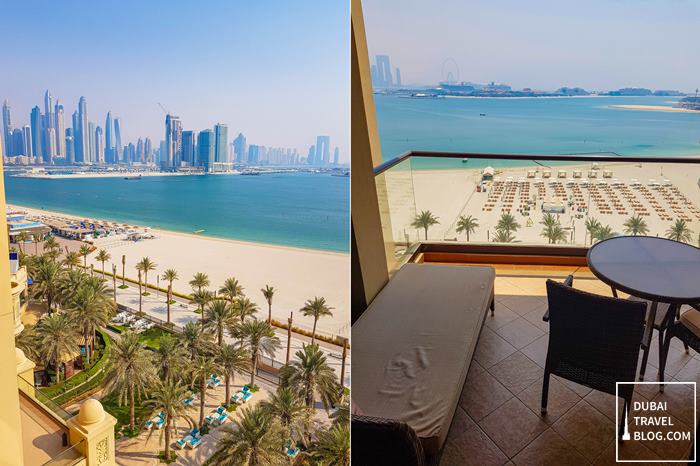 Dubai Marina and the Arabian Gulf
Bathroom
The bathroom features a bathtub, walk-in shower with rain shower fixture, and separate walk-in toilet and bidet. It also features complimentary toiletries from Elemis. The room has a huge glass window that oversees the bedroom. For the more prudent ones, you can drop the window blinds down.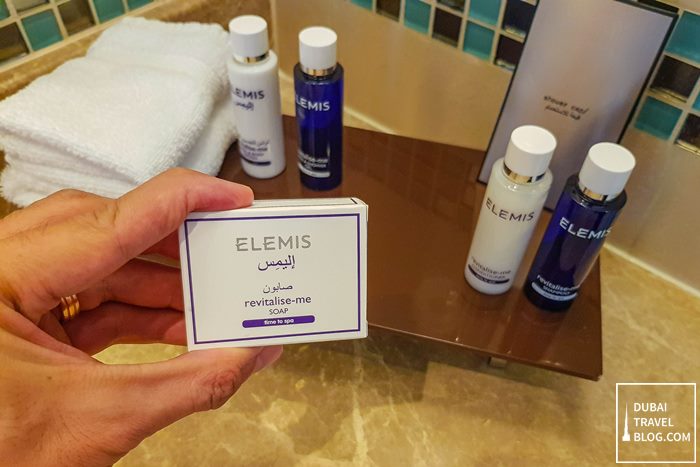 Elemis toiletries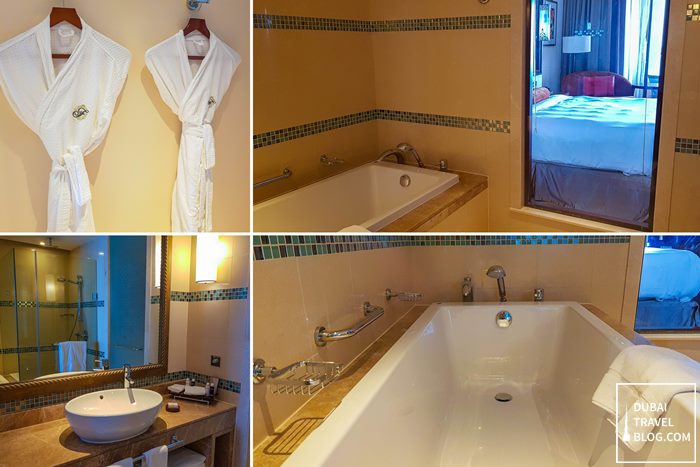 bathroom in Fairmont The Palm Dubai
Restaurants
There are over 11 dining options guests can enjoy at this resort, including:
Flow Kitchen – this is where we had our breakfast in the hotel. They offer daily breakfast buffet from 7am to 11pm. Note, pork is available upon request.
Little Miss India – A quirky-designed restaurant featuring Indian dishes and you are transported to colonial India. This is where we had our dinner during our staycation.
Seagrill Bistro – this is a Mediterranean restaurant serving market-fresh seafood platters as well as grilled menu items. Serves lunch and dinner.
Ba – Boldly Asian, this restaurant features a menu from China, Japan, Taiwan, and Korea. Open from Wednesday to Saturday at dinner time.
Frevo – an authentic Brazilian restaurant where meats are carved tableside in true southern Brazilian style. Open from Wednesday to Sunday from 8pm to 11pm.
Mashrabiya Lounge – a lounge that is set against the backdrop of contemporary arabesque design. Guests can enjoy a la carte items and afternoon tea.
Blowfish – Casual American-style dining spot which opens daily from 12 noon to 9pm.
VZ Pub – a sports bar offering a quaint spot to enjoy a couple of drinks in an authentic atmosphere. VZ Pub opens daily from 5pm to 1am.
The Cigar Room – Open from 6pm to 1am, guests can choose from a collection of Cuban and Dominican cigars and grab a drink.
Pool and Beach Service – There's also a pool and beach bars where you can order drinks
In-Room Dining – they offer 24/7 room service so you can enjoy dining in the comfort of your room.
Note: Some of these restaurants are open on selected days of the week, depending on the season.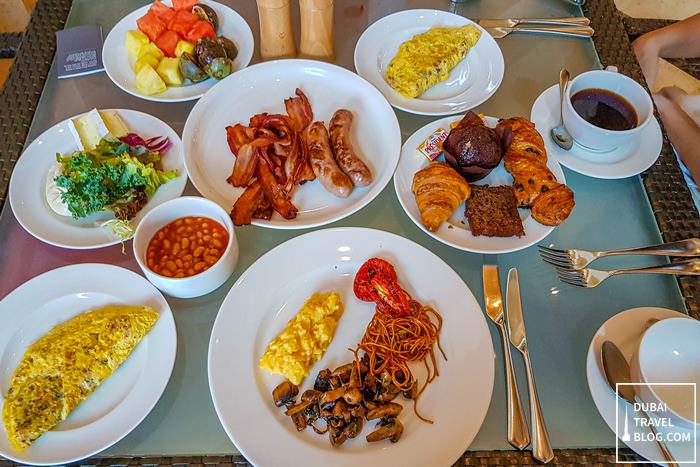 breakfast buffet
they have pork options in their breakfast buffet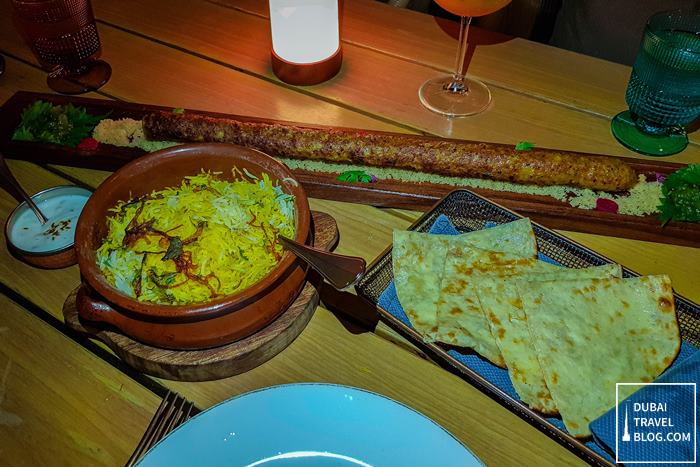 dining at Little Miss India Restaurant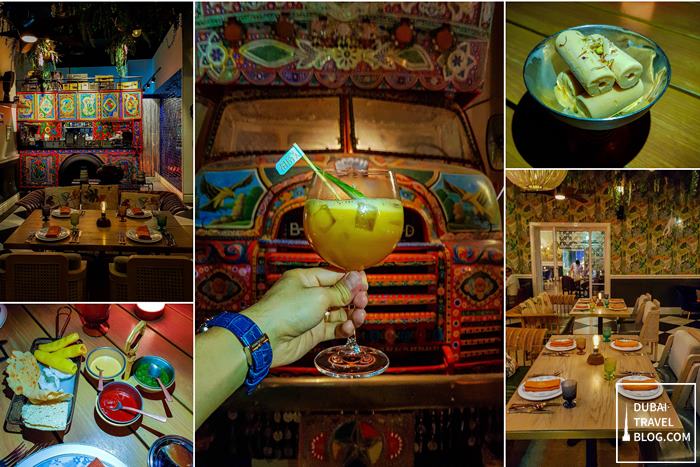 colorful restaurant – Little Miss India
Swimming Pool
We spent a lot of the time of our staycation at the pool area. Fairmont The Palm has a number of pools available. They have a separate swimming pool area for adults and kids.
These pools are also huge that can accommodate the guests who are checked into the hotel. I like that I was able to do a few laps and swim. At the same time, there are shallow parts in the pool if you just want to casually sit and soak up the sun.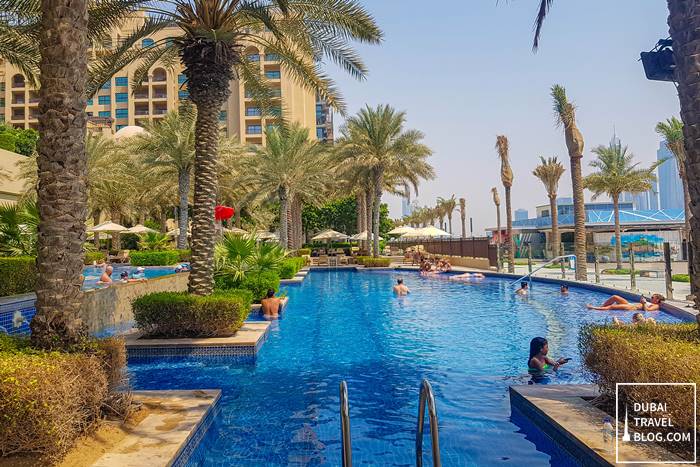 adult swimming pool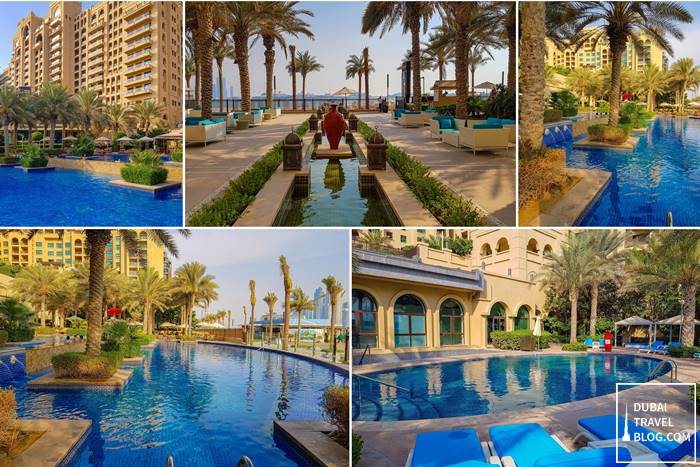 pool
adult pool area
Beach
Fairmont The Palm is a beachside resort and it's great that guests have the option to head to the beach. They also have a number of beach sports and beach activities available if you wish to avail of them. We didn't spend much time here though as we were really satisfied lounging in the pool area.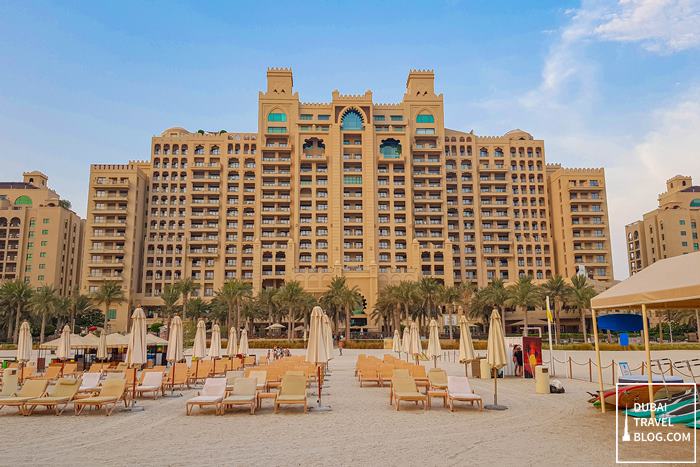 beach area
Gym / Fitness Centre
Before you head out into the pool area, you will be able to pass by the gym/fitness center. The Health Club at Fairmont The Palm is a great environment to get fit with state-of-the-art fitness machines available.
They also have separate male and female locker rooms with each having their own sauna room, steam room, and shower facilities.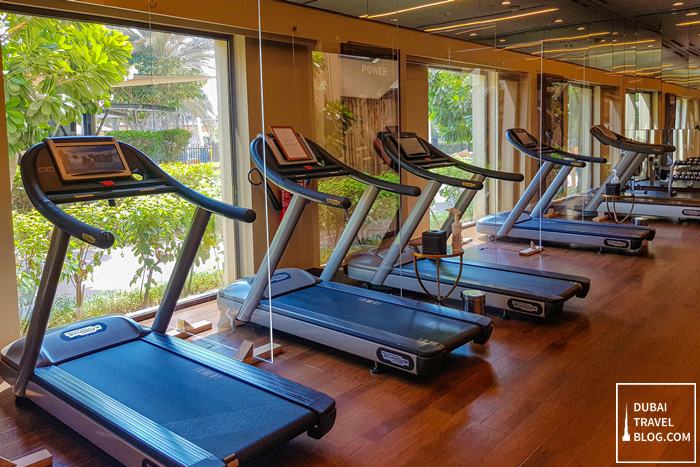 Fairmont The Palm Dubai gym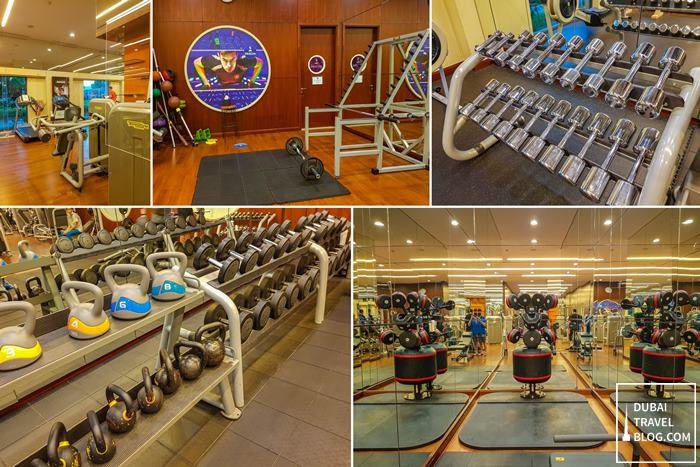 fitness center
sauna room and steam room
Spa – Willow Stream Spa
Fairmont's health and wellness space is handled by Willo Stream Spa. You can book a treatment with their skilled team of therapists. They use a selection of world-leading holistic products including Kerstin Florian International, Dr. Levy Switzerland, and Aromatherapy Associates.
They also have sauna and steam facilities and a relaxation area so you can spoil yourself in a day of pampering.
Willow Stream spa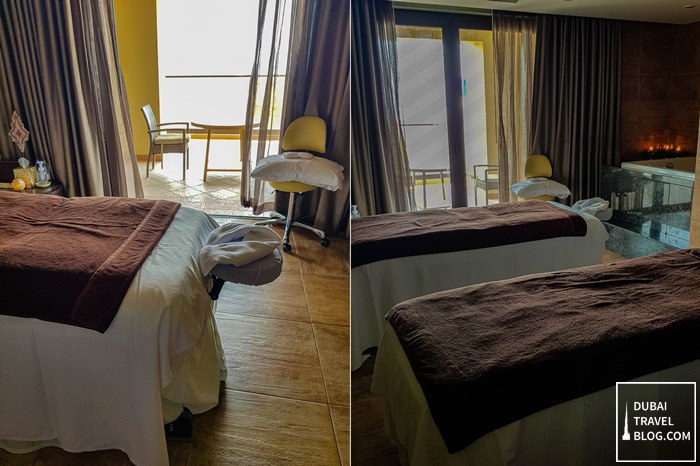 massage therapy and treatment rooms
Video: Fairmont The Palm Staycation
Check out this video clip of our staycation experience to give you an idea of what to expect when you check into this resort:
Photos of Fairmont The Palm Dubai
Here are some pictures of Fairmont The Palm during our staycation:
Contact Information
Fairmont The Palm
Palm Jumeirah, Dubai, UAE, United Arab Emirates
Telephone Number: +971 4 457 3388
Fax: +971 4 457 3399
Email: palmdubai@fairmont.com
Website: fairmont.com/palm-dubai
Facebook: @FairmontThePalm
Instagram: @FairmontThePalm
Google Map Location
Please check the map guide location of Fairmont The Palm for your reference: