We had a wonderful dinner at Kimura-Ya restaurant in their Marina branch. This was not our first time dining at Kimura-Ya as we've been to their first branch in Dubai in Oberoi Hotel. We had a great experience then so we were looking forward to our visit when we had the opportunity.
Located on the Ground Floor (poolside area) of Habtoor Grand Resort, Kimura-Ya is a popular restaurant chain in Japan. This is their 2nd branch in Dubai.
Alcohol: YES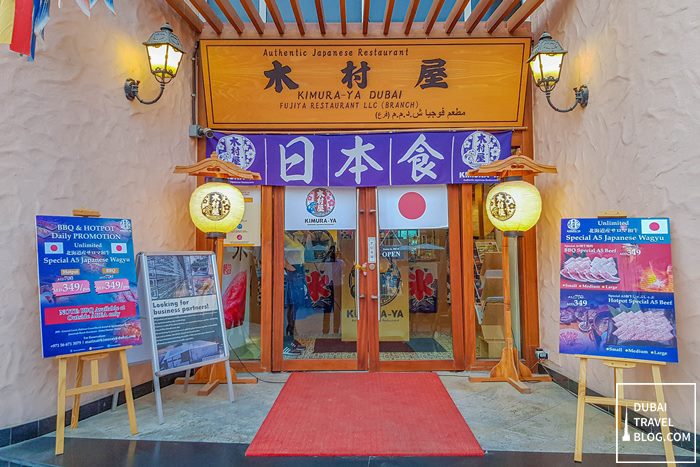 Kimura-Ya Dubai – Habtoor Grand Resort, Autograph Collection
inside the restaurant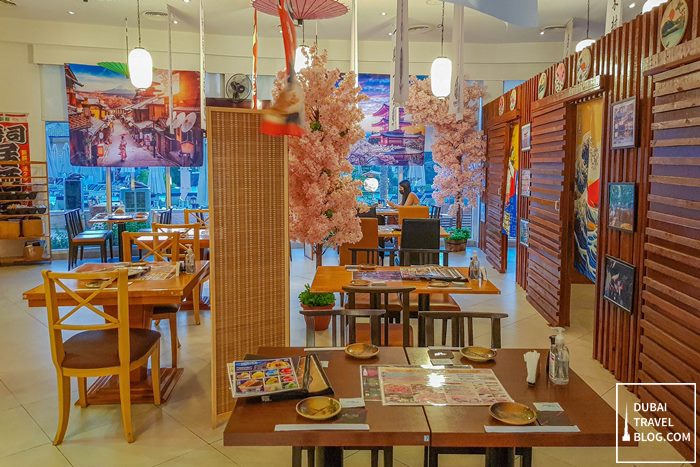 colorful Japanese design
Wagyu Beef BBQ Kimura-Ya Restaurant in Marina
During our dinner, we were introduced to their Japanese Style BBQ offer which includes unlimited A4 Quality Wagyu Beef cuts.
You can choose among three options:
Unlimited Australian A4 Wagyu BBQ
Unlimited Japanese A5 Premium Wagyu Beef BBQ
Unlimited Sirloin Tenderloin Part Japanese A5 Wagyu Beef
Each of these options has its corresponding cost. The higher the quality of the meat, the more premium the price.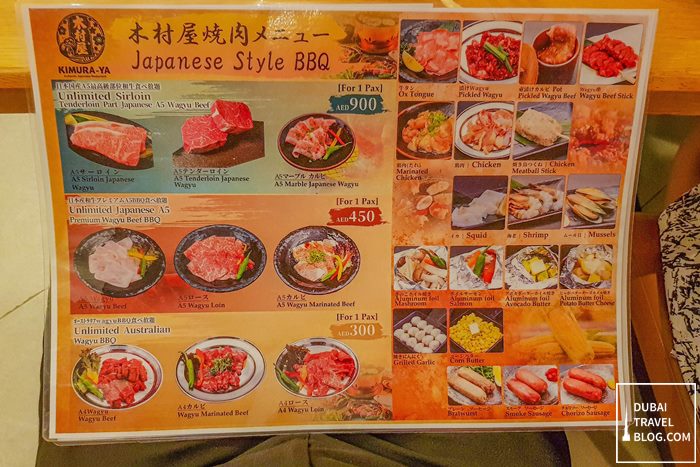 Japanese Style BBQ Menu at Kimura-Ya
Japanese Style BBQ Menu at Kimura-Ya – Side Dishes, Ippin, Salad, Agemono, Tataki, Sashimi, Nigiri & Maki, Sushi Roll, Kome, and Soup,
We had the A4 Wagyu Beef BBQ set wherein a BBQ grill is prepared on your table outside. You get to grill your food on your table as the food is delivered to you.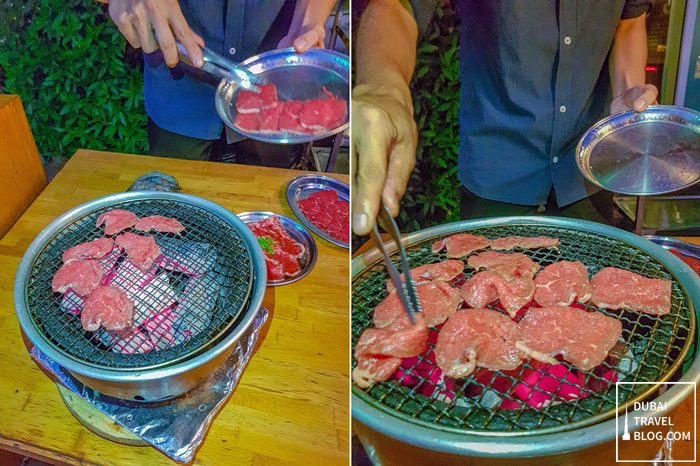 preparing the BBQ dinner
Unlimited Side Dishes, Sushi, Sashimi, Appetizers
The menu is very extensive and you have plenty of options aside from the Wagyu Beef cuts, you can order sushi, appetizers, sashimi, ippin, agemono, appetizers, kome, nigiri &maki, tataki, and soup etc.
We were quite overwhelmed with the menu as there's plenty of options to choose from. The friendly staff helped us in deciding the items that we could pick.
Some of the items that stood out were the Spicy Deep Fried Chicken, Gyoza, Chorizo Sausage, Kimuraya Salad, and BBQ skewers.
These items are served to you in small dishes. Take note that these are all unlimited so you can expect quite a feast of different menu items on your table!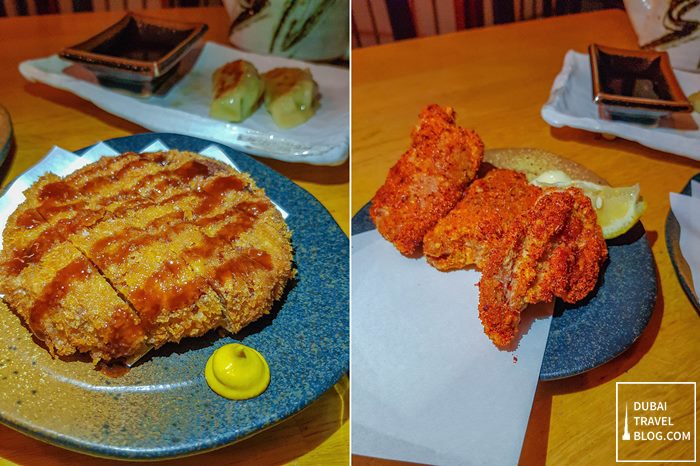 Wagyu Beef Cutlet, Spicy Deep Fried Chicken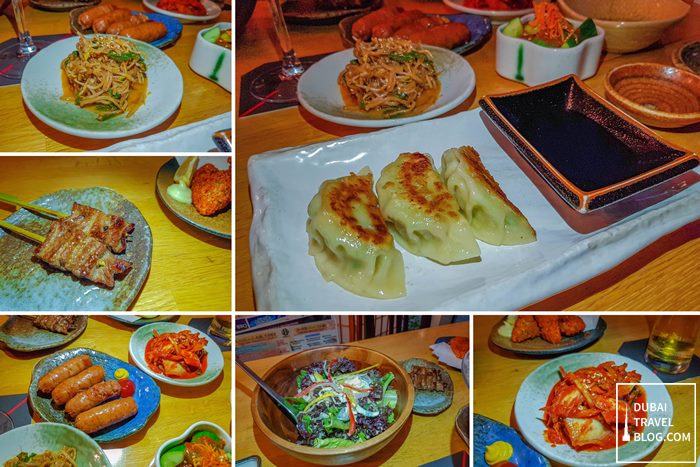 Namul (Bean Sprouts),  Wagyu Beef Stick, Chorizo Sausage, Kimuraya Salad, Kimchi, Gyoza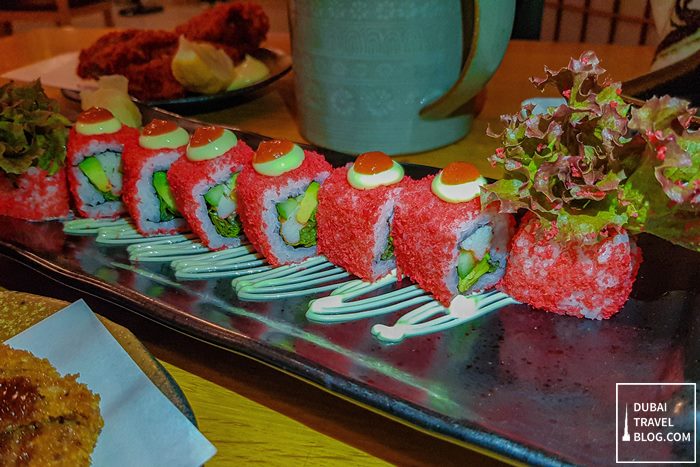 Spicy California Roll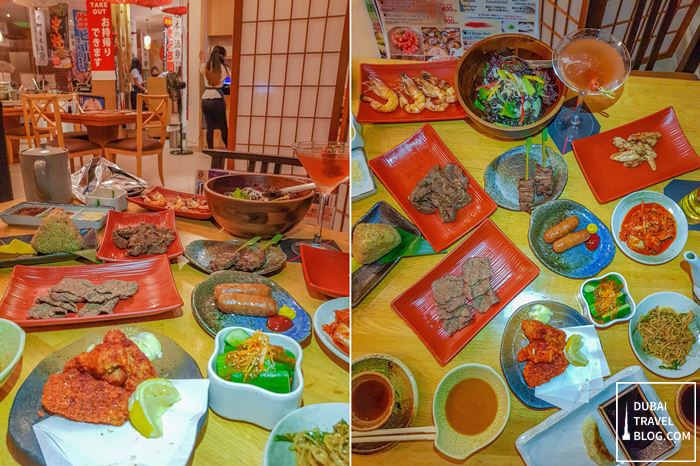 Eat-All-You-Can Japanese cuisine at Kimuraya Marina
Drinks
Kimura-Ya also offers a wide selection of drinks. From wines, beers, spirits, sake, Japanese cocktails, mocktails, etc. My wife ordered their Japanese beer, Kirin, while I sampled a couple of their cocktails.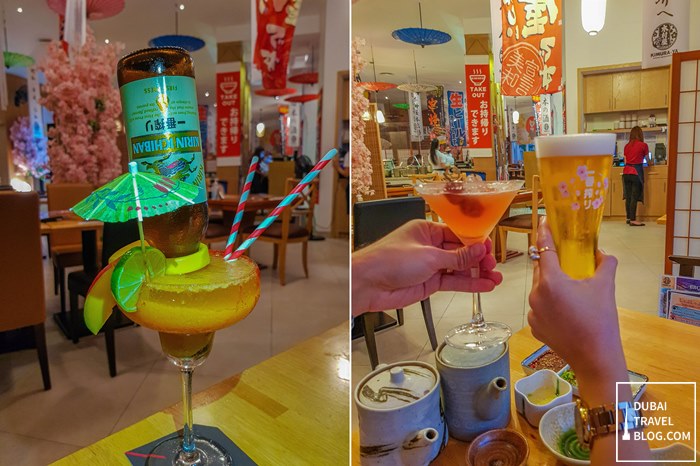 Spicy Mango Kimurita with Kirin – AED 100
Umertini – AED 70
Plum wine, London Dry Gin, and Cranberry, Kirin Beer
We were quite full and satisfied enjoying the dinner during that night. The quality of the food and their cooking/presentation is excellent, more so the service from the friendly staff.
Current Promotion – AED 99 per person
Kimura-Ya Marina is currently running a promotion where they are offering Unlimited A4 Wagyu Beef BBQ or Hotopot Shabu-Shabu plus side dishes, appetizers, sushi, etc. for only AED 99 per person! The original price for this is AED 300.
Aside from this, you can also upgrade to A5 Wagyu Beef for an additional AED 100. The original price is AED 450.
This offer is valid from Saturday to Wednesday until end of August 2021 only Better call Kimura-Ya Marina to make a reservation via +971 56 671 3079.
Guests can also enjoy a 2 for 1 offer via Entertainer App.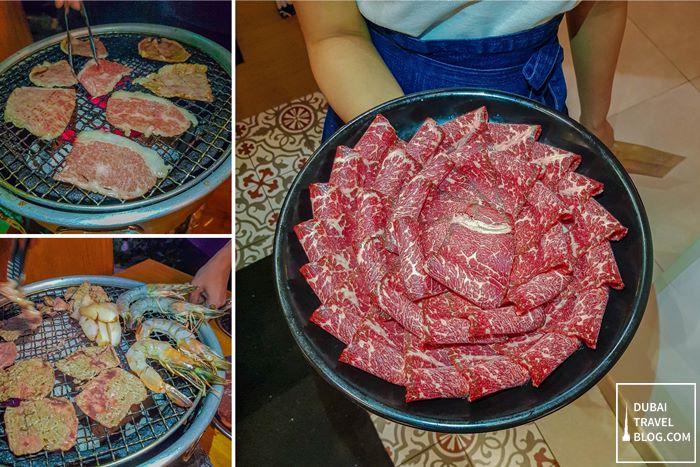 Wagyu Beef cuts and other BBQ items
variety of dishes!
VIDEO: Kimura-Ya Marina Restaurant
Check out this short video I uploaded about the food experience here in Kimura-Ya:
Photos of Kimura Ya Marina
Here are some pictures of Kimura-Ya restaurant in the Marina branch for you to get an idea of how the restaurant looks like and what are the offerings:
Contact Information
Kimura-Ya Restaurant
Address: Habtoor Grand Resort, Dubai Marina
Telephone: 056 671 3079
Facebook: https://www.facebook.com/kimurayahabtoor/
Instagram: https://www.instagram.com/kimurayamarina/
Google Map Location
Here is the Google Map location of the Habtoor Grand Resort. Kimura-Ya Marina restaurant is located in the pool area after you walk past the tennis court: