Beneath all the skyscrapers of Dubai, recreational parks are abundant for every expat and resident to get in touch with nature and see some greenery in this desert city.  Here are a list of parks in Dubai where you can go for a stroll and take a break from all the buildings surrounding the metro.

Zabeel Park
List of Parks in Dubai
Creek Park
The Creek Park offers playgrounds and lush lawns and a stunning view of the Dubai creek. They have family-friendly venues such as the Dolphinarium,  the Children's City and some cable car rides. Bird enthusiasts are also in for a treat as this is a famous spot for bird- watching.
How to Get There: The nearest metro station is Dubai Healthcare City metro station – Green Line. Take a taxicab from there and spend about 12 AED for the cab fare.
Entrance Fee: 5 AED. Attractions inside the park cost separately.
Mushrif Park
A wooden jungle gym, some camel rides, playground rides, and a picnic area are some of the features of Mushrif Park. This is also one of the best spots for bird – watching in Dubai with over a hundred bird species discovered in the area. Mushrif Park also features a swimming pool and a theater to make sure the you make the most out of the time you have here.
How to Get There: The nearest metro station is Rashidiya metro on the Red Line.  You may hire a cab and will cost you approximately 20 AED to get to the park.
Entrance Fee: 5 AED
Zabeel Park
Close to the creek on Sheikh Zayed Road, Zabeel Park has over 50 – hectares of land and offers a wide variety of activities.  You can visit the skate area, run on the jogging track, sit on the amphitheater,  play cricket, row on the boating lake, etc. The park even offers free WiFi access. during winter season, there are events such as the Ripe Market which houses plenty of food trucks and organic finds where you can buy for the house. This is a weekend event that is great for those who want to gather on a weekend.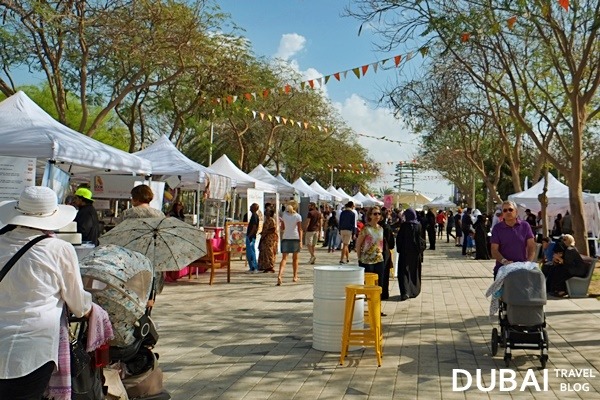 The Ripe Market at Zabeel Park
How to Get There: closest metro station is Al Jafiliyah on the Dubai Metro Red Line. You can hire a cab going to the park whey out get to the metro station.
Entrance Fee: 5 AED
Safa Park
Opened in 1975, Safa Park is one of Dubai's oldest parks. It still holds as a popular destination especially for creative minds where they gather at The Archive artist cafe. 80 percent of the 6 5 – hectare lot is made up of lush greenery with water fountains,  manicured lawns and plenty of spots to have a picnic. There so much to do if you're the adventurous person as you can hire a bike, row a boat in the lake, go for a basketball round in the court or play tennis as well. They even have a running track available.
How to Get There: You can hire a cab from the nearest metro station to the park which is
Entrance Fee: 3 AED Have fun in the best parks of Dubai and see the city in a different light, Be amazed at how these parks were set up in the Middle Eastern desert. Set up a picnic and enjoy time on these parks over the weekend.