We spent two nights in the recently opened Hyatt Place Dubai/Jumeirah located in Jumeirah neighborhood. This hotel is strategically located near the attractions like La Mer Dubai and the Etihad Museum.
It's a few minutes drive from Sheikh Zayed Road and Downtown Dubai as well as the attractions in Old Dubai district such as the Dubai Creek and Al Fahidi neighborhood.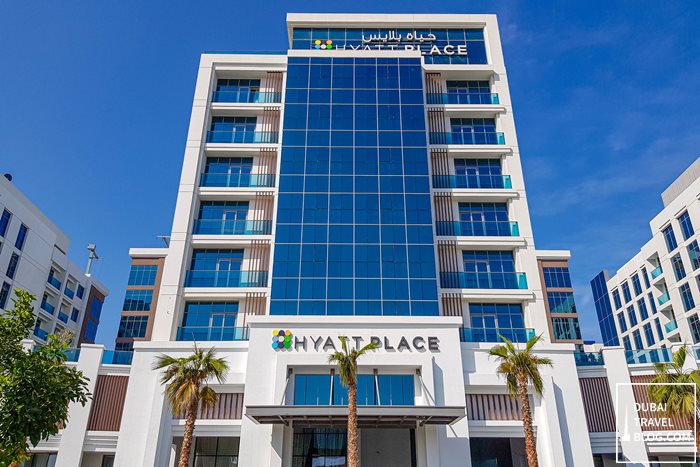 Hyatt Place Dubai in Jumeirah
Hyatt Place Dubai/Jumeirah Hotel Staycation
We have stayed in a Hyatt Place Dubai property (Wasl District) before and had a nice experience so we gladly took the opportunity to stay in this four-star property. Check in was quick despite the hotel being quite busy.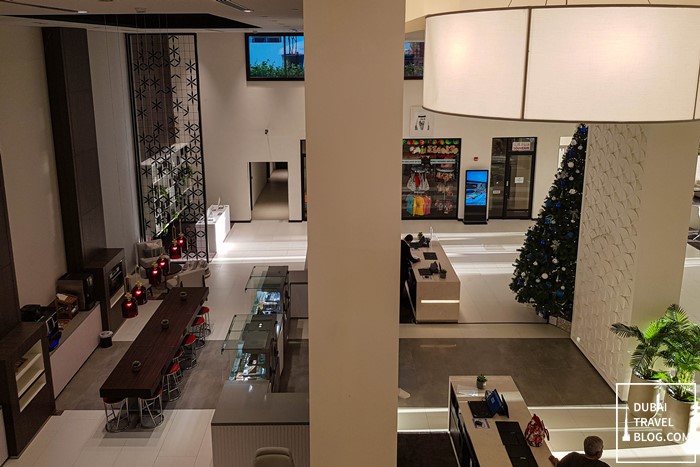 hotel lobby view from the 1st floor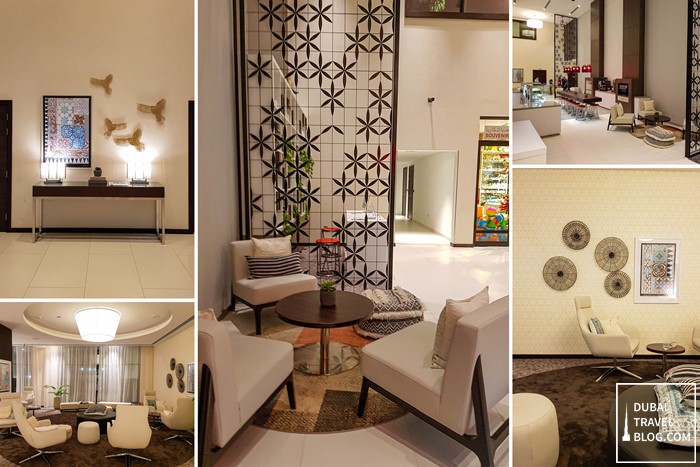 hotel lobby
1 Bedroom Suite
This hotel has over 204 guestrooms including 12 suites. We were lucky to have been housed in a Suite which is very spacious at 800 square feet (75 square meters) and overlooks a beautiful view of the Dubai Skyline.
The bedroom has a large workspace area, another flat screen TV, and a grand king-sized bed.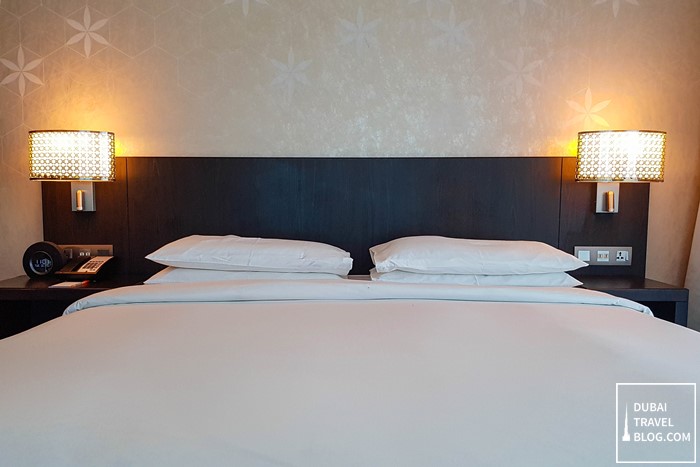 comfortable grand king bed
inside the bedroom
The suite has a living area with a cozy corner, an oversized sofa where you can also sleep in. It also has a dining table a huge flat screen TV and a .5 restroom.
Let me just say that I also liked the modern carpet design and the floor-to-ceiling windows.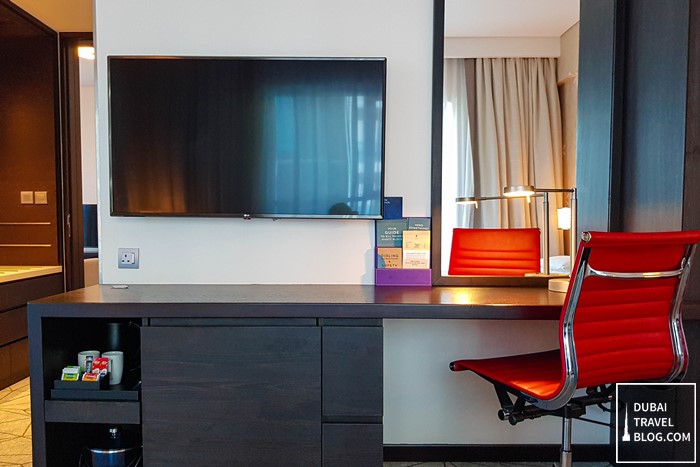 office desk inside the bedroom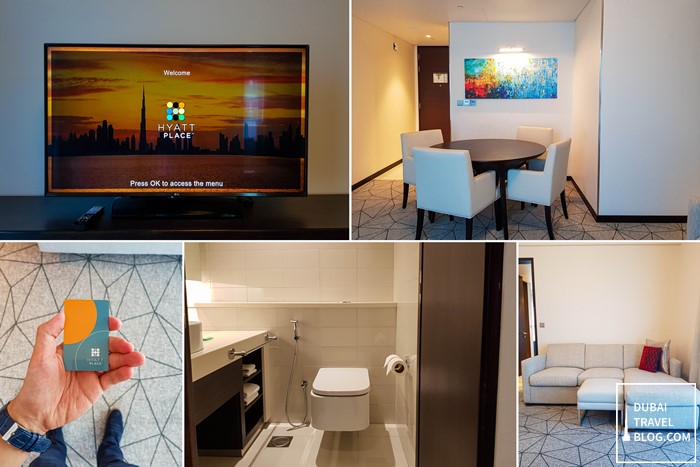 living area
WiFi
When I ran a speedtest of their complimentary WiFi, the internet download speed at the time was 22.18 Mbps which was very fast and definitely an above average speed compared other hotels we've stayed in the past.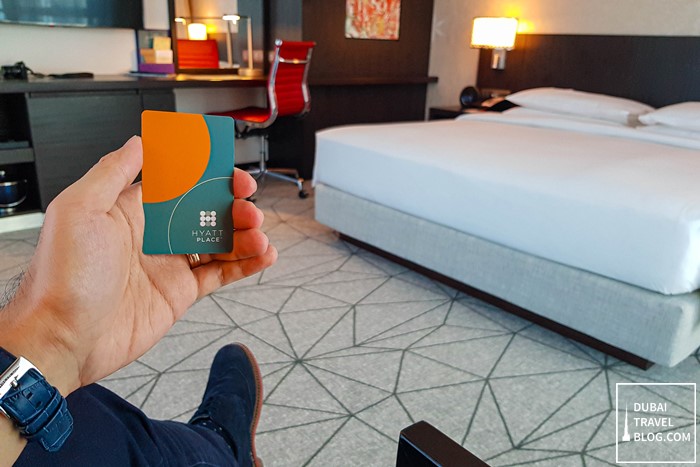 key card
view from the balcony
Bathroom
Just like the whole suite, the bathroom was very spacious. It has Dermatologist designed amenities to promote skin and hair health.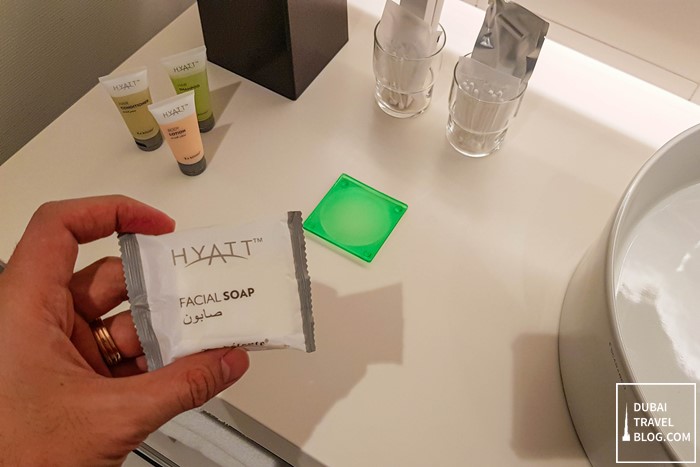 Hyatt toiletries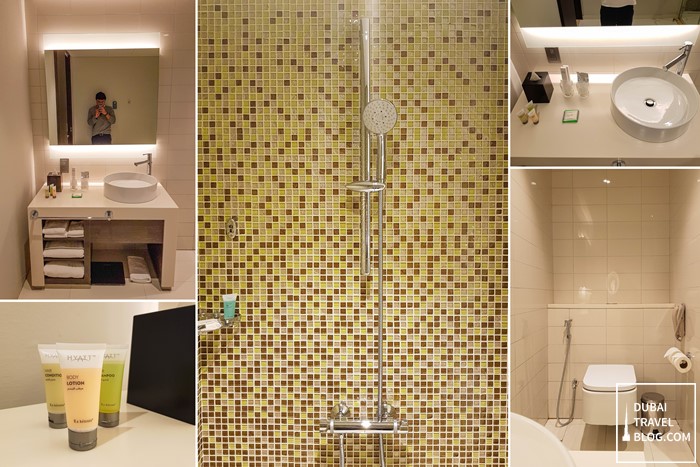 bathroom
Restaurants
The hotel has two restaurants, the signature Wox Restaurant and the all-day Focus Glocal Dining. Wox focuses in providing a street-style Pan-Asian theme while Focus Glocal has an international menu. We had dinner for one night at Wox, while the rest of our meals were spent at Focus.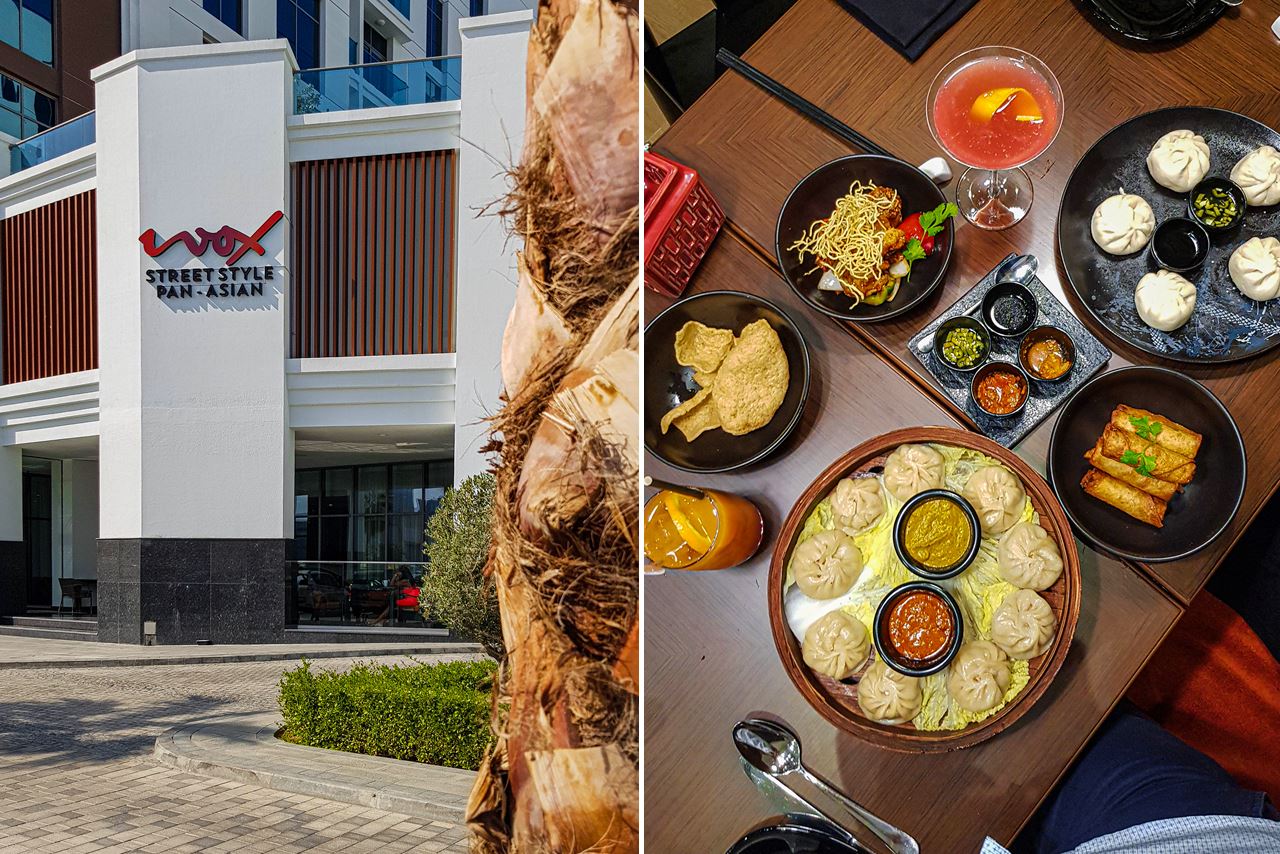 Wox Pan Asian food served street-style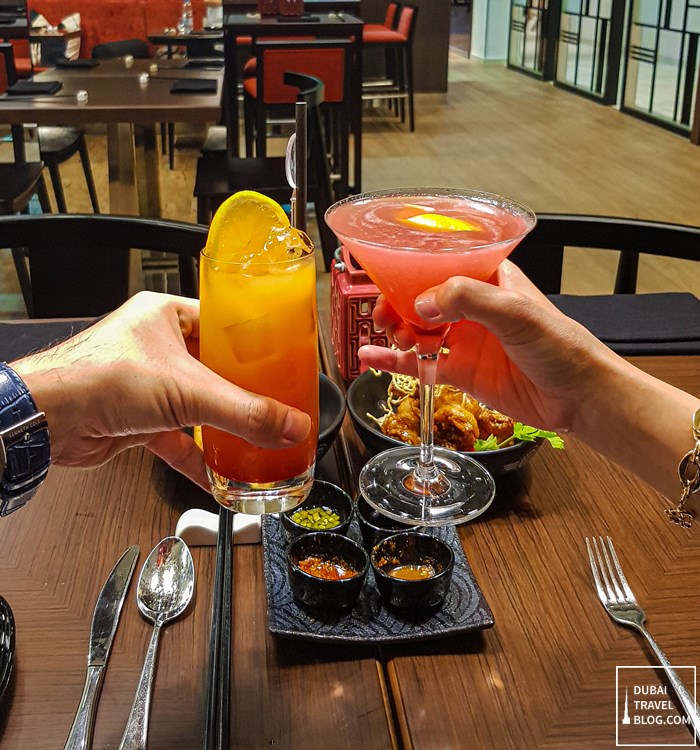 our drinks at this licensed restaurant
Focus Glocal Dining – dinner buffet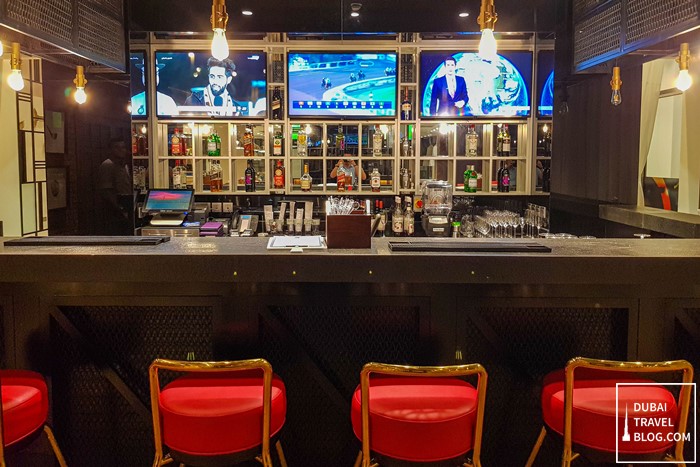 Focus Bar
Swimming Pool
Located on the 1st floor is their outdoor swimming pool. They have a dedicated pool for children and for adults. We only stayed there for a few minutes as it was quite windy.
outdoor swimming pool at Hyatt Place Dubai/Jumeirah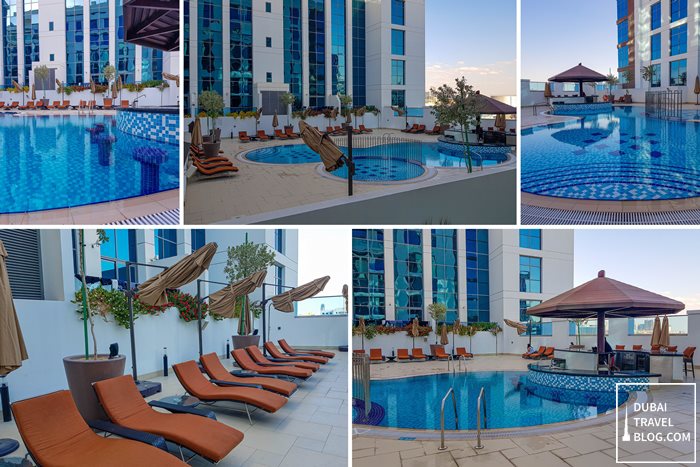 outdoor pool and sunbeds
Gym/Fitness Centre
The gym is accessible on the same level as the pool area. They have state-of-the-art equipment for cardio and strength training. The fitness machines feature Technogym equipment.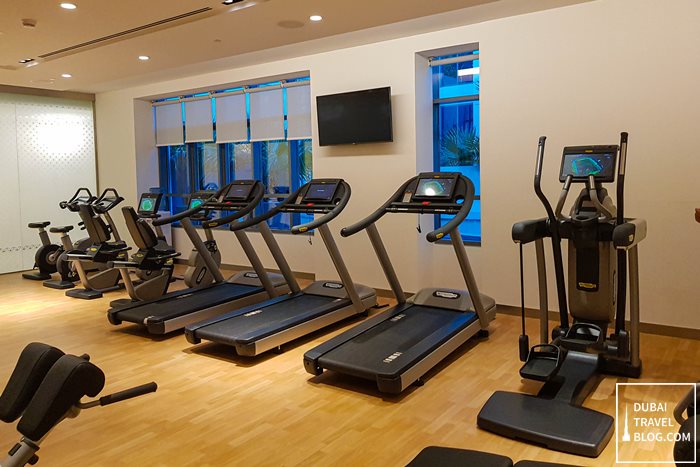 cardio equipment at the fitness centre
gym equipment by Technogym
Video: Staycation at Hyatt Place Dubai/Jumeirah
Check out this video of our staycation at Hyatt Place Dubai/Jumeirah to get a glimpse of what to expect when you check in this hotel:
Our stay at the hotel was relaxing and we're glad that it's very accessible to nearby attractions in Dubai. This hotel is perfect for business and leisure travellers including families who want ample space without spending more. The hotel is clean, location is spot on, service is great and price is definitely value for your money.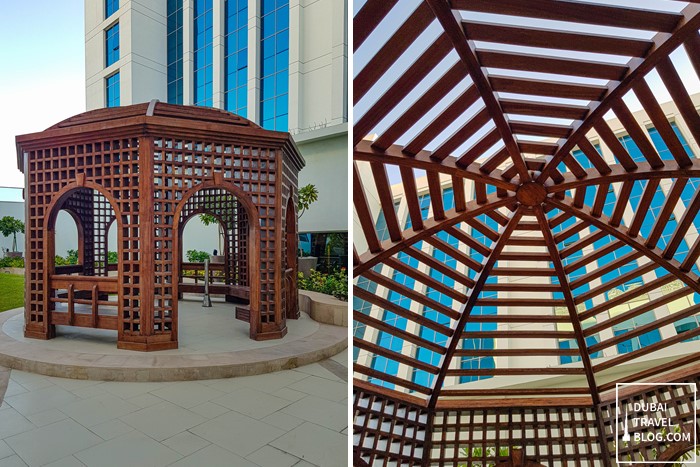 gazebo in an outdoor area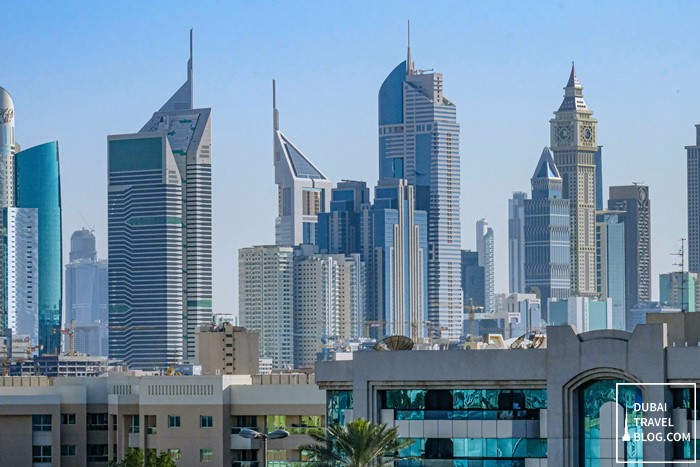 zoomed view of buildings of Sheikh Zayed Road
Contact Information
Hyatt Place Dubai/Jumeirah
Address: Al Mina Road, P.O. Box 31075, Dubai, United Arab Emirates
Telephone Number: +971 4 313 1234
Website: hyattplacedubaijumeirah.com
Instagram: @hyattplacejumeirah
Facebook: @hyattplacedubaijumeirah
Twitter: @HyattPlaceDubai
Google Map Location
Below is a map guide to the location of Hyatt Place Dubai/Jumeirah: