Valentine's is just around the corner and Ramada Hotel & Suites by Wyndham JBR is hosting a romantic dinner for couples on 13th and 14th February 2020.
For only AED 169, you and your partner can enjoy live BBQ, unlimited soft beverages, karaoke, couple games, rose for ladies, welcome drink and romantic decorations adorning your table. My wife and I were able to experience a preview of this lovely Valentine's offer.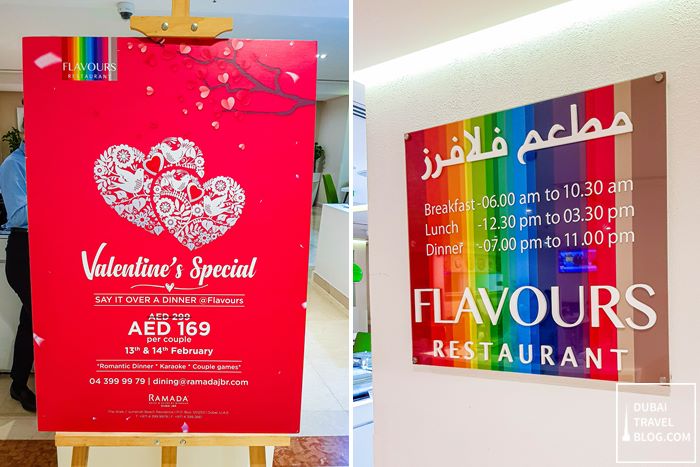 Valentine's special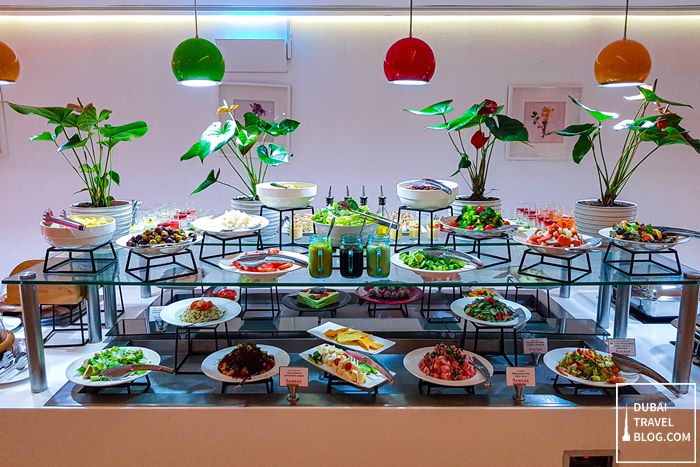 Flavours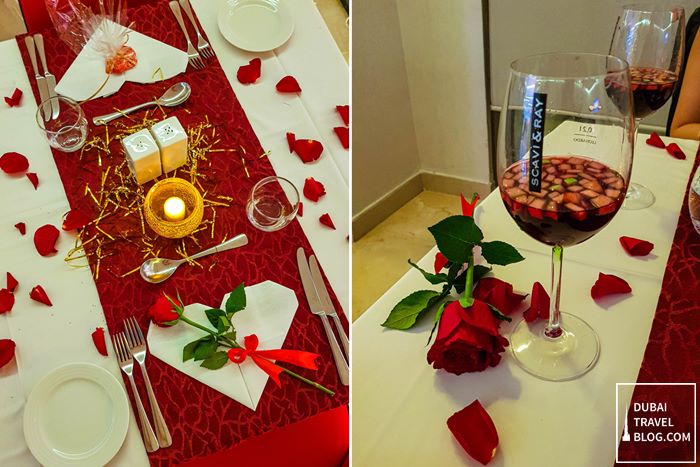 complimentary non-alcoholic grape
Flavours Restaurant in Ramada Hotel & Suites by Wyndham JBR – Valentine's Special
Located at the ground floor/lobby, Flavours restaurant is the all-day dining restaurant of the Ramada Hotel & Suites by Wyndham JBR. It features a bright ambiance with colorful design. The restaurant's outdoor area offers a scenic garden and a nice view of Ain Dubai and JBR The Walk.
Flavours offers a variety of international cuisine and they serve buffet from breakfast, lunch, and dinner. Apart from the buffet, guests can also order from the restaurant's a la carte menu.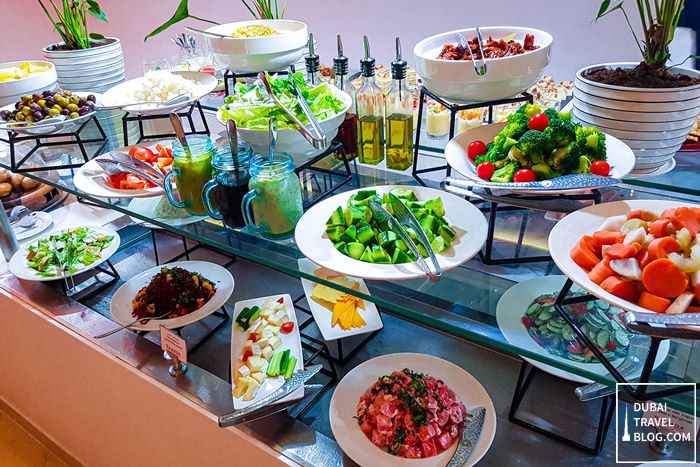 salad bar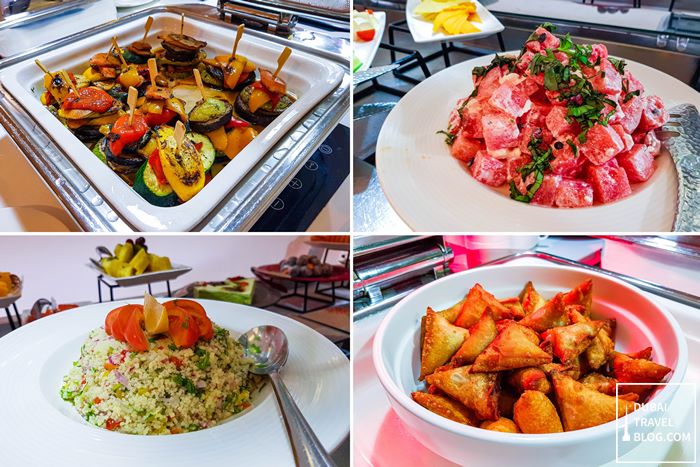 appetizers and salads
We arrived at the venue just in time and were greeted by a sweet Valentine's theme prepared by the hotel. it made for a more intimate set-up complete with rose petals on the table and balloons surrounding the area.
We were also welcomed with complimentary Scavi & Ray non-alcoholic grape which we enjoyed and we headed to the buffet station so we could start the evening.
Valentine's dinner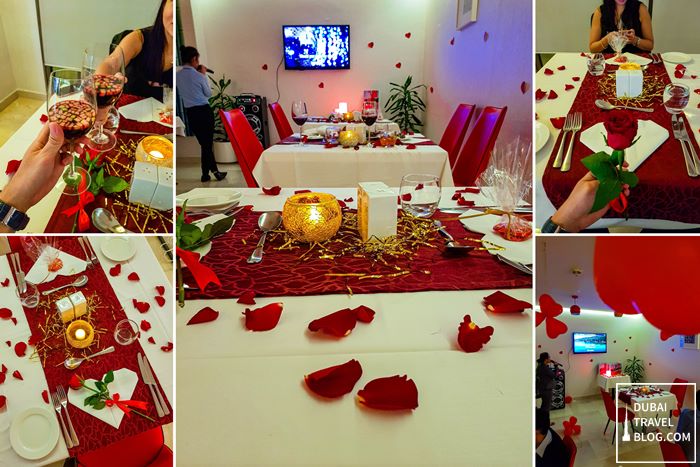 red
The restaurant has a good selection of salads, mezze, main course items, fruits, and desserts. We especially enjoyed the vegetable samosa, beetroot salad, watermelon feta, seafood skewers, beef strips, and grilled vegetables.
Guests at Flavours restaurant can also enjoy a live BBQ during the Valentine's Special. They prepared us some grilled lamb chops, prawns, salmon, and chicken tikka.
Aside from the buffet, we were glad that the freshly grilled food arrived as it was quite a highlight during that evening.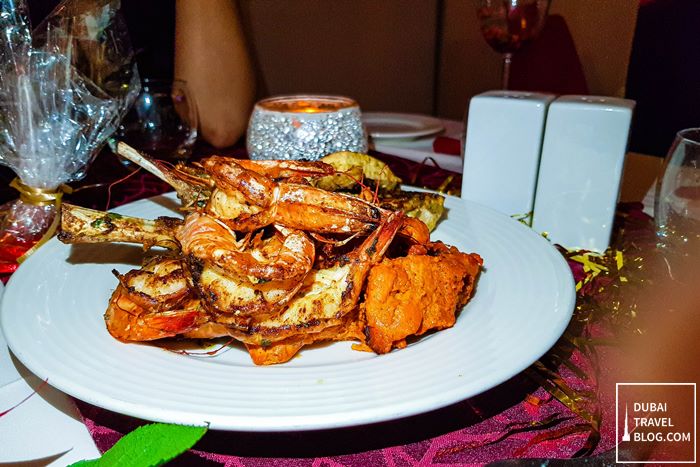 freshly grilled food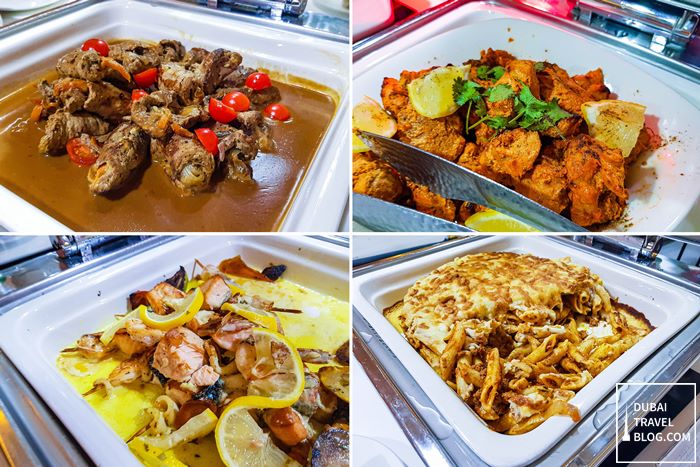 main course
We ended the night with the rest of the guests singing along in their karaoke machine.
For AED 169 (for two people), it's quite a good deal already and it's something nice to experience if you're in the area this Valentine's.
dessert station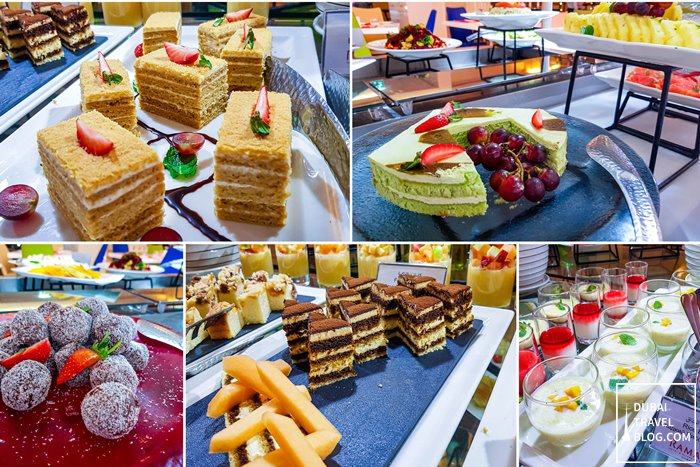 sweets!
Contact Information
Ramada Hotel & Suites by Wyndham JBR
Address: Shams Cluster 3 – Dubai
Telephone Number:
Email: dining@ramadajbr.com
Website: ramadajbr.com
Instagram: @RamadaJBRdubai
Facebook: @RamadaJBRdubai
Twitter: @ramadajbrdubai
Google Map Location
Below is a map guide to the location of Ramada Hotel & Suites by Wyndham JBR. Flavours Restaurant is at the lobby level of the hotel.