We spent two nights at the Hyatt Place Dubai / Wasl District, a contemporary and stylish hotel that offers a straightforward accommodation for families and business/leisure travellers. This hotel is located in the middle of Old Dubai area and is only a minute's walk to Al Ghurair Centre mall.
I believe this was our first time to have a staycation along this area and it was good to experience how it's like near main landmarks that highlight the heritage and soul of Dubai – the famous spice souks and gold souks, to name a couple.
We arrived in the hotel and went straight to the Basement parking as at the moment, valet service was not available. It wasn't a big deal as the basement was just near.
Hyatt Place Dubai
hotel lobby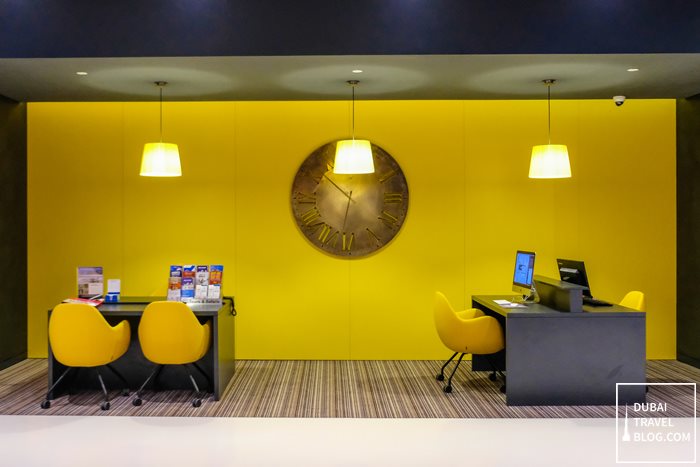 business centre
Staycation in Old Dubai: Hyatt Place Dubai/ Wasl District
Upon entering the lobby, I was pleasantly surprised by its interior and design. While the building may look traditional from the outside, the inside is quite current and modern. The lobby is very spacious too.
This is the third Hyatt Place Dubai property they built. The other two are located in Baniyas Square and Al Rigga — all properties are in Deira area. The focus of Hyatt Place Dubai brand is modern comfort and an overall uncomplicated stay.
Arabic furnishings in stylish lobby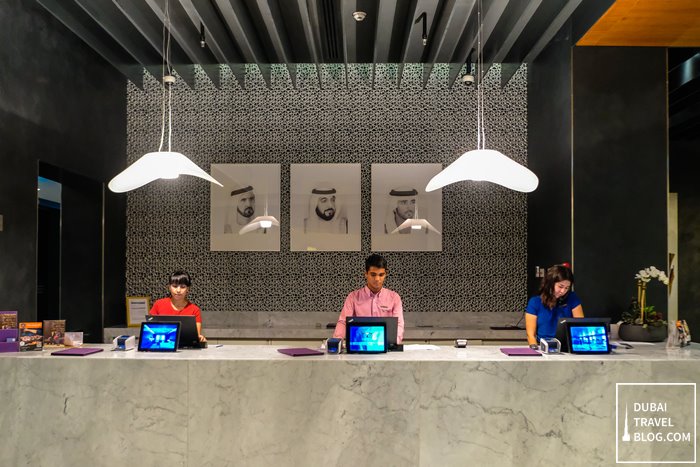 checking in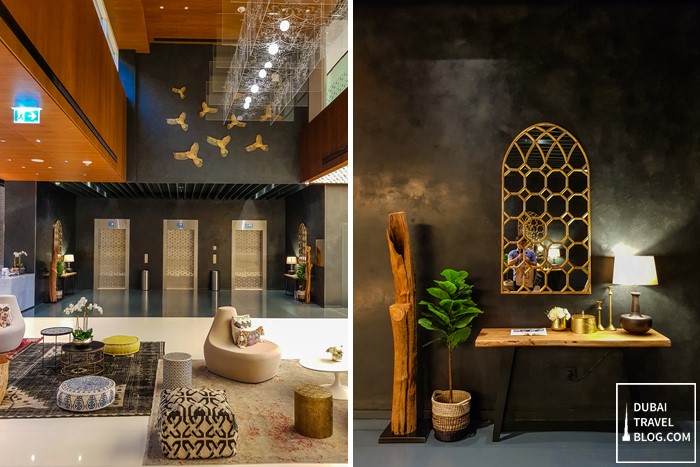 elevator area
Bedroom
The hotel has 202 stylish rooms and they assigned us a room located on the 3rd floor. Some of the main features I enjoyed inside our bedroom include the Hyatt Grand Bed, which let us sleep soundly and comfortably, a huge 42″ flat screen LG TV which swivels between bedroom and living area, and an oversized and overly comfortable sofa sleeper. These facilities were the highlights in our spacious room.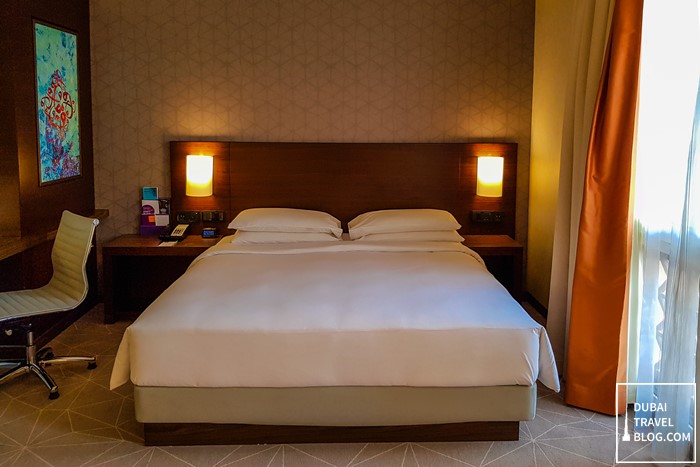 comfortable Hyatt King bed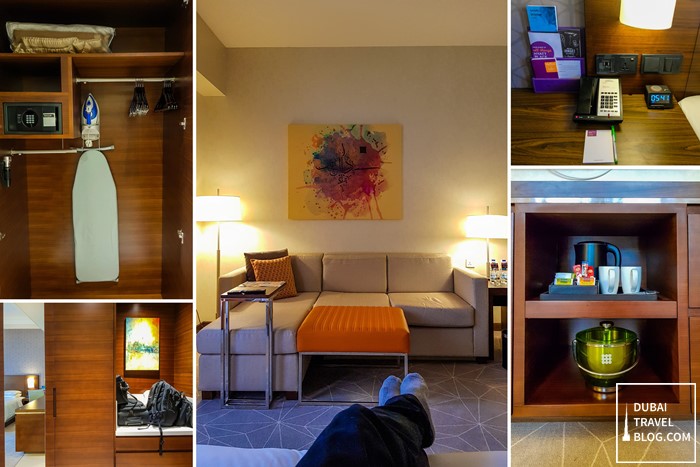 inside the spacious bedroom
WiFi Speedtest
The hotel offers free WiFi internet up to 10 Mbps for its checked-in guests. I ran a speedtest and the WiFi Speed registered 7.42 Mbps download speed which is good already. However, I did notice a couple of times that the internet got disconnected.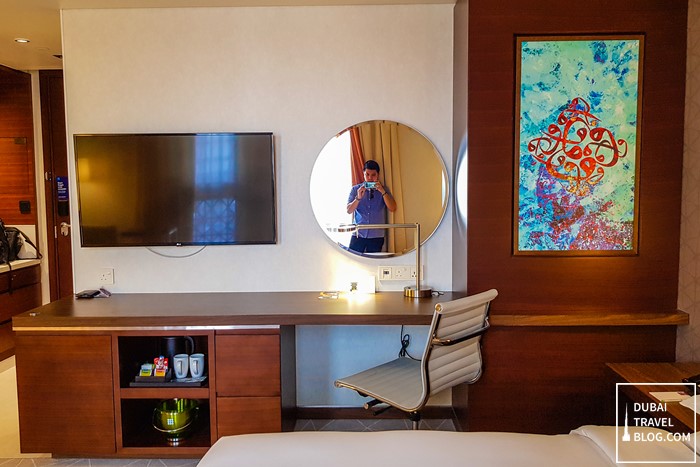 swivelling TV and workstation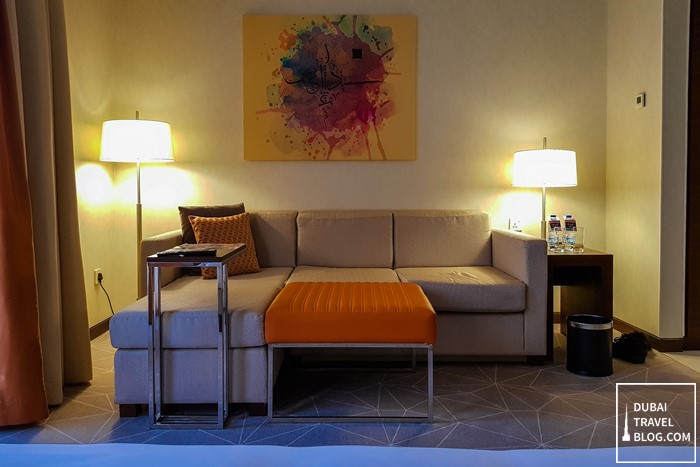 comfy sofa
Bathroom
You can find a huge mirror occupying majority of the one wall. The bathroom is basic necessities including a shower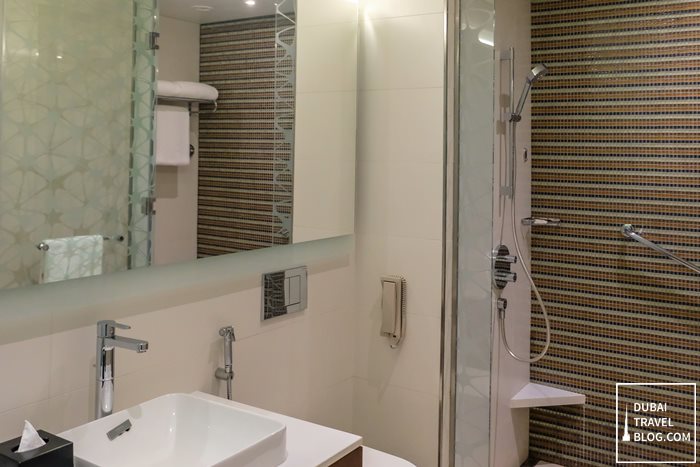 bathroom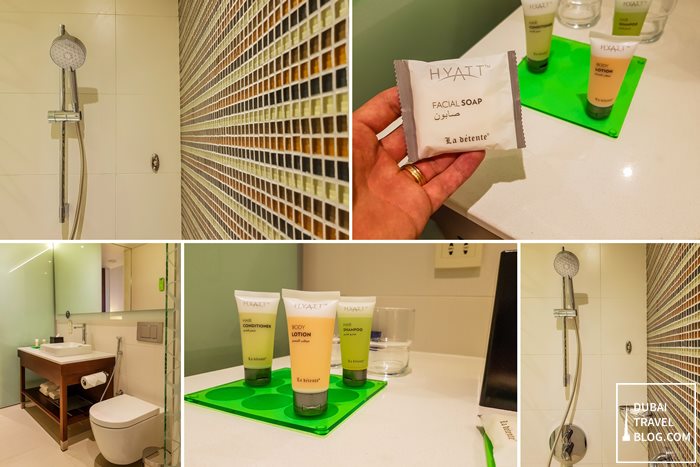 bathroom amenities
Restaurant: Gallery Cafe
We spent two nights having dinner and a breakfast at their all-day dining restaurant, Gallery Cafe. Read about our dinner experiences at The Gallery Cafe here.
Breakfast was quite busy but I'm glad that the staff seemed to manage it well.
Chicken satay – during our dinner at the restaurant
breakfast buffet
In Room Dining Service
On the morning of our 2nd day, we had breakfast at the comfort of our room via room service. We enjoyed watching movies as I brought my USB drive while eating our meal.
room service – breakfast in bed
Swimming Pool
You will find their swimming pool at the 14th floor. We didn't spend much time here as it was too hot and it got a bit busy during our visit. For families bringing their children, aside from the pool, there is also a play area available..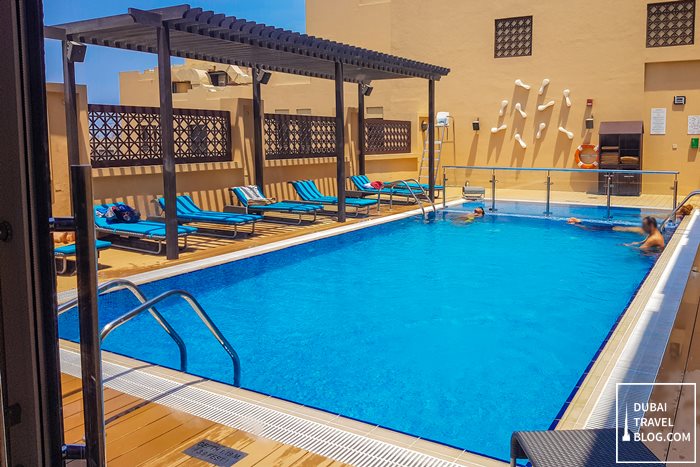 swimming pool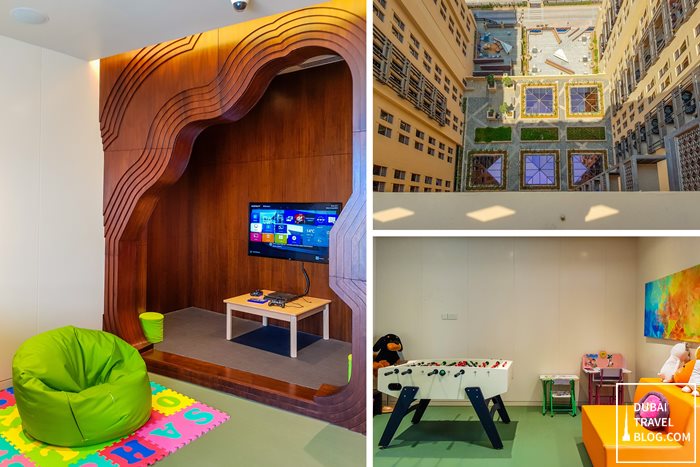 kids play area
Fitness Centre / Gym
In the same level as the pool, you can access the gym and fitness facility with lockers. I did not notice any steam or sauna in the lockers. One thing to note is that the gym is open 24 hours so guests and residents of the hotel can access this fitness centre and work out at their own convenience.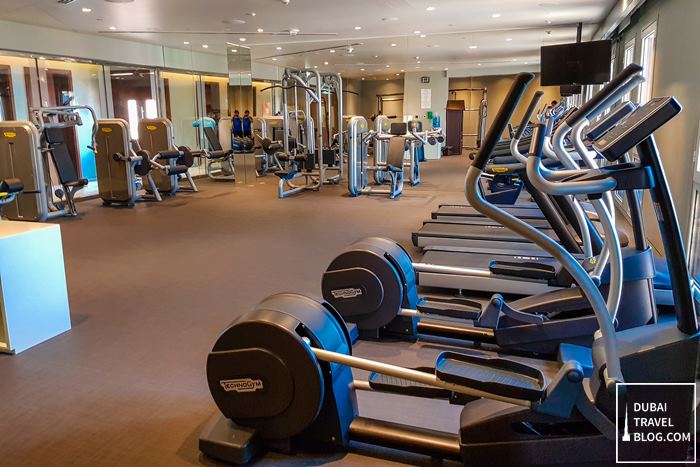 24-hour gym
high-tech gym equipment
I am glad that the hotel is situated near accessible places. We were able to take a stroll at night at the Wasl District. We also went to Al Ghurair Centre and managed to find some good deals shopping quality items.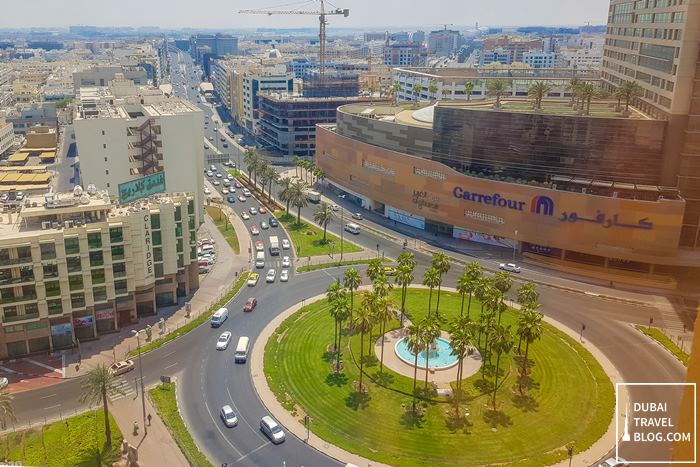 view of the Fish Roundabout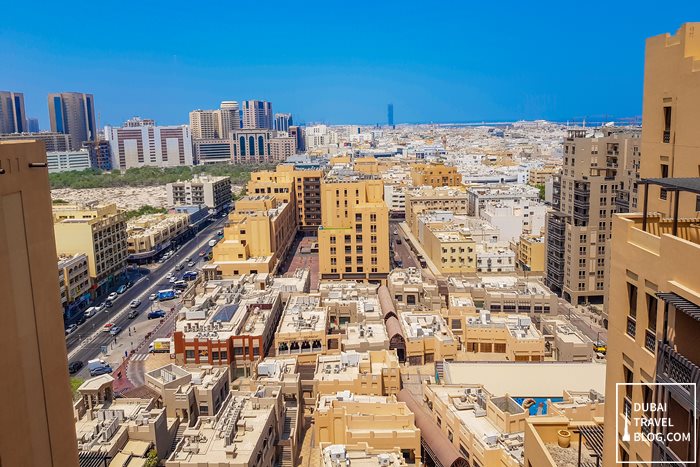 view of Deira from the hotel's rooftop pool area
Video: Hyatt Place Dubai Wasl District
Check out this video below showcasing a preview of our experience staying in this lovely family-friendly hotel:
We understand that this is still a new hotel and we could sense that there are some developments needed to be assessed. But overall, we were contented with the experience.
If you're looking for a no-frills and affordable hotel that is right in the middle of Old Dubai, you may want to check out Hyatt Place Dubai / Wasl District.
Note: We were invited as guests by Hyatt Place Dubai / Wasl District. All opinions are my own.
Contact Information
Hyatt Place Dubai/Wasl District
Address: Wasl District P.O. Box 128851, Dubai, United Arab Emirates
Telephone Number: +971 4 401 1234
Website: https://www.hyatt.com/en-US/hotel/united-arab-emirates/hyatt-place-dubai-wasl-district/dxbzm
Facebook: @HyattPlaceDubaiWaslDistrict
Instagram: @HyattPlaceDubaiWaslDistrict
Twitter: @HyattPlaceDubai
Google Map Location
Below is a map guide to direct you to the location of Hyatt Place Dubai/Wasl District. It's withing walking distance from Al Ghurair Centre Mall and the Fish Roundabout: