Dubai has established itself as one of the most modern cities in the world today. However, not everything in the city has undergone a dramatic makeover. There is a part of Dubai that has retained its traditional "flavor" and atmosphere: the Bastakiya District. Located in Al Fahidi (one of the oldest areas), you can head to this neighborhood for some heritage and culture experience.
Book an Old Town and Souk Walking Tour Here
Photowalk in Al Bastakiya
The Bastakiya District is one of the oldest residential places in the city. You can find it in Bur Dubai, which is situated on the west side of the Dubai Creek. City tours often include a visit to this district, which is popular because of its cultural heritage.
This is a great place to visit especially for photo and history enthusiasts. I was able to drop by during the UAE National Day celebrations and had a  DIY-photowalk in the area. Here are some random pictures I've taken of Bastakiya.
Camera Used: Fujifilm X-E1, 18-55mm f2.8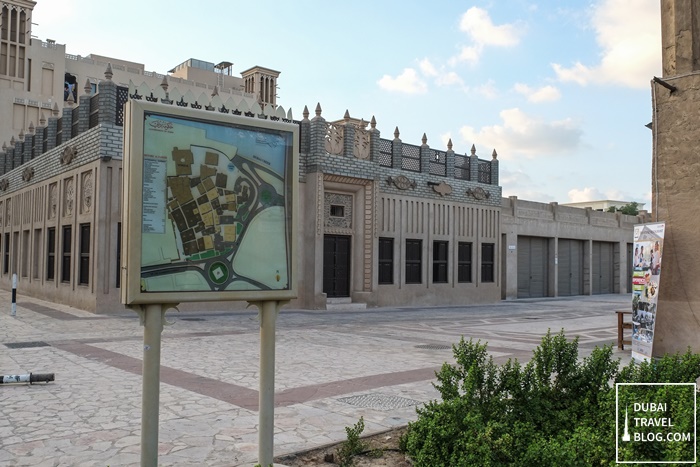 start of the photowalk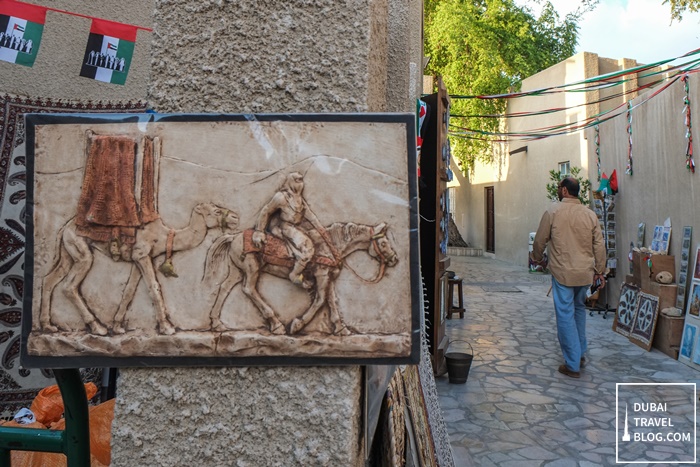 exploring the area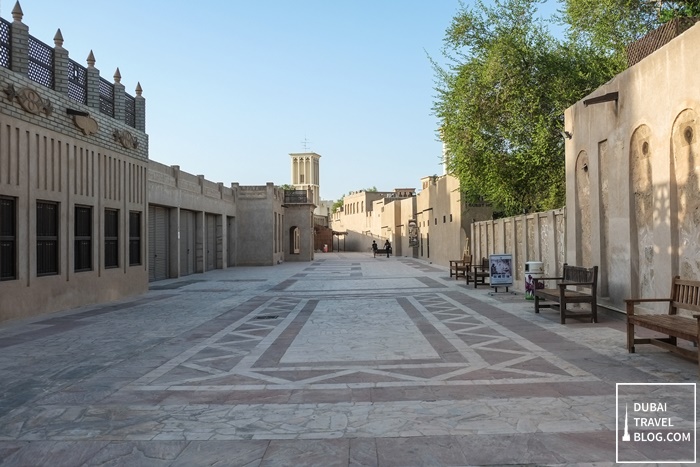 Al Bastakiya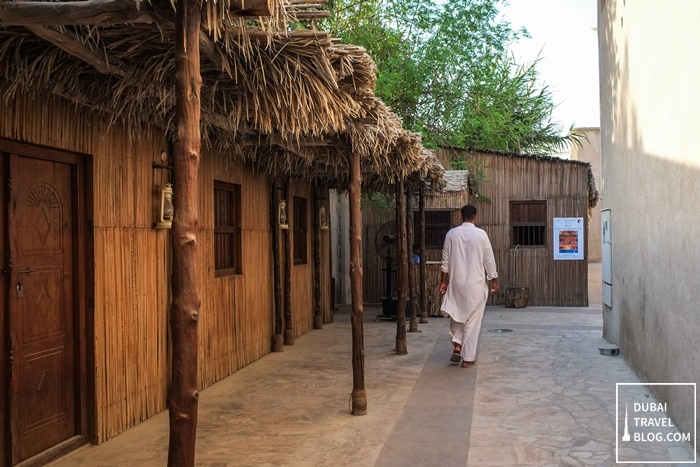 most shops were closed as it was a holiday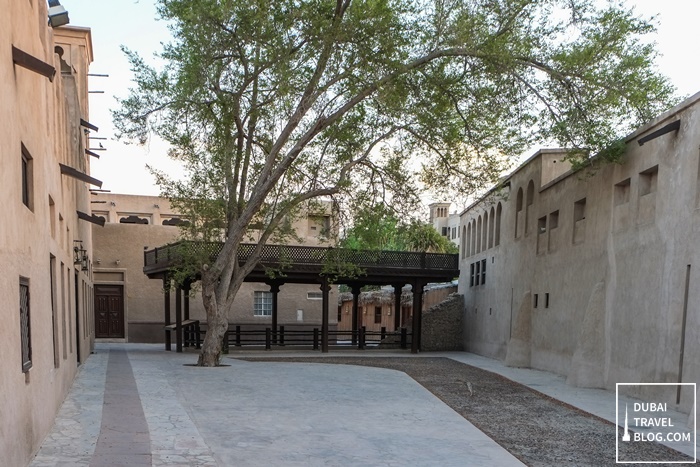 in one of the central areas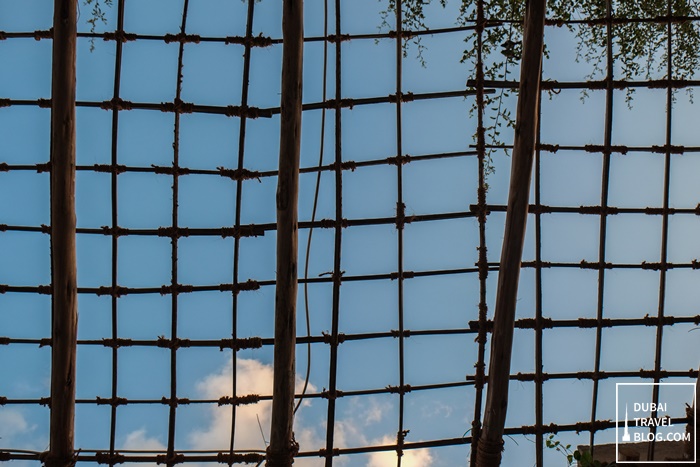 inside the Arabian Teahouse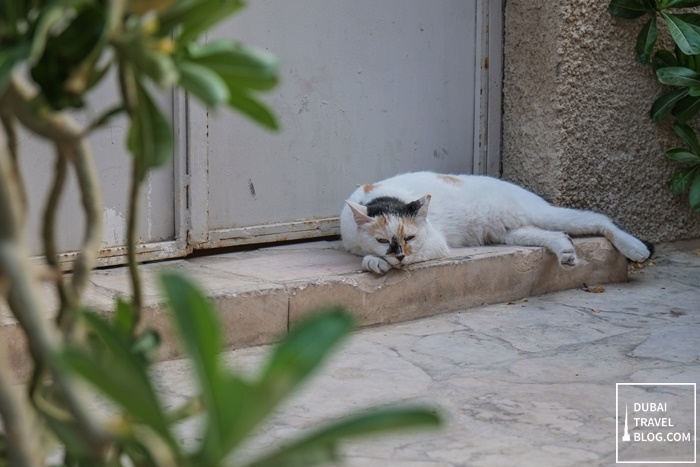 a cat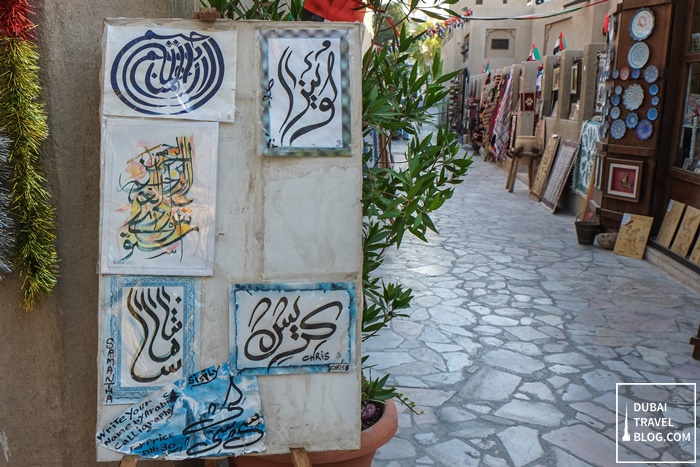 calligraphy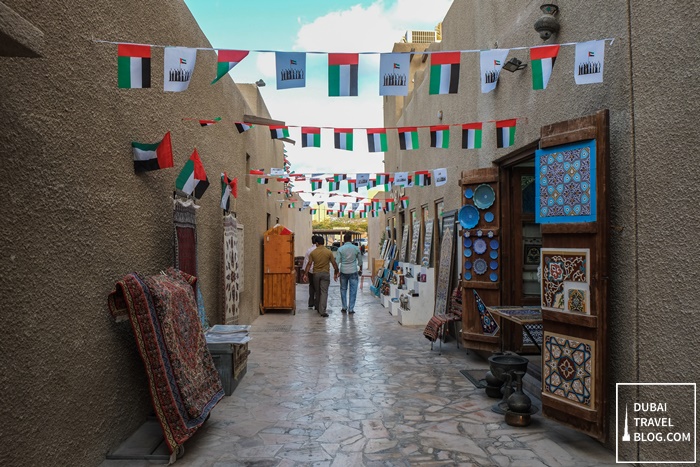 it was the UAE National Day when I had this photowalk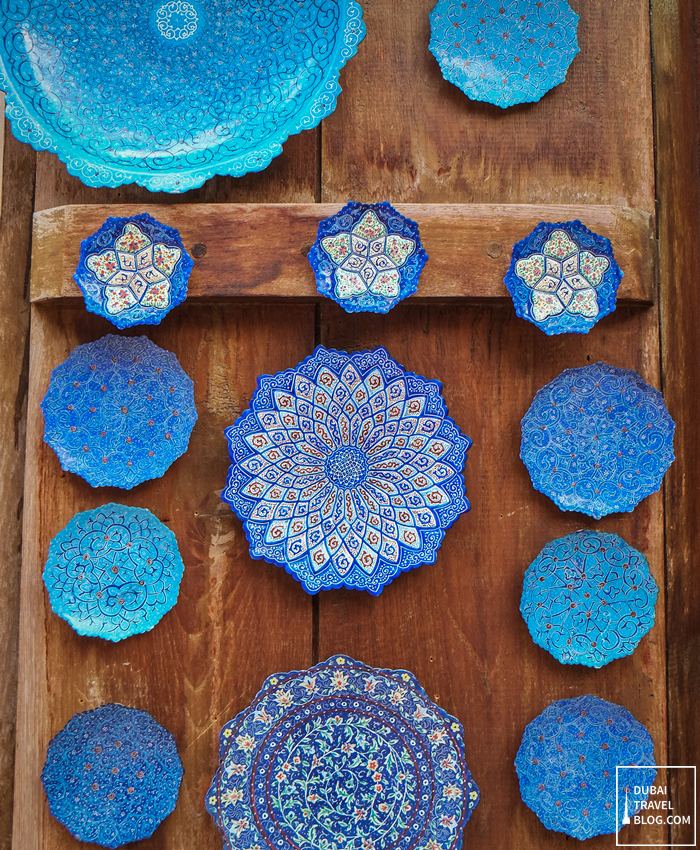 colorful blue plates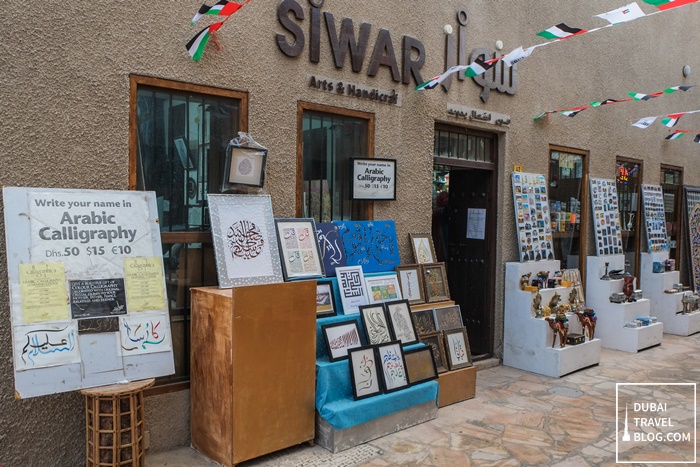 arts and handicraft shop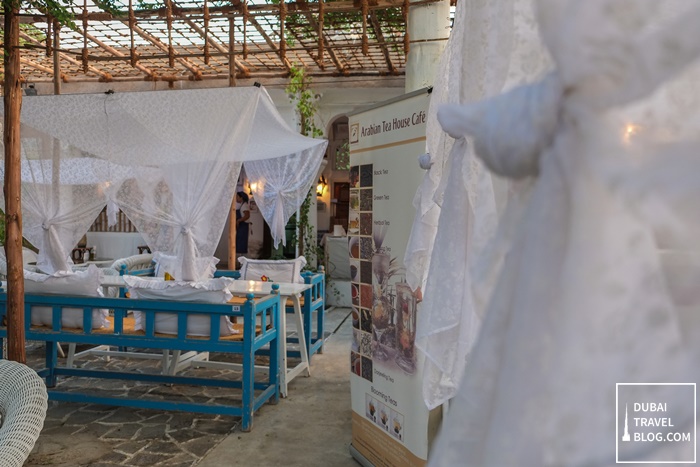 Arabian Teahouse – had a snack here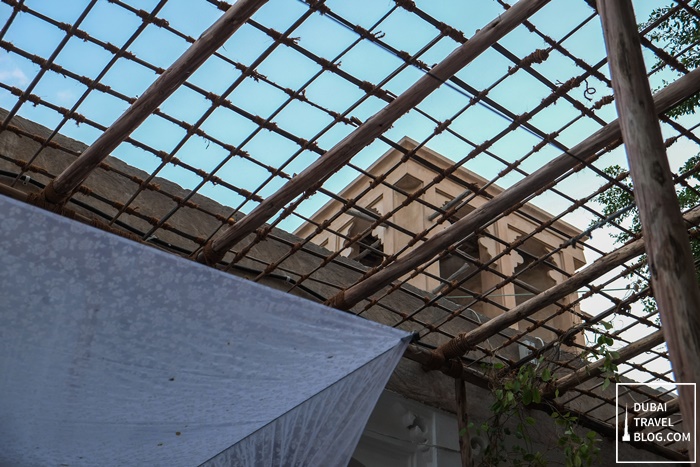 wind tower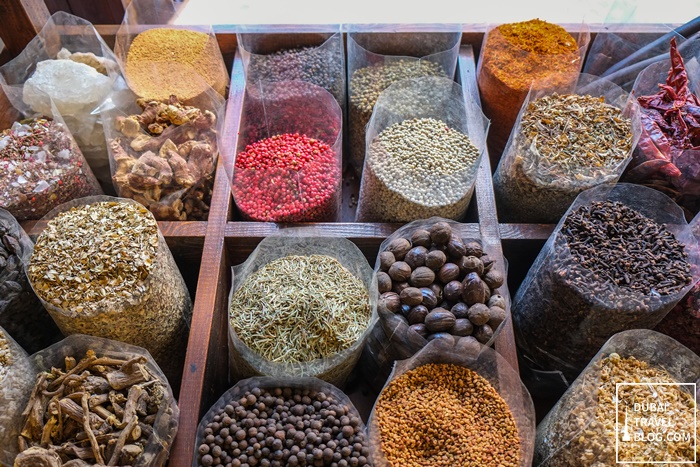 spices!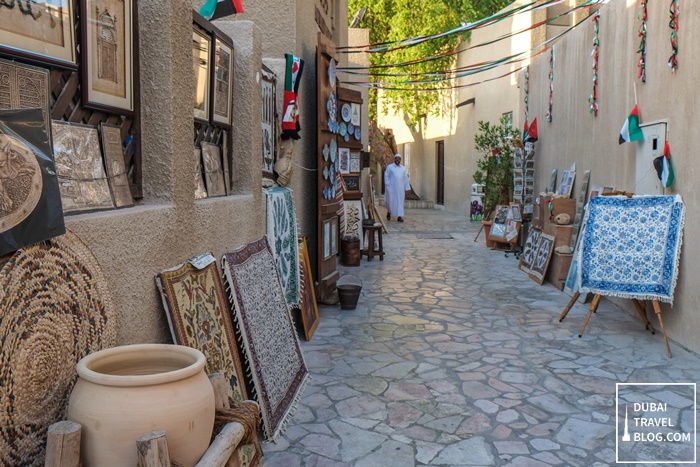 street market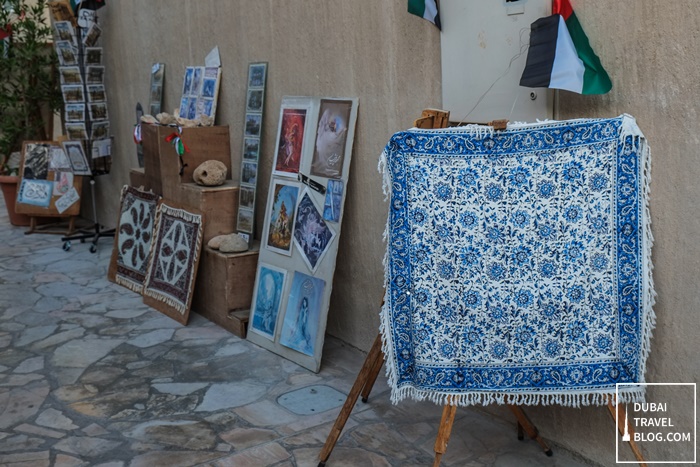 arts and handicraft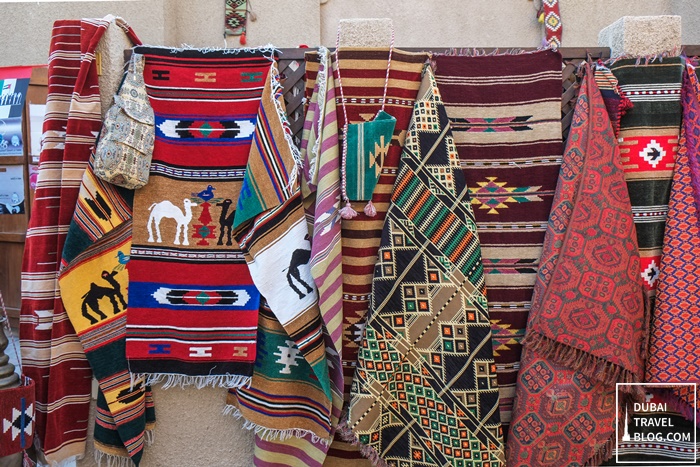 textile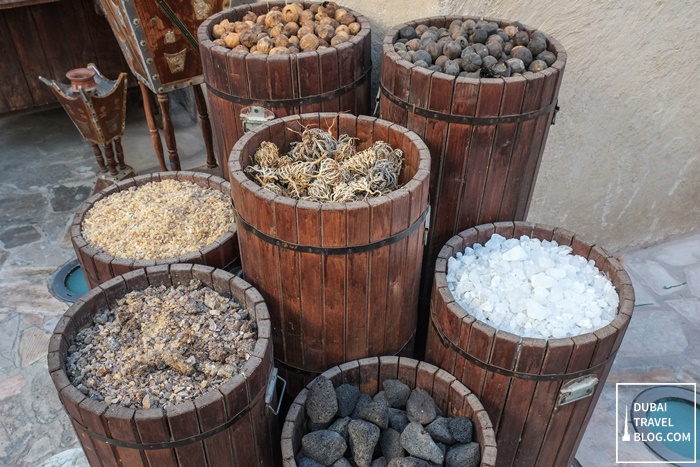 outside the spice shop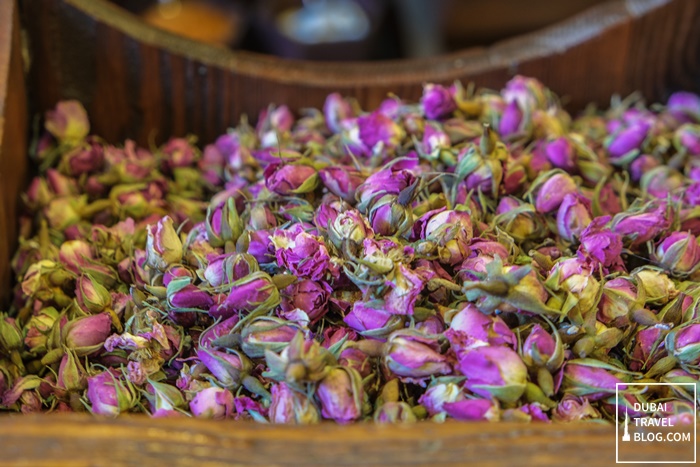 not sure which spice is this, but this was colorful.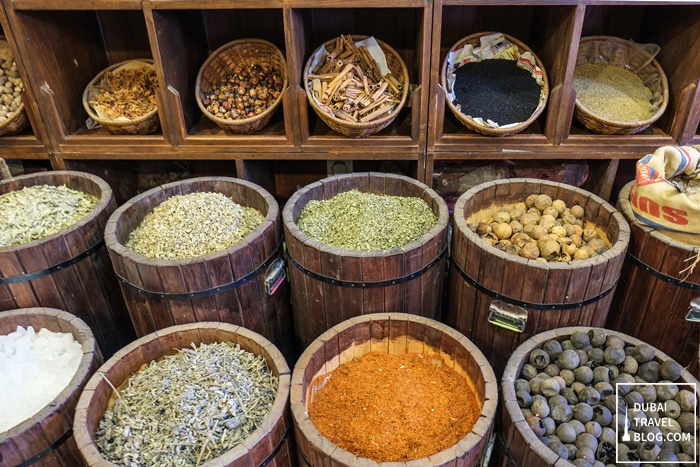 more spices inside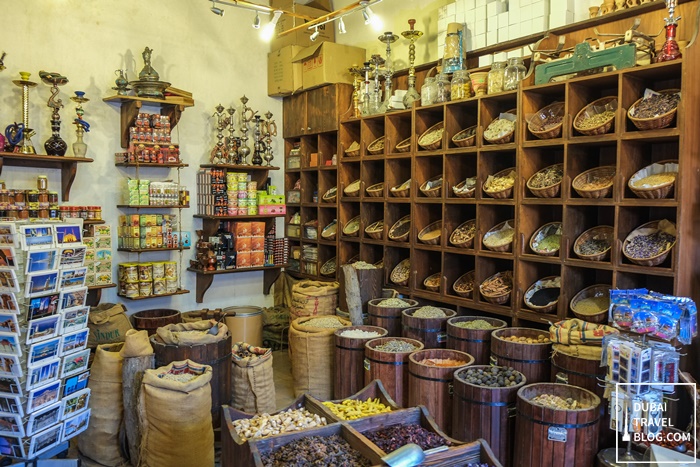 spices and souvenirs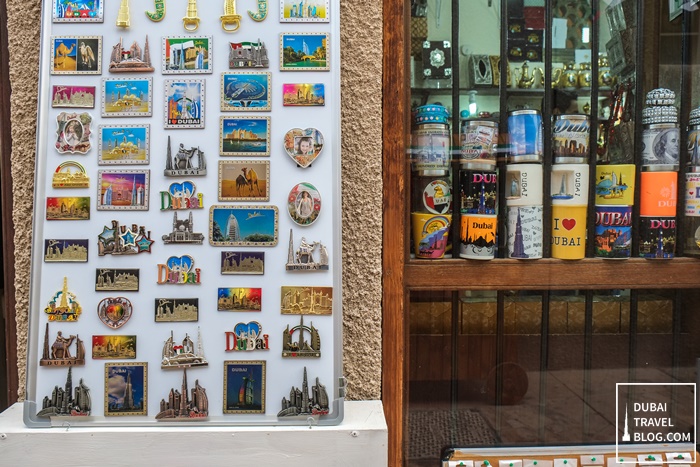 souvenir shop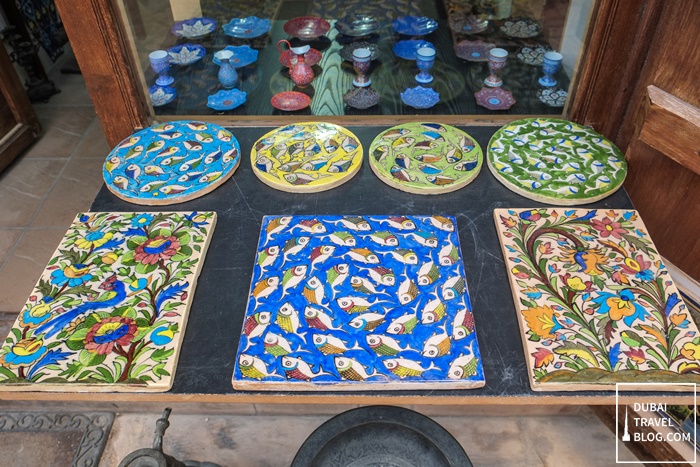 tiles and murals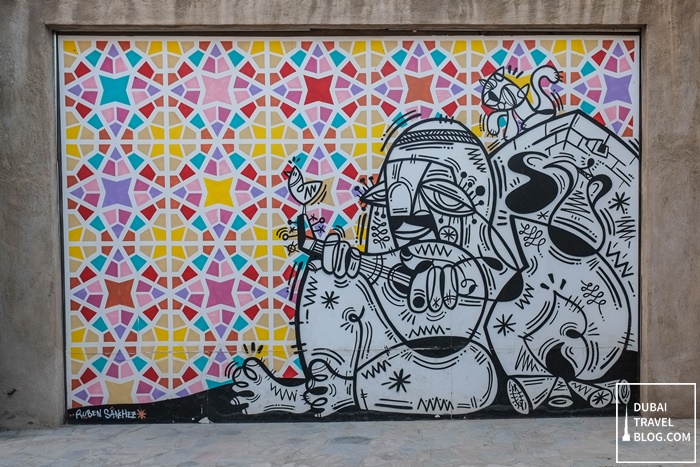 colorful mural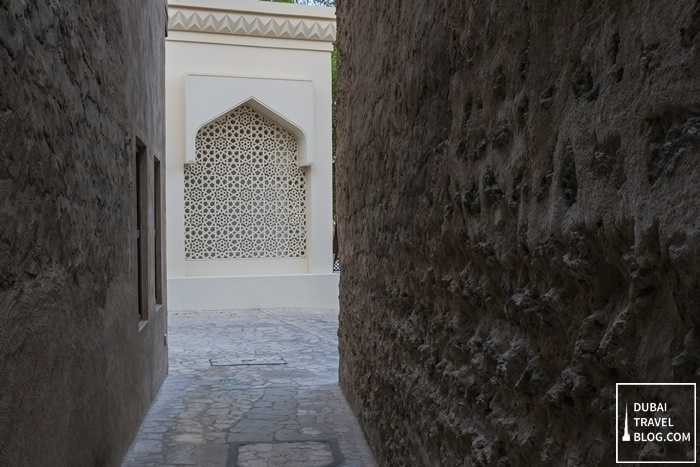 passing through the narrow alleys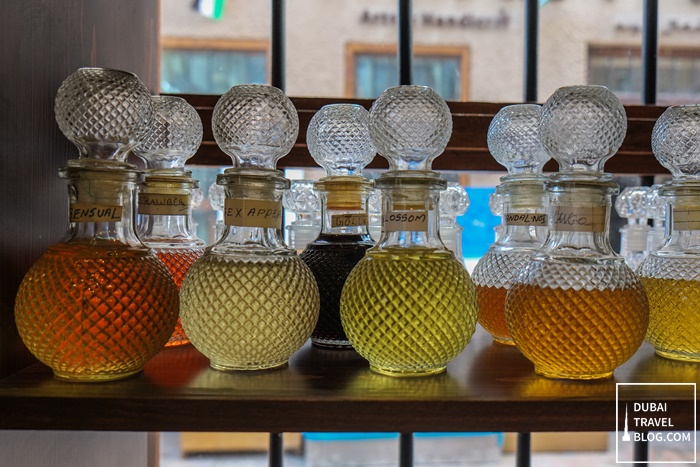 perfumes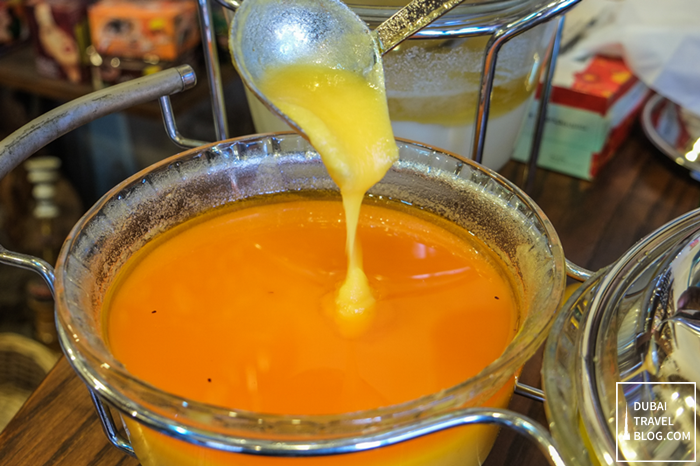 lotion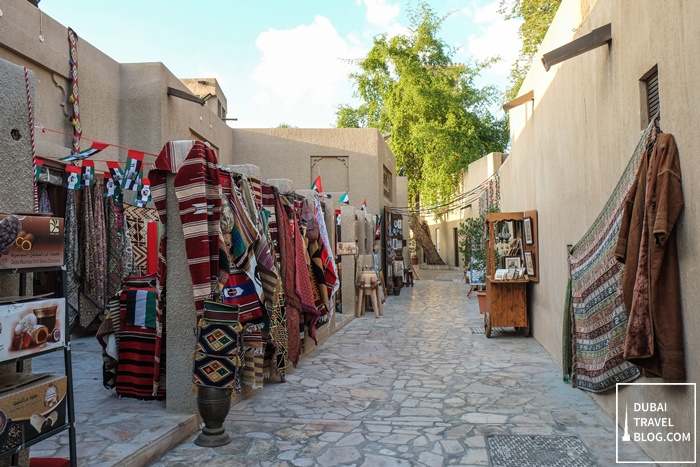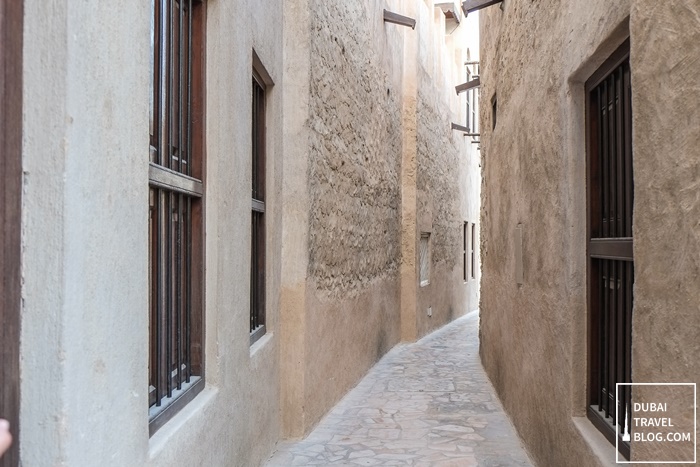 narrow alleys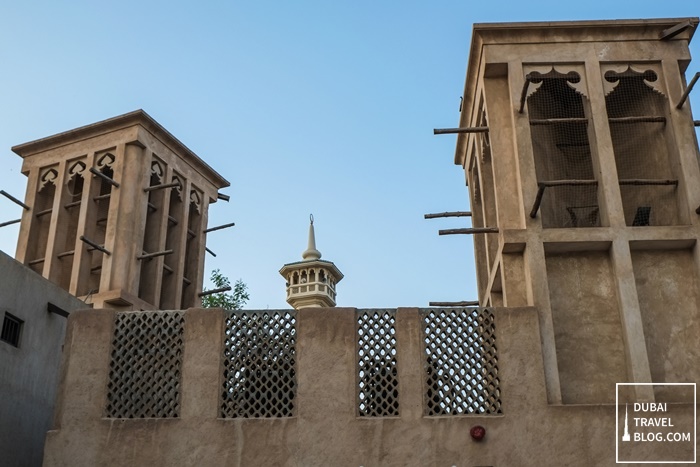 windtowers Dubai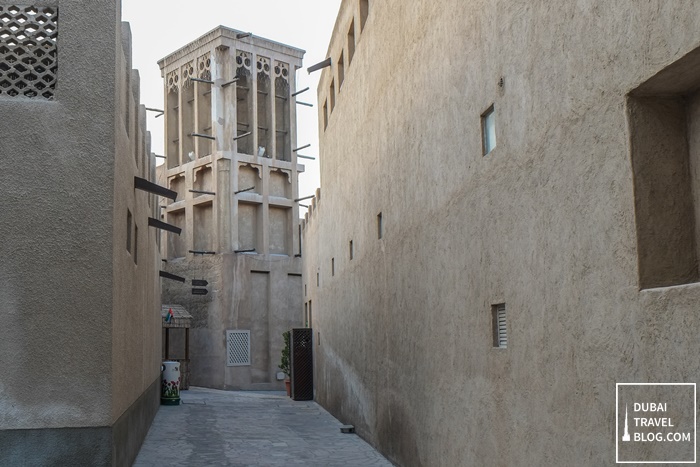 wind tower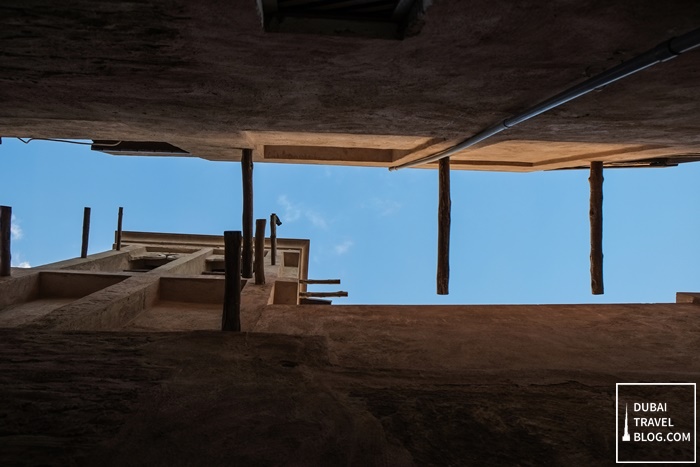 looking up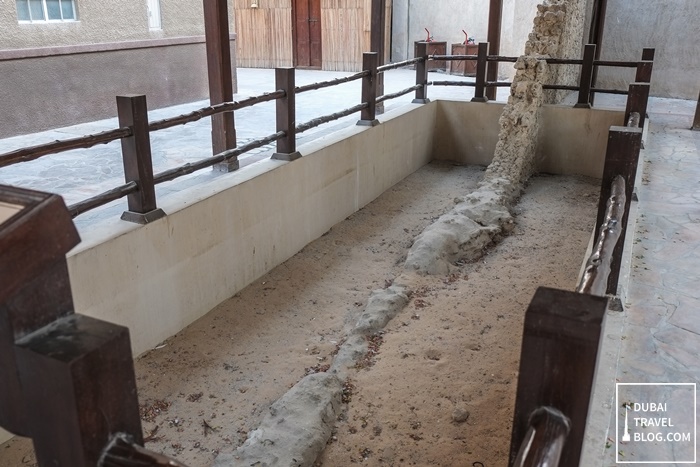 remains of the oldest wall in Dubai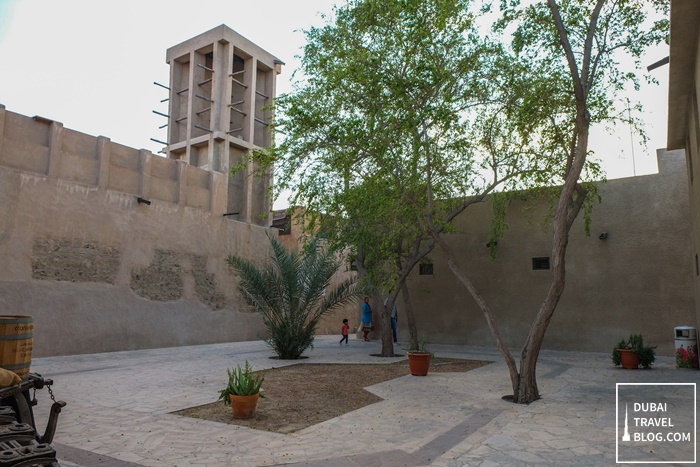 relaxing space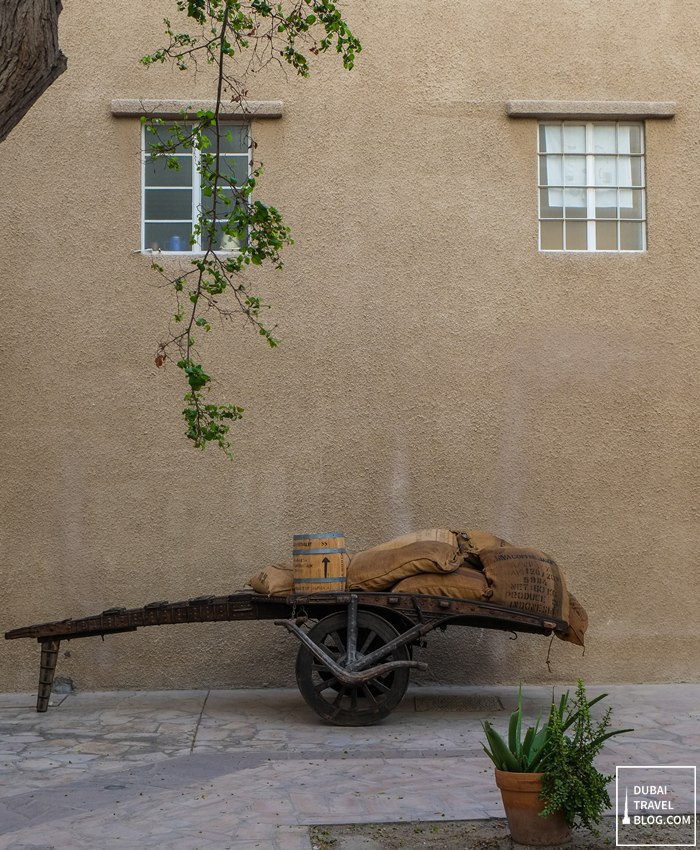 in Al Bastakiya
Book an Old Town and Souk Walking Tour Here
Things to See and Do in the Bastakiya District
Compared to the hustle and bustle of the city, a visit to the Bastakiya District is like a breath of fresh air. You can just sit back, relax, and bask in the culture of "Old Dubai." Here are some of the things that you can see and do in the area:
Wind Towers – Once you arrive at the district, your eyes are bound to gaze at the wind towers on the traditional courtyard homes. A long time ago, the people built these towers as a means of cooling their homes in the desert town. Today, these decorative towers have become a major tourist attraction. Notably, the Bastakiya District is known for having the highest number of traditional homes with wind towers.
Street market – Every Saturday, the Bastakiya District opens a street market where you can find colorful clothing, accessories, furniture, and handmade jewelry. You will also see beautiful paintings and artworks made by local artists. This is the perfect place for buying a souvenir that will remind you of your visit.
Entertainment – The street market features musical performances, workshops, and other exciting events. You can listen and dance to the beat of Dubai Drums or join a painting workshop out on the street. There is never a dull moment when you are exploring the Bastakiya District!
Camel Ride – If you haven't ridden on a camel before, then now is your chance. You can enjoy a fun and relaxing ride at the street market on Saturdays. After all, it is not every day that you can say, "I think I'll go for a camel ride today!"
Book an Old Town and Souk Walking Tour Here
A Cultural Travel Experience
A trip to Dubai does not have to be limited to the modern buildings and posh hotels in the city. If you want to learn more about the "Old Dubai," then you should go to the Bastakiya District. Like going back in time, a visit to this place is the ultimate cultural travel experience.
In recent years, the Bastakiya District has become a popular cultural destination in Dubai. In fact, the city government plans to establish more traditional markets, museums, and restaurants in the area.
Have a sumptuous lunch or have some tea at the Arabian Teahouse in Bastakiya, or check out the art at the XVA Gallery Hotel and Cafe in Bastakiya.
Book an Old Town and Souk Walking Tour Here
How to Get There
1. The nearest metro station is Al Fahidi metro station (Green Line).
2. Exit the metro station via Exit 3.
3. Walk towards the Al Fahidi roundabout via Musalla Road. You will reach Bastakiya neighborhood when you see the beige-colored walls and windtowers.
Google Map Location
Here's a location map of Al Bastakiya in case you plan to visit the area.