GITEX is an annual shopping event in Dubai that celebrates gadgets, appliances, and everything IT related. This is known to be the biggest technology shopping event in the Middle East and North Africa (MENA) region where UAE residents and plenty of tourists from other countries visit the Dubai World Trade Center and go on a shopping spree.
Since working in Dubai as an expat and being a sucker for deals and offers on gadgets, we always visit the Gitex event even if it means having to battle the crowd.
Gitex Shopper happens every September. Here are some tips to follow – 9 Tips When Shopping at GITEX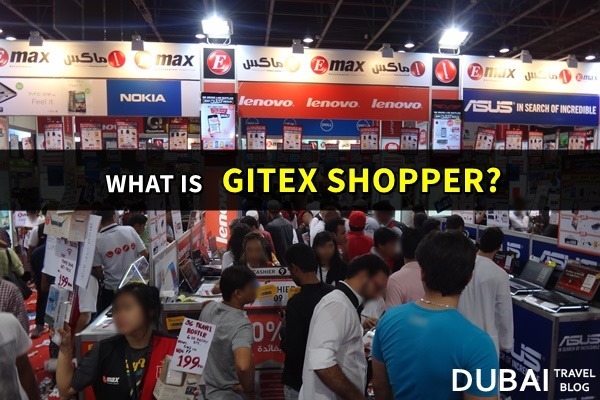 busy event at the Dubai World Trade Center exhibition halls
The Gitex Shopper Festival in Dubai
This is a jam-packed festival and people usually save money to splurge on buying laptops, smartphones, digital cameras, TV,  etc. From well-known brands like Sony,  Samsung, LG, Nikon, Dell, HP, Lenovo, and many more.
With huge discounts you can get, you will be bound to purchase something that you will fancy. In fact, I don't spend on gadgets not until Gitex season. I tend to delay the buying until Gitex cause I really want to get good deals for my investments.
I guess you can call me a cheapskate but I see it more on maximizing the value for my money. Besides, the gadgets that I spend are investments because they help me earn extra income via blogging or freelance work.
Anyway, so far I have attended 5 Gitex Shopper events and have purchased a laptop, a camera, and a tablet ever since. All these gadgets came with huge discounts and I've saved a lot of Dirhams in total because I only buy during the technology festival.
If you're a resident of Dubai, I would recommend delaying your gadget purchase until this event so you can maximize your money's value – unless of course you really need the stuff.
Contact Information
Address: Sheikh Saeed Halls, Dubai World Trade Centre
Website: https://www.gitexshopperdubai.com/
Facebook: https://www.facebook.com/GITEXShopperDubai/
Instagram: https://www.instagram.com/gitexshopper/
Google Map Guide
Below is a map guide to the location of the Dubai World Trade Centre where the Gitex Shopper event will be held.