Last April 2, the first (ever) Zomato blogger conference was held at Kempinski Hotel in Mall of the Emirates. The event gathered bloggers, PR, web personalities and influencers in the UAE for an afternoon of networking and discussions. This was my first time to join a serious blog event like this in Dubai.
Starting at 3pm, the event was divided into two panel discussions. The first panel showcased the founders of popular review websites while the second panel had a lineup of bloggers and companies/PR. These discussions were moderated well by Debbie Rogers of CoffeeCakesandRunning.com. It highlighted points from the companies, PR side and blogger side  on how review websites work and the relationship between bloggers and brands.
In between, guest speakers shared their passion on photography (Skyler Burt) and insights on how to measure social media reach (Meltwater Team). It was then closed wonderfully by Keynote Speaker, Faridy El Agamy, who gave an inspiring speech on visualizing a blog as a platform to launch your business.
We had dinner at the Olea restaurant of Kempinski, which offers appetizing Levant cuisine.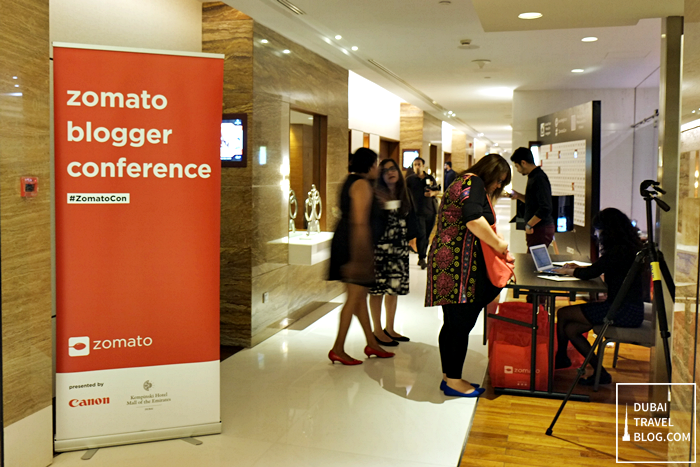 registration
ZomatoCon Blog Event at Kempinski Hotel, Mall of the Emirates
It was good to get tips from people who have been blogging in Dubai for years and from entrepreneurs who have established themselves in the Dubai scene. Here's a list of speakers and panelists:
Keynote Speaker: Farida F. El Agamy
Guest Speakers:

Skyler Burt – Man behind WeEatTogether.com
Rehab El Hadari – Agency Partnerships Manager at Meltwater
Rob Triegaardt  – Client Strategy at Meltwater

Moderator:  Debbie Rogers
Panelists: It All Begins with a  Review
Viraj Sawant – Country Manager for Zomato UAE
Prasanjeet Roy – Co-Founder & CEO of Mazkara
Vera Futorjanski – Co-Founder of Vaniday Middle East
Tamara Clarke – Creator of The Global Gazette
Abbas Jaffar Ali – Founder of TBreak.com
Panelists: Blogger and Brand Collaboration
Shamim Kassibawi – Managing Director Spread Communications, SMC Group – MENA and CEF and Founder of VLog: ShammimScene
Tiffany Barret – Blogger of That Fitness Hourney
Miousha Ehsan – Founder of LinkViva Events
Sheethal Vijayakumar – Assistant Marketing Manager at Musafir.com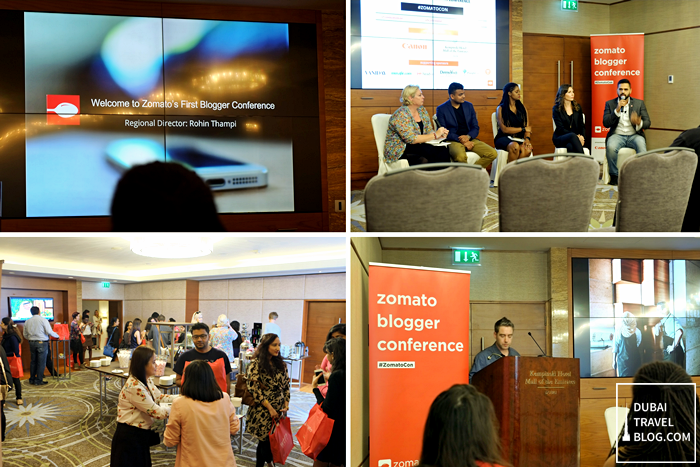 Thoughts on the Blog Conference
I've been blogging for quite some time in Dubai and I don't join events as often (if there are some). This was my first time to attend an official event and the team at Zomato did a great job in making it a success.
There were some issues with microphone volume and I wished that each speaker was given an opportunity to answer some Q&A (10 minutes or so) to have more engagement between the audience. I wanted to ask a few questions on photography to Skyler after his speech but there was no more time.
Other than these two minor setbacks, the event flowed smoothly and this was a great showcase of the blogging community in Dubai. I'm glad that Zomato organized a professional conference such as this as I feel that there aren't that many serious events in Dubai that cater to bloggers. Thank you to the Zomato team for a great event!