What makes the UAE an ideal destination for car enthusiasts is that not only is it ranked highly for its quality of roads, but it also provides unmatched driving experiences with a variety of scenic and thrilling routes.
Transportation in the UAE is quite convenient as there's an efficient system for all modes of transport. But getting your own vehicle and cruising the roads is something you don't want to miss. After all, Dubai roads are well-paved for drivers and you can enjoy smooth driving as you go for road trips in and around the emirate. What's more, a recent study revealed that Dubai is the second best city in the world for driving.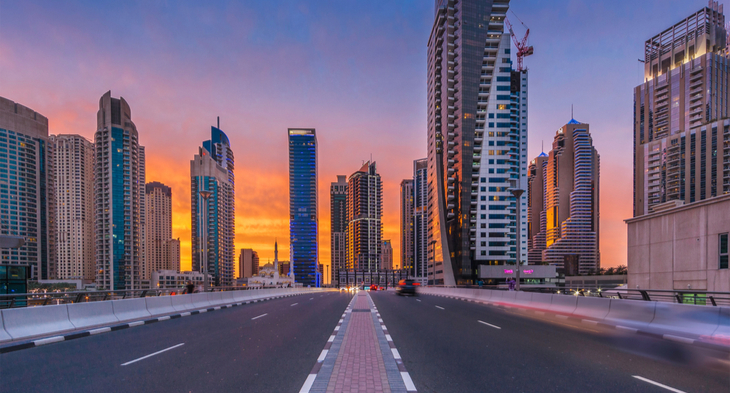 Coast the Road with these Interesting Road Trips from Dubai
The experts at CarSwitch.com, an online marketplace to buy certified used cars in UAE, have compiled a list of some of the best routes for those who love to drive.
1. Dubai to Jebel Hafeet
Situated on the outskirts of Al Ain around 120 km from Dubai, Jebel Hafeet is the second highest mountain in the UAE. Jebel Hafeet is also renowned for its road, which is ranked highly among the best driving roads in the world. You will come across 21 turns while climbing it. Some of them are really tight bends, which means that it can be challenging at times. But it's sure to be one of the most exciting driving experiences you can have in the UAE. The impressive view from Jebel Hafeet's top is another reason to consider this route.
2. Dubai to Wadi Wurrayah
This route is ideal for those who are new to off-road driving and want to start with something for beginners. Some of the roads you will encounter on this route from Dubai include the Nad Al Hammar road, Maliha Road, Sharjah-Kalba road as well as a highway in Khor Kalba. Wadi Wurrayah is known for its unique landscape that includes many canyon walls and even waterfalls. It goes without saying that you will need an all-wheel drive vehicle for this one. The trail you will be covering there stretches just 3 km and shouldn't be too challenging as long as you have a powerful vehicle.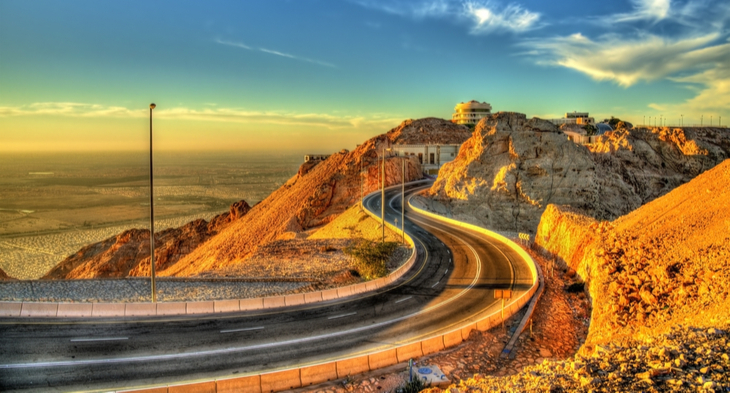 3. Dubai to Kalba
Your drive to Kalba, which is on the east coast, will first take you from Dubai-Al Ain road to the Dubai-Hatta highway. After you've crossed the Hatta roundabout and covered around 110 km, you will reach one of the most thrilling stretches of your route – a twisty road on mountainous terrain. The bends on this road are exciting as well as challenging. This leg of the journey, which is approximately 10 km, will take you to the Sharjah-Kalba road. Going through the Hajar Mountains, this route will also take you through the Gulf's longest tunnel. You would have covered around 330 km when you reach Kalba.
4. Dubai to Rafaq Village
It's one of the most scenic driving routes in the UAE. During the first leg of this route you'll drive on Al Awir Road with dunes on both sides and around the base of a mountain in Jebel Rawdah. This route will present you with many amazing views of the mountains in this area. The roads to Rafaq Village, which is a mountain settlement, stretch around 180 km. You will also be able to see the Omani border during this road trip.
5. Dubai to Shawka region (Ras Al Khaimah)
After taking the exit to Hatta from Dubai-Al Ain road, you will get on the Dubai Bypass road and then the Maliha road. After driving for around 50 km on this road you will be able to spot the Shawka exit. A few more kilometers and a drive up a dirt road will take you to a clearing. You can camp there and begin exploring multiple off-road trails. From rock formations to wadis, there's a lot you can explore in this area. Make sure you have a reliable and powerful all-wheel drive vehicle for this trip.
Here are some additional tips:
If you want to avoid traffic and tourists, consider going on a weekday instead of the weekend.
Keep in mind that just experiencing these routes once isn't enough. You will notice something new every time you drive on these roads and you may also have a better driving experience once you know all the bends of a route.
Some of these routes also provide you with a great opportunity to test your car's abilities.
While enjoying your drives, don't drive recklessly. Be sure to consider the safety of other drivers as well as cyclists and pedestrians on the road.
Nobody wants their vehicle to breakdown during their road trip. To avoid such situations, invest in reliable new or used cars in UAE, and make sure it is suitable for the route. For example, if you are considering an off-road trail, then you would need an all-wheel drive vehicle with good off-roading abilities.
Just pick a route and have a thrilling driving experience in the UAE!