Dubai has many attractions to visit and as a resident or tourist, there are various ways of getting around the city. You can take the most popular mode of public transport which is via Dubai Metro and bus. You may also hail a taxi. But did you know that you can also use water taxis, book a car via a hail-riding app, or even charter a helicopter? Dubai is constantly evolving and introducing new options to make it easier for passengers to travel.
Trivia: The Roads & Transport Authority (RTA) is the government authority in charge of the roads and transportation in Dubai. They also handle traffic, fines, licensing, public transport, Nol card, and transport business.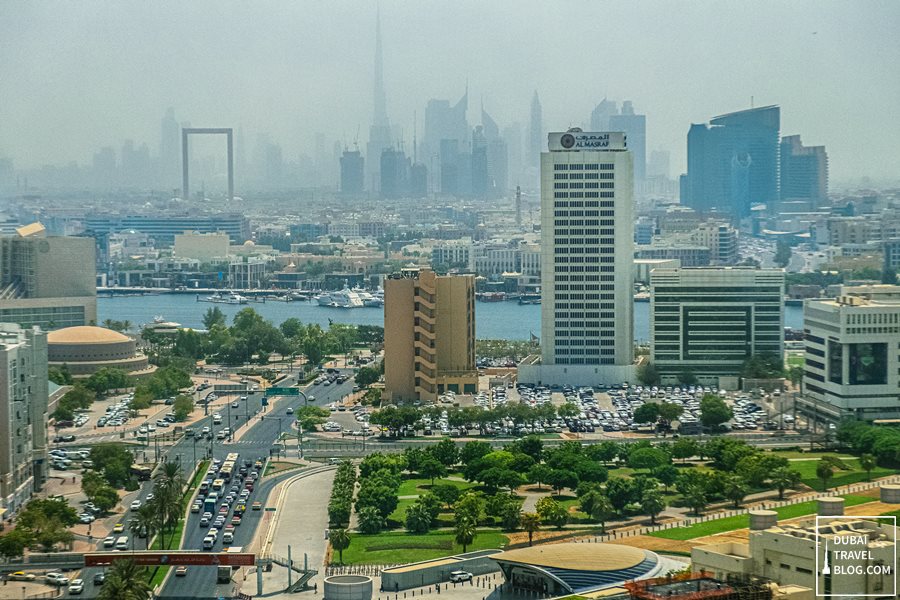 Dubai Types of Transportation
If ever you plan to take public transportation, it is wise that you secure a Nol card which is your ticket when you enter buses, trains, and trams when going out and about.
For everything else, there are plenty of means for you to visit several places and spots in Dubai. Here we list the different types of transport available in the emirate.
1. Dubai Bus
With over 1,500 buses circulating the city, catching one for your next stop will be a breeze. Waiting for one won't be a hassle too since waiting sheds are well ventilated with air-conditioners. As mentioned earlier, payment for the bus is also available through swiping your Nol card.
2. Dubai Metro
The cheapest mode of transport, aside from the bus, is the Dubai Metro train. Ever since it started operating in 2009, the Dubai Metro carries millions of passengers. You will still use your Nol card as you tap your fare to access this transport.  Arriving at Dubai International Airport, you can easily go straight to the metro and take you to famous landmarks, malls, and key places in the city.
3. Dubai Tram
Riding the Dubai Tram will enable you to have fast access to destinations like Dubai Marina, Palm Jumeirah, Jumeirah Towers, and others.
4. Dubai Taxi
For those who are not yet accustomed to getting around Dubai, choosing a taxi would be wise since they are readily available and can help ease your navigation. The minimum fare is 12 AED and is you can also book by calling the RTA Dubai (yes, Dubai Taxis are also handled by RTA) number 800 9090 so you can schedule a pick-up and drop-off at your convenience.
5. Palm Monorail
The rail runs from the Palm's monorail station down to the Atlantis, The Palm, making it an ideal ride for those who want to enter The Palm and experience the wide selection of activities they offer.
6. Abra and Dhow Cruise
Known as the original mode of transportation in Dubai is through riding an abra, a boat which is traditionally made of wood to help citizens cross the Dubai Creek. This is the traditional way to travel around the Creek area and only costs a minimum of AED 1 per ride. While riding an abra is more of a tourist attraction by itself, this is still used by many residents especially along Old Dubai area. But there are also abras in Souk Madinat Jumeirah.
For a bigger boat, there is a dhow which you can board in Dubai Creek, Dubai Marina, and Dubai Canal for you to experience a dinner cruise while sightseeing these areas in Dubai.
7. Dubai Ferry and Water Taxi
You can take the Dubai Ferry for visitors to watch various sights of Dubai from the water. Head over to the Dubai Marina Station, Al Ghubaiba Station, Dubai Canal Station, Al Jadaf Station, or Sheikh Zayed Road Station so you can book a trip. These ferries allow you to tour around areas of local interest and take you back to the same station.
8. Ride-Hailing Apps
Careem (acquired by Uber) is a popular car-hailing app where you can book a ride to your chosen destination. Just download the app and simply book a private vehicle to pick you up and take you to your selected endpoint.
9. Rent a Car
Renting a car is an easy process in Dubai. Qualifications are very minimal so long as you have an active international driving license and a valid credit card.
However, if you want to travel in style, you can go and easily rent a luxury car to take you to various places. Getting confirmation to rent a prestigious car in Dubai can be as quick as 20 minutes. Some agencies like Paddock Rent a Car can even deliver the car to your location for free. These are added conveniences that cannot be surpassed by other cities from other countries.
For those who wish to use such luxury cars even for a while but do not have the budget to buy a whole rental package then you may opt for Udrive or Ekar which offer payments per minute of usage.
10. Yacht Rentals
You may also hire a yacht for specific destinations in Dubai. You may rent a yacht and have a merry time while viewing the iconic landmarks such as the Burj Al Arab, Atlantis Hotel, and The Palm Jumeirah. This transport is more for those who want a private cruise and experience in Dubai.
11. Helicopter and Seaplane
You can charter a helicopter which can take you from the airport and straight to Burj Al Arab. This option is more for private luxury charters for selected VIPs and guests. However, helicopter tours and seaplane tours are available for tourists who want to view an amazing aerial view of the city.
12. Bike Rentals
There are specific places where you can rent a bike specifically in Dubai Marina and Downtown Dubai areas. You can rent a bike for a period of 30 minutes up to 24 hours. Take note that it is best to use bikes during the winter months only.
In the future, there will be more types of transportation as the city is developing flying taxis, self-driving vehicles, and ultra-fast hyperloop transport. Dubai is establishing itself to become the smartest city in the world by always staying ahead of the curve and incorporating technology in everyday lives for its citizens and residents. Who knows what are the next mode of transport they will introduce.