Sushi in a wrap. This was what piqued our interest when we visited Sushi Burrito on a Monday evening. Located at the Ground floor of Emirates Financial Towers, DIFC, this restaurant offers a unique twist of Japanese infusion to Dubai.
The interior of the restaurant celebrates Japan, they even have a couple of artificial cherry blossom trees which creates a nice touch to the modern yet minimalist interior. We opted to sit at the sides as we wanted some rests to sit comfortably.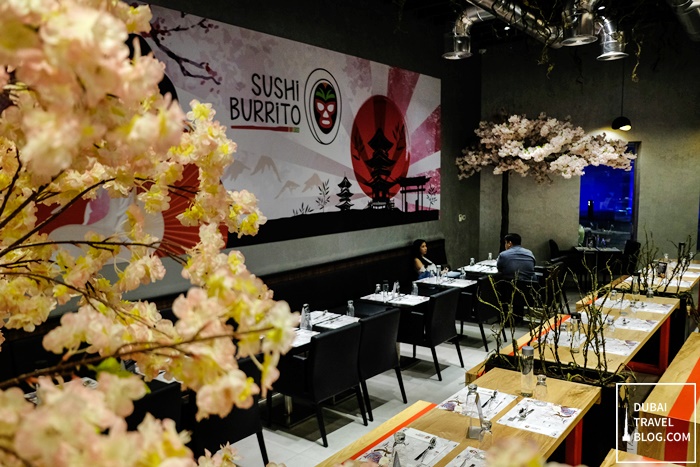 Sushi Burrito Dubai

interior
Japanese Restaurant: Sushi Burrito Dubai
The restaurant prides itself in using fresh ingredients stir-fried and combined to create the burrito, poke, maki rols, nigiri, sashimi, and edamame. Our food took a few minutes to prepare as they definitely serve it fresh. We enjoyed the dynamite shrimps crunchy salmon burrito, the crabsticks and prawn tempura & crabsticks poke.
The drinks were also not bad. Staff were friendly and conversational. Sushi burrito satisfied our hunger for the night, what's best is that it felt very healthy consuming the dishes. If you're not much into the burrito, you can sample their poke (salads).
Another thing that's really worth mentioning is that the prices of the food are quite affordable for the quality of the food.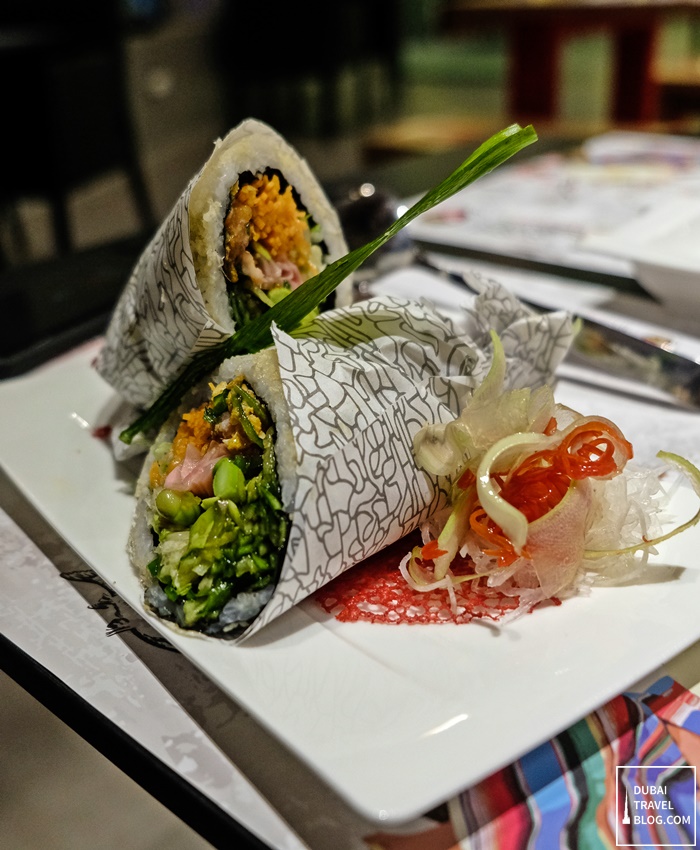 Crunchy Salmon Sushi Burrito – 45 AED
Sesame Dressing, caviar, guacamole, seaweed, ginger, carrots, cucumber, nuts, edamame, wasabi mayo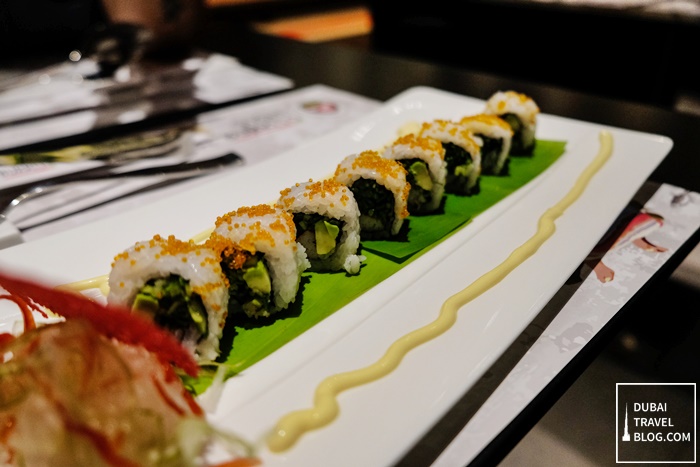 California Maki Rolls – 39 AED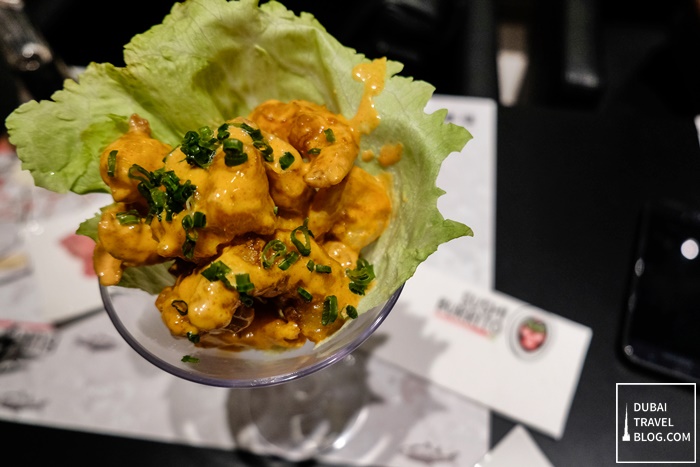 Dynamite Shrimps – 35 AED

Prawn Tempura & Crabsticks Poke – 43 AED
Special sauce, caviar, guacamole, lettuce, ginger, mango, carrots, pickled turnip, spicy mayo and nuts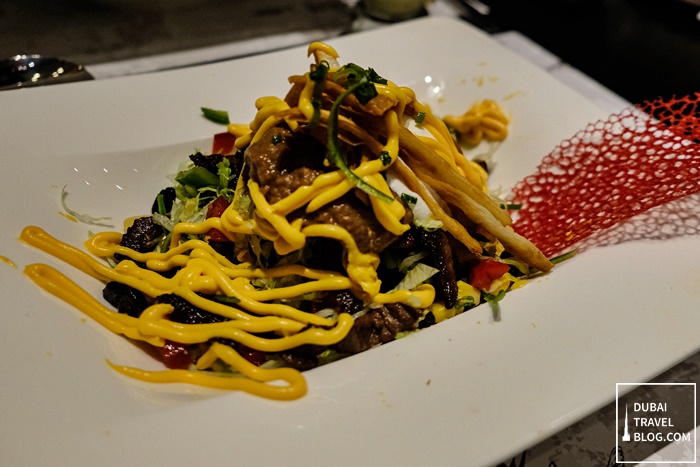 Mexican Poke – 49 AED
Special sauce beef, fried tortillas, guacamole, sour cream, corn, black beans, lettuce, cucumber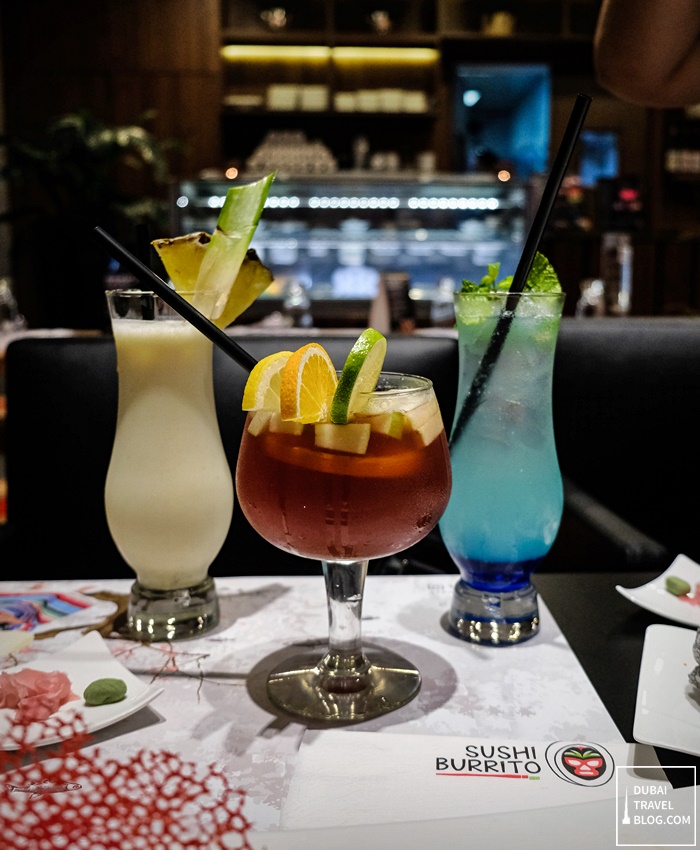 Pina Colada – 18 AED
coconut and pineapples of the tree
Sangria – 18 AED
Pomegranate, orange, tea with fresh cut fruits
Blueberry Heaven – 15 AED
indulged with blueberries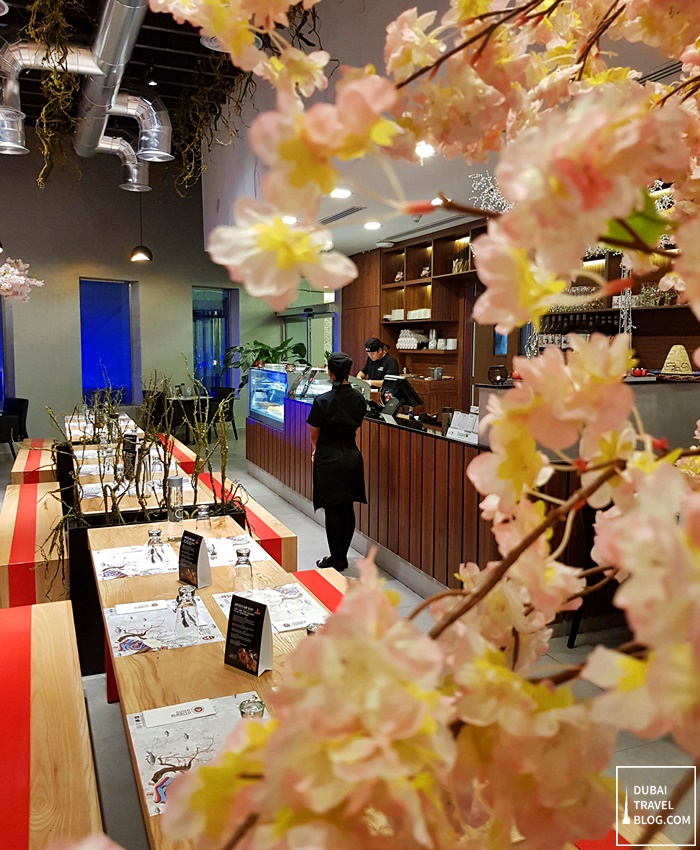 Sushi Burrito DXB

Japanese-themed restaurant
Contact Information
Address: Emirates Financial Towers, Ground floor – Dubai – United Arab Emirates
Phone: +971 4 379 8999
Website: http://www.sushiburrito.ae
Google Map Location: Sushi Burrito Dubai
Below is a map guide to Sushi Burrito in DIFC