My wife and I had an Asian cuisine dinner at Market 24 located at the lobby of Hyatt Regency Dubai Creek Heights. This was our 2nd time to dine in the hotel. We had a surprisingly good time in their Mexican restaurant (La Tablita) that I didn't hesitate accepting an invitation to sample the food in their other restaurant.
Market 24 is a casual cafe that specializes in Asian cuisine. They also offer sandwiches, salads, pizzas, coffee drinks, cakes, pastries & desserts. We were in for a treat as we dined on a Friday evening.
Alcohol: YES
Shisha: NO
as you enter the restaurant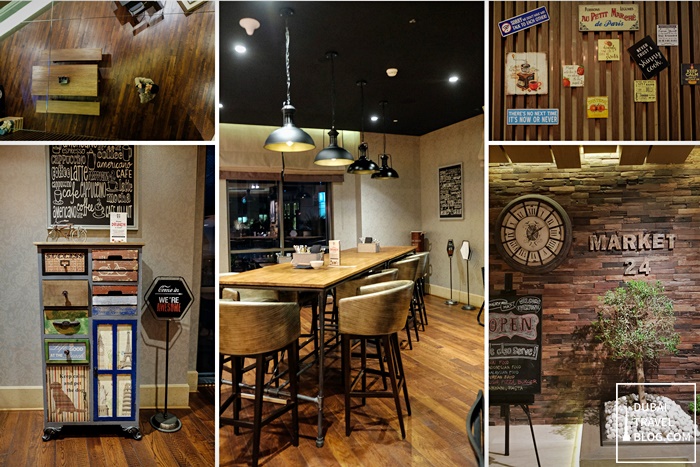 interior designs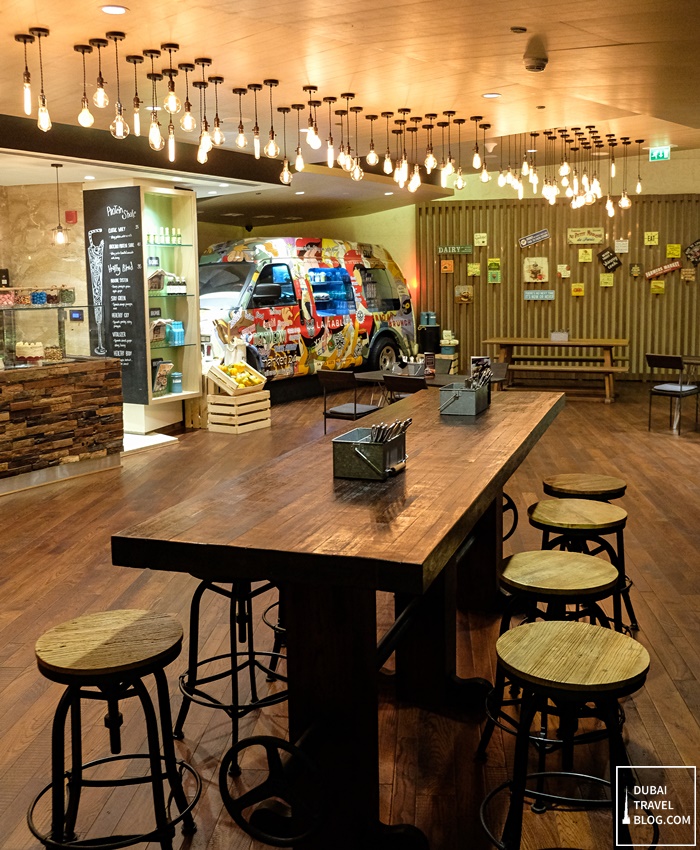 huge and spacious restaurant
Restaurant Review: Market 24 Dubai in Hyatt Regency Dubai Creek Heights
The restaurant has huge wooden tables and a spacious seating arrangement that we opted to dine in the corner-most area. The design is warm, casual and inviting. Even the staff were wearing jumpers which made the ambiance even friendlier and more relaxed. But mind you, the staff maintained elegance and expertise in their service.
We started our experience with drinks such as a caramel milkshake, healthy blend and strawberry rum cocktail 😉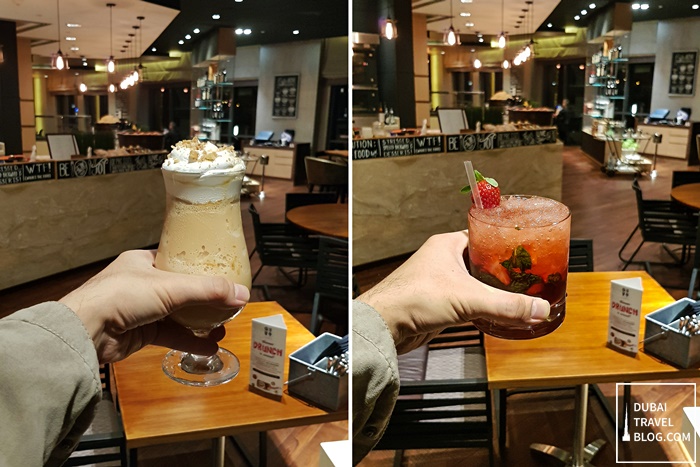 Caramel milkshake and strawberry rum

Immune System healthy blend – 35 AED
Orange, Pineapple, Green Apple, Ginger
Manish was the one who took care of us and was very sociable as he shared his menu recommendations and some background into the people behind the food. They have chefs coming from various Asian countries that specialize in each particular country dish. So an Indian chef conceptualized the biryani, Indonesian chef for the Nasi Goreng, Japanese chef for the sushi, and so on.
It's interesting to note this as you can sense the diversity of the dishes and that they present each other's recipes according to their mastery.
Starters / Appetizers
For appetizers, we ordered California roll sushi and chicken won ton soup. The soup was delicious and perfect for the cold winter season in Dubai.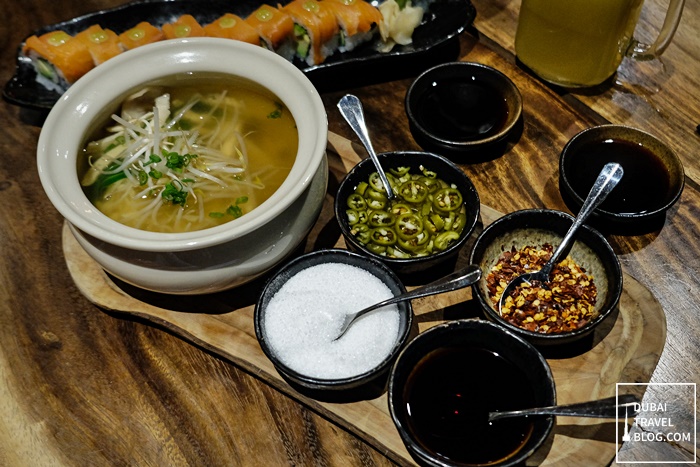 Chicken Won Ton Soup – 42 AED
Eggs noodles, bean sprout, scallion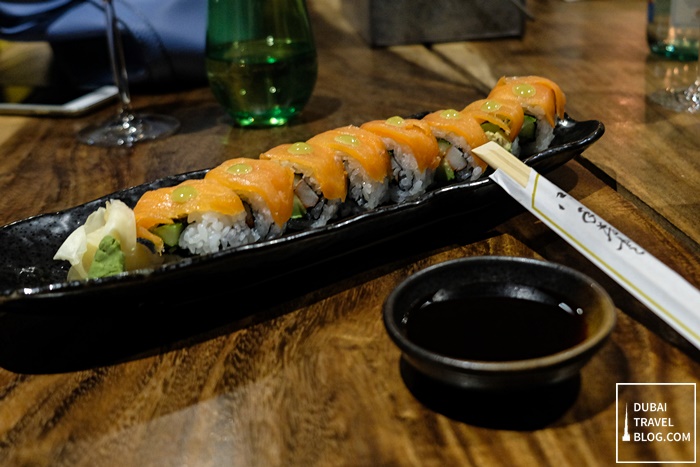 California Roll – 45 AED
Crab stick, cucumber, avocado, frying fish roe
Main Course
For our main course, we ordered Chicken with cashew nuts, nasi goreng and Malaysian satay. The Nasi Goreng is the most popular dish in the restaurant so we didn't hesitate in ordering it. We could sense the quality and freshness of the ingredients. Their Asian dishes come from Korea, Japan, Thailand, India, Indonesia, Vietnam, Malaysia, etc.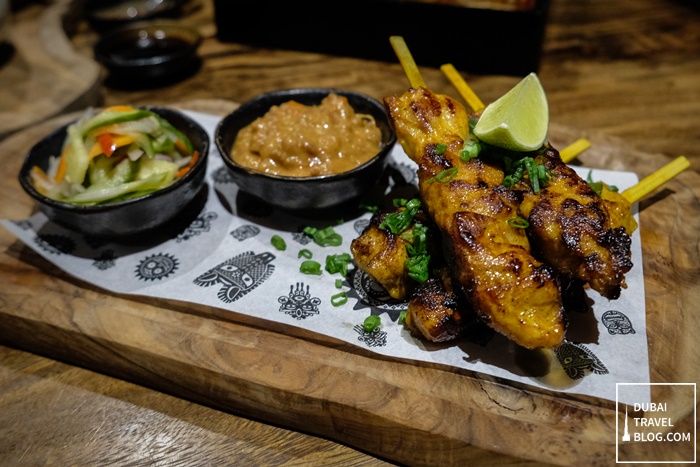 Malaysian Chicken Satay – 70 AED
4 pcs, onion, chili, peanut sauce, jasmine rice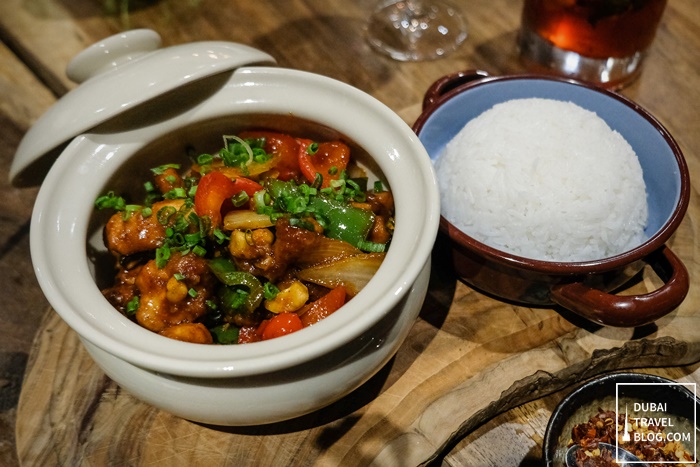 Chicken with cashew nuts – 70 AED
Sweet & Sour chicken, cashew nut, jasmine rice
Nasi Goreng – 80 AED
Prawn fried rice, chicken satay, peanut sauce, sunny side up egg
Dessert
We were already very full yet Manish still provided us with a serving of their Cake and Shake dessert series. We had the Death by Chocolate which consists of a cake on top of a milkshake. This would really satisfy anybody who has a sweet tooth. To think that I was initially opting only for a slice of cake from their display. 🙂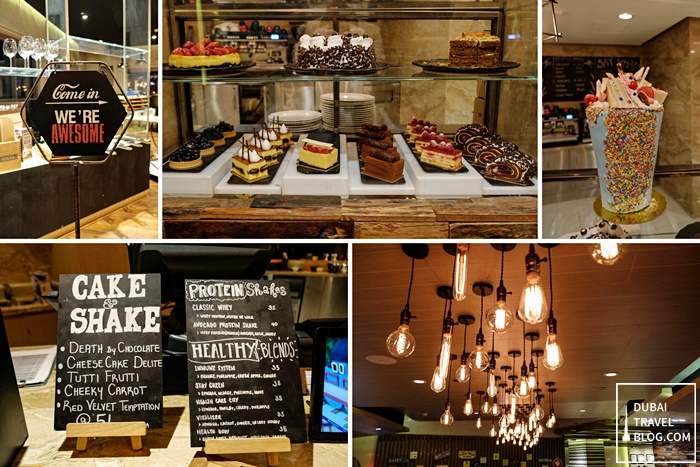 Desserts, cakes, shakes, blends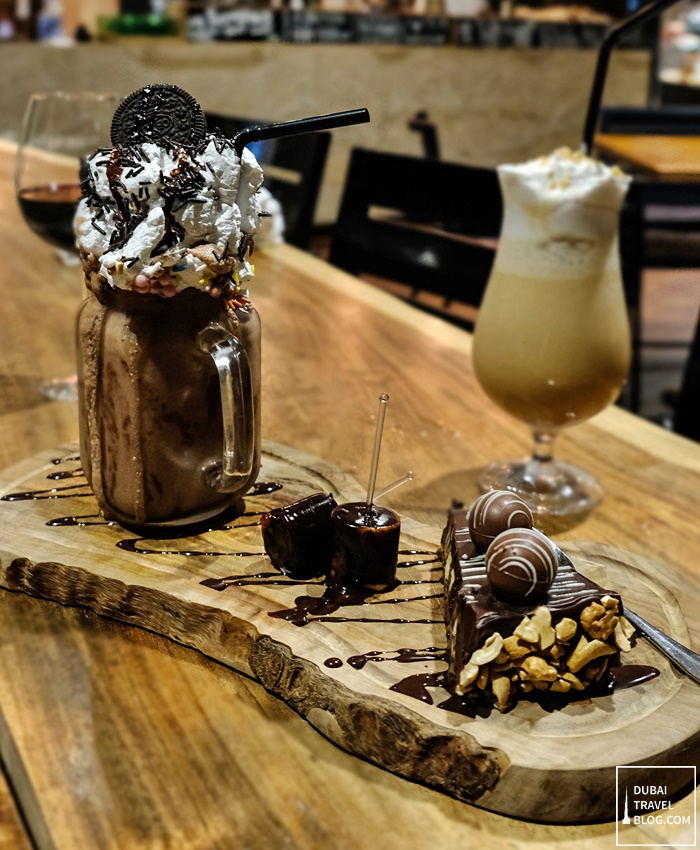 Death by Chocolate Cake & Shake – 54 AED
We were satisfied with the food and service and happy with our overall experience in Market 24.
On the other table were three tourists who were staying in the hotel for 7 days. Manish mentioned that they spent every night in Market 24 for wine and cocktails. This was their last night and they originally told Manish that they would skip the restaurant to spend it in another place. Yet, they still came back as they wanted to end their Dubai tour experience here.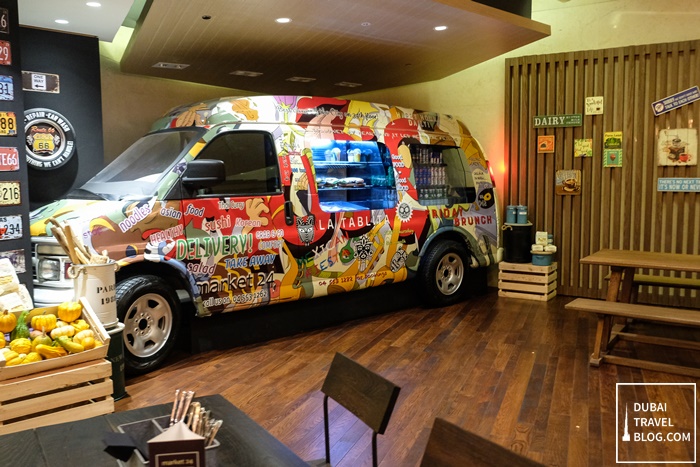 colorful mini van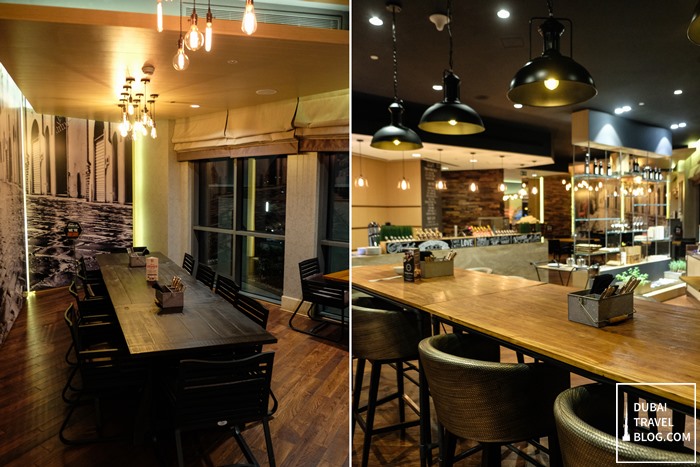 tables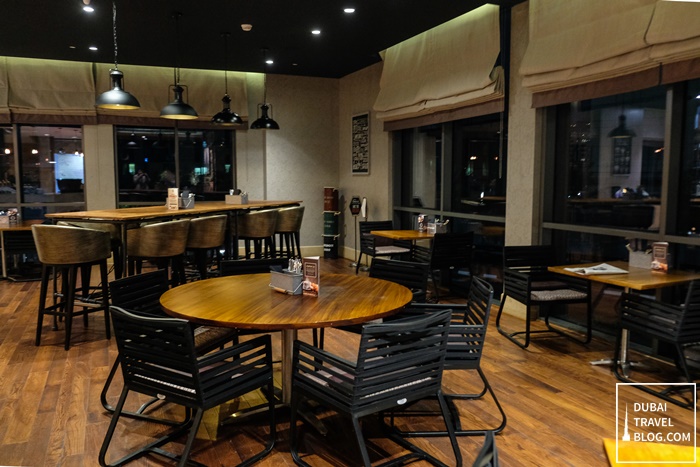 back part of the restaurant
If you're looking for Asian food (and even cakes & desserts) in Dubai, head to Market 24 for reasonably priced menu yet delicious choices.
Video: Our Market 24 Dinner Experience
Here's a short video clip summarizing our experience at Market 24:

Contact Information: Market 24 Dubai
Phone: 04 317 2221
Address: Lobby of Hyatt Regency Dubai Creek Heights, 20th Street, Umm Hurrair 2 – Dubai
Website: http://www.hyattrestaurants.com/gcc/dubai/cafe-dubai/bakery-in-oud-metha-market-24/
Instagram: https://www.instagram.com/market24dubai/
Google Map Location: Market24
Below you can check the Google map location to guide you when driving or heading towards Market 24 in Hyatt Regency Dubai Creek Heights hotel.