Georgia is a country located in the Caucasus region and is situated in the middle of Europe and Asia which offers plenty of historical landmarks, rich culture, churches, wine, and so much more. It's only a short flight away from Dubai (about 3.5 hours) via flydubai or Sharjah via Air Arabia and UAE residents normally get a Visa-on-Arrival (please verify this with Georgia embassy or your local travel agency for updated info).
My wife and I visited the country for a short break and we didn't expect how beautiful Georgia was until we arrived and explored its attractions. Here we share some insights on what makes Georgia worth visiting especially if you are a resident of Dubai.
Related Post: Where we Stayed in Georgia – Tbilisi Marriott Hotel
Other Hotel Recommendation: Courtyard by Marriott Tbilisi in Georgia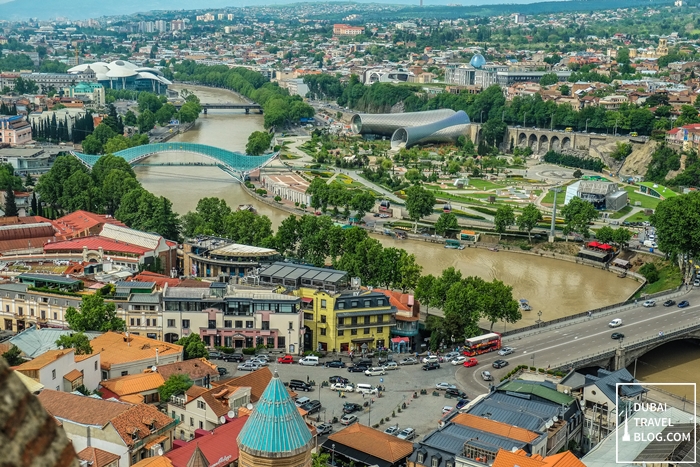 view of Tbilisi, Georgia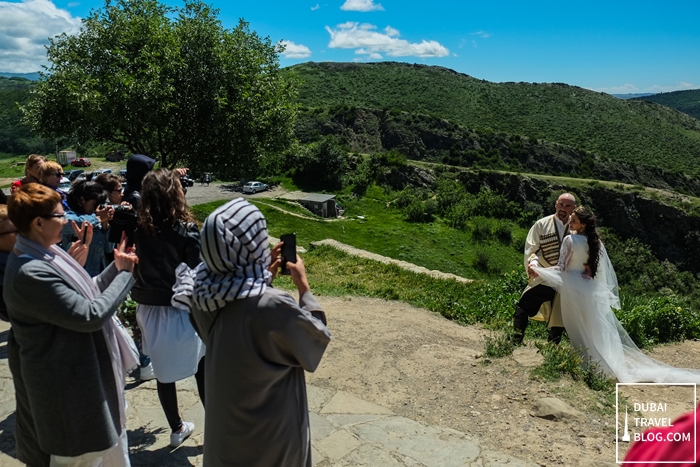 wedding shoot in Jvari monastery area in Mtshketa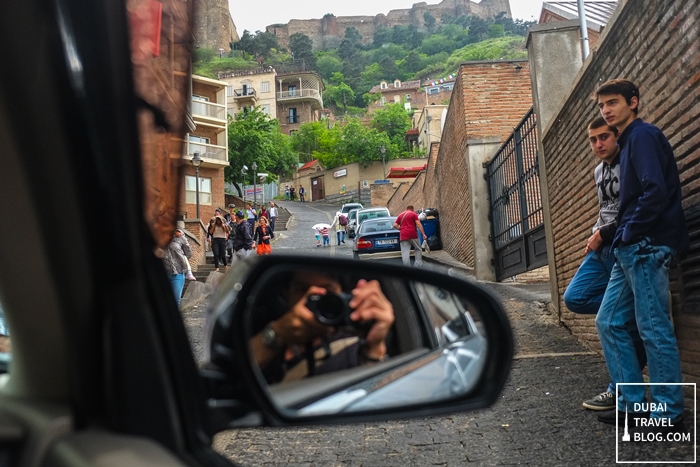 climbing up to Narikala fortress which overlooks Tbilisi
13 Things that Will Make You Want to Visit  Georgia
The country is labeled as part of Eurasia because of the geographical location. However, most Georgians would classify themselves as Europeans. We visited the country for a four-day trip and had a grand time sightseeing and travelling to its famous spots.
To summarize, here are a few reasons why you should visit Georgia:
1. Georgia Offers Various Landscapes
Georgia has different but breathtaking landscapes that also change as the season changes. It is bordered by towering mountains on the north—the Caucasus mountains. It also houses canyons, meadows and forests, not to mention black sea beaches.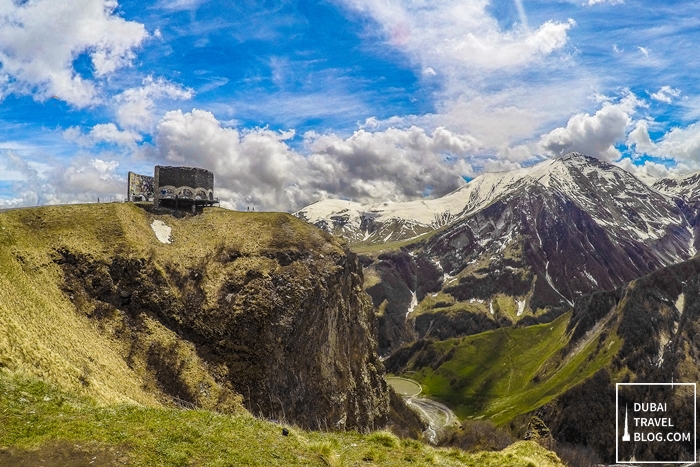 snow-capped mountains in Gudauri (we visited during Spring season)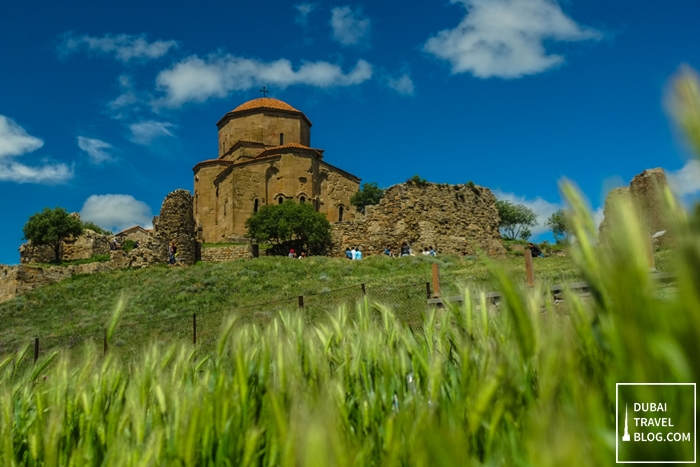 Jvari church in Mtshketa
2. Picturesque Place
The city is photographer-friendly. When you go to the Old City or head for a getaway in the mountains, the place is just beautiful. In fact, during our four-day trip, we saw numerous couples having wedding photoshoots in random places just because it's really visually attractive.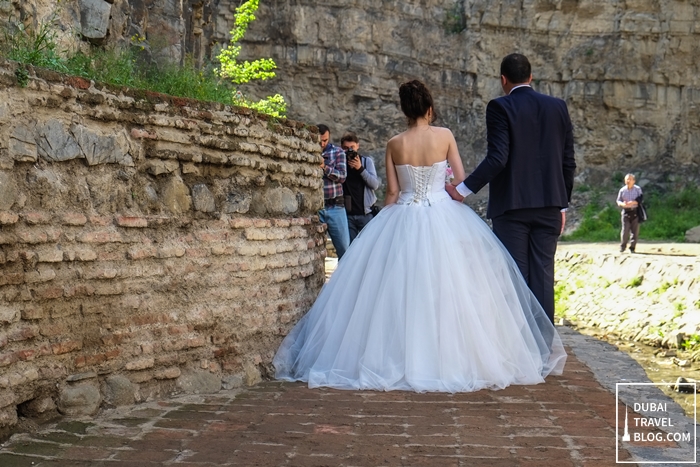 wedding photoshoot in Tbilisi, Georgia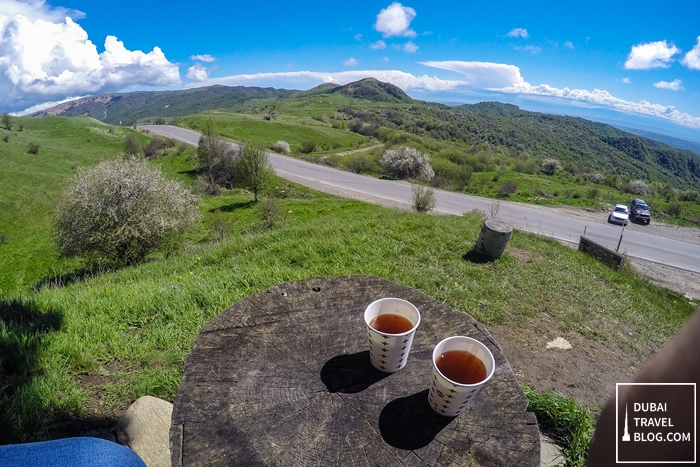 a stopover in the middle of our road trip to Kakheti region
3. Tasty Georgian Food
One of the popular Georgian snacks is called khinkali, a type of dumpling that is filled with beef, pork, cheese, mushrooms, or potatoes. We recommend you try the pork filling. You can also try khachapuri, which is like pizza but its dough is filled with cheese. Many of the food we tried in Georgia are made of bread or accompanied by it.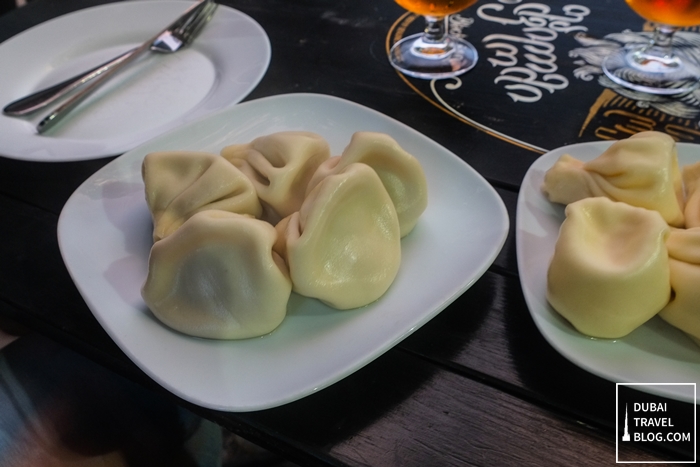 khinkali, a famous Georgian snack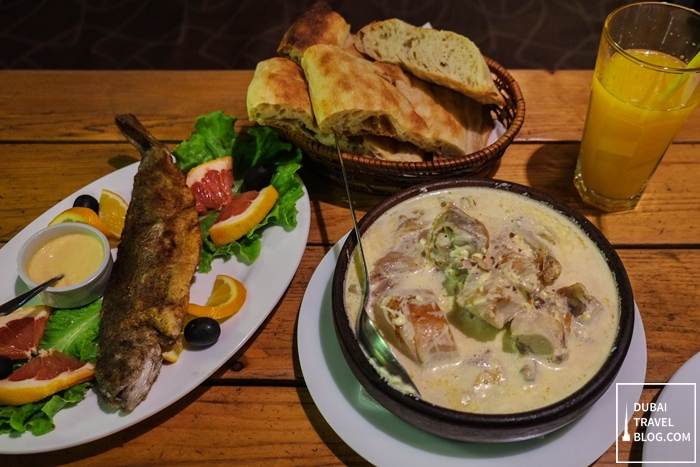 fish trout, chicken in coconut milk sauce, and bread (bread is always paired in meals)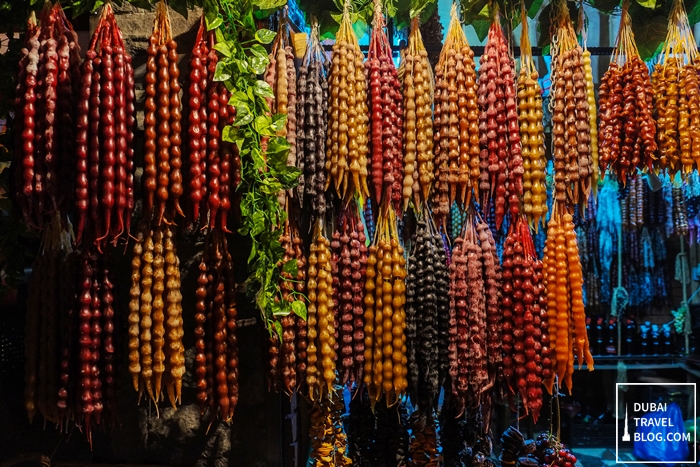 churchkella – candle-shaped Georgian candies (walnuts covered in honey, grapefruit, etc.)
4. Not Too Expensive
Money is a big factor when travelling and when you're resident of Dubai, you will realize that the food, drinks, accommodation and other expenses in Georgia are actually not that costly. You can travel and enjoy the place even as a budget traveller. There are plenty of choices so that you can make the most of your travel without having to break the bank.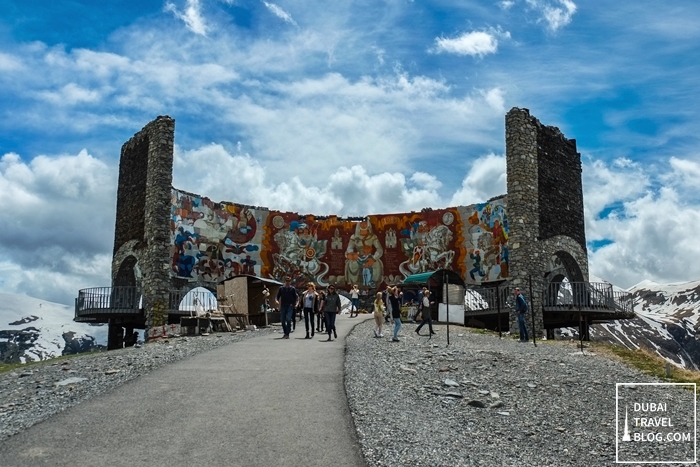 dropping by the Panorama view in Gudauri
5. Warm Hospitality
Do not mistake Georgians' hospitality at face value just because you add to their economy as a welcomed tourist, a random Georgian household—regardless whether rich or poor—truly receive people, even at their homes.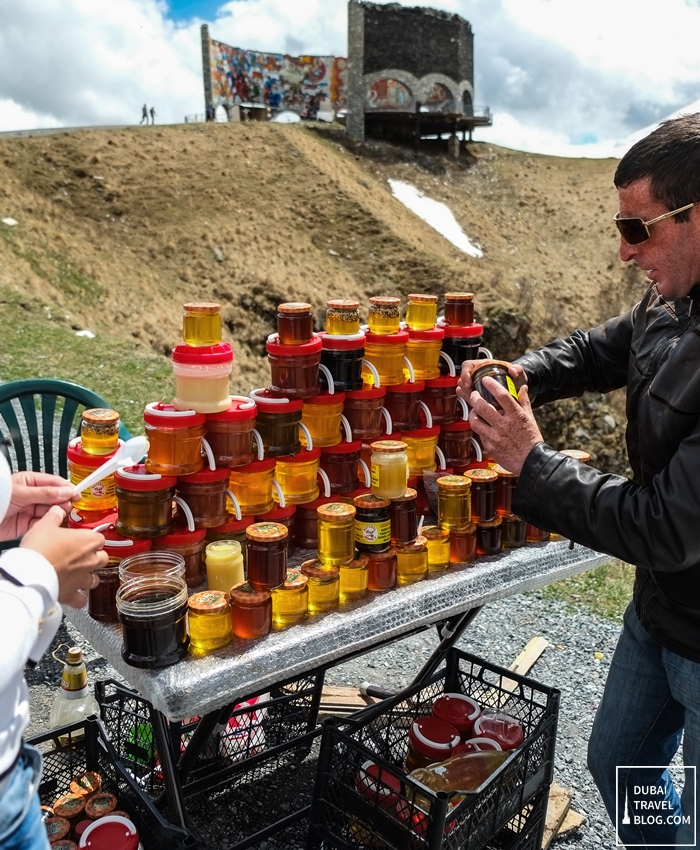 local selling natural honey (cheap too!) in Gudauri
6. Relatively Safe
Whether during the day or even at night, we never felt unsafe walking the streets in Tbilisi, even if we looked liked obvious tourists. We're not saying that there's no crime, but we didn't feel the need to be overly cautious in Georgia.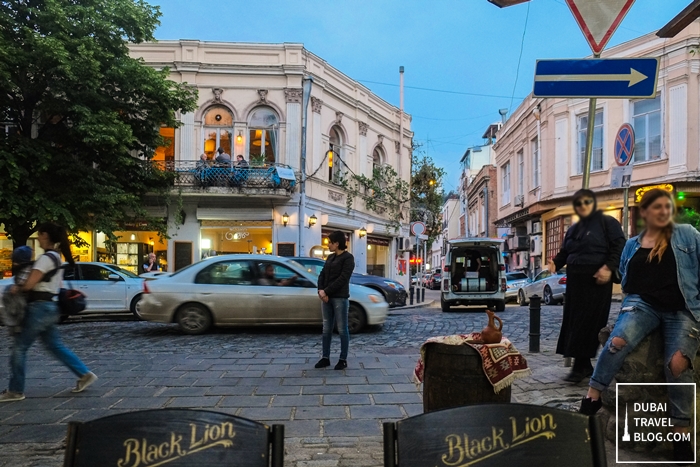 al fresco dining
7. Nightlife in Tbilisi
It's easy to find restaurants and places to hang out even late at night. You can check out areas in Tbilisi for a good night of drinks or even for coffee. My wife and I would walk from our hotel to the downtown area to just hang out and feel the vibe of the city.
Caution: Always be cautious when going out at night (this applies to everywhere, whichever country you may visit and explore).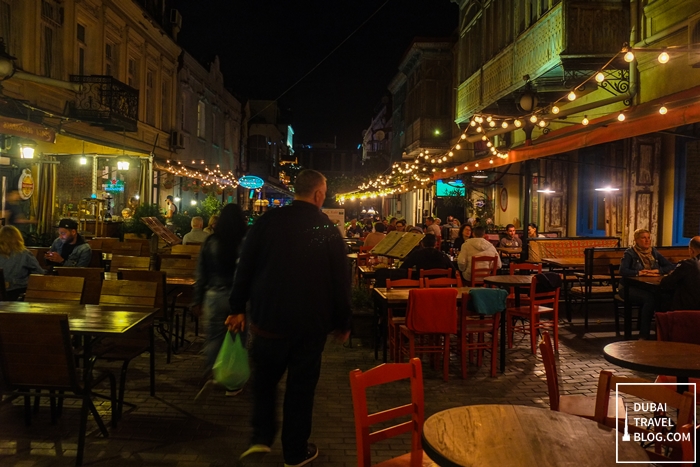 eating outside at night, plenty of people around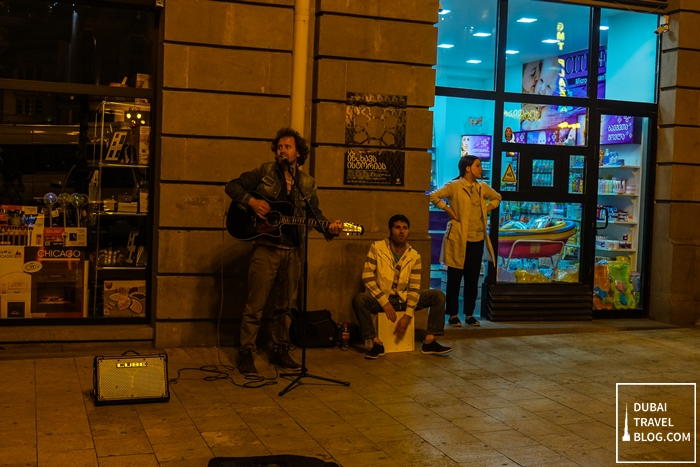 street musician in Freedom Square area
8. Changing Seasons
Georgia has four seasons so even if you visit the country during one season, you can still explore the place at a different date of the year and see it in a different light. We visited during Spring season and we saw how green the mountains were and how alive Georgia was.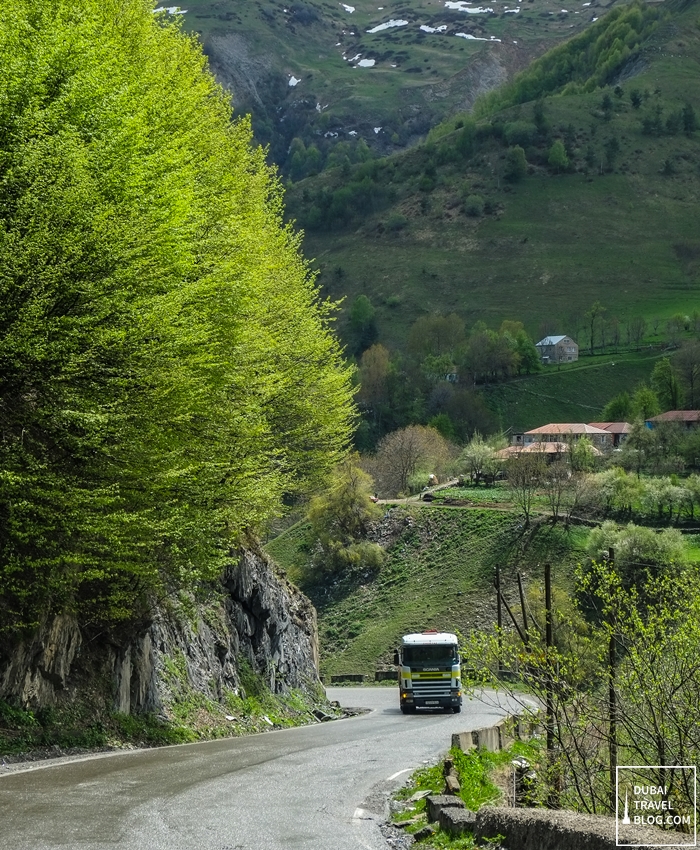 we visited during Spring season, the plants were green and the flowers bloomed!
9. Sulfur Baths and Spas
Georgia is known for its sulfur baths and in its capital (Tbilisi), you can pamper yourself and relax in private (or public) baths.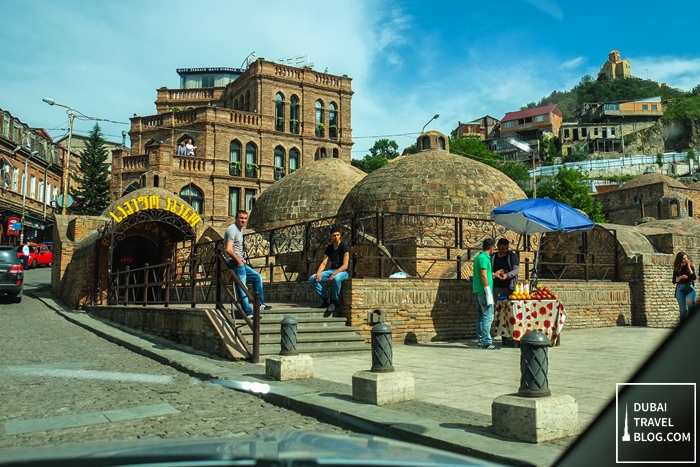 sulfur bath houses in Tbilisi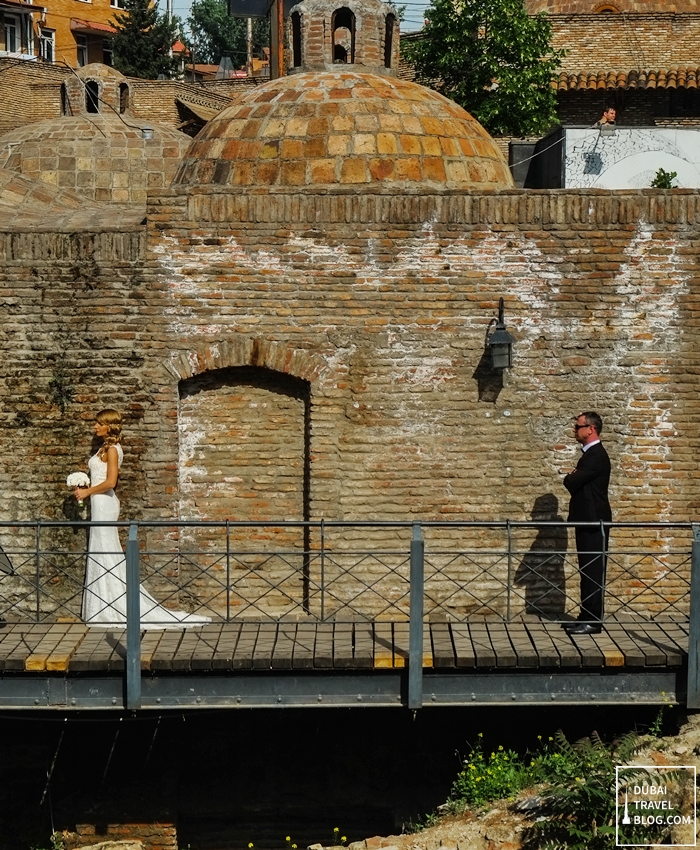 another wedding shoot near the waterfalls
10. Skiing and Paragliding Snow Adventures in Gudauri
Come winter season, you should visit Gudauri as you can learn to ski and have fun in the snow. Especially if you come from Dubai, it's only a few hours away and you can really have a snow adventure. Also, you can para-glide with a view of the Caucasus mountains as your backdrop. So adrenaline junkies, there are some various adventure activities you can do here.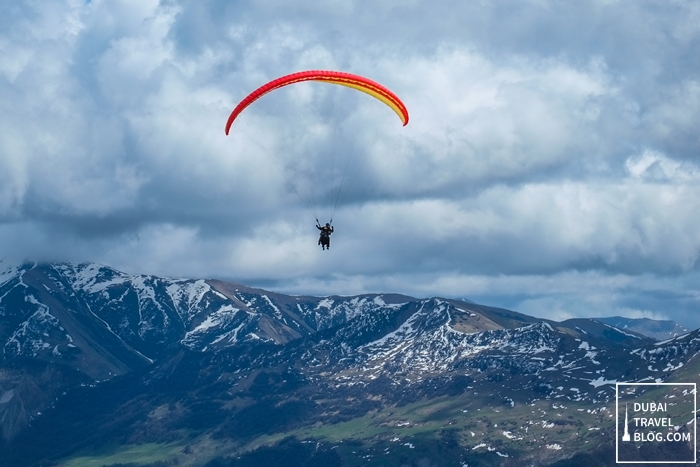 Paragliding adventure over the Caucasus mountains
11. Wide Selection of Grapes & Wines
Georgia has a wide variety of grapes (as much as 500 of them!). They are one of earliest people who have developed and mastered the skill of wine-making. Georgians know their wine. The wines are also cheap yet good! I remember purchasing a few bottles of that cost only 9 Georgian Lari (12.50 AED or 3.4 USD) per bottle! We bought a few and brought them back to Dubai.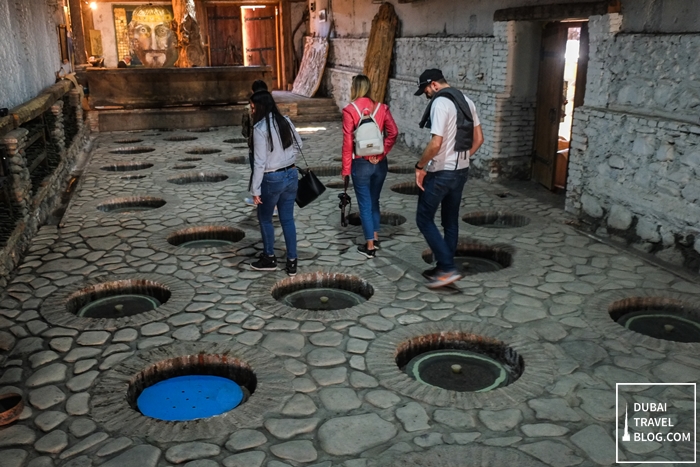 Wine Tour in Kakheti, Georgia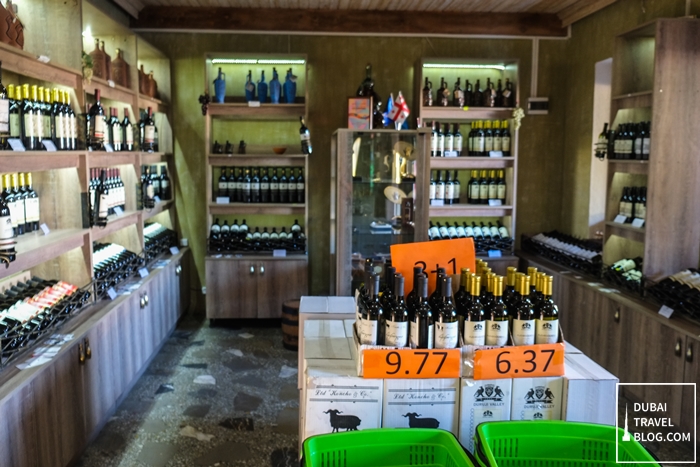 Wine shop, the one in the center are the cheaper ones (9.77 Lari and 6.37 Lari) but didn't taste bad at all.
12. Rich History and Culture
Georgia has many historical churches, monasteries and fortresses that go back as early as 300 AD and are still being used up to this day. Also, be it from either Europe or Asia, the Georgian culture is shaped by the same group of people whom they share their life with as depicted from multi-faceted culture of present-day Georgia itself. Georgians are also proud of their heritage. You can walk into a restaurant full of tourists, yet there are Georgian men playing local music. So you can really immerse yourself with their culture.
Sameba Church – Holy Trinity Church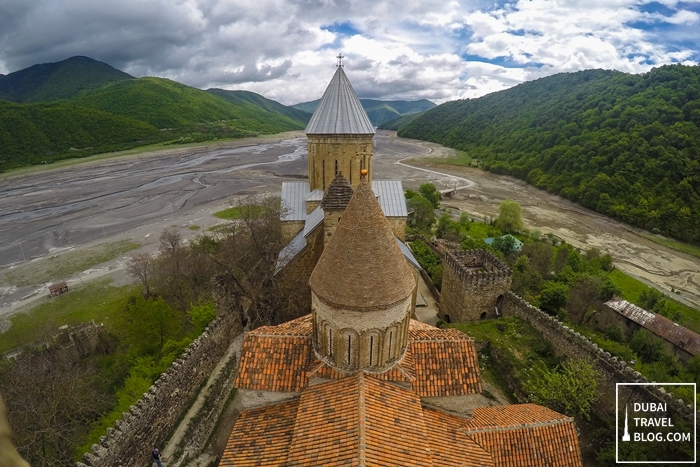 Ananuri monastery fortress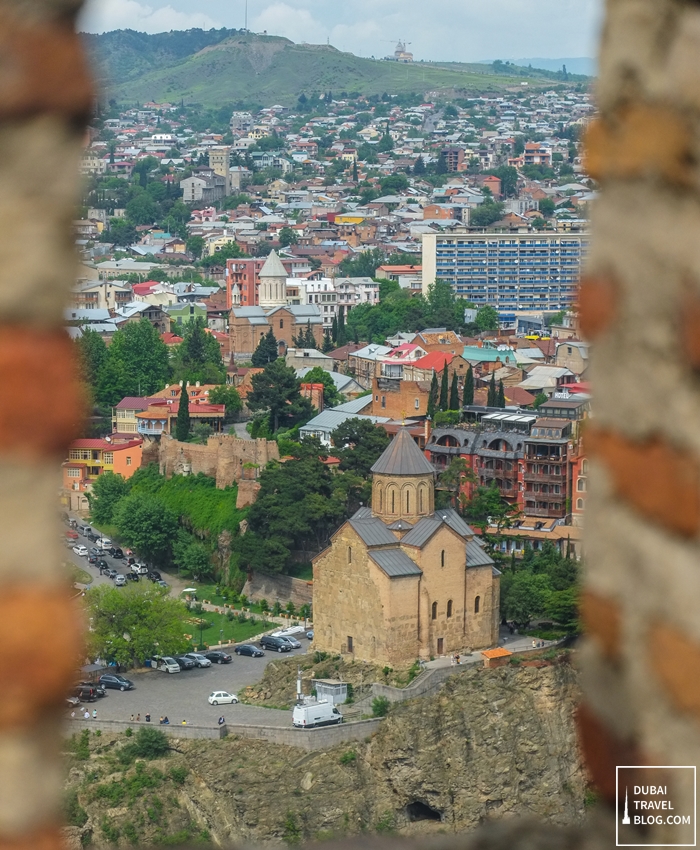 view of Tbilisi city
13. The Lovely People
You may like a country for its many beautiful destinations, but there is an inherent charm to a country's people as well. The Georgians are no exception as they are welcoming and friendly to people. They are open to tourists who want to discover their country.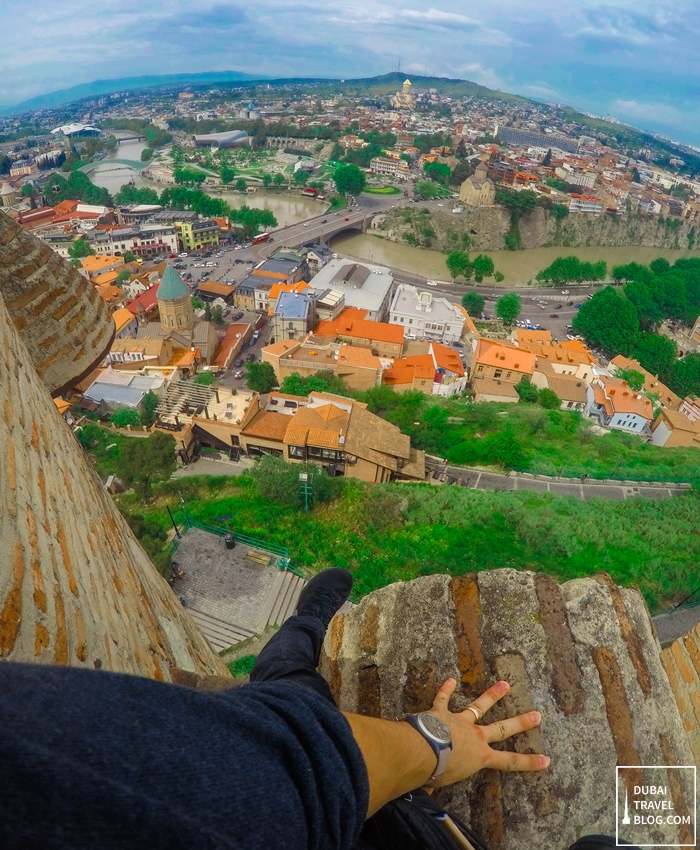 view of Tbilisi from Narikala fortress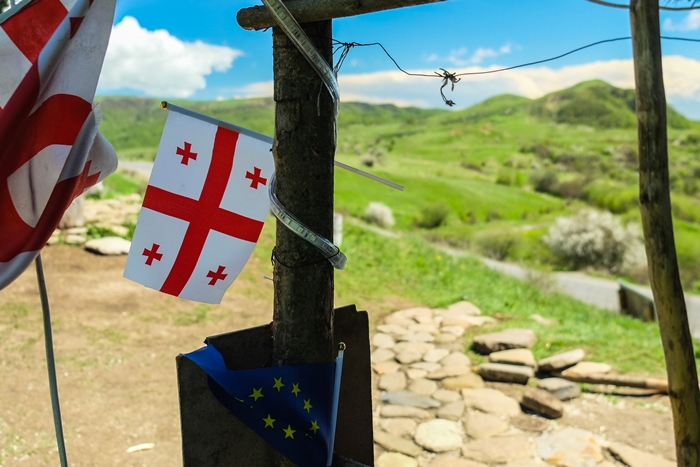 Georgia flag
For residents of the UAE, Georgia is a quick getaway and we were glad to be able to experience exploring it firsthand. For sure we will be back as we want to try skiing and enjoy a winter holiday in this beautiful country.
Please stay tuned as I share more updates and blog articles about our experience in Georgia. We explored Kakheti, Mtshketa, Gudauri, Gergeti and Tbilisi, during our whole 4-day holiday.