We had a Korean barbecue dinner at Sumibiya Restaurant on a weekday. Located on the Ground floor of Radisson Blu Hotel Dubai Deira Creek, Sumibiya is a casual dining restaurant that offers Yakiniku-style cuisine.
Also Read: Staycation at Radisson Blu Hotel & Resort in Fujairah
Doing a bit of search, in Japanese, yaki means 'grill' and niku means 'meat' and this style of cooking is done over a flame of wood charcoals or electric/gas grill. No wonder the tables inside the restaurant looked heavy-duty. All the tables have been equipped to handle a grill station in the center.
Alcohol: YES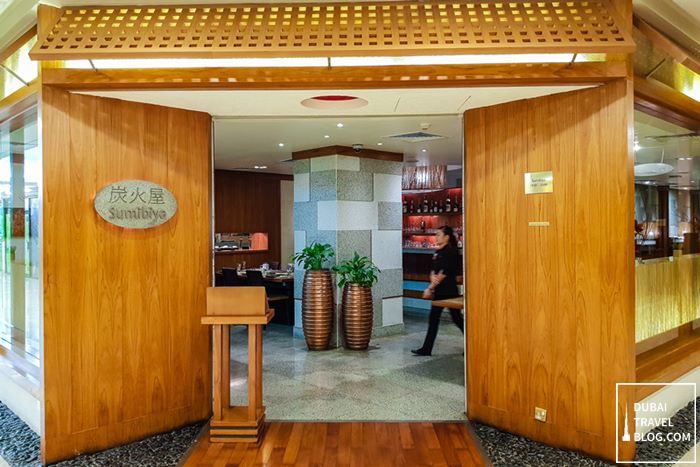 entrance of Sumibiya Restaurant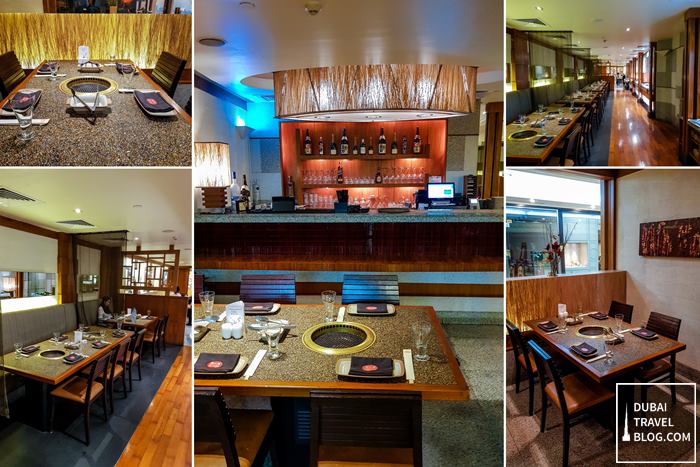 inside the restaurant
Sumibiya Restaurant Review in Radisson Blu Dubai Deira Creek
This was our first time inside Radisson Blu Deira Creek and I found the lobby quite charming. The lobby level houses other restaurants and shops and with its wooden decor, it resembles that of a souk, only it's air-conditioned. Radisson Blu Deira Creek is the first international 5-star hotel to open in Dubai in 1975, quite an interesting trivia and makes the hotel an icon in the Creek area.
The offering that night was Korean buffet and we were excited to sample the dishes available.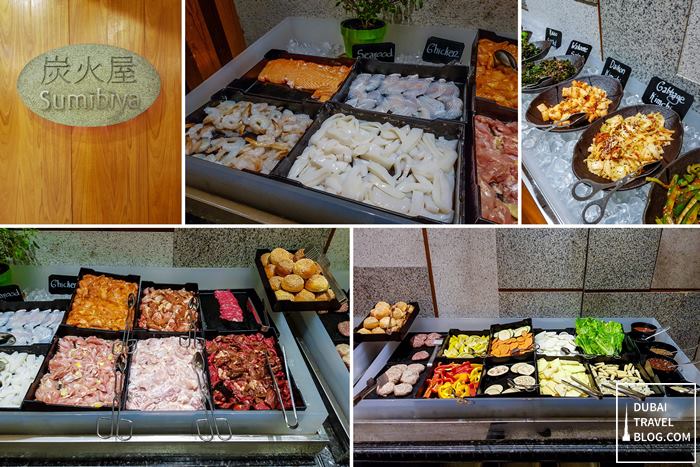 picking your meat to grill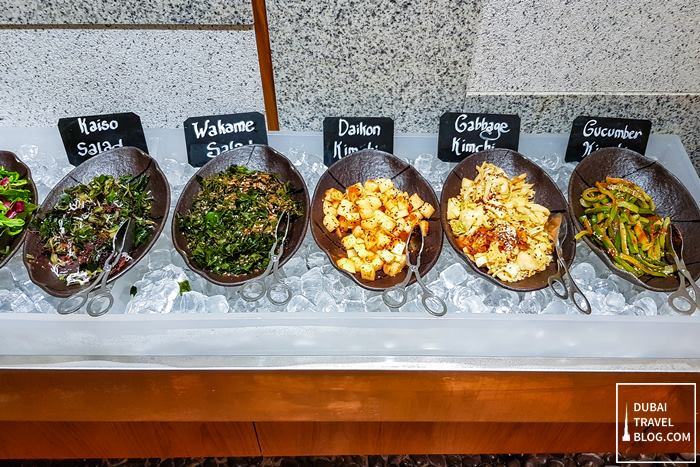 Korean salads
Korean BBQ Food Buffet
There were choices of marinated chicken, the squid, salmon and other seafood. For myself, I especially enjoyed the beef cuts and even the beef burger patties.
The Korean theme buffet also included some salads, Kim Chi rice, Gangnam style spaghetti and Atti Udon noodles. There were also some desserts and fruits on display.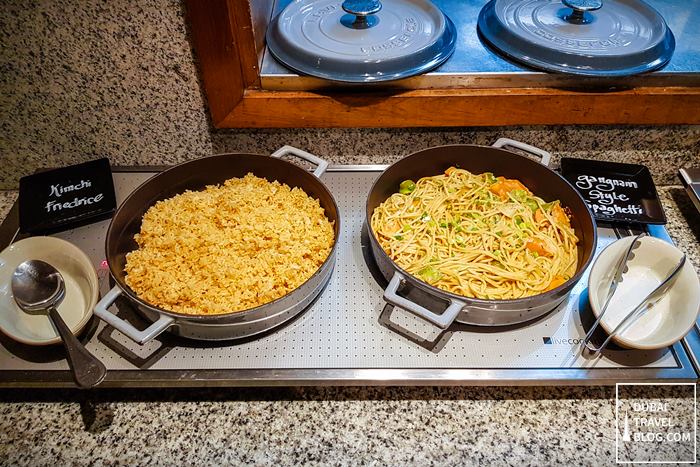 Kimchi Fried Rice and Gangnam Style Spaghetti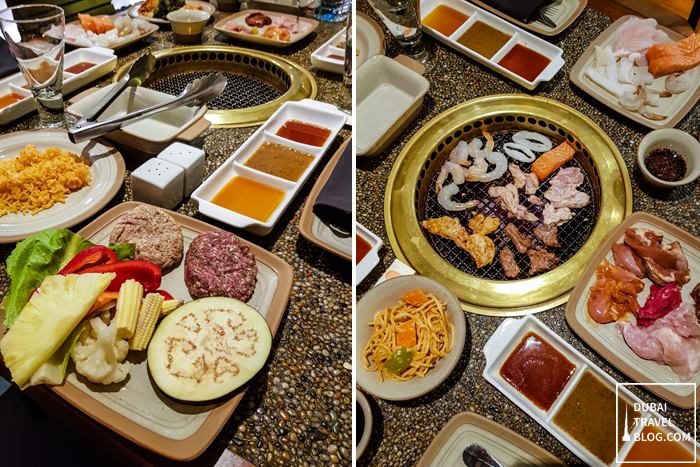 starting to cook
This was one of the rare occasions where we cooked our food right on the table. We were a bit shy in picking the meat from the selection, but in no time we got the hang of it.
We loved that the food was tender and appetizing. The taste of the marinated meat and seafood plus the extra sauces made for an enjoyable dining experience. Sauces included: Apple Dressing, Yakiniku Sauce, Spicy Yakiniku Sauce, Teriyaki Sauce, and
Korean Spicy Sauce — this was on top of the sauces already offered on our table.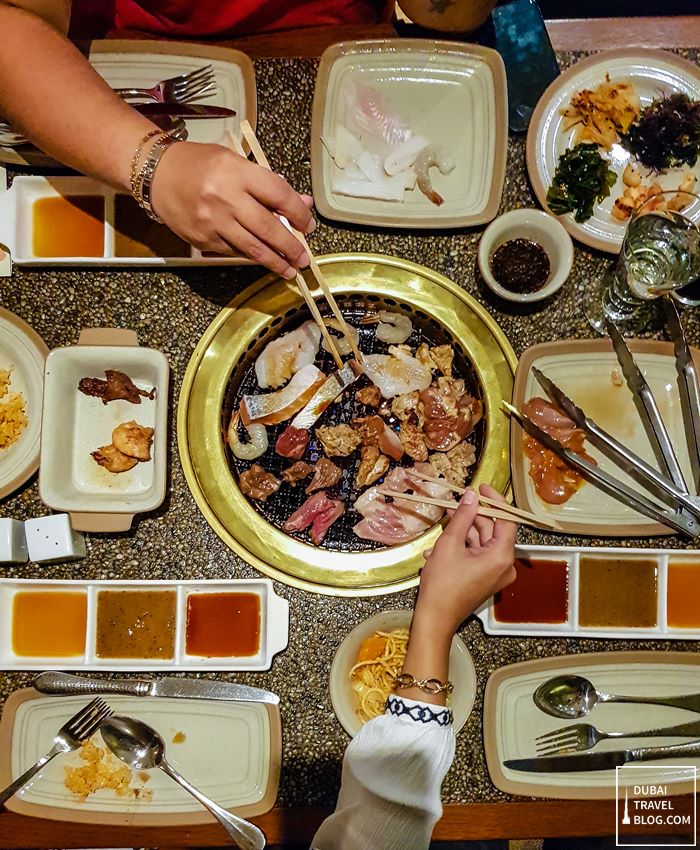 me trying my hand at flat-lay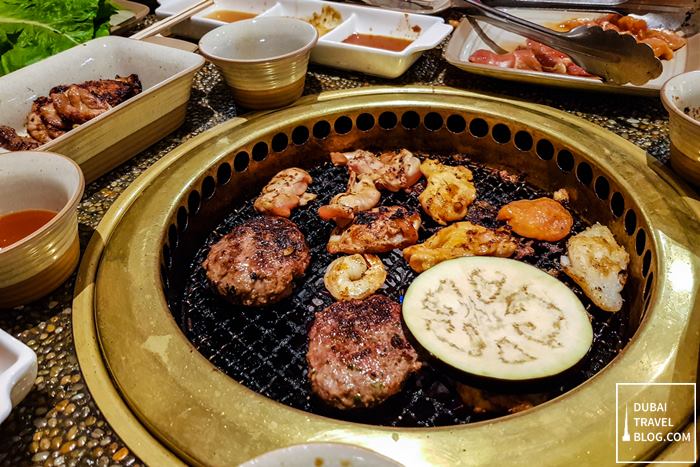 delicious burger patties and other meat!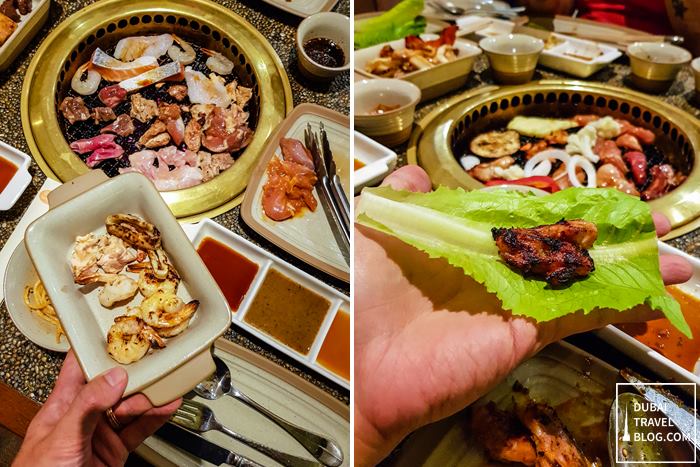 full table
In no time our table was full and we were grilling our food. To be honest, my wife and I prefer to have dishes directly served, instead of having to cook them.
But we grew quite fond of the experience especially because the food was really good, and second, it made for a great conversation meal affair. It was a unique dinner date altogether.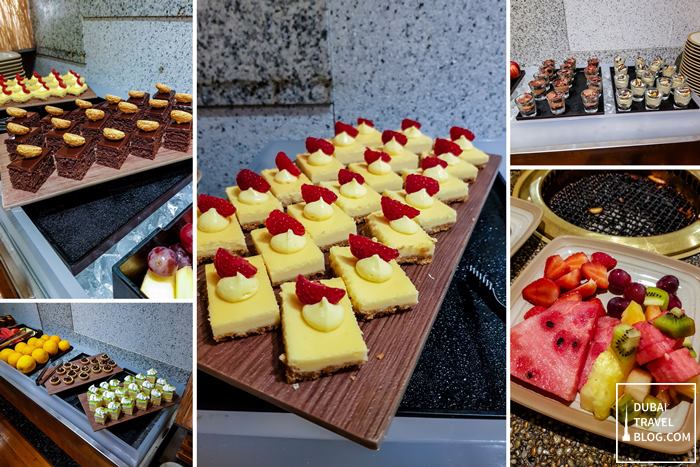 desserts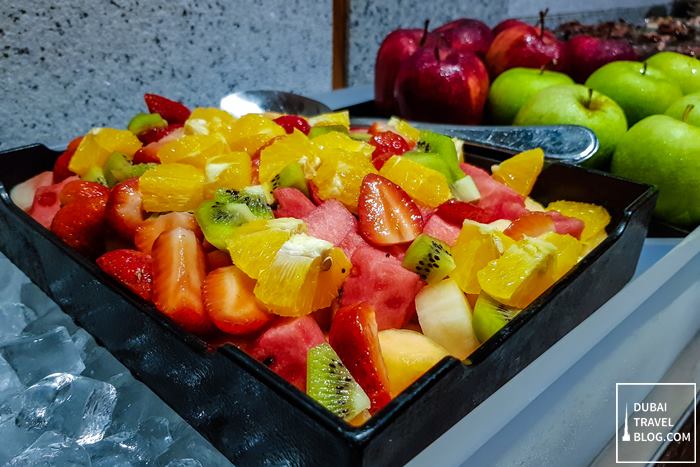 fresh fruits!
Thank you to Ivy for the great service. We felt comfortable and had a good experience.
If you're looking for an interesting dining encounter, go and visit Sumibiya in Radisson Blu Deira Creek.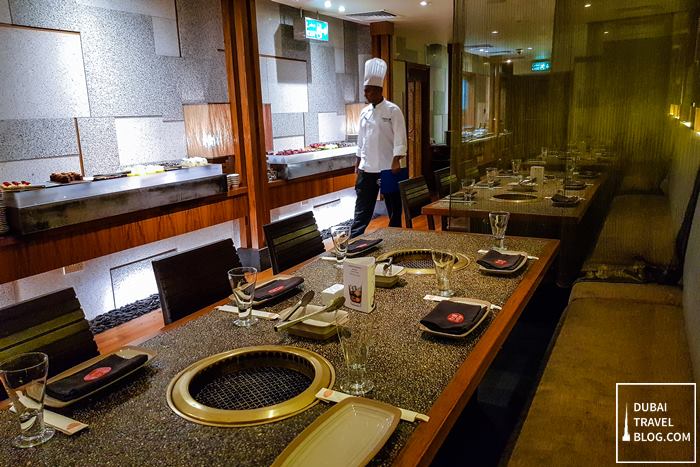 tables
Price and Offers
This dinner buffet is currently priced at AED 199 per person.
Sumibiya is currently running an offer Treat for OFWs (Overseas Filipino Workers) and Frontliners in the UAE. You can get a Buy One Get One offer, just make a reservation via 04 222 7171. Terms & conditions apply.
Alternatively, you can get a Buy One Get One deal via Entertainer App. 🙂
Video: Sumibiya Dining Experience in Dubai
Check out this quick video clip I made of this cool yakiniku-style dining restaurant to give you an idea of what to expect when you dine here:
28 Photos of Sumibiya Dubai
Here are some pictures of our experience at Sumibiya Restaurant Dubai:
Note: We were invited to dine at Sumibiya. All opinions are my own.
Contact Information
Address: Lobby Level, Radisson Blu Hotel Dubai Deira Creek, Baniyas, Dubai
Website: https://www.radissonblu.com/en/hotel-dubaideiracreek
Contact Number: +971 4 205 7333
Instagram: @RadissonBluDXB
Facebook: @RadissonBluDXB
Google Map Location
Below is a map guide to the location of Sumibiya Restaurant. It is at the lobby of Radisson Blu Deira Creek in Baniyas.