We had a memorable staycation at Shangri-La Dubai located on Sheikh Zayed Road. This 5-star property is only about 15 minutes from the Dubai International Airport and is within close proximity to The Dubai Mall as well as Dubai's popular beaches and hangout places.
Let me just say that this hotel offers one of the most incredible views of Burj Khalifa and Sheikh Zayed Road. Prior to our visit, I was already reading reviews and admiring photos from other bloggers/publications who have written about their stay.
Their 42nd floor is a popular spot for taking photos of Downtown Dubai and as somebody who likes capturing pictures, I was very excited to have a staycation here.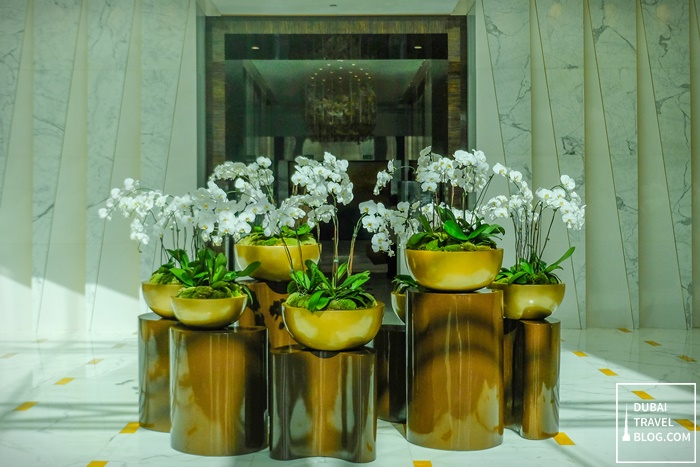 lobby of Shangri-La Dubai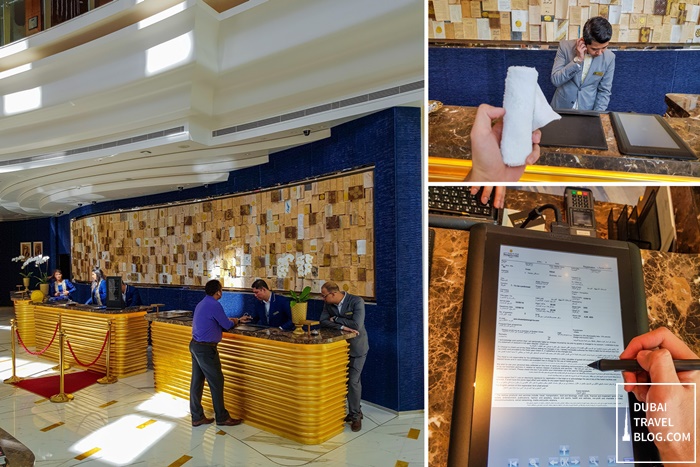 checking in
Staycation at Shangri-La Hotel Dubai: Best View of Downtown Dubai
We entered the hotel from back side as this is where the valet service is provided. As we passed through the elevator and walked towards the reception, I immediately noticed the natural light from the glass windows and the high ceiling which make the lobby very breathable.
Check in was quick and the staff made sure to share the activities we can do in the hotel. I like the fact that they used a tablet so I can digitally sign our check-in (saves paper). This is similar to our experience checking in at Hyatt Regency Hotel Dubai Creek Heights.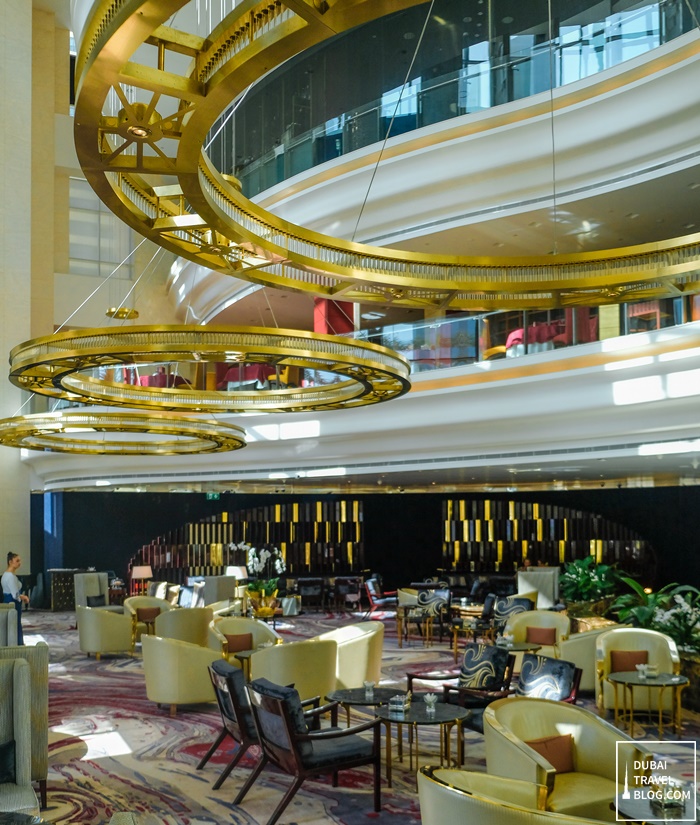 lobby lounge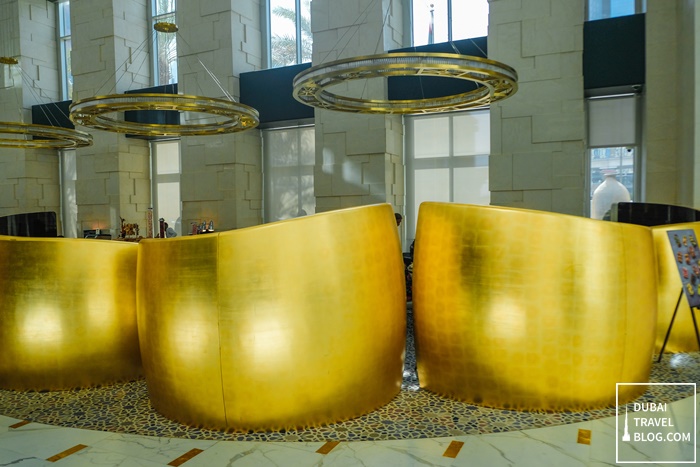 Dunes Cafe
Bedroom: Deluxe Burj Khalifa View Room
We were ushered to our Deluxe Burj Khalifa View Room at the 32nd floor. It includes a comfortable king-size bed, plenty of closets for storage, a well-stocked fridge and mini-bar, flat screen TV, v-shaped sofa right beside the window, and a slim yet long office desk.
The room is also designed with curved shelves and walls are decorated with art pieces. Window curtains are automatically controlled. It's elegant and spacious at 45 square meters.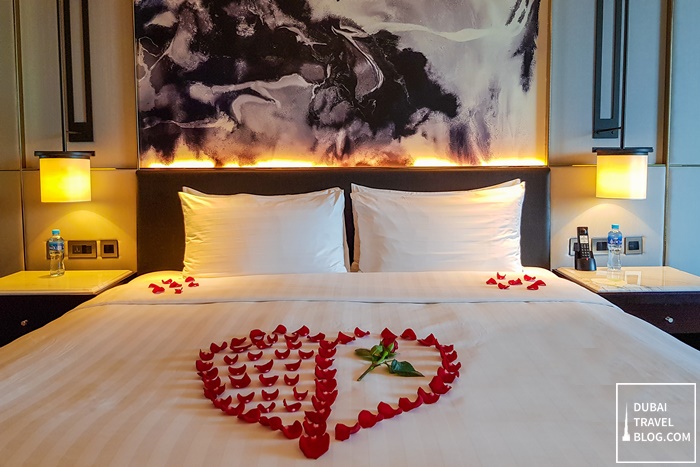 they prepared a nice flower arrangement after learning it was our anniversary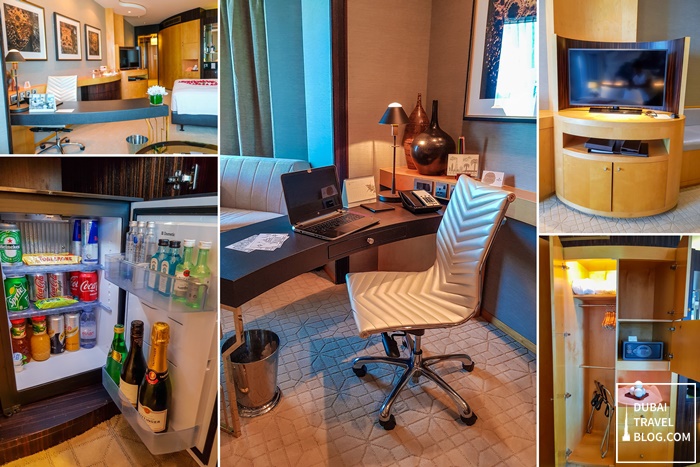 closets, TV, fridge, office desk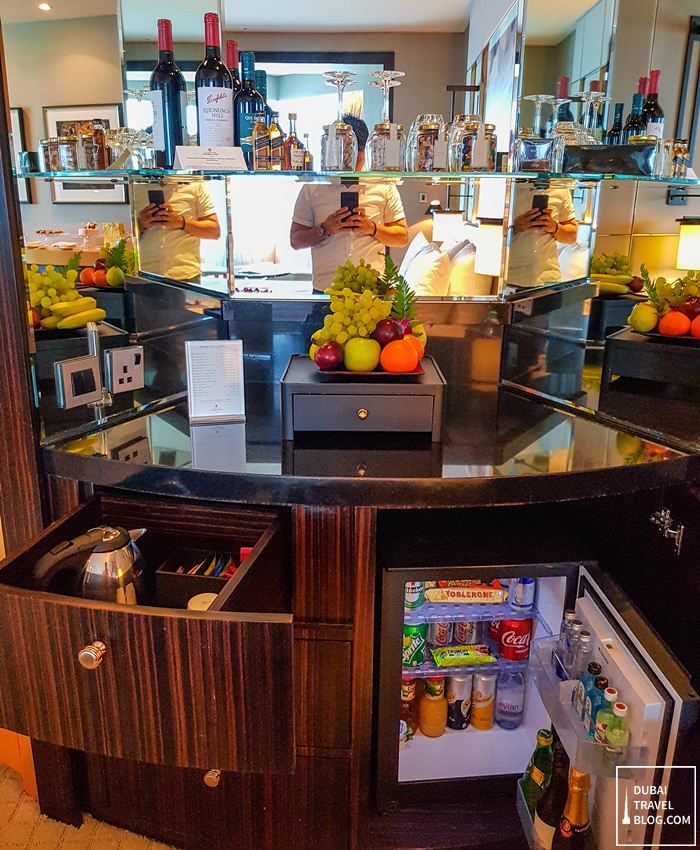 well-stocked 🙂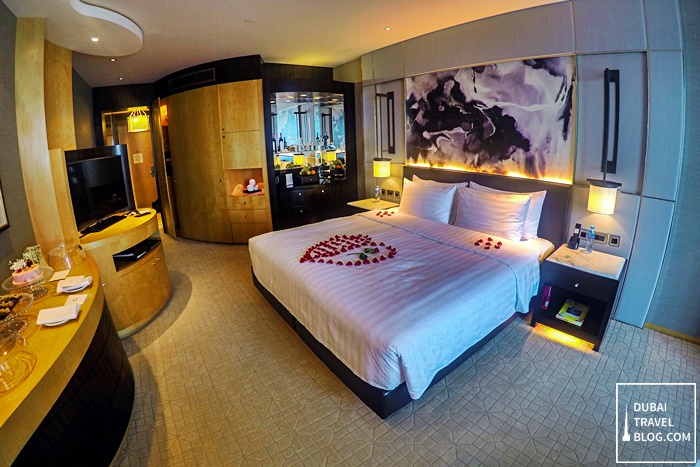 inside the room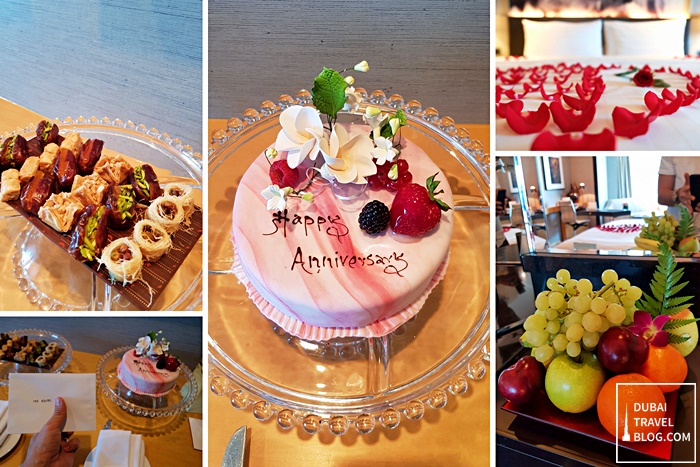 thoughtful complimentary sweets and cake
Shangrila Dubai has over 302 rooms and suites, and it's good if you book a room with a view of Burj Khalifa. This hotel is situated in a prime spot of the city so if it's your first time here, pick a room on the side of SZR.
The v-shaped sofa by the window was also a lovely piece. I remember my wife and I just sat there and stared at the view for quite awhile in different times of the day.
I also liked the full office desk where I was able to properly work on pending blogs during our first day.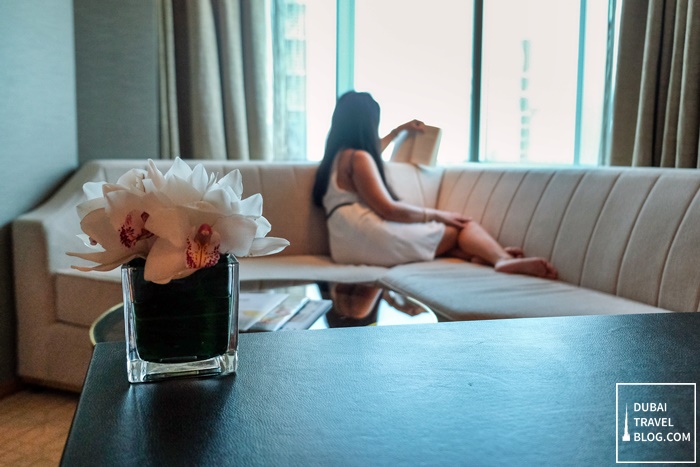 lovely sofa by the window, my wife reading her book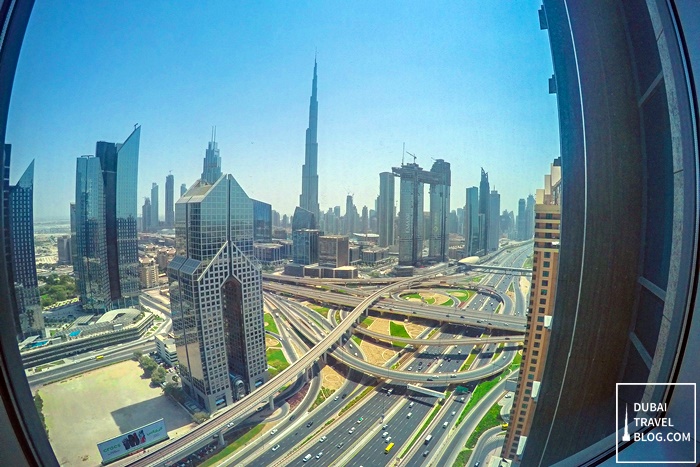 view from our room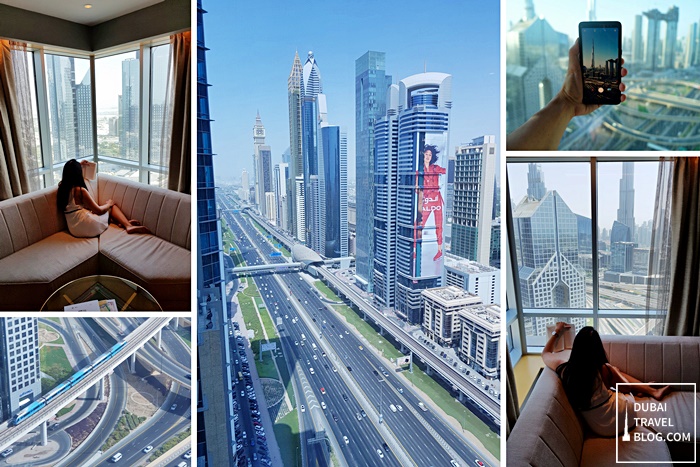 Dubai cityscape
Bathroom
The bathroom is sleek and sophisticated. It includes a bathtub, separate shower room, separate toilet and standalone bidet. Simple add-on touches such as fresh flowers adds more elegance to the interior.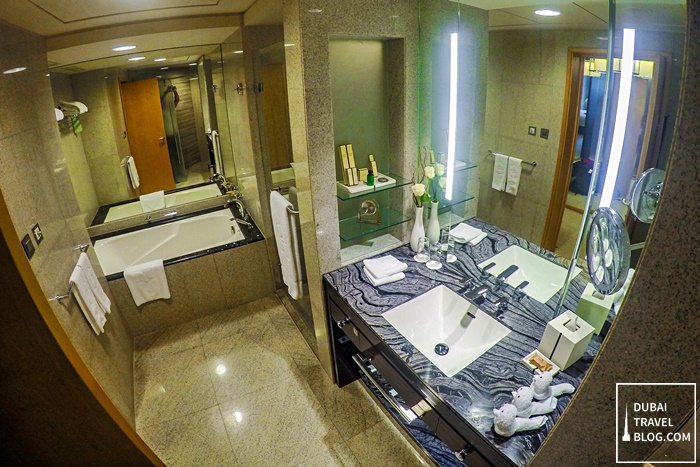 bathroom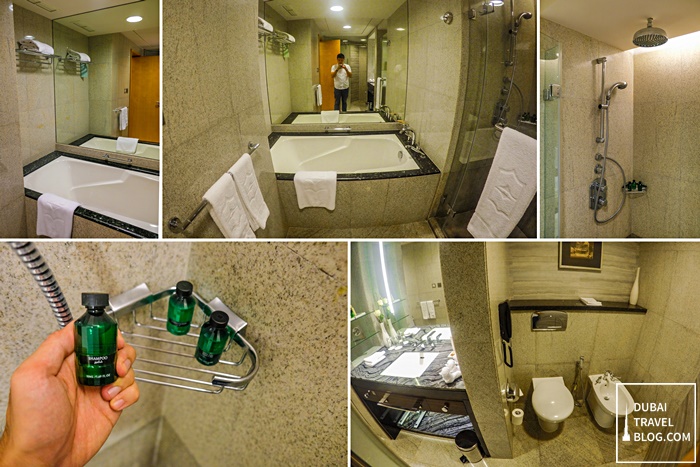 inside the bathroom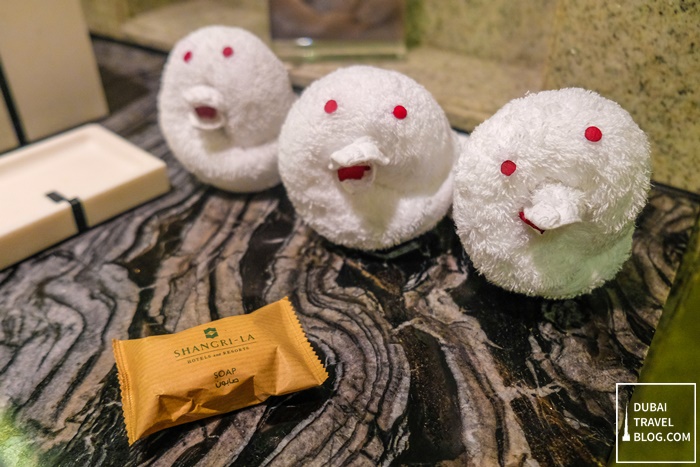 towel animals and soap
Restaurants & Bars
We had breakfast at their Dunes Cafe restaurant at the ground level. They have a great selection of breakfast items plus some other interesting options such as having a noodle station. I thoroughly enjoyed the sausages and the noodles.
We also spent an enjoyable authentic Vietnamese dinner at Hoi An, located at the 1st floor. Hoi An just launched a new menu at the time.
breakfast at Dunes Cafe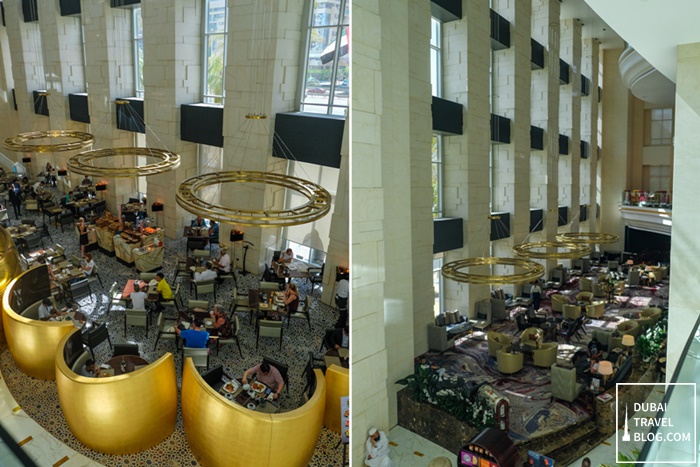 view of the Dunes Cafe and Lobby lounge from the first floor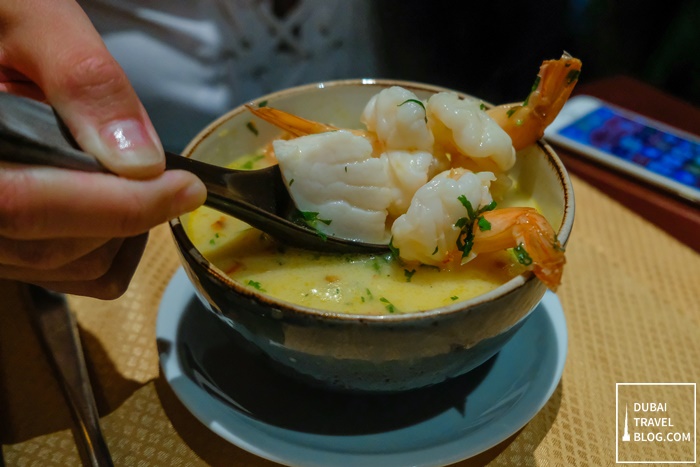 our dinner at Hoi An Vietnamese Restaurant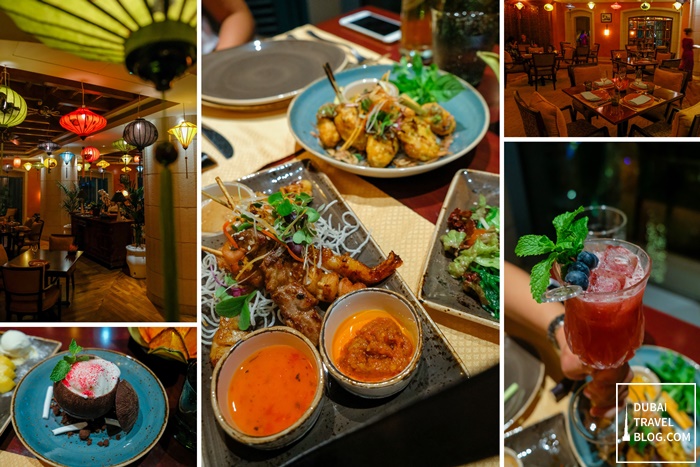 our dinner at Hoi An
These are the restaurants and bars inside Shangrila Dubai.
Dunes Cafe – the all-day dining restaurant which serves international cuisine
Hoi An – their authentic Vietnamese restaurant located at the first level
Shang Palace – the signature restaurant of Shangri-La Hotels worldwide and offers delicious Cantonese and Chinese cuisine. Located at the first level, you can enjoy flavours of the Far East.
The Balcony Bar – where you can enjoy cockails and premium beverages, located at the first level overlooking the hotel lobby
iKandy Ultralounge – their outdoor lounge where you can enjoy great views of the Burk Khalifa, enjoy some drinks and even have some shisha.
Lobby Lounge – located at the lobby, this is a great place for meeting clients and enjoying tea/coffee while listening to relaxing sounds of their in-house band.
Fitness Center and Health Club
The gym and fitness center is located at the 4th floor and comes with high tech machines and equipment for strength and cardio. They have separate lockers for men and women and each have their hot and cold jacuzzi, steam and sauna.

gym a the 4th floor

fitness equipment

hot and cold jacuzzi

steam room, sauna at the male locker room
Swimming Pool & iKandy Ultralounge
The pool is located in the same level (4th floor) and is accessed via bridge. Here you can find the iKandy Ultralounge, a popular rooftop and outdoor lounge where you can enjoy poolside cocktails as well as shisha.
My wife and I spent plenty of time in this area just lounging and enjoying the the water and the sun. A view of the Burj Khalifa can also be seen from this area. I enjoyed watching the contrast of the palm trees and budges and the Burj Khalifa as a backdrop.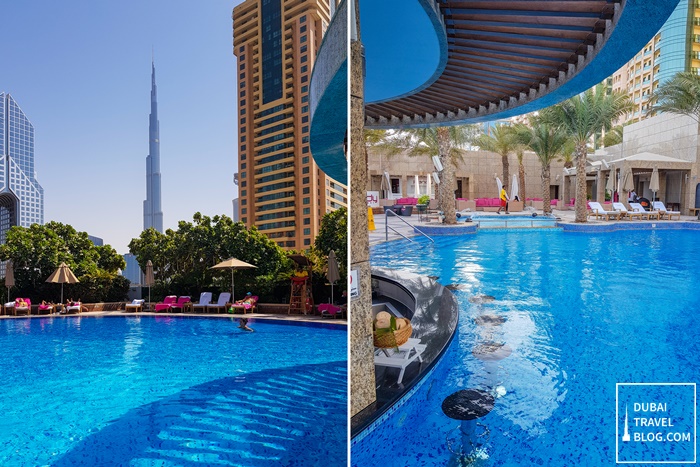 iKandy Ultralounge and pool area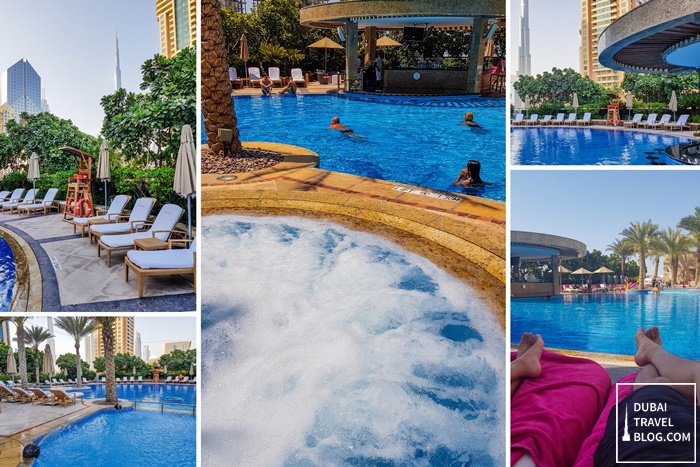 enjoying the pool area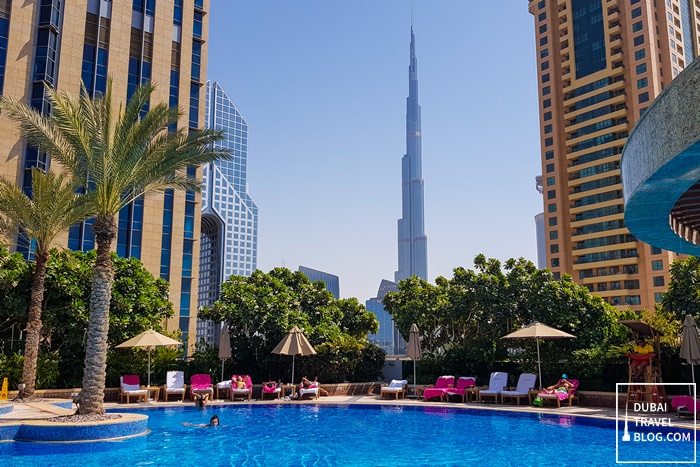 pool with a view of Burj Khalifa
Horizon Club Access at the 42nd Floor
If you have a Horizon Club pass, you get to enjoy the facilities at the 42nd floor which include an indoor infinity pool, Jacuzzi, gym, as well as changing rooms. This is a private health club exclusive to Horizon Club members.
There's also private lounge where members can enjoy afternoon tea or relax with drinks during Happy Hour. My wife and I took advantage of the access and enjoyed some wine and spirits as well as some sushi and canapés during the hour.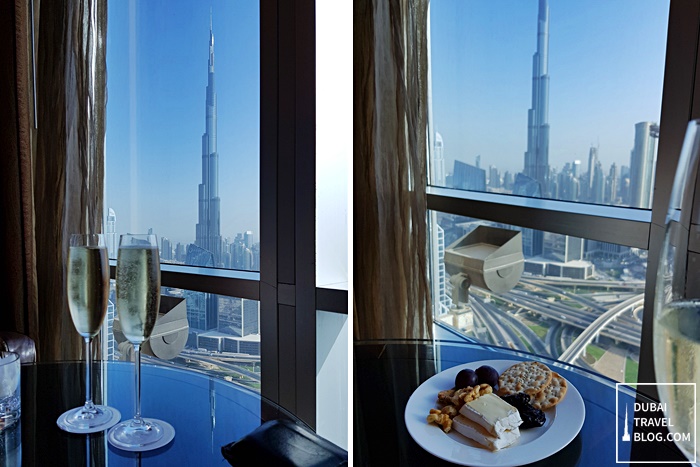 cheers to the afternoon with a view
edge of their indoor infinity pool
Indoor infinity pool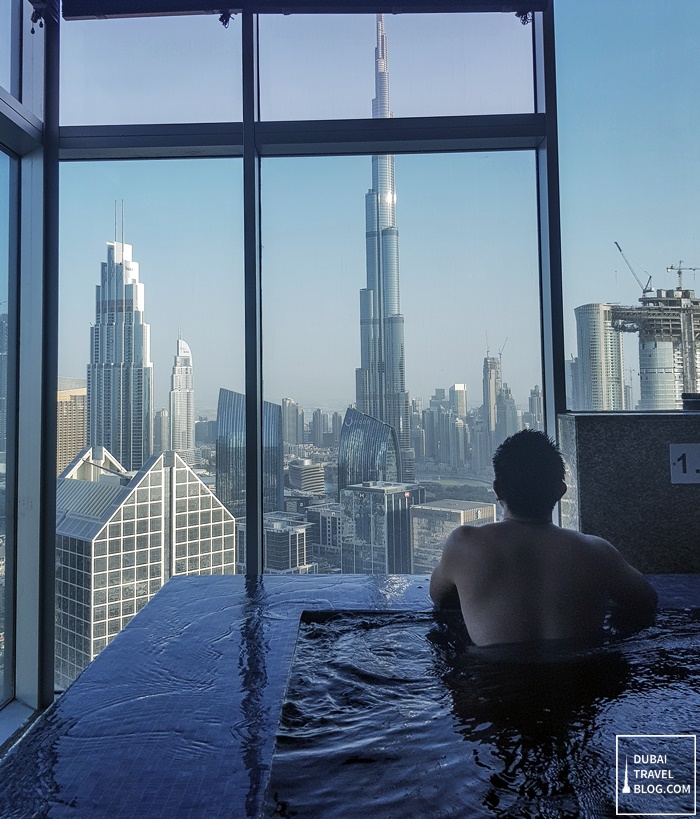 #meandtheviewatlevel42
Other Facilities
This hotel also has a tennis court, a squash court, hair salon for men and women, banquets and meeting rooms, flower shop, laundry and valet service, foreign exchange service, parking facilities, airport limousine, and shuttle services to Kite Beach and The Dubai Mall. If you're looking for a massage treatment, they have the CHI Spa in the 4th level.
The tennis court really surprised me as I was wondering how on earth did this hotel set up one in this building. But I remember that this is Dubai after all. 🙂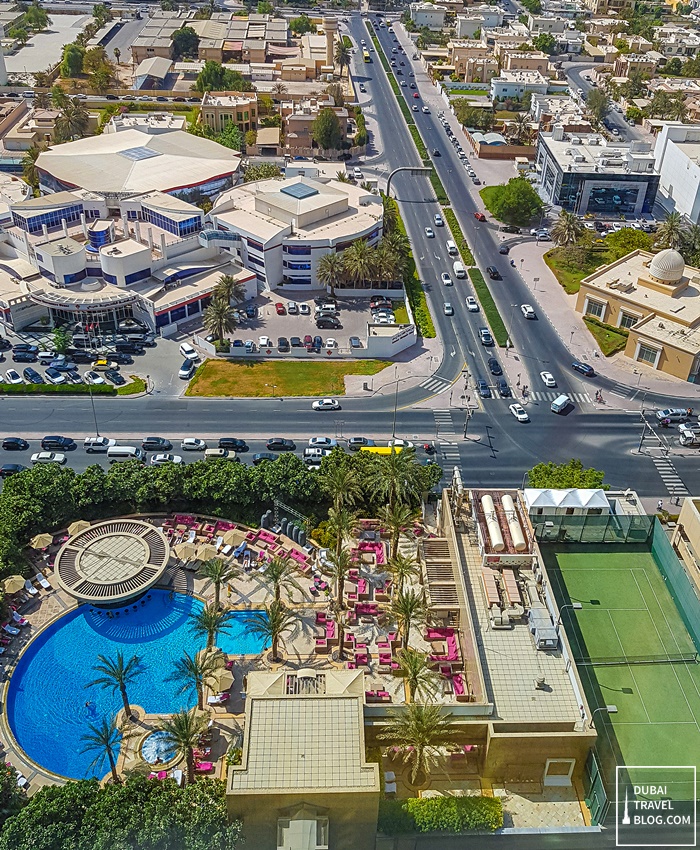 pool and tennis court at the rooftop of the car parking of ShangriLa Dubai
View of Sheikh Zayed Road & Downtown Dubai
The view. Oh, the view of Dubai. As I shared, this is the hotel which offers an amazing view of the city! From staring at the skyline from our room, swimming at the pool with a view of Burj Khalifa, heading to the 42nd floor to have drinks, the picturesque cityscape seen from the hotel is definitely the building's main features.
I couldn't remember how many times we just stared at the busy life down below while we were enjoying our relaxing break.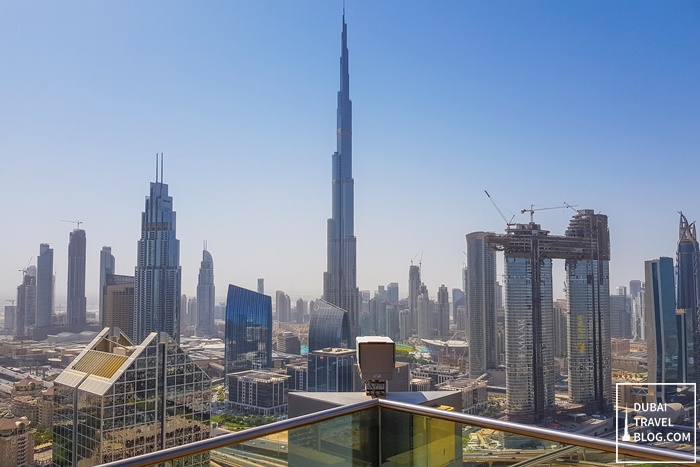 view from level 42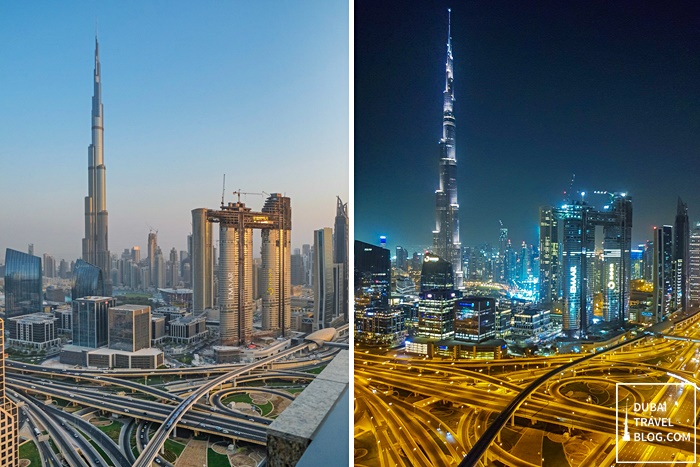 famous view of Burj Khalifa from Shangrila Hotel
Video: Shangri-La Dubai Staycation
Here's a video summary of our stay at Shangrila Hotel
Staff and Service
The hotel's All Day Dining cafe was a bit busy especially during breakfast time. But the crew were very efficient in managing the tables and making sure guests can get a seat on time. I appreciated how helpful and professional the staff were. Great team Shangrila!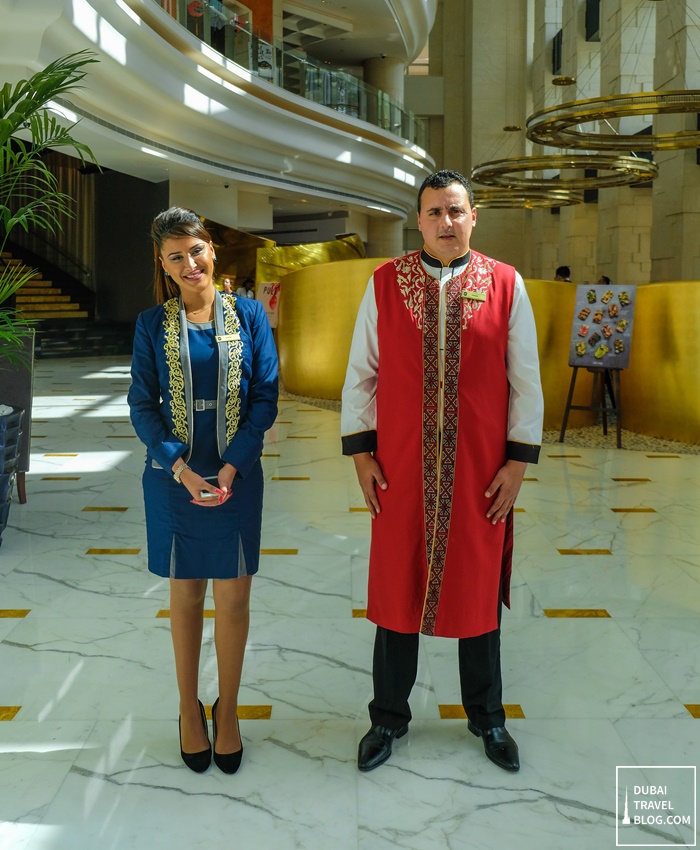 lovely uniforms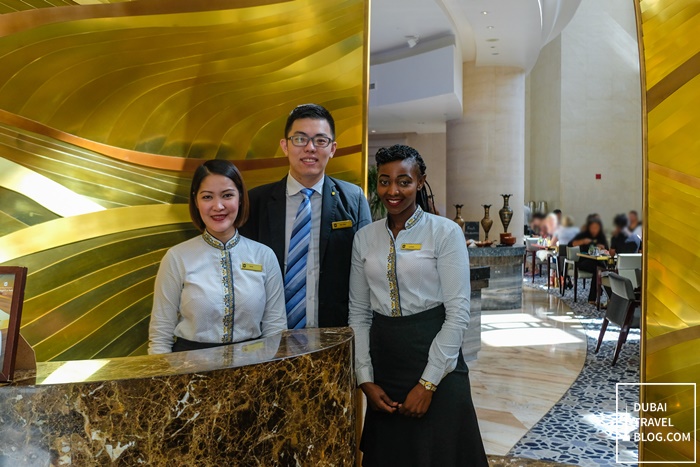 friendly and professional staff
I am very happy we got to stay in Shangri-La Dubai as we finally got to experience the view at 42nd floor, which is a famous spot for photographers. So when the time comes when my wife and I might go back home for good, we can say that we've been in there and have stayed in the hotel.
The overall experience was also very good. Despite being right in the city, we didn't bother thinking of going out as it seemed what we need was already available in this hotel. We had a relaxing retreat because of the of the facilities and amenities provided.

Contact Information
Shangri-La Hotel Dubai
Address: Sheikh Zayed Road, P.O. Box 75880 United Arab Emirates
Phone: +971 4 343 8888
Email: sldb@shangri-la.com
Website: http://www.shangri-la.com/dubai/shangrila/
Instagram: @shangrila_dubai
Facebook: @ShangriLaHotelDubai
Twitter: @shangrila_dubai
Google Map Location
Below is a map guide when driving to Shangri-La Hotel on Sheikh Zayed Road. The nearest metro station is Financial Centre Metro Station (Red Line).