During our second night at Shangri-La Dubai, we had dinner at their authentic Vietnamese restaurant, Hoi An. Located at Level 1 of the hotel, they just launched a new menu and we were able to sample their food offerings before we checked out the next day.
My wife and I have travelled to Vietnam some years back and we spent about 3-4 days in Ho Chi Minh City (formerly known as Saigon) and Mui Ne. I faintly remember some of the Vietnamese food we tried during that trip. I know that we've sampled their Pho (noodles) but that seems to be about what I remember. This re-introduction to this Asian cuisine was something we were excited to experience. Plus it's been awhile since we ate white rice. ;p
Alcohol: YES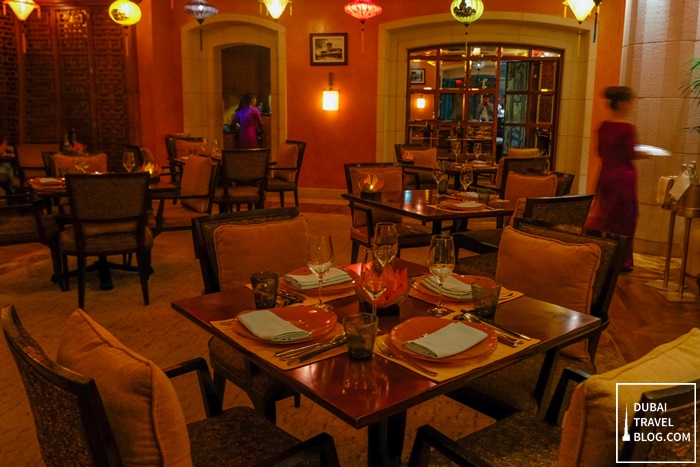 warm tones at Hoi An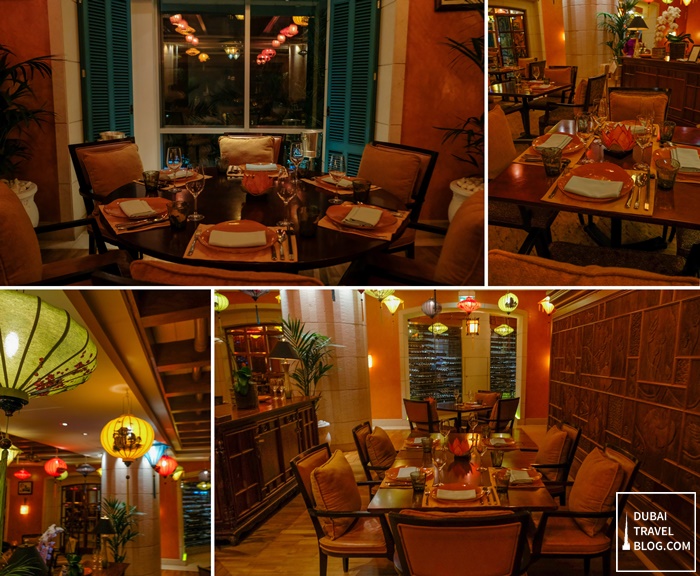 inside Hoi An restaurant
New Menu at Hoi An Vietnamese Restaurant in Shangri-La Hotel Dubai
As we entered the restaurant, the warm lights and the hanging lanterns provided an intimate atmosphere that welcomed us for dinner. Lotus flower lamps are decorated in every table to help set the mood to this Vietnam food journey. We were excited!
They gave us a hot towel, tea and some prawn crackers. We also ordered beer and some of their signature cocktail.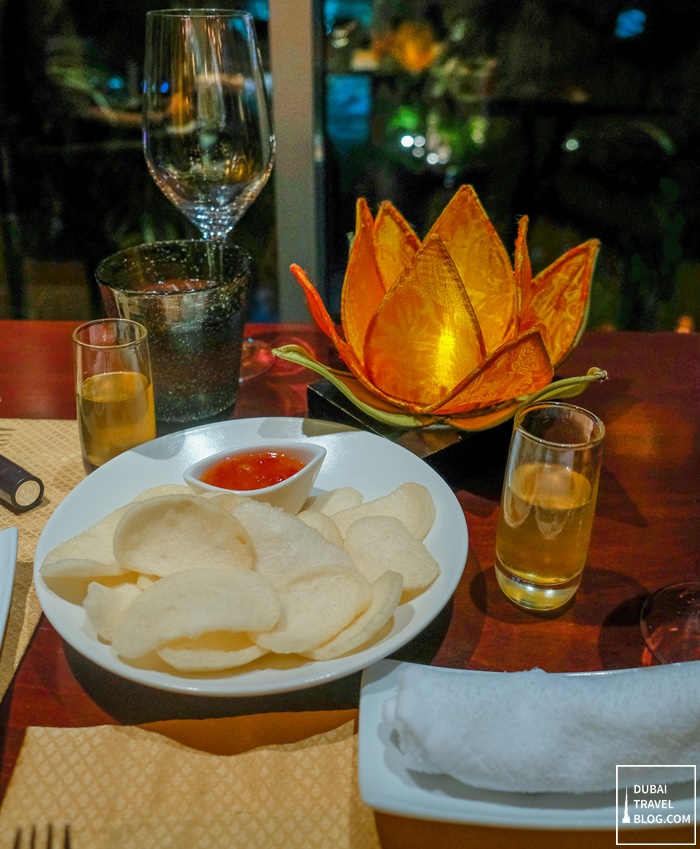 welcome treat – prawn crackers with tea and wet towels
lotus flower lamp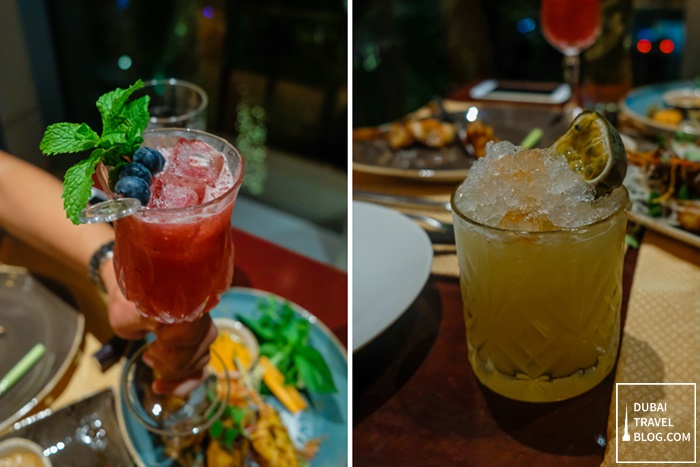 cocktails
Starters and Soups
They already prepared a set of food for us which highlights the new dishes they've added in their menu. When the first batch arrived, we were quite surprised by the quantity of appetizers they presented.
As the actual names of the food were a challenge to pronounce, the staff introduced each dish in their English translation.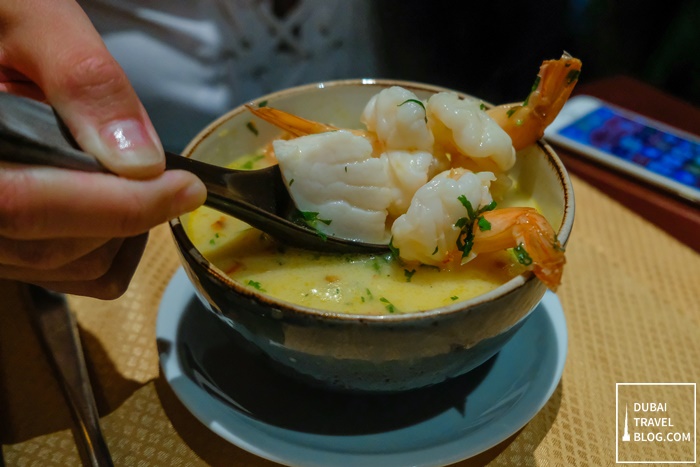 Sup Hai San – 65 AED
Hot and sour soup with diver scallops, prawns, shimei, galangal, and kaffir lime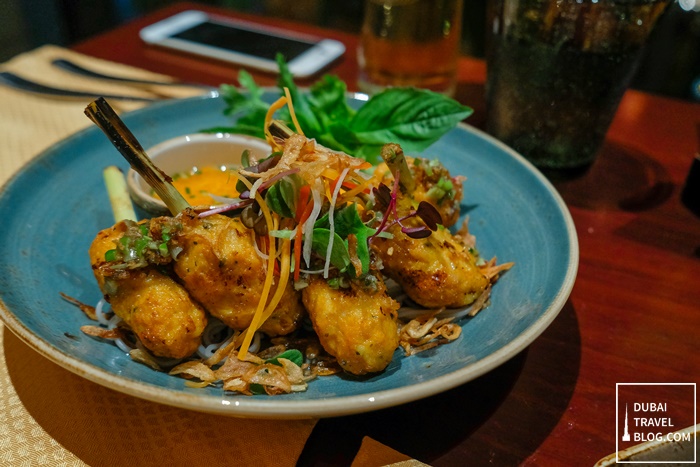 Tom Bao Xa Ot
Lemongrass and shrimp lollipop served wth chilli and tamarind
We had three starters which included Lemongrass shrimp lollipop, Tuna salad and Mixed skewers platter. As if these were not enough, they also gave us a Hot and Sour soup (almost similar to Thailand's Tom Yum soup) which was also packed with seafood.
We enjoyed each dish, especially the skewers and the soup. Most of them came with special sauces and the food was just bursting with spices and flavours.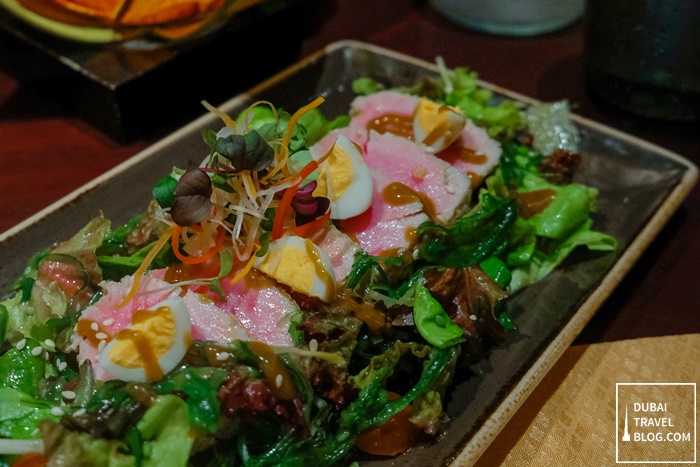 Nom Ca Ngau – 62 AED
Pan-seared yellowfin tuna served with seaweed salad and sesame and avocado dressing
Thap Cam Nuong – 105 AED
Mixed Satay platter served with sweet chilli sauce, sambal sauce and peanut sauce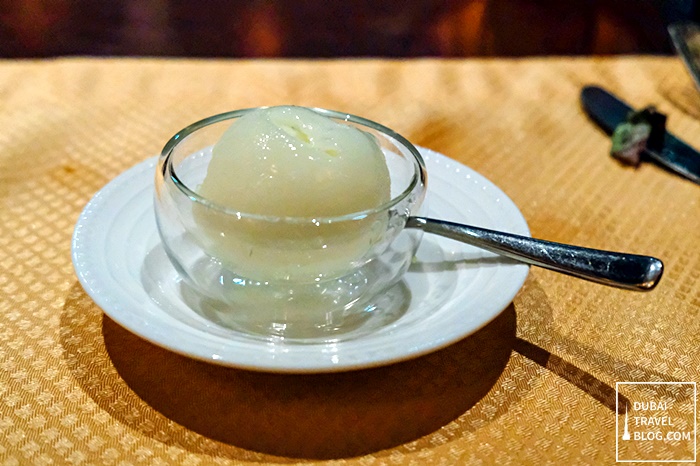 They gave us a lemon sorbet palate cleanser.
Main Course
The appetizers were a lot and we had to take a break before they rolled out the main course. A palate cleanser was offered prior to the main dishes.
We had Sweet and sour chicken and Red Curry King Prawns. Both were appetizing in their own right but the curry was amazing. The rich texture of the coconut milk plus the king prawns were huge that I had to slice each one into three so I could enjoy every bite.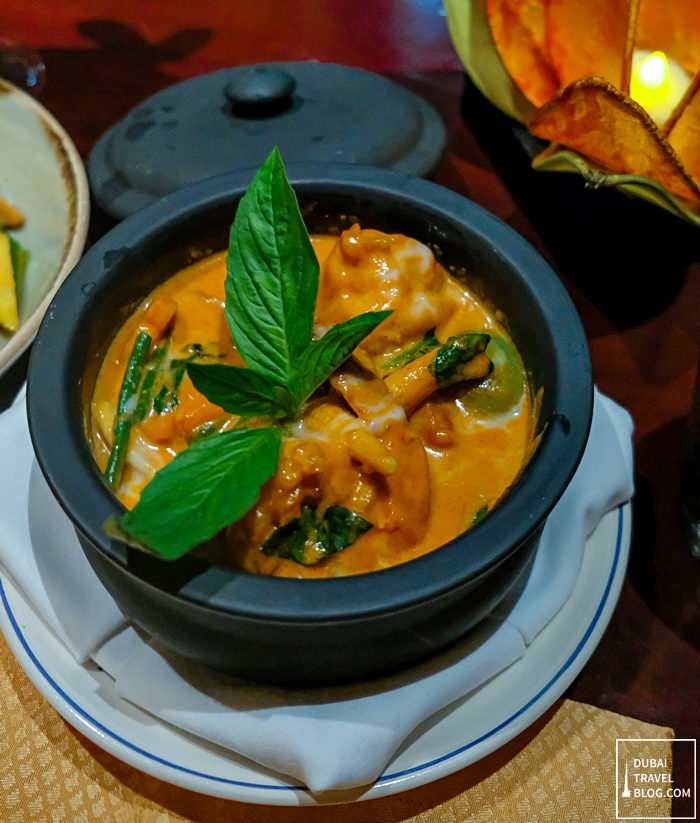 Viet Nam Ca Ri with King Prawns – 150 AED
Vietnamese red curry with coconut milk, chilli, and basil
Ga Xao Sa Ot
Wok-fried chicken with mango, cucumber, cashews and sweet chilli sauce
Desserts
Lastly for dessert, we had Mango sticky rice and Coconut espuma with passionfruit ice cream. I enjoyed both desserts especially the Coconut espuma. I forgot that the shell was edible that I almost made a mess when it crumbled after picking it up and gripping it tight.
These desserts were paired with Vietnamese coffee.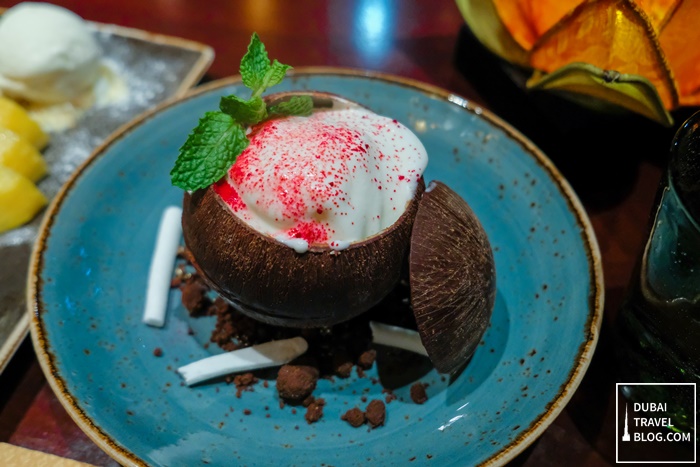 Xop dua voi so co la
Coconut espuma served with passionfruit ice cream, salted chocolate crumbled and dragonfruit salad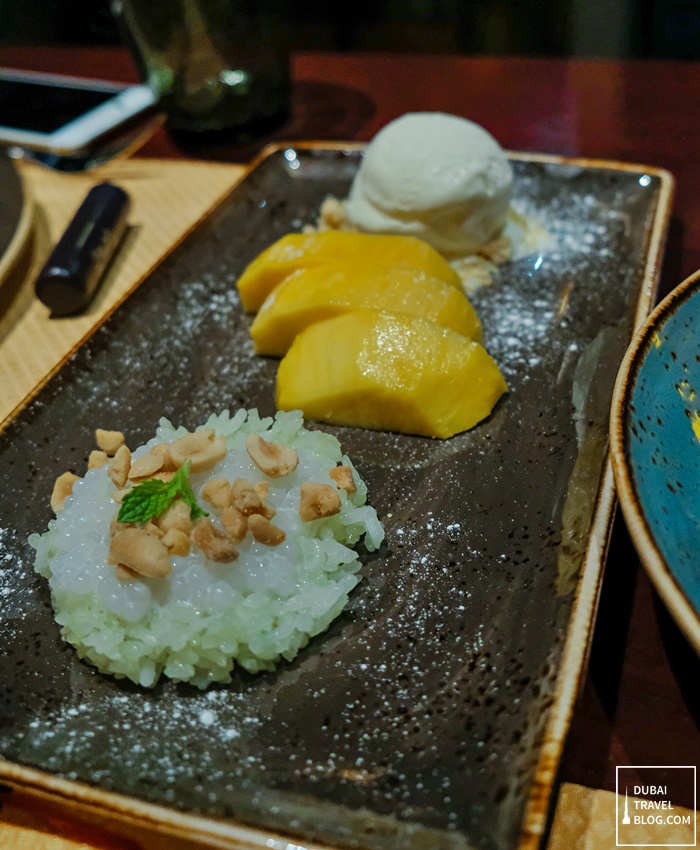 Xoi xoai cot dua
Mango sticky rice with coconut milk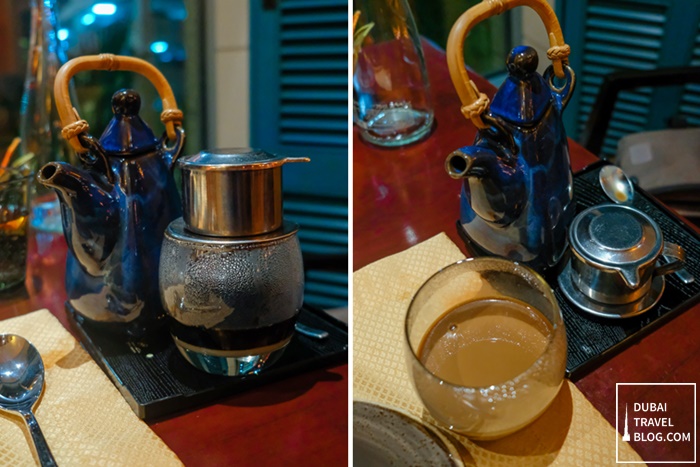 Vietnamese coffee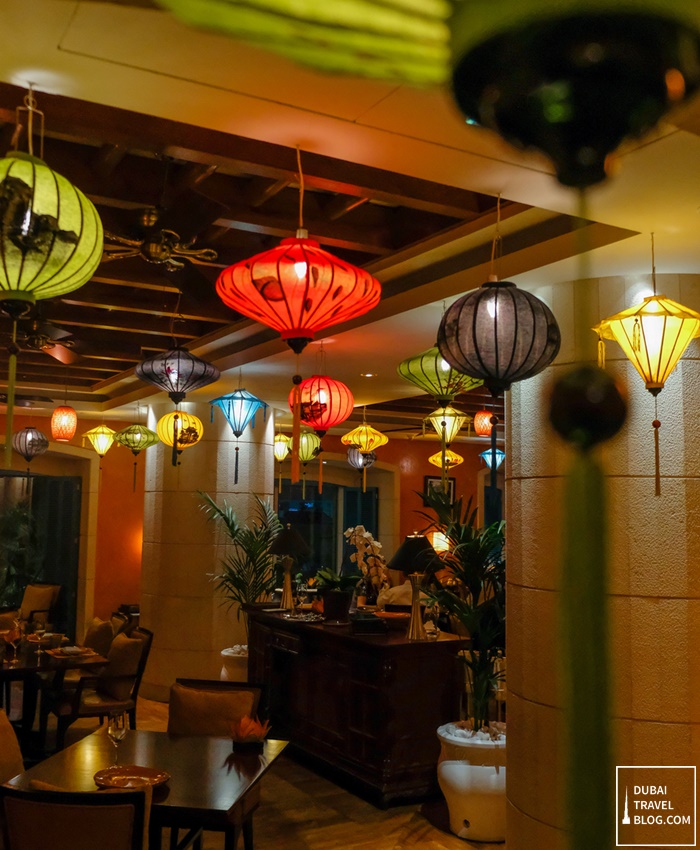 entrance to Hoi An restaurant
The new menu will be around for about 6 months until they will change it up again. Some of the items are sourced directly from Vietnam which is something worth noting.
The all-Vietnamese staff were very friendly and conversational. They would approach your table and would casually chat with you especially if you have some questions about their country. Special thanks to Pham Luyen, Ngoc, and Phuong for the attending to us.
Traditional Vietnamese cuisine is marked by delicate spicing and fresh flavours. Savour Hoi An's creations, exquisitely updated to provide stylish yet authentic meals to remember.
– Hoi An
Operating Hours
Monday to Sunday: 7 pm – 12 midnight
Friday and Saturday: 12.30 pm – 4 pm
Dress Code: Smart Casual
Contact Information
Hoi An
Address: Level 1,Shangri-la Hotel، Sheikh Zayed Road – Dubai
Phone: +971 405 2703
Website: http://www.shangri-la.com/dubai/shangrila/dining/restaurants/hoi-an/
Email: f&breservations.sldb@shangri-la.com
Google Map Location
Below is a map guide to get to Hoi An. The restaurant is located at Level 1 of Shangri-La Dubai.