I was at SP Jain School of Global Management the other day to conduct a talk about Blogging. SP Jain is a school located at the Dubai International Academic City that offers business courses and aside from Dubai, they have campuses in Sydney, Singapore, and Mumbai.
This workshop is part of their new initiative called 'Creative Expressions' where they invite an expert from the community to share their knowledge that is based on a different form of expression; in this case, it's about blogging.
Also Read: Short Open Lecture about Blogging in Manipal University Dubai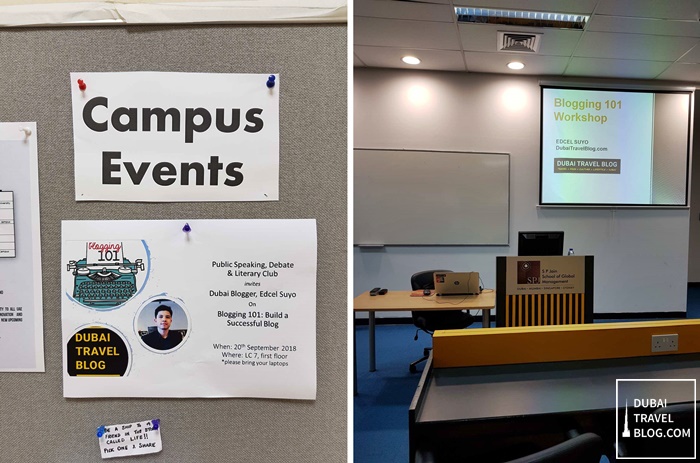 campus event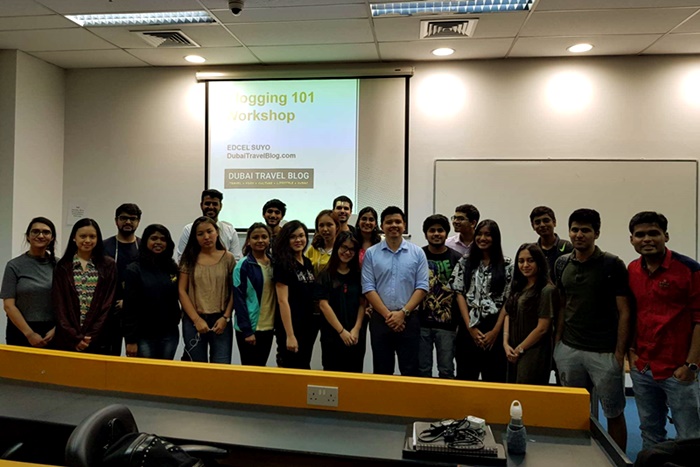 with the SP Jain Dubai students who volunteered their time to listen
Blogging 101 at SP Jain Dubai in Dubai in University City
While this 'Dubai Travel Blog' site is a side project that started 4 years ago, I have been blogging for 15 years in total. How to create a blog and learning how to make money online are topics that I'm comfortable sharing to an audience.
Below are the items in my slide presentation that I covered during the session.
Introduction
What is a Blog?
How to Start a Blog – Blogging Platforms
Benefits of Blogging – How Blogging Can Help You
Choosing Your Niche – Activity
Tips when Picking a Domain
Writing a Blogpost – Tutorial
Tips in Creating Content – Good & Bad Articles
Effective Types of Content
How to Drive Traffic to Your Site
How to Earn Money from Your Blog
There were about 20+ students who participated in the discussion. I got nervous and maybe a bit scattered because it's been awhile since I last talked in front of a crowd. However, the students were curious and eager to learn that I was at ease.
Too at ease that I believe the 1-hour session almost ran up to 2 hours. I even felt that it was short and we could branch out into more sessions from each topic.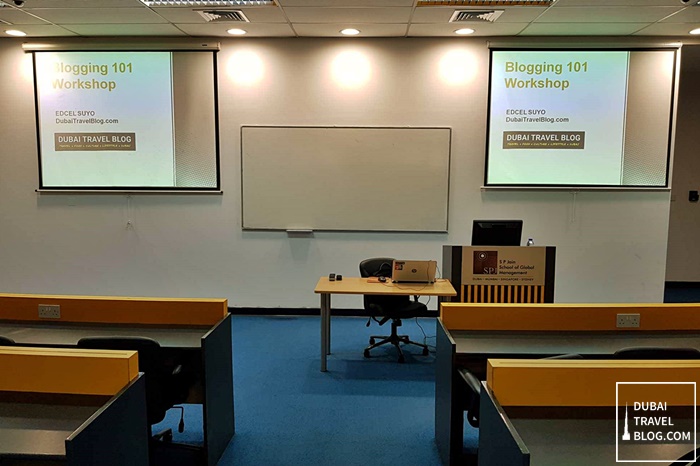 learn to blog – will create a 'how to blog' category in this site soon
Overall, I hope that somehow, the students have gotten even more curious about blogging. In my case, this skill has tremendously helped me live a life with a flexible schedule and location while being self-sustaining. I can go on and on about my blogging journey and I'm motivated to start sharing them in this blog.
Thank you to Megna and SP Jain Dubai for giving me the opportunity to share my knowledge and experience to your students!