Riad Dar Tafilalet is located in Fez, Morocco — a city that is known for its magnificent and historical palaces, mosques, and madrasahs. Since the hotel is situated near the city markets, squares, and other landmarks, it is a favorite among travelers. We checked in this riad after a plane ride from Dubai to Casablanca and a train ride from Casablanca to Fez.
Known for its affordable rates and warm customer service, Riad Dar Tafilalet (book here) is a hotel of choice for most travelers. Based on reviews from TripAdvisor, this affordable hotel has some good ratings among many who have stayed here. The fact that its entire staff speaks English also makes it popular among foreign tourists who are visiting Fez.
Related Post: 47 Photos of our Day Tour in Fez, Morocco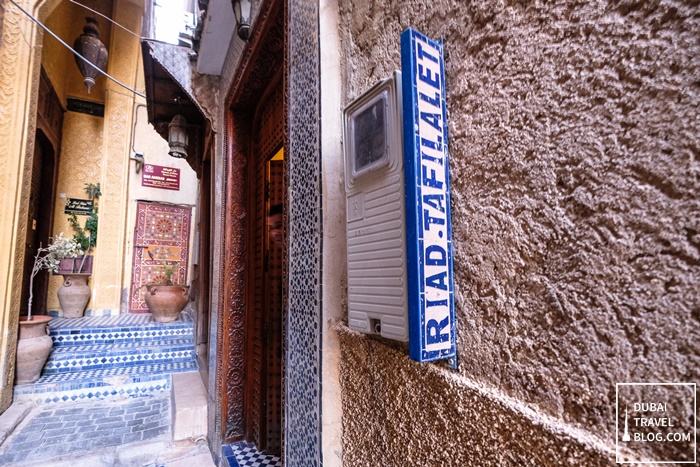 about a 5 minute walk from the main road, we passed through alleys to get to the entrance of the riad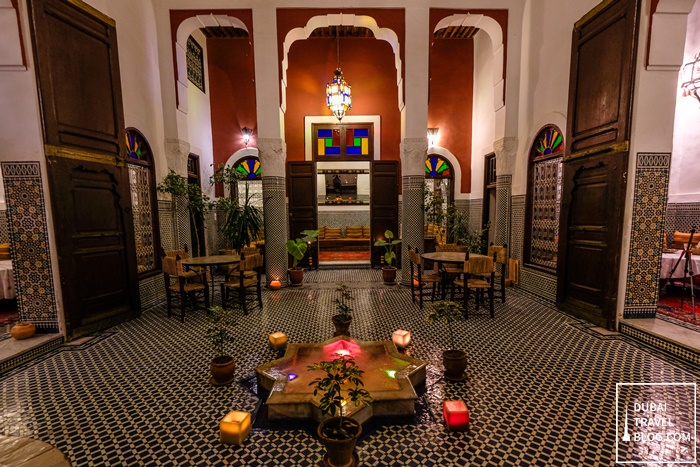 Riad Dar Tafilalet fountain area
Riad Dar Tafilalet Hotel in Fes, Morocco
After about 15 hours of travel from Dubai, we wanted to get settled in our room right away. It's been a long time since my wife and I travelled like this and we wanted to relax and at least rest for a few minutes before seeing the town. Upon check-in, we were glad that their friendly staff upgraded our room without any extra charges 🙂
Morocco's houses have high ceilings. Our room was located on the 2nd floor and we took a flight of narrow stairs which was a bit challenging since we had a huge luggage in tow.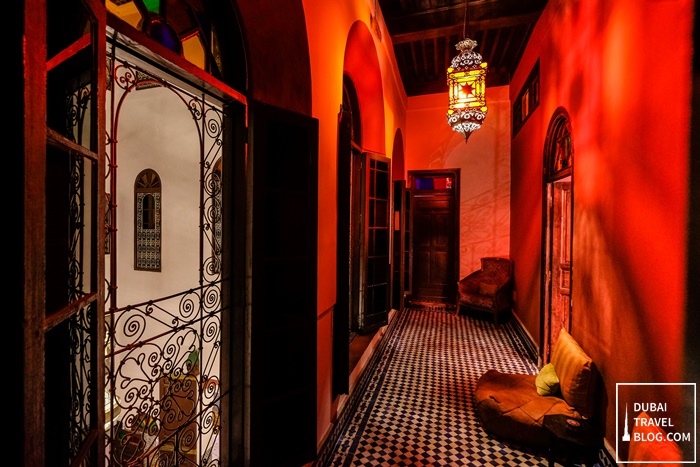 outside our upgraded room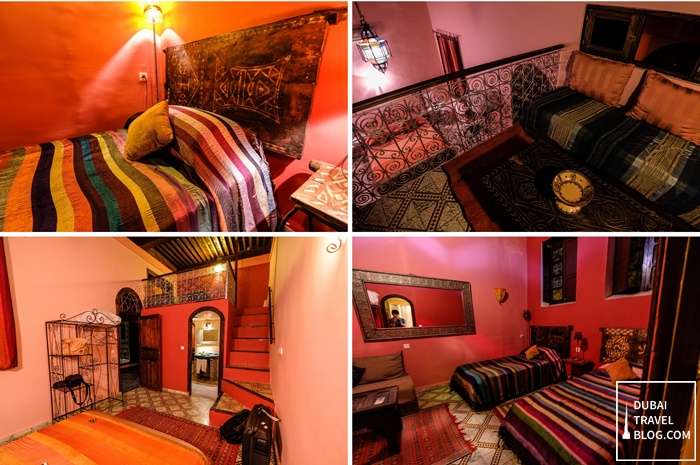 our room had 2 rooms connected by a bathroom – it was only my wife and i but our room could accommodate four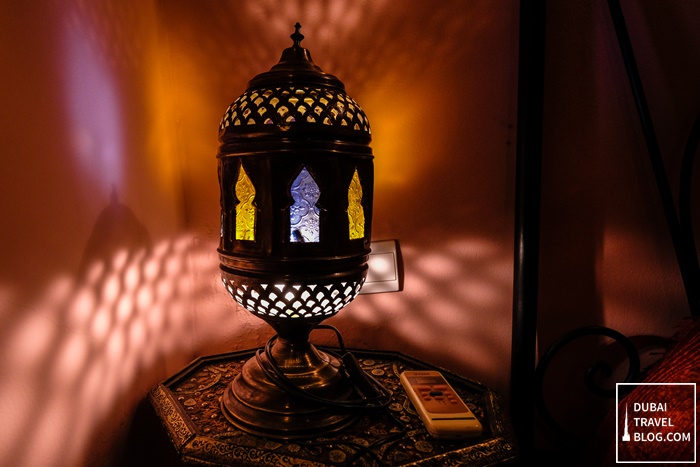 Moroccan lamp
Each room at Riad Dar Tafilalet has a unique name:
Five rooms — Salma, Sara, Xams, Xaima, and Fatima — can accommodate a maximum of two people. Each has an elegant and stylish design that is distinctly different from all the other rooms, with bright and colorful windows.
Meanwhile, Layla and Sabah are two separate rooms that share a bathroom. Together, they can accommodate a maximum of four people. Layla contains two single beds, whereas Sabah has a double.
All in all, there are seven rooms at Riad Dar Tafilalet, each of which has air conditioning and a private bathroom with a shower.
Book a room in this hotel here – Riad Tafilalet via Booking.com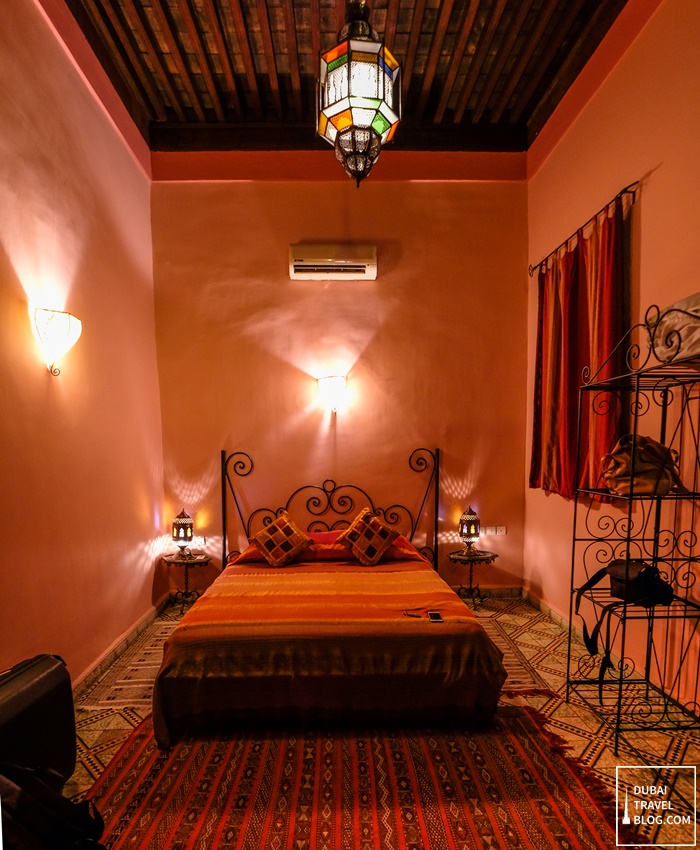 it was a simple room but the lamps, carpet and the painting made it warm and homey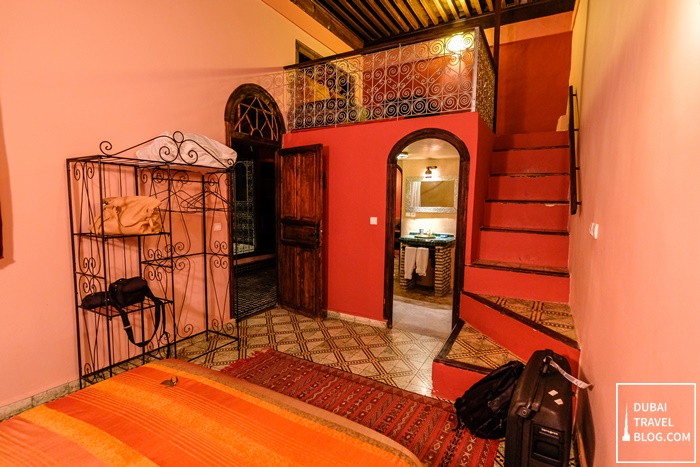 stairs to an indoor terrace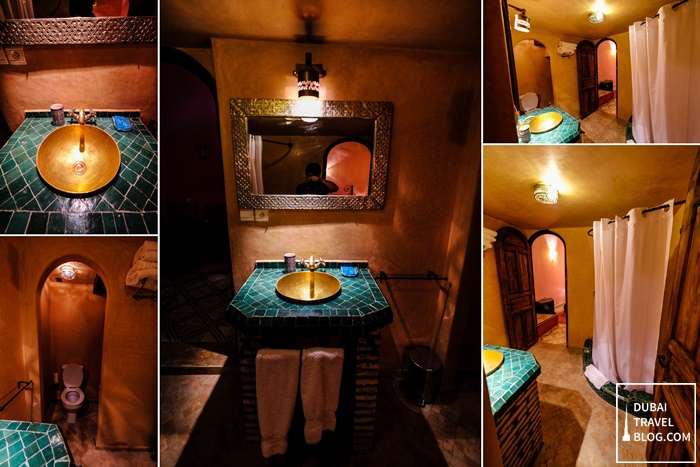 inside the bathroom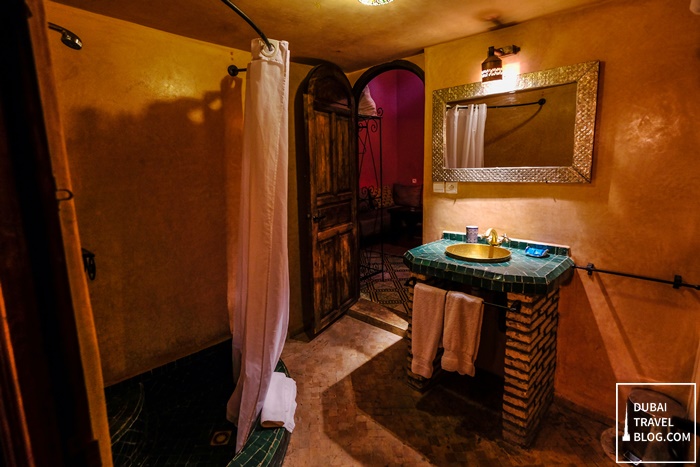 shower and bathroom facilities
Highlights
Guests at Riad Dar Tafilalet can look forward to:
Authentic cuisine. The hotel restaurant serves only the best and freshest products of the season. Even the most picky palates will be satisfied by its Moroccan cooking! The restaurant also offers continental dishes, as well as buffet, vegetarian, and vegan options.
Going to nearby attractions, many of which are just within walking distance or a short drive from the hotel.
Facilities
Riad Dar Tafilalet provides the following facilities:
Airport Shuttle
Free Private Parking
Free Wifi
7 Rooms
Spa and Wellness Center
Restaurant
24-hour Front Desk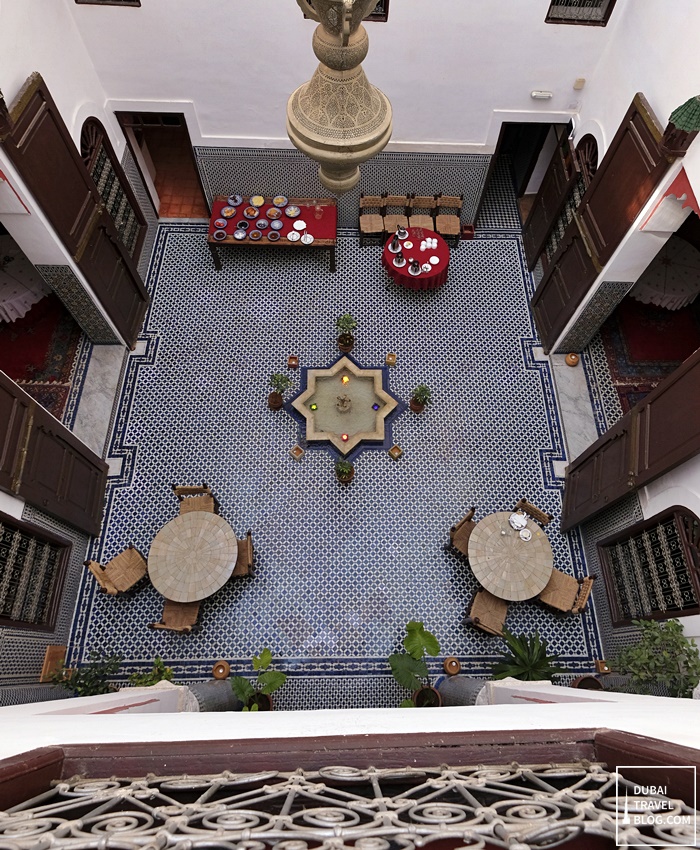 view from our suite inside our accommodation – Riad Tafilalet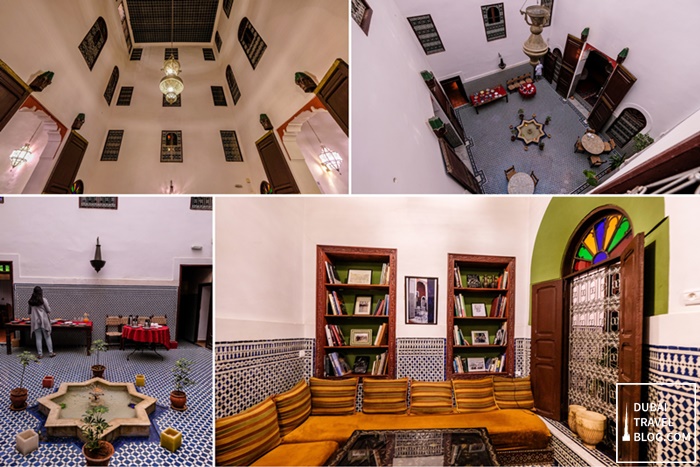 our riad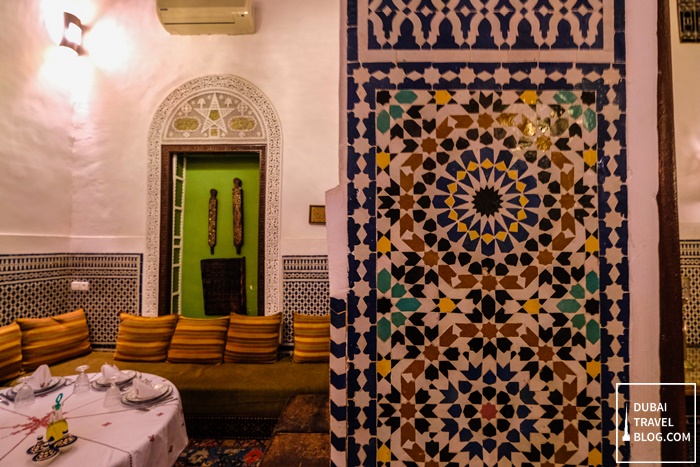 Moroccan tiles
Food and Breakfast
As we arrived in the evening, we opted to just order food from their restaurant. Prices were affordable and could already accommodate two persons. Appetizer food in Morocco is something to look forward to because they really offer plenty of servings, etc.
Breakfast was free with our package and it consisted of continental breakfast of bread, jams, coffee/tea and fresh orange juice. If you're looking for something heavier, you will need to order separately from the restaurant.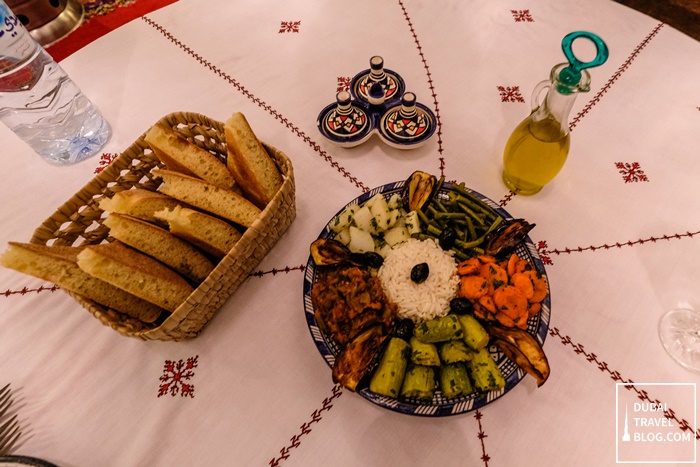 appetizers during dinner on the night we arrived
free breakfast at the riad – includes fresh orange juice 🙂
Rooftop View of Fes
One of the things to note from this hotel is the view from the rooftop as you will get a great view of the city. It was a chilly season so we didn't get to stay that long but it was nice to get to see it from that perspective.
Trivia: Houses in Fez may look dull from the outside, but are actually very colorful inside.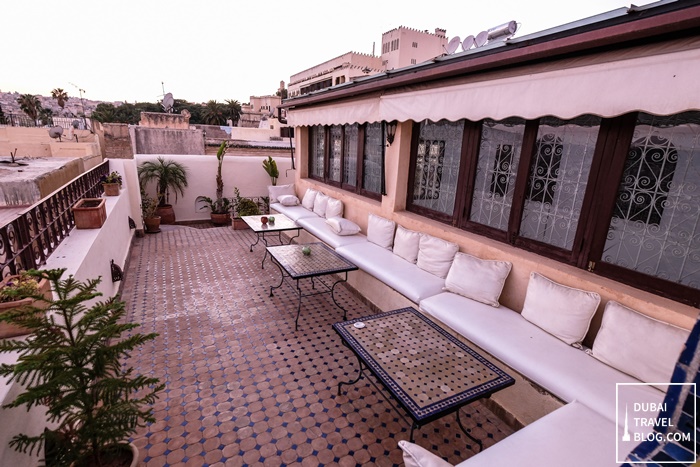 rooftop lounge – most riads have a rooftop area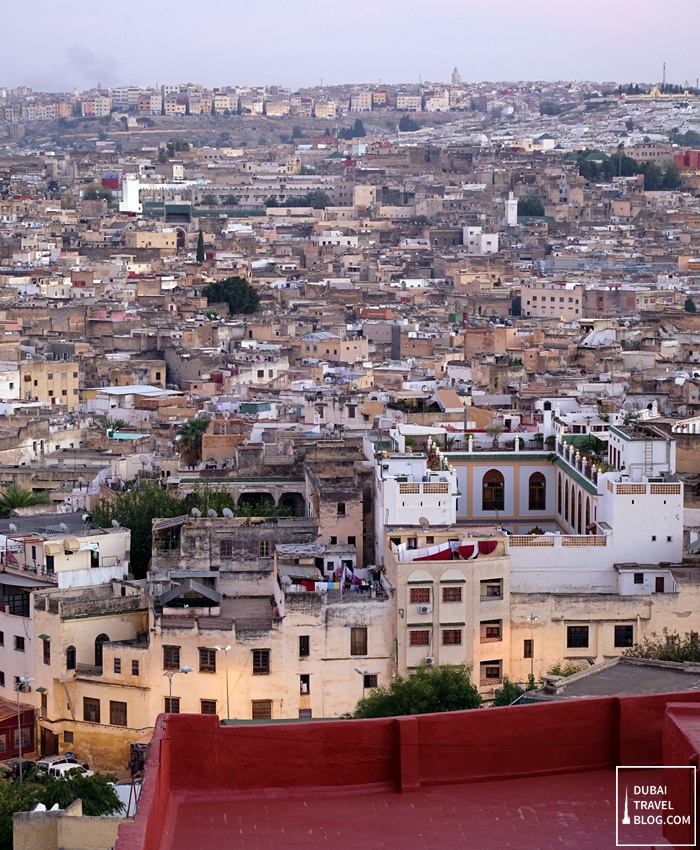 view from the rooftop of our Riad
Nearby Attractions
Going to Riad Dar Tafilalet is easy, since it is only 15 kilometers away from Saïss Airport.
What's more, the hotel is close to the following landmarks:
Medina (200 meters)
Karaouiyne (400 meters)
Medersa Bouanania (1.1 kilometers)
Batha Square (1.3 kilometers)
Royal Palace Fez (2.5 kilometers)
Borj Fez Mall (3.2 kilometers)
Fez Railway Station (3.8 kilometers)
Nouvelle Ville (4.6 kilometers)
If you are looking to buy some local food, crafts, and souvenirs, the Medina market is just a few steps away from the Riad Dar Tafilalet. It's that easy! You can also take a taxi to the Borj Fez Mall, which is only 3.2 kilometers away.
Also worth seeing is the magnificent Royale Palace Fez, Karaouiyne, Medersa Bounania, Batha Square, and Nouvelle Ville. For a comfortable and speedy ride, you can also choose to go to the Fez Railway Station, which is about 3.8 kilometers away.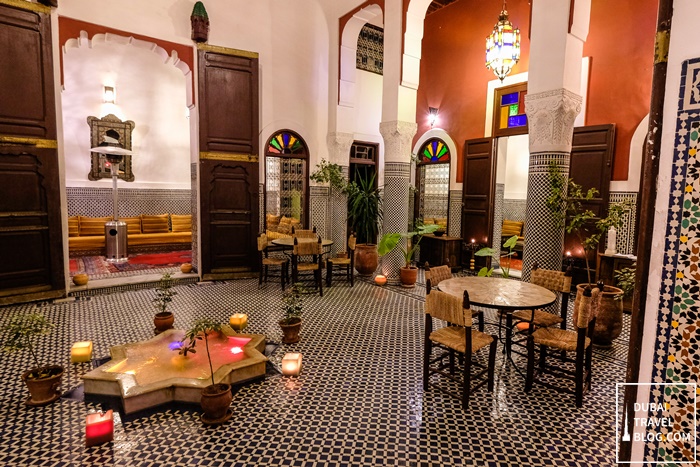 lobby with fountain in the riad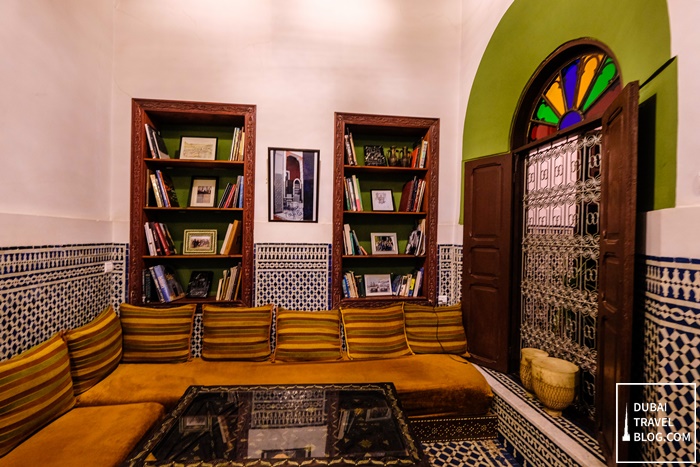 lounge area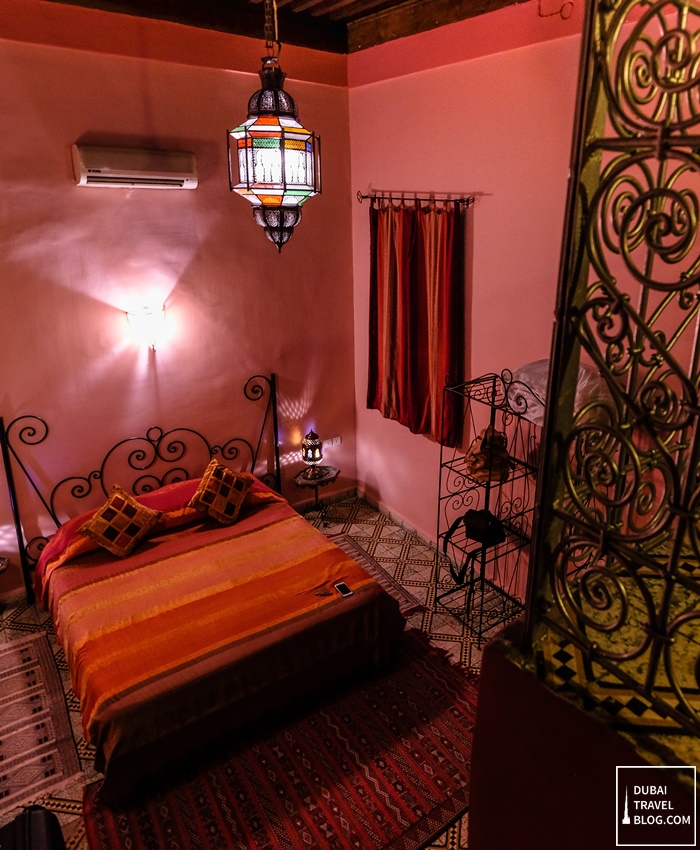 our bed
Whether you are just stopping by or planning to thoroughly explore the city of Fez, the Riad Dar Tafilafet is one of the best options. If you are looking for delicious food, courteous staff, and great customer service at an affordable price, this hotel is definitely worth your money!
Riad Dar Tafilalet Contact Information
Hotel: Riad Dar Tafilalet
Type: Budget Hotel
Address: 17, Derb el Mitter Zenjfor, 30008 Fez el Karaouiyne, Medina Fez
Contact Number: (00212) 535635162
Website: http://www.riadtafilalet.com/site/
Book a room in this hotel here – Riad Tafilalet via Booking.com
Google Map Location
Below is a Google map location of Riad Dar Tafilalet for your reference. We had to walk through alleys to get to the riad (we asked people around for help and they gladly directed us how to get to the hotel). Better also to get the contact details of the hotel so you can call them once you arrive.