Hilton Hotels & Resorts, one of the largest hotel brands in the world, has launched a new luxury property situated in Tangier, Morocco. This premier full-service hotels and resorts has opened its doors to Hilton Tangier Al Houara Resort & Spa which is set on a relaxing beach. We have only been to Fez and Chefchaouen, Tangier is one of the other destinations we'd like to visit when we come back to this country.
This is the 3rd property of Hilton hotels in Morocco and offers an oceanfront. This is also Tangier's largest spa and meetings and events space. With its upscale accommodations, beachfront location and extensive range of leisure facilities, the resort is an oasis for relaxation and rejuvenation.


Hilton Expands its Presence in Morocco with Opening of Hilton Tangier Al Houara Resort & Spa
The 304-room Hilton Tangier Al Houara Resort & Spa is located within a protected national park, offering direct access to five kilometers of idyllic white sandy beach. Tangier, a cosmopolitan port-city on the Strait of Gibraltar is the embodiment of culture with its UNESCO sights and nearby attractions, such as The Kasbah. Famous for its year-round pleasant weather and beautiful beaches, the city is seeing increasing numbers of visitors every year.

"Morocco is a flourishing tourism destination which welcomed more than 12 million visitors last year," said Rudi Jagersbacher, President, Middle East, Africa, and Turkey, Hilton. "We are delighted to be expanding our footprint in the country and hope this will continue to support the Moroccan government's tourism ambition to make Morocco one of the top 20 tourist destinations in the world by 2020."


Additional hotel features include:
Relaxing amenities
Spread across an impressive 850m², the hotel's eforea spa is equipped with state of the art treatment rooms, a beauty salon, hairdresser, jacuzzi, sauna, steam room and a 24/7 gym. For those looking to perfect their swing during their stay, the hotel offers two spectacular golf courses alongside a Golf Academy.

With a fantastic kids club on-site along with two outdoor pools, the hotel offers great facilities for families travelling together.
Meetings and Events
The perfect location for any meeting, event or wedding, the hotel boasts 4500m² of flexible event space with capacity for up to 1400 guests. The hotel offers 15 flexible meeting rooms as well as two pillarless ballrooms. With an expansive foyer that leads to an outdoor terrace, the space is ideal for hosting coffee breaks, cocktail receptions and buffets.

Dining
The culinary experience is at the heart of the hotel, which boasts five restaurants and bars. Guests can enjoy a variety of delicious food options from the hotel's five dining outlets. The fine dining restaurant, L'Olivier, serves gourmet Mediterranean food. Light bites and creative cocktails are available at the Rose bar in the lobby, and poolside snacks are available at Tucano Day & Night Gastrobar, which transforms into a vibrant experience in the evening, with a DJ and selection of tapas available day and night.

For a sophisticated lounge experience, guests can visit Cig'Art lounge, which has a collection of premium whiskies, spirits and cigars. Last but not least, the all-day buffet dining restaurant, Argan, serves international cuisine, and room service is available 24/7.

Contemporary Guest Rooms
Boasting 304 exquisite rooms and suites, including 50 apartments, all guestrooms feature a blend of Moroccan and international design touches with private balconies overlooking either the Atlantic Ocean or 11 hectares of garden.
"We are excited to introduce Hilton Tangier Al Houara Resort & Spa to our growing brand portfolio," said Vera Manoukian, senior vice president and global head, Hilton Hotels & Resorts. "The opening of this property highlights our commitment to expanding in key destinations across the world, in the world's most sought-after destinations for guests who know that where they stay matters."



The hotel is a short drive from Tangier Ibn Battouta Airport, which operates extensive routes to key destinations such as France, Spain and the UK. The resort is also close to highways that link Tangier to Rabat and Casablanca, making it easily accessible. Guests travelling to the resort from within Morocco can also opt to use the new high-speed bullet train, which links Tangier to Rabat, Casablanca and Marrakesh.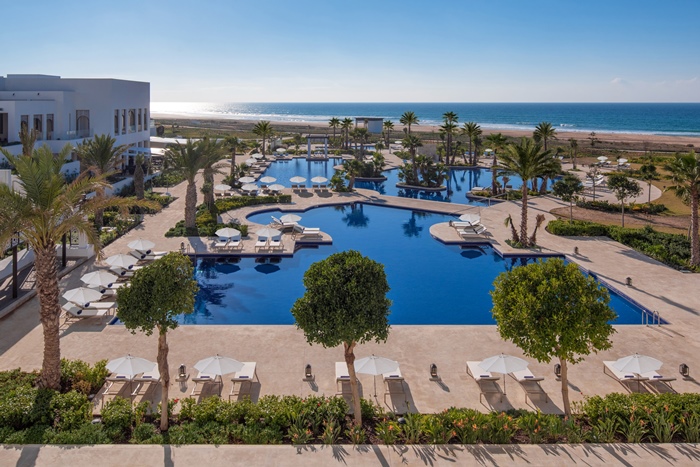 Contact Information
Address: KM 19.8 ROUTE NATIONALE TANGIER-ASILAH, TANGIER, 90000, MOROCCO
TEL: +212-539-409400
FAX: +212-539-409401
Website: https://www3.hilton.com/en/hotels/morocco/hilton-tangier-al-houara-resort-and-spa-TNGAHHI/index.html
Google Map Location
Below is a map guide to the location of this luxury resort in Tangier, Morocco:
Images: Supplied