We stayed at the Tbilisi Marriott Hotel during our recent trip to Georgia. This is a a very lovely hotel located at the city center and only within 20 minutes from TBS airport. This five-star hotel was our home for four days during our busy trip.
Also Read: 13 Reasons to Visit the Beautiful Country of Georgia
The Tbilisi Marriott Hotel offers the modern-day traveler a  home to explore the appealing history and culture of the capital city of Georgia. Built from a 100-year-old building, the hotel itself provides a rich past which is also a central area to explore the main district. Just seeing the building from the outside is already a sight to look at.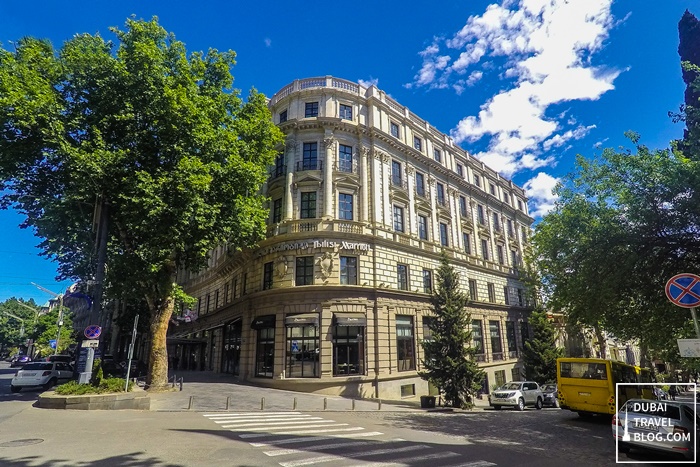 beautiful hotel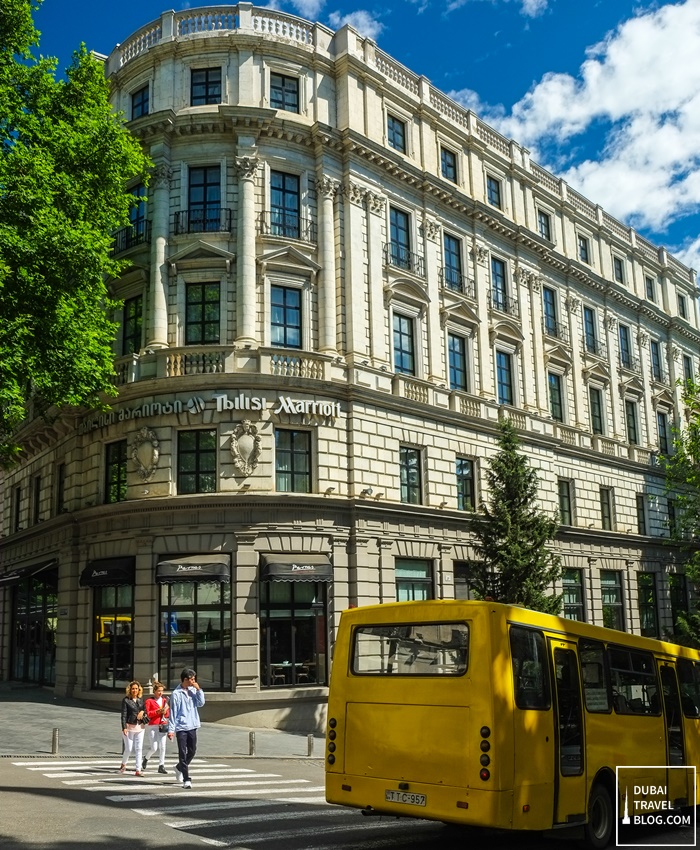 this building is 100 years old
Tbilisi Marriott at the City Centre of Tbilisi, Georgia
Guests of the hotel are mostly business travellers and hotel management and staff ensures great privacy and a refined experience for everyone. We were greeted and treated attentively by their professional staff.
Beautiful Lobby
They have an attractive lobby with high ceilings, grand crystal chandeliers and luxurious furnishings that impress you as you step foot inside the hotel. This makes for a stylish venue and meeting area or social gathering.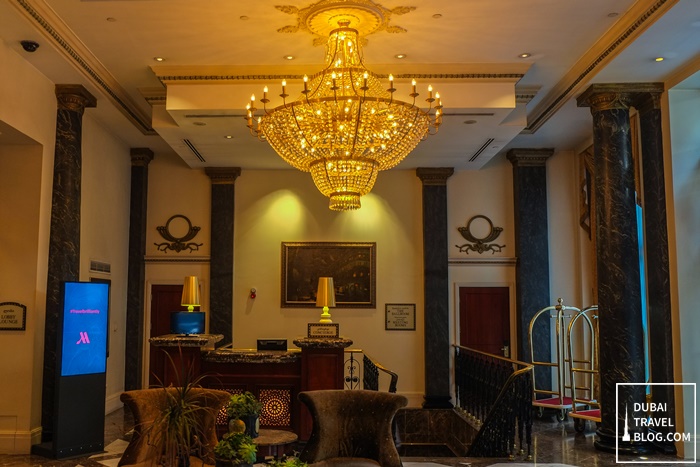 lobby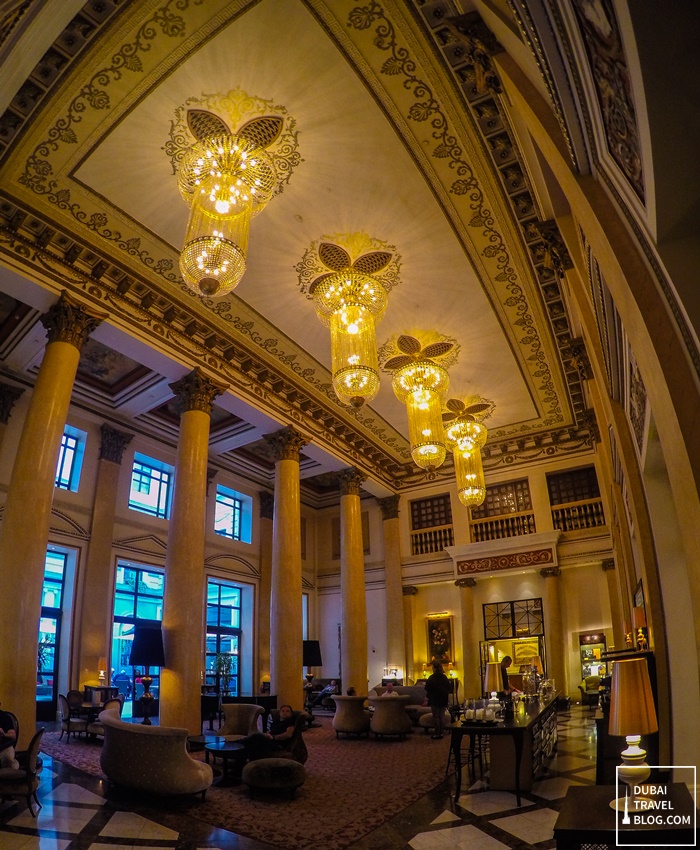 behind the main lobby is a lounge area with beautiful chandeliers and high ceiling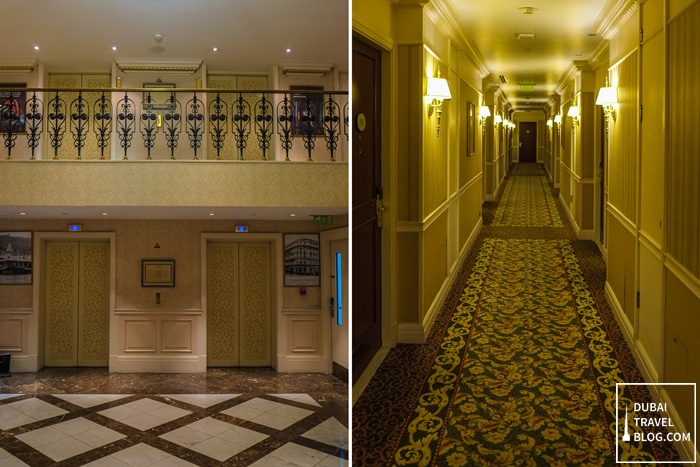 elevator and hallway
Deluxe Bedroom
Check-in was quick and we went up to our room in the third floor. We were given a Deluxe Bedroom. To be honest, I was expecting the room to be very spacious. Blame it on the usual sights of rooms we see in hotels in Dubai where space is really grand. But after settling in, the room actually has enough space to move around. I realized we're just spoiled that much in Dubai. 😉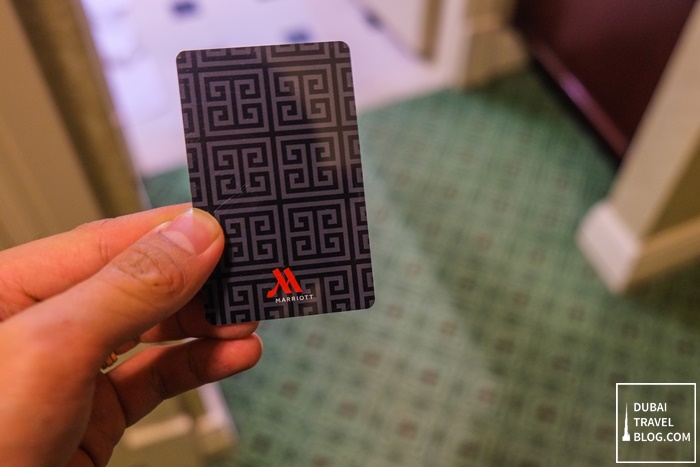 Marriott Hotel key card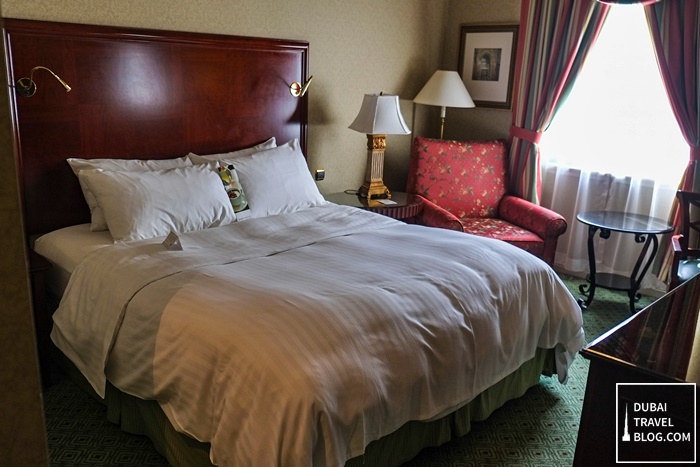 Deluxe bedroom – King size bed
Marriott Bed and Pillows
My wife and I don't really need much when it comes to accommodation during our travels as we just want a comfortable and private place to sleep. But let me just say that the bed and pillows were so soft and comfortable that when we would lie down, apart from the being tired during the day, we could easily have a full night's rest.
The bedding and pillows make for a great sleep experience that I really looked forward to our room whenever we're finished with our day tours.
inside the room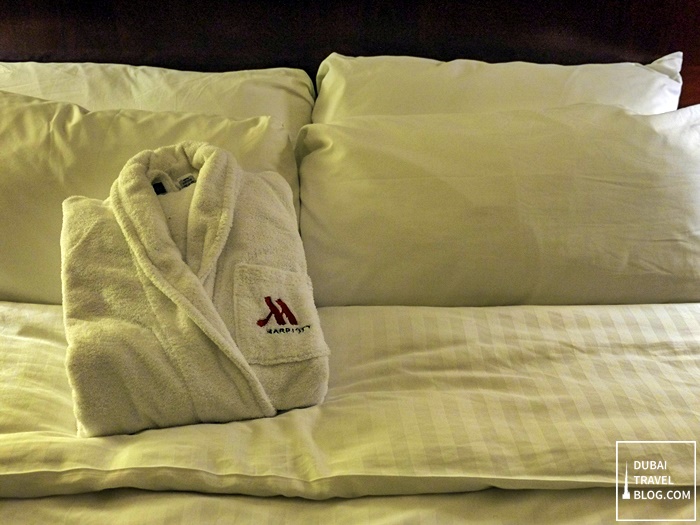 the pillows were very plush and comfortable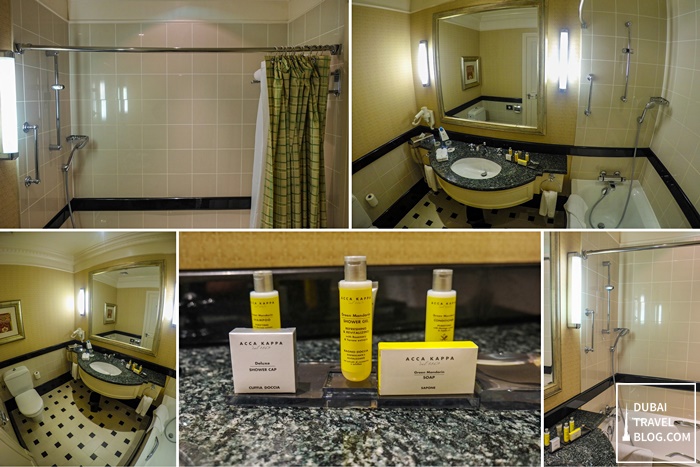 bathroom with marble tiles
ACCA KAPPA hotel amenities
Breakfast at the Parnas Cafe, Lounge & Restaurant
Our breakfast was held at the Parnas Cafe, Lounge & Restaurant and they have ample selection of breakfast menut items like bacon, eggs, sausages, pies, break and pastry, fruits, cold cuts, yogurts, salads, etc.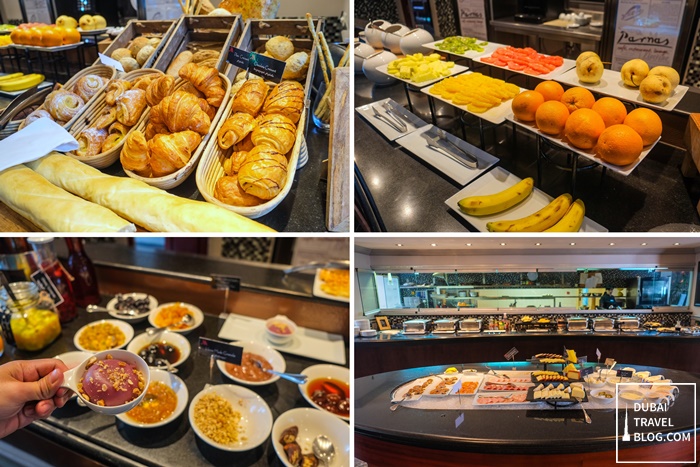 good breakfast options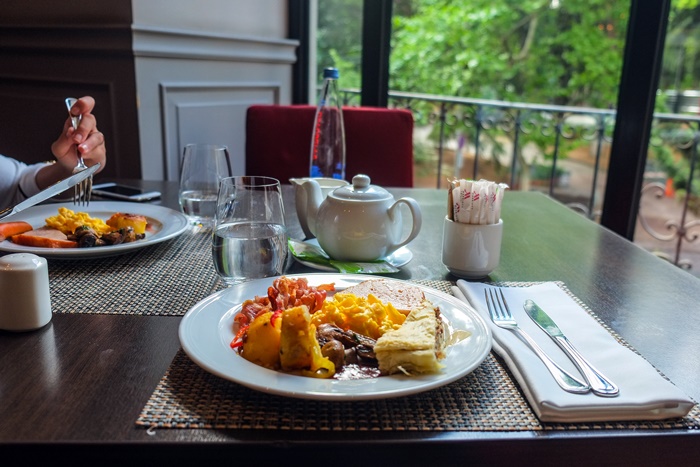 breakfast at Parnas Cafe, Restaurant & Lounge
Aside from the buffet, the natural light and the view of the streets outside makes for a great dining experience to start your day.
One night as well, we went to the other side of the restaurant where there's a lounge and bar area. We had some late-night tea and desserts. The restaurant features an international menu and has a bar for you to unwind with a delicious dinner or some cocktail drinks.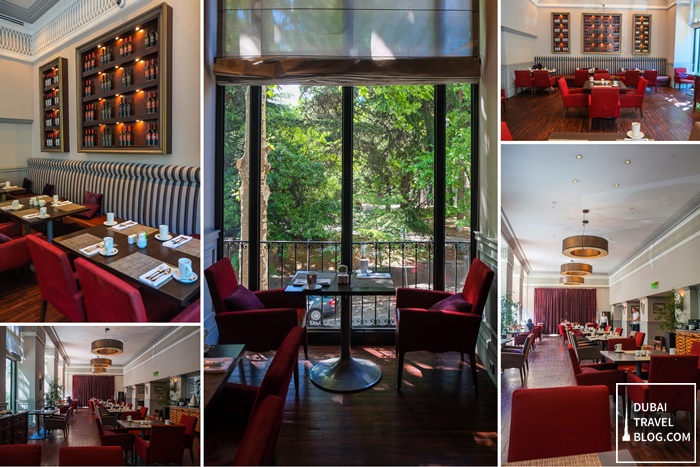 inside the stylish restaurant, you get a lovely view of the street from the windows
Parnas Restaurant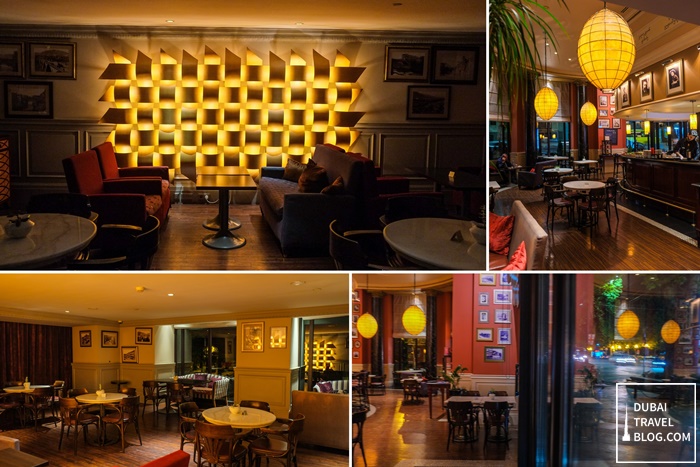 Parnas cafe, restaurant and lounge
Health Club and Fitness Centre
The hotel has a health club and spa available so for those who wish to lift some weights or get some cardio done, you may do so.
They do not have an swimming pool but if you are a guest and you wish to swim, you can arrange a visit to their other hotel (Courtyard by Marriott) so you can visit their indoor pool. We will post another review of Courtyard by Marriott which is actually within walking distance from this hotel.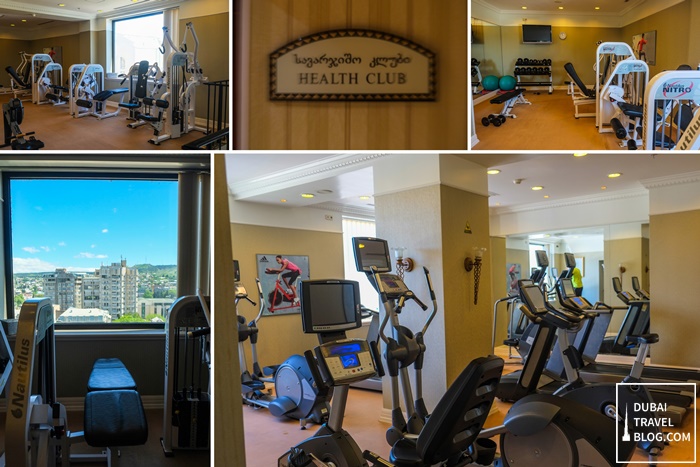 health club and fitness centre
this indoor pool is in their other hotel (Courtyard by Marriott), guests can arrange a visit to Courtyard by Marriott which is just within walking distance from Tbilisi Marriott
Tour of Other Rooms in the Hotel
Aside from staying in our Deluxe bedroom, we had the opportunity to tour other rooms of Tbilisi Marriott Hotel. For those who want more space, you can book a night at their Junior Suites. If you're feeling more extravagant, you can also book their Presidential Suite Room.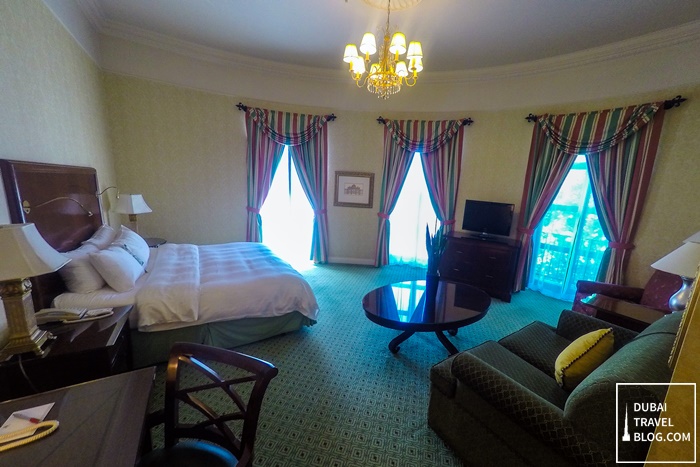 Junior Suite Room
Junior Suite Bathroom
Presidential Suite at Tbilisi Marriott Hotel
Tbilisi Marriott has hosted important people such as politicians and celebrities. Some of the clients of the presidential suite were US President Bush and English singer & songwriter Robbie Williams.
king-sized bed at the Presidential Suite
Marriott Presidential Suite Bathroom
inside the huge Presidential suite in Marriott Tbilisi hotel
terrace area of the Presidential Suite
view from the terrace
Patio
Next to their atrium is their patio. Guests can go out for some fresh air while still inside the hotel vicinity. Looking at the sky above from this area is another thing to mention as it's just wonderful.
The hotel is very stylish and has lovely interiors that it's actually not difficult to take pictures because how beautiful and elegant it already is.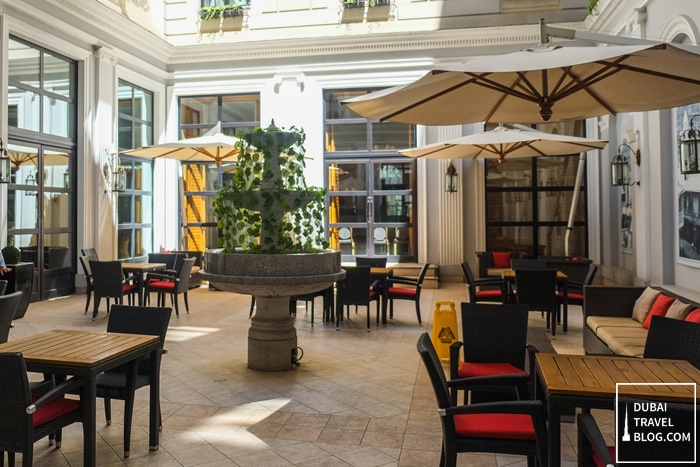 patio area
patio area of Tbilisi Marriott Hotel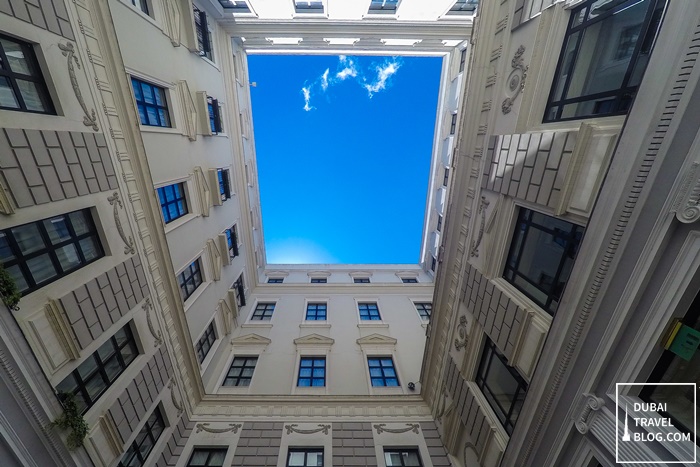 roofless courtyard
Tbilisi Marriott Hotel has a various offerings to make your stay enjoyable. The bedding, marble-tiled bathrooms, 24-hour service, entertainment options, as well as amenities like a fitness center and health club, sauna, restaurants make for a comfortable and delightful Tbilisi holiday.
A great and classic hotel and it's located in the city centre so it's easily accessible to various landmarks and tourist places in Tbilisi.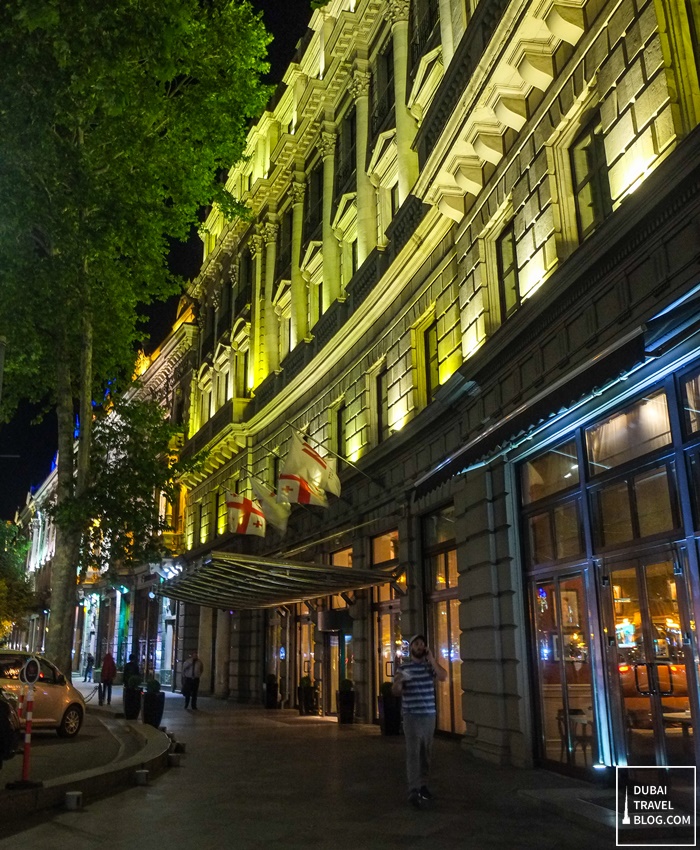 outside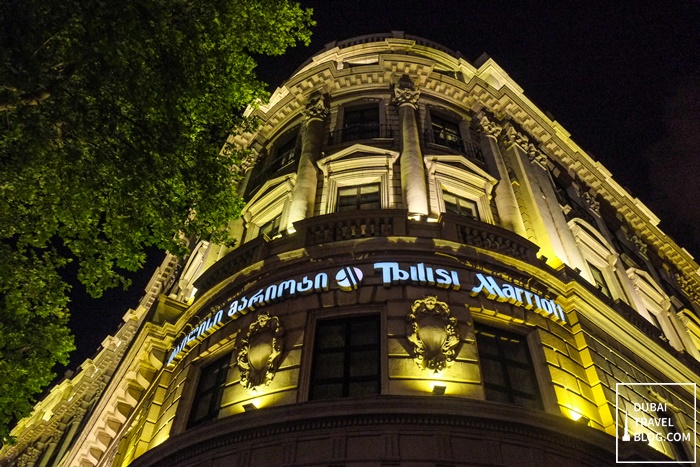 lights of the building at night
Our stay was more than a pleasant experience. Just the look of the building is already a sight to behold, but what's more is how well-rested we were despite how packed our itinerary was in our Georgia trip. If you plan to visit Georgia, you may check in this beautiful hotel for a truly refined stay.
Tbilisi Marriott Hotel Contact Information
Address: 13 Shota Rustaveli Ave, Tbilisi 0108, Georgia
Phone: +995 322 77 92 00
Website: http://www.marriott.com/hotels/travel/tbsmc-tbilisi-marriott-hotel/
Google Map
Below is map location to give you an idea how to get there.