Located in Northwest of Morocco, Chefchaouen is an old town known for its blue-painted houses and structures, aesthetic medina, and the beautiful mountains that surround the little town. My wife and I arrived in the 'blue pearl of Morocco' after a 3-hour taxi ride from Fez. Here are some photos while exploring this place.
Passing through the Rif Mountains, the beauty of the blue town is already visible from there. Travelers can't usually avoid staring at the breathtaking views before and on arrival to the town.
Disclaimer: Pardon the blurry photos as I was still adjusting to my borrowed camera according to the weather condition and the usage. Yes – this should not be an excuse. 
Camera Used: Fujifilm X-T2 Mirrorless camera
Lenses Used: XF 10-24mm f/4 (mostly) and XC 50-230mm F4.5-6.7
Editing: Adobe Lightroom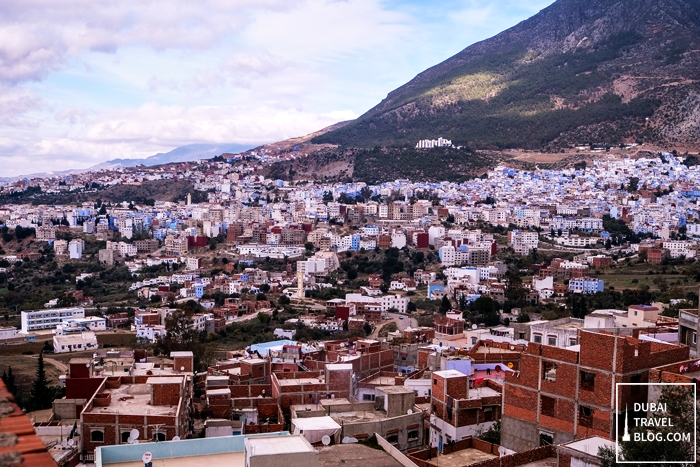 view of Chefchaouen and the Rif mountains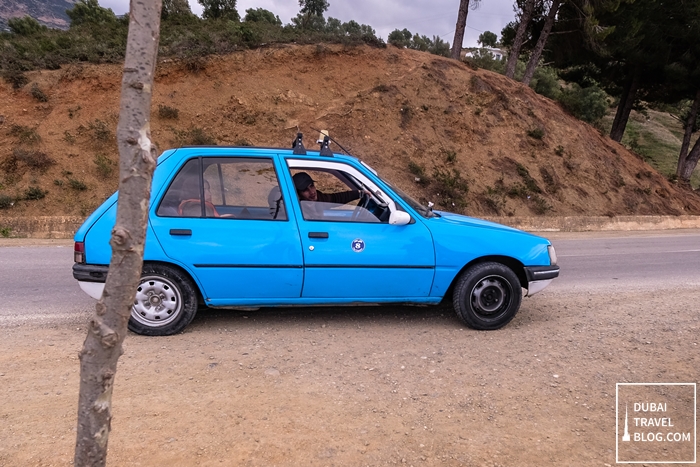 taxis in Chefchaouen are also blue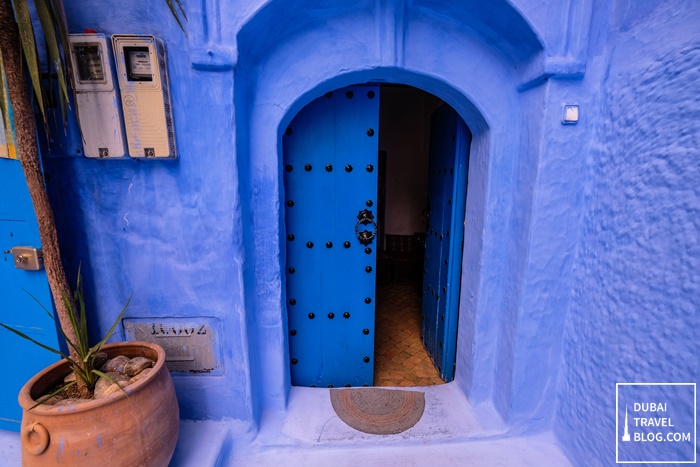 Casa Perleta – where we stayed for 2 nights
Photowalk in Chefchaouen with Fujifilm X-T2 and XF 10-24mm Lens
We arrived on a Sunday, around 4pm. After settling in our hotel (Casa Perleta) we chose to explore the city while there was still time. We were glad to have done so because the next day, it rained the whole day.
Probably the only way to explore Chefchaouen is by foot. You have to climb steps and walk through alleys to get around. The houses are set up on hills and as you explore its blue-painted walls, you will find small shops selling souvenirs, groceries, carpets and other daily items.
If you ever get lost while strolling in the medina, you won't be scared, you will love it instead. You will pass by these alleys and corners selling what-nots. merchandise. You can find souvenirs and local handicrafts, carpets, soaps and spices. You can even watch how the Moroccan artisans and craftsmen make those souvenirs right at the shops.
Unlike any other Medina in Morocco, Chefchaouen is not so complicated and is unique as its architecture offers a special taste of art. The sight of the two mountain peaks from the town is breathtaking.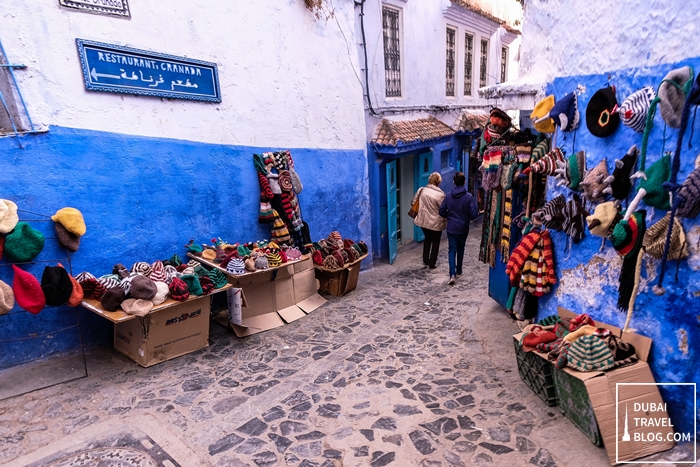 started walking and exploring the area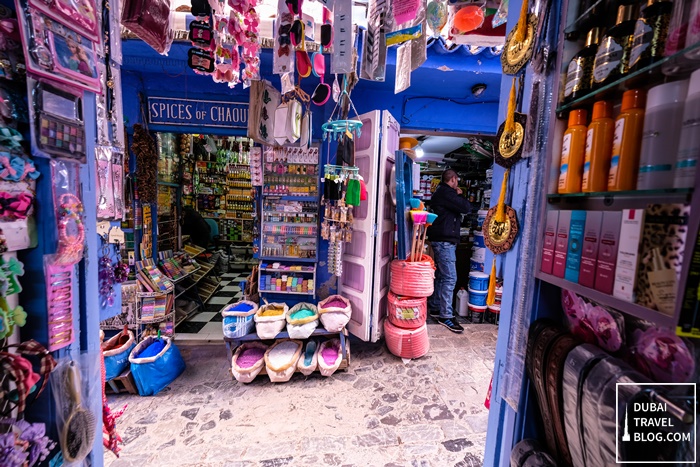 bought some items from the nearby grocery shop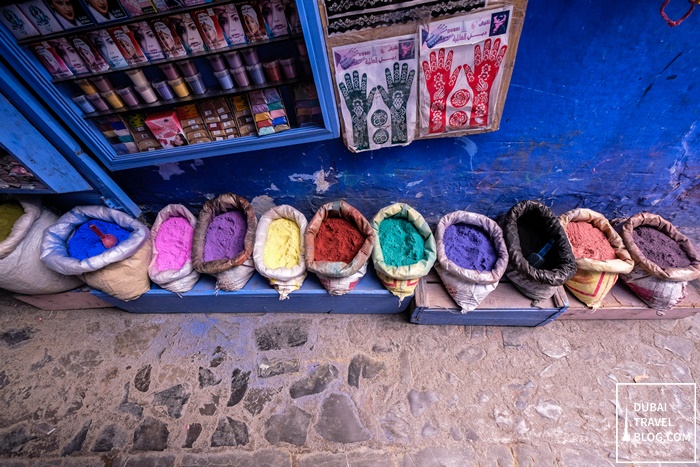 colorful spices
Why are the houses in Chefchaouen painted Blue?
Why are they painted blue? One of the locals in our hostel mentioned that it's to ward off ants, another local said it was to repel mosquitoes. Those were some strange answers, but something we didn't bother asking further as it seems to add to the town's charm.
Based on websites after a few Google searches, the white-washed blue-painted houses were a tradition brought by Jews settled in Chefchaouen in late 1400s and has since become a tradition. But to be honest, not all houses are painted blue, and when you see it from afar, it will be evident. Or maybe they're not yet finished.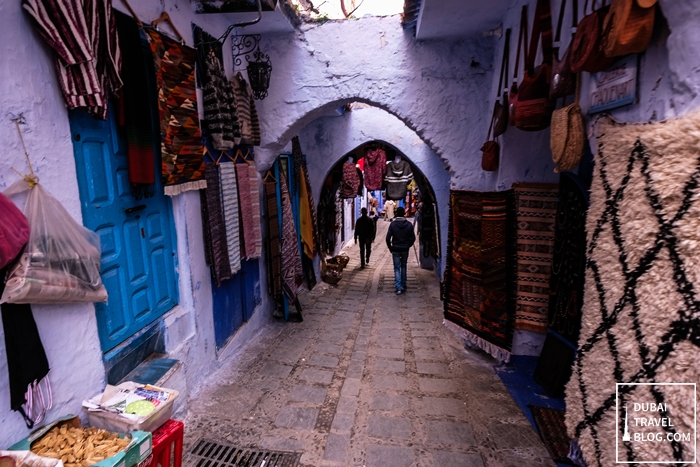 passing through more alleys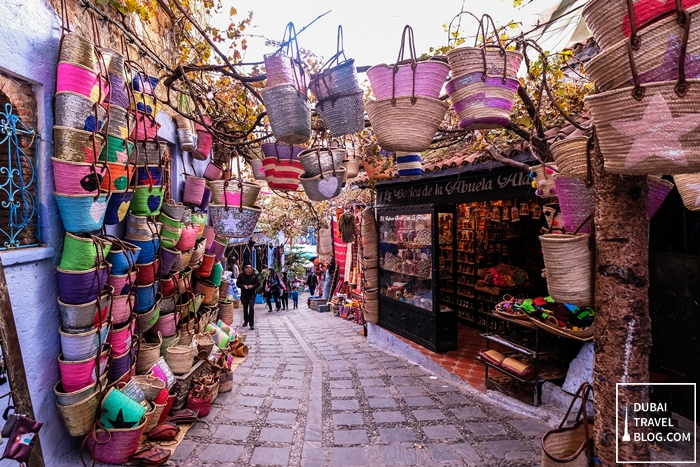 handicraft bags on display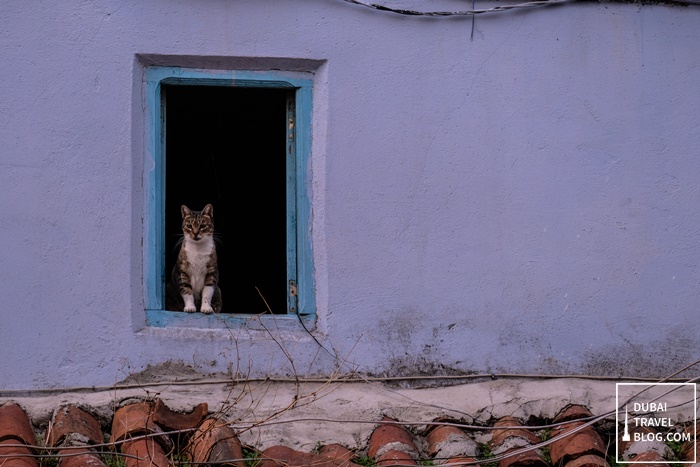 plenty of cats in Chefchaouen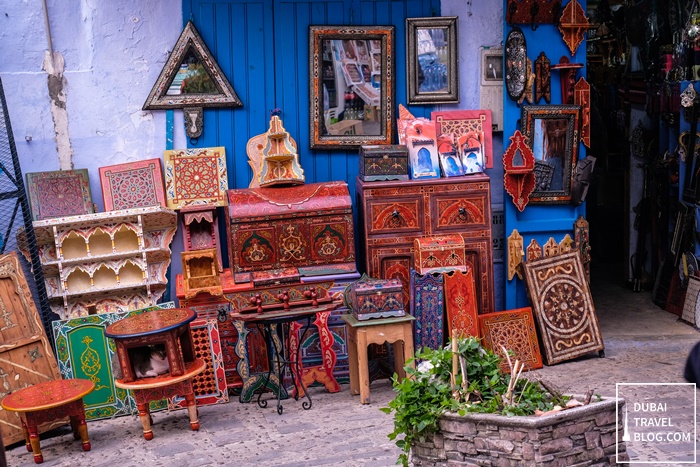 wood tables, chest boxes, cabinets, shelves, Morocco makes beautiful art out of these crafts
Tourist Attractions in Chefchaouen
Plaza Uta El Hammam is a good stop. It's the town's main square where you'll get a view of the Great Mosque and check out the Kasbah, an old fortress which is also a museum and an art gallery. If you're a bit more adventurous, you might also want to consider hiking the Rif Mountains, about 800 meters altitude, near Marrakesh. These are the greenest mountains in Morocco. It has caves which used to be rivers and transformed through the ages of time.
Chefchaouen is prettier than what I can describe. If you consider this blue town of Morocco to be on your travel wish list, then there are lots of hotels or travel packages you can choose on the internet that can help you decide where to stay so as to enjoy the best out of your stay.
Below are the rest of the pictures during our 2-day stay in the city.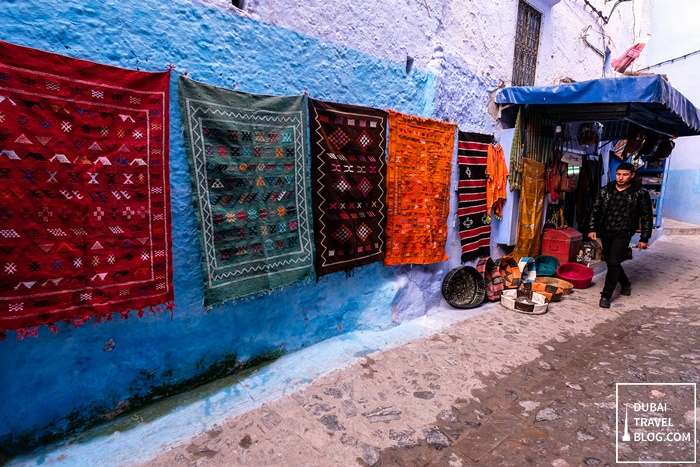 carpets for sale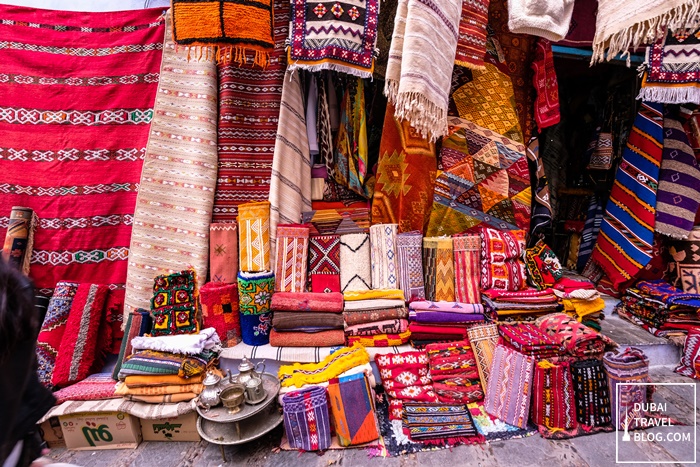 bought one of these – learn to haggle to get them at a bargain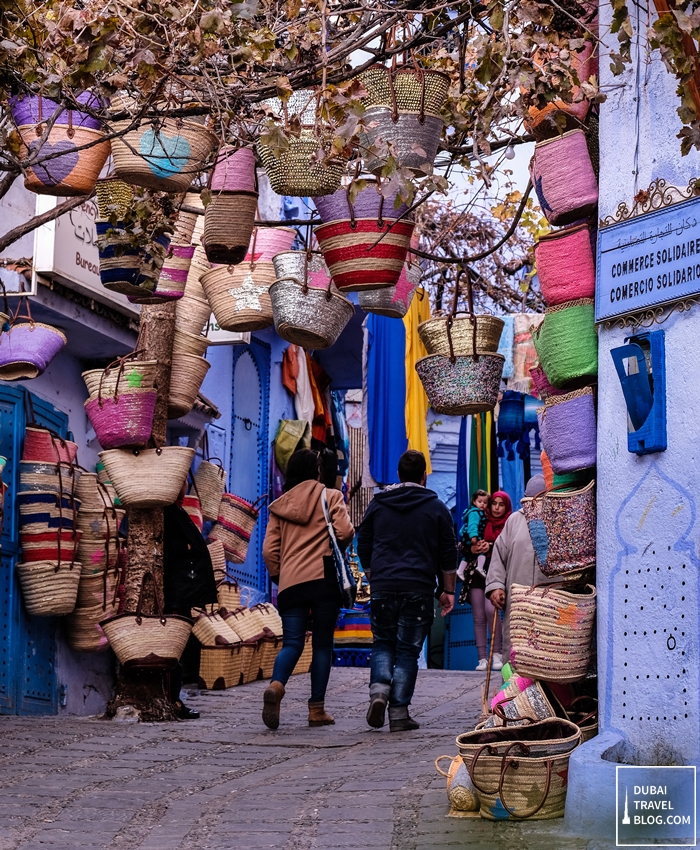 but when you bargain, make sure you leave some for these sellers to profit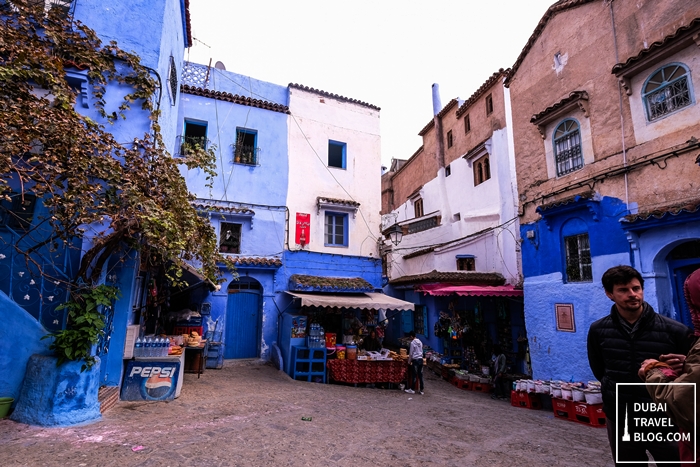 blue houses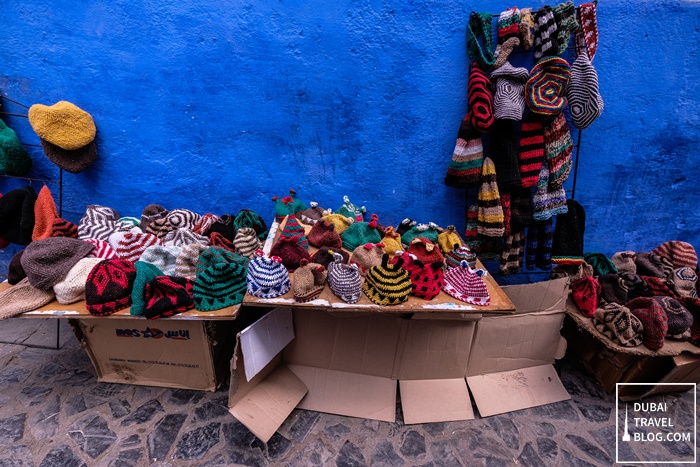 hats and beanies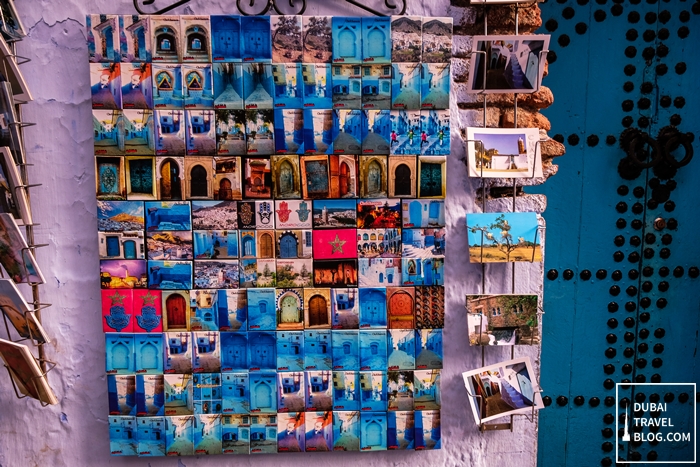 fridge magnets in Morocco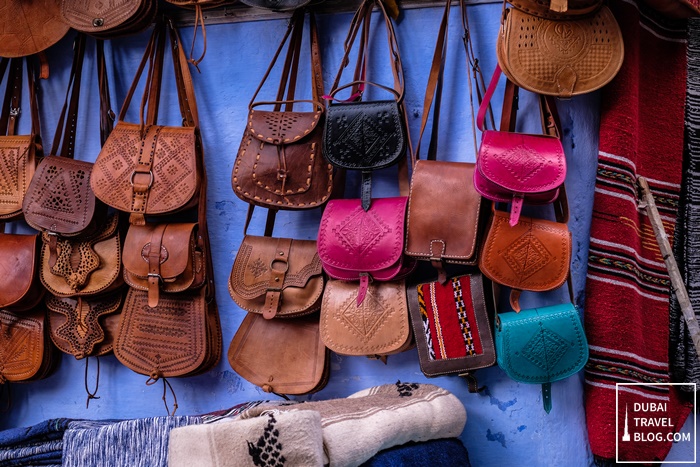 leather bags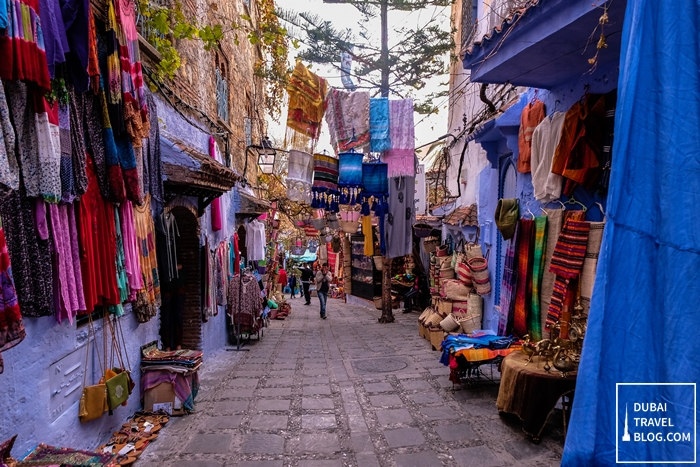 clothes, house stuff, all pieces of artwork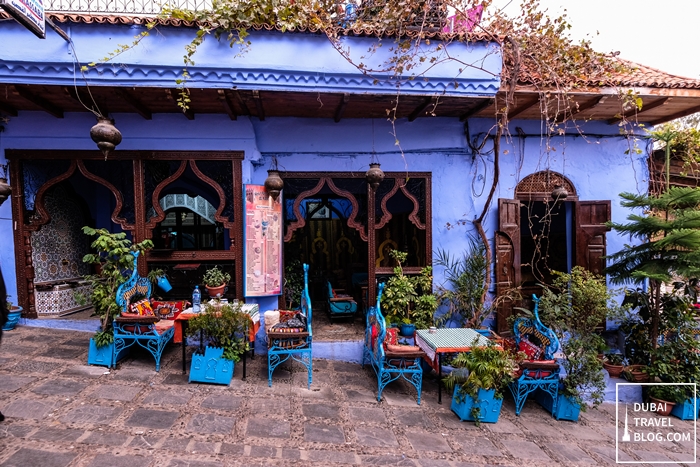 restaurant where we stopped by to eat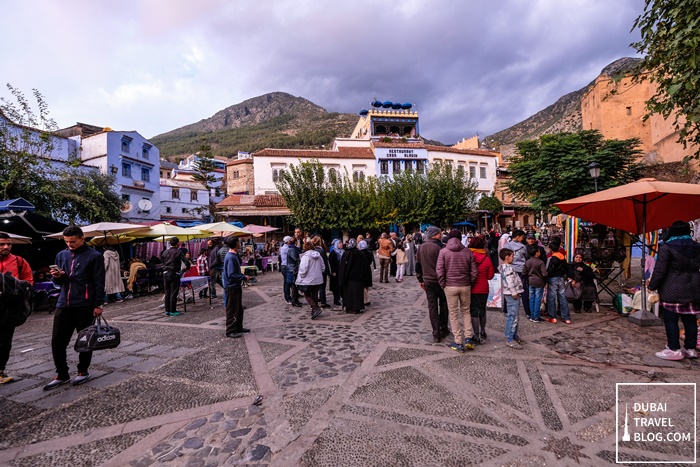 town square – medina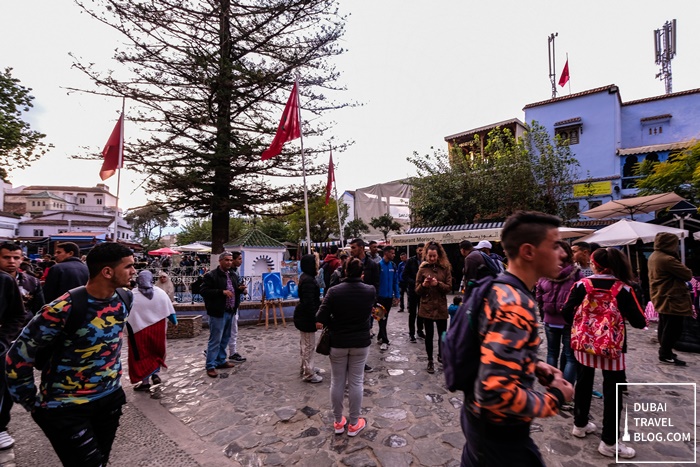 it was a Sunday, a busy day to go out with family in the central area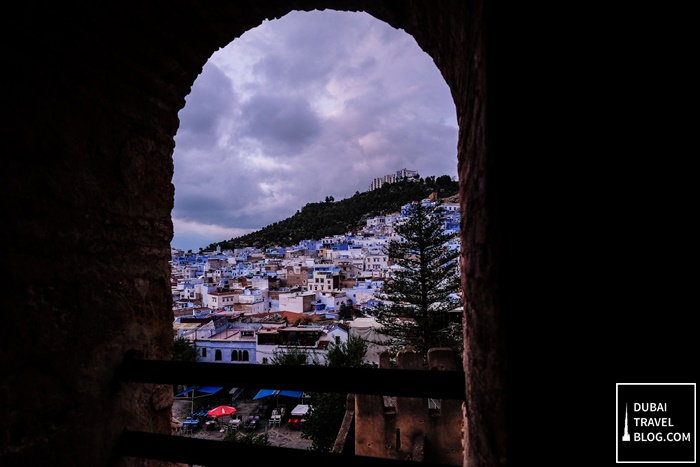 we went inside Al Kasbah – a walled fortress in the medina.
climbed up and saw a view of the town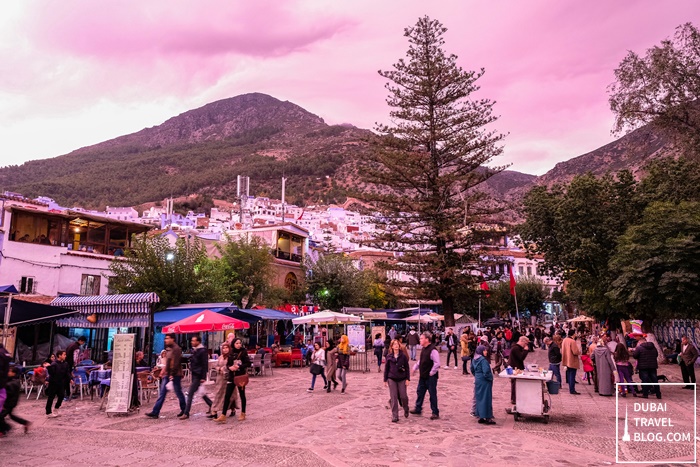 turning dark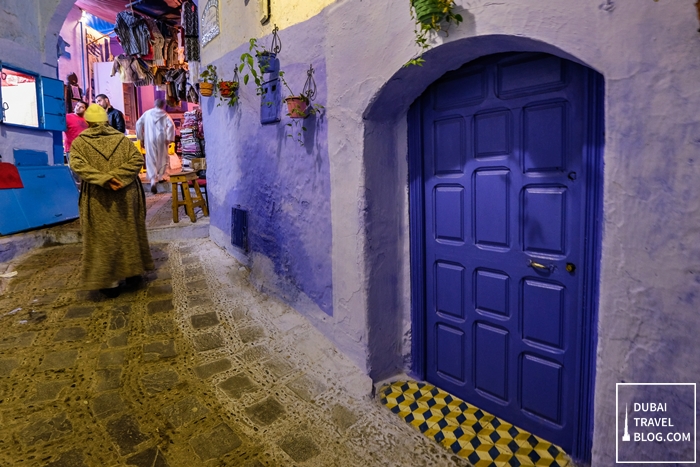 still passing through alleys, it was a cold winter season in Morocco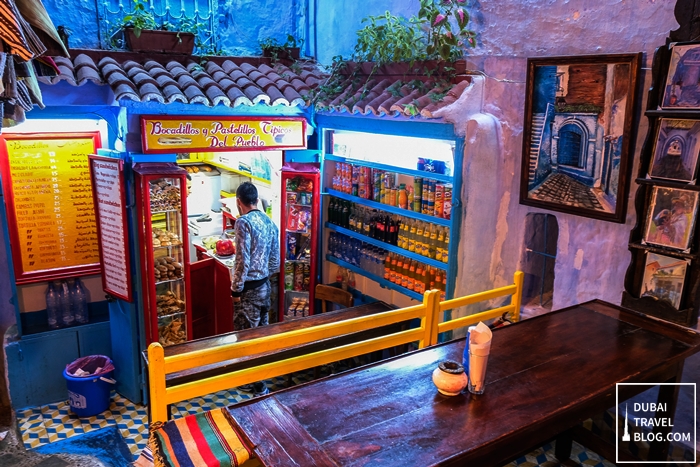 a shop selling pastries and Arabic sweets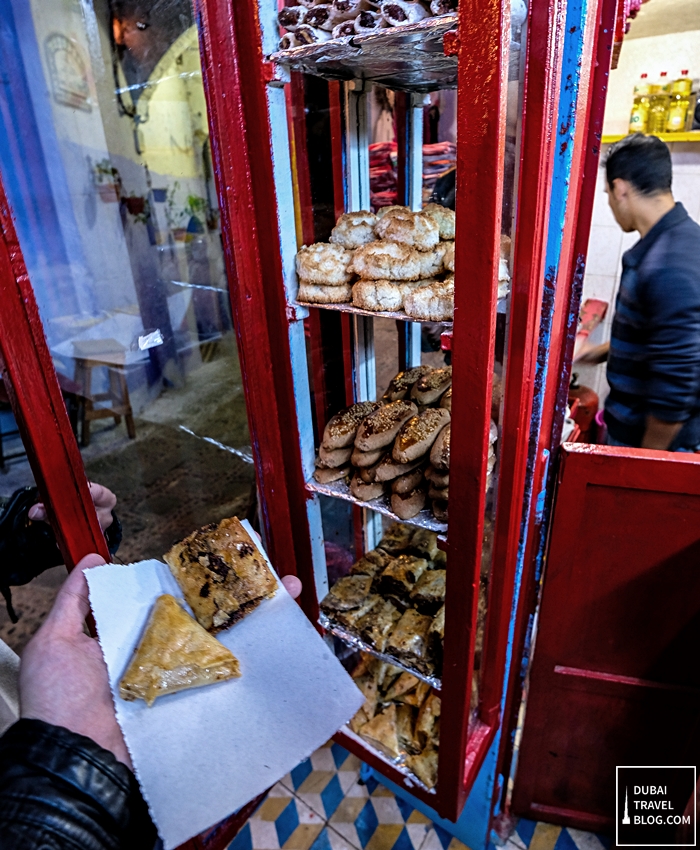 Arabic sweets – baklava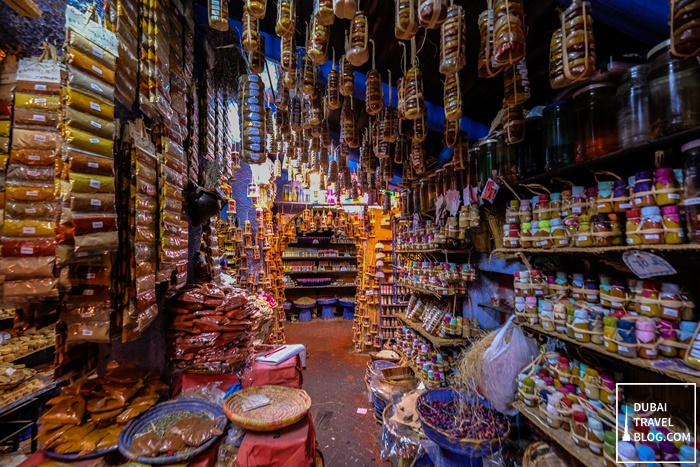 La Botica de la Abuela Aladdin – shop selling soaps, spices, etc. – will blog about this soon!
soaps!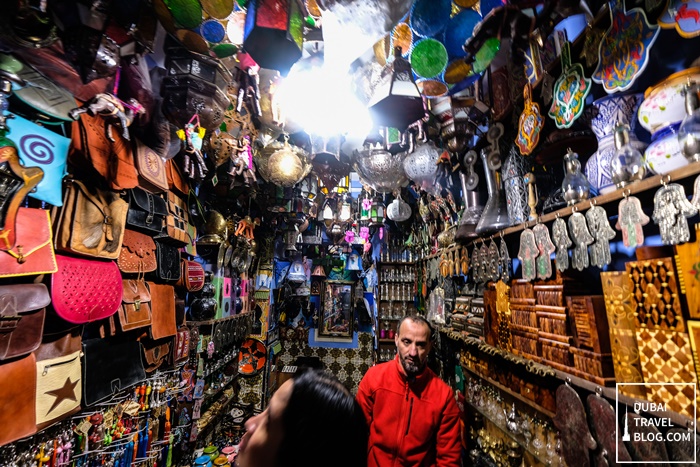 inside a shop selling souvenirs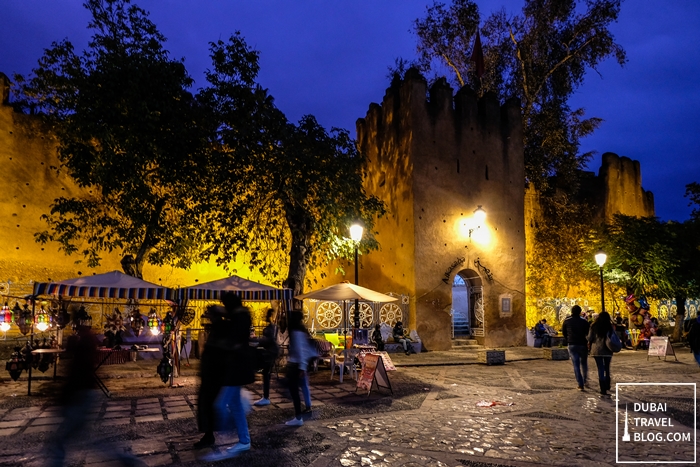 Al Kasbah entrance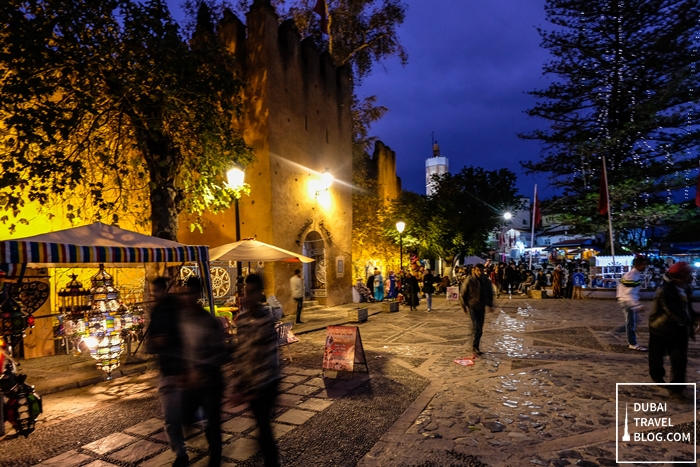 Chefchaouen townsquare at night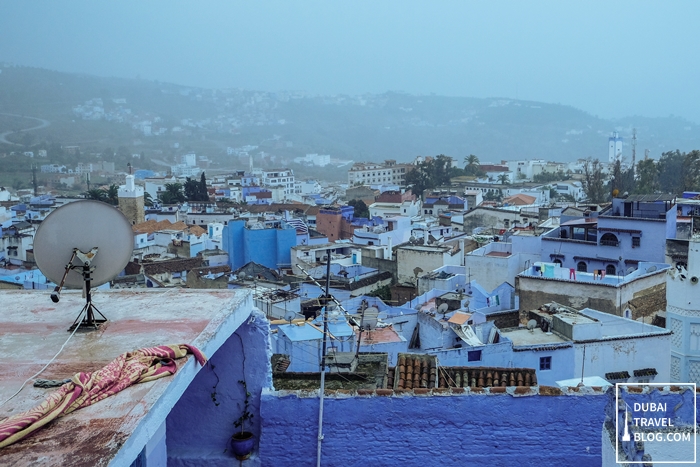 the next day, it was raining the whole time!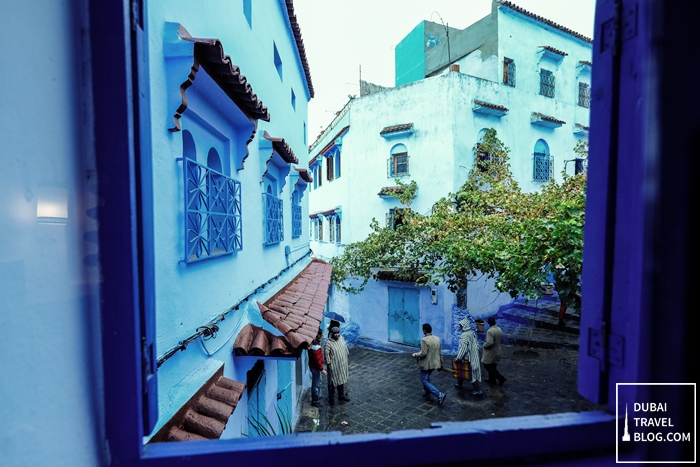 waking up with this view – a rainy morning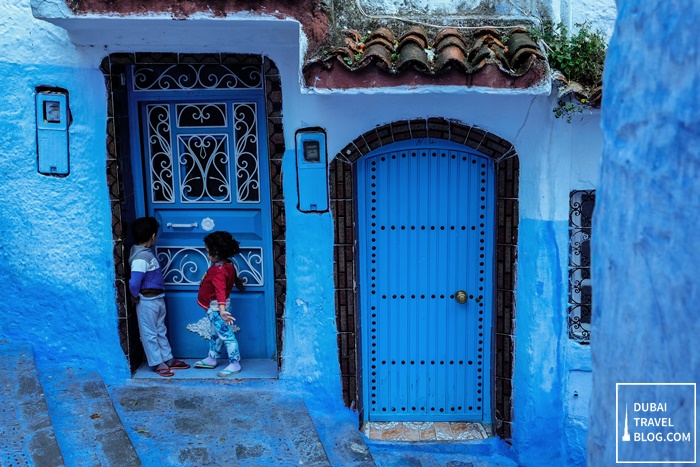 I told these kids that I'd take their pictures and they became shy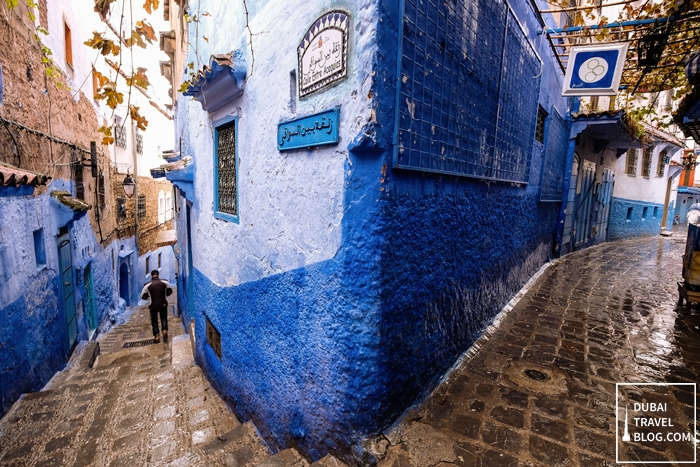 pass through steps and stairs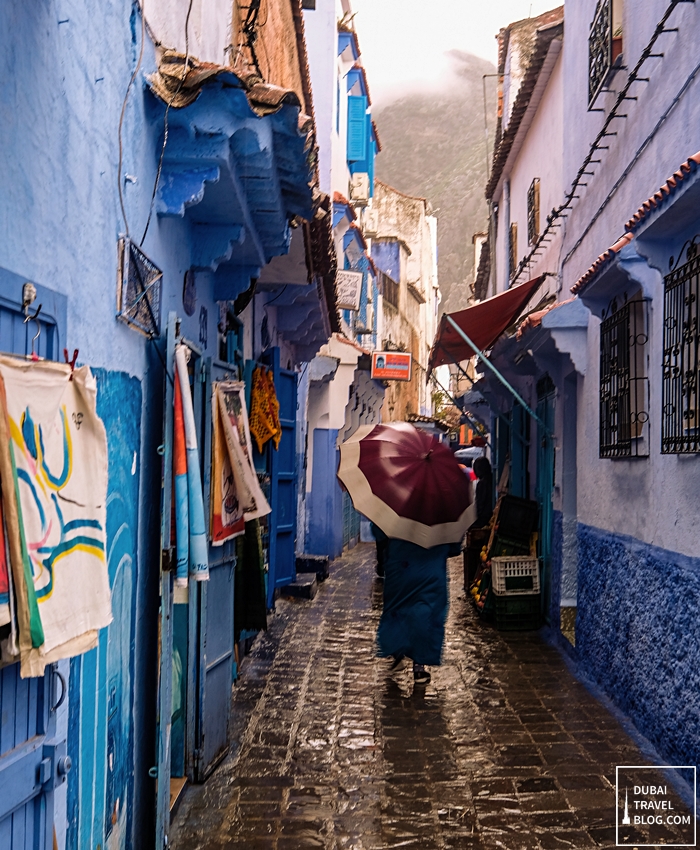 raining in Chefchaouen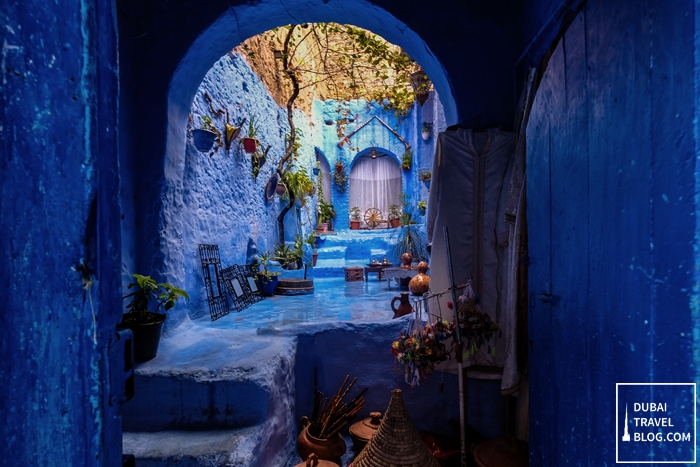 this door leads to a small area where you can have a photo op for a small fee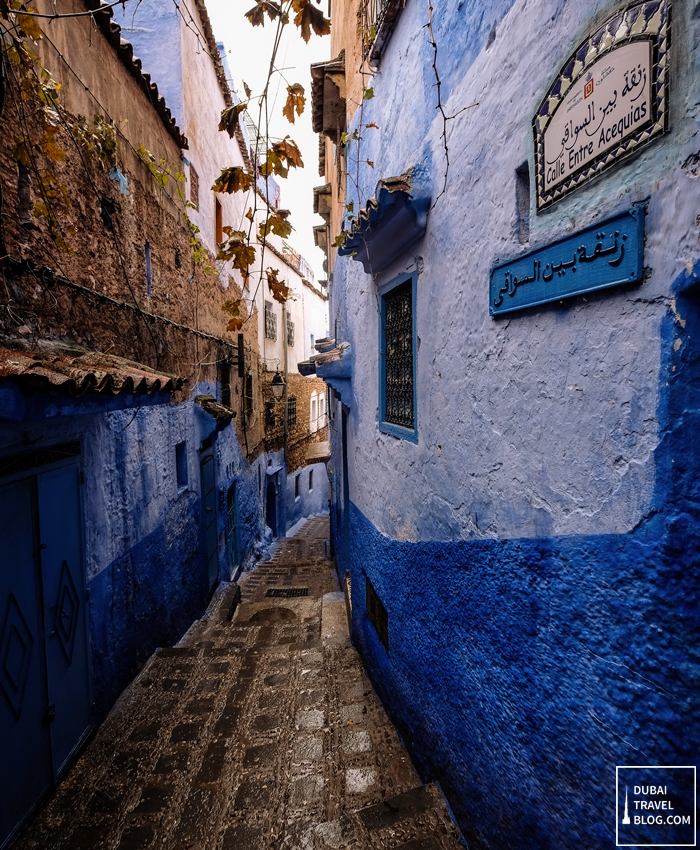 the rain made the wet houses even bluer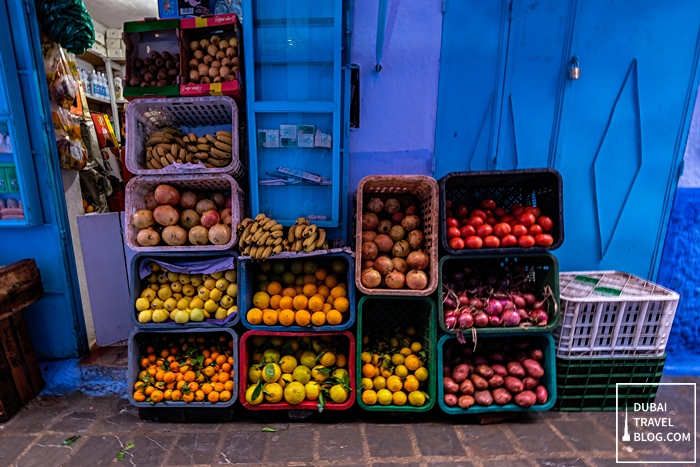 fruits for sale in the blue town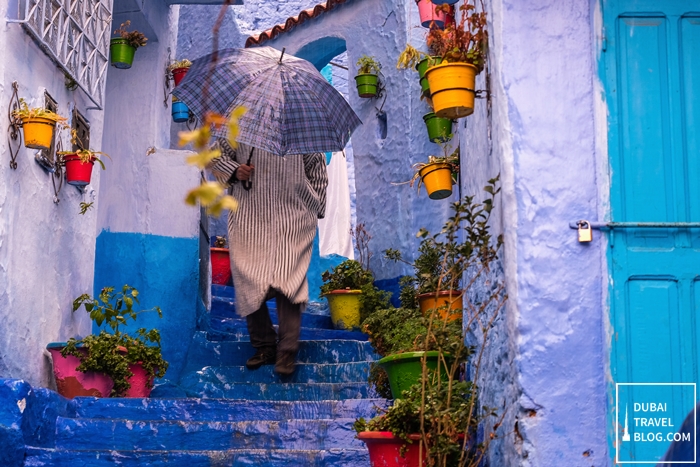 better wear comfortable shoes as you will hike and climb stairs as you explore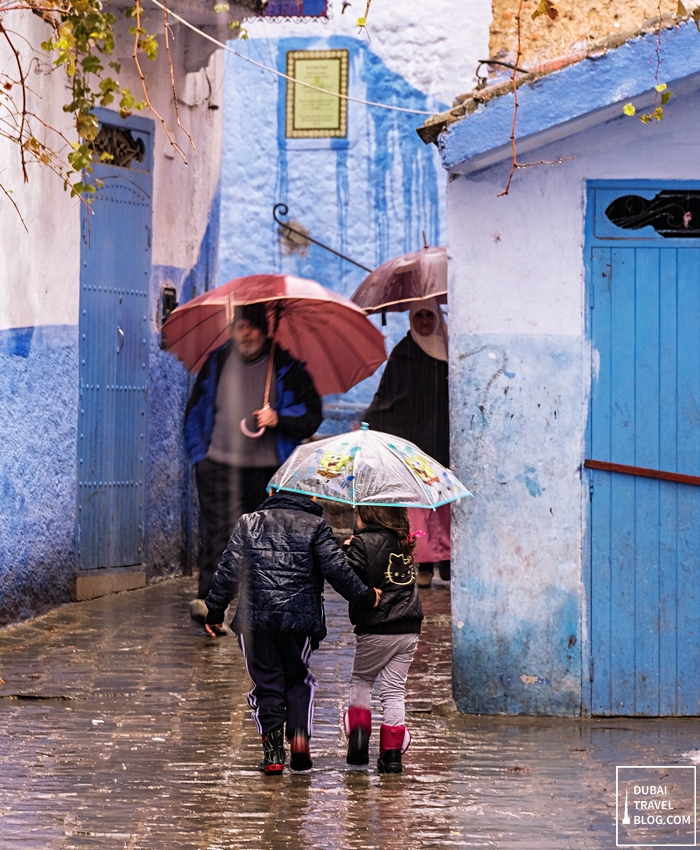 two kids under an umbrella
Tip: Make sure to check the weather (as with any trip). It was winter time so it was really cold during our visit.
Another Tip: We took a taxi from Fez to Chefchaouen as the public bus was already full. It's advisable that if you include Chefchaouen in your list of places to visit in Morocco, you should go to the bus station and buy some bus tickets the day before so you can still reserve seats when heading to this town. The taxi, although it was more convenient, the fare cost more.
All in all, our 2 days in the city was already enough, even if it was raining the whole time during our second day. I think this would also be enough for you if you plan to visit this blue town of Morocco.