Most of our dining experiences during our staycation at Swissotel Al Ghurair were spent at Liwan restaurant. Located at the lobby (3rd level) of the hotel, this is an all-day dining that offers a wide selection of international cuisine.
We've been to Liwan a few years back, and our experience was nothing short of exemplary. So it was great to revisit it again under the Swissotel management.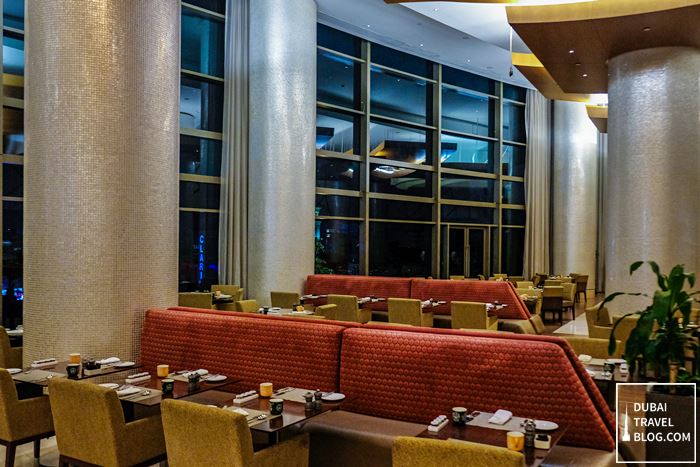 love the huge pillars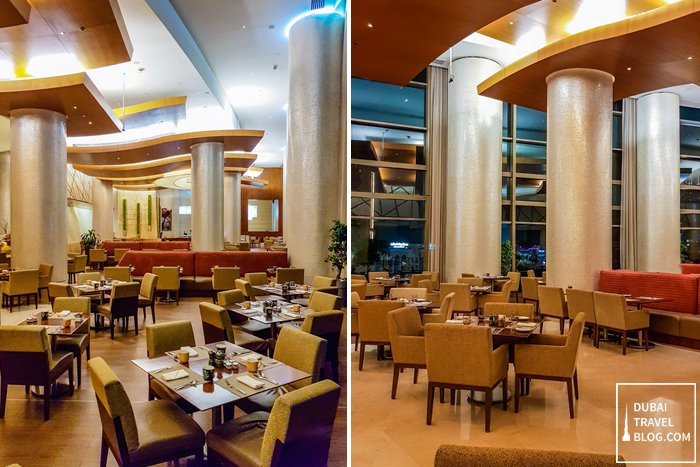 high ceilings
Restaurant Review: Liwan All Day Dining in Swissotel Al Ghurair
The restaurant features high ceilings and pearl-colored pillars that showcases an elegant and classy interior. It has a capacity to seat over 251 guests indoor, their outdoor terrace is able to seat 73 guests.
Liwan offers a daily breakfast buffet, lunch and dinner. They also have a la carte options.
Note: These were combined dinners during our two-day stay just in case you might think that we ordered a lot for two people. ;P
Appetizers / Starters
For starters, we had a Caprese salad, panko calamari (which looked like it was already a main course), vegetable spring rolls, and the chef's soup of the day. Though all of them were very good, I especially loved the panko calamari.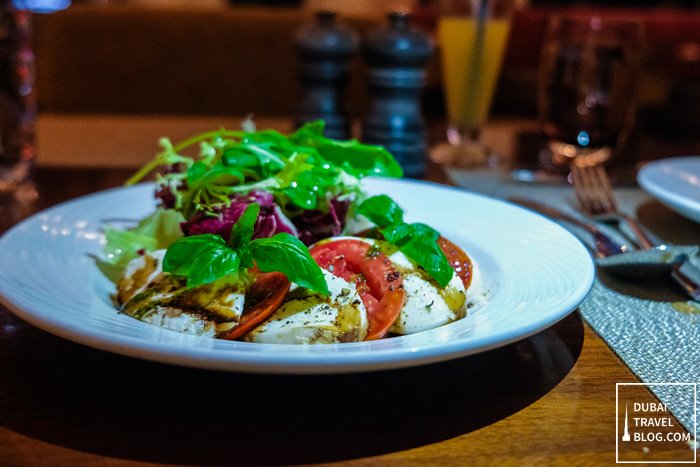 Caprese salad – AED 58
fresh tomato and sliced buffalo mozzarella drizzled with balsamic reduction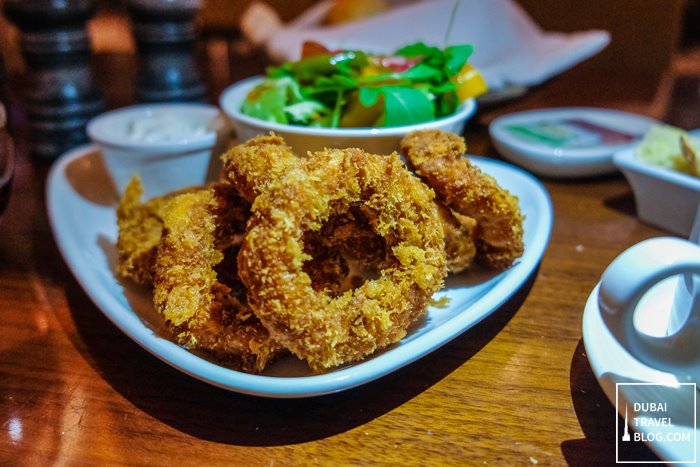 Panko Calamari – AED 44
panko crusted calamari, garlic aioli, salad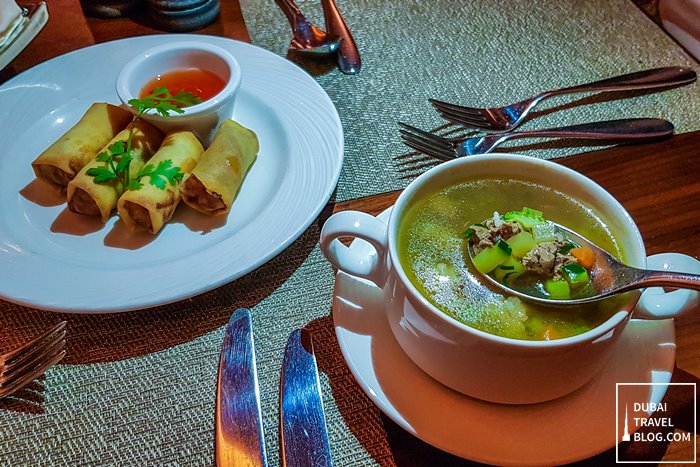 vegetable spring rolls and chef's soup of the day
Main Course
The main course dishes that stood out the most during the two nights were the Nasi Goreng Kampung and the Grilled Jumbo prawns.
I noticed that the quality of the food and presentation is of high-standard. This is, after all, a five-start property and the chef's and staff provided delicious food and lovely plating.
Green Thai curry, served with jasmine rice – AED 76
choice of vegetable, chicken
Norweigan Salmon Fillet – AED 72
corn and green peas broth, turned vegetable, lime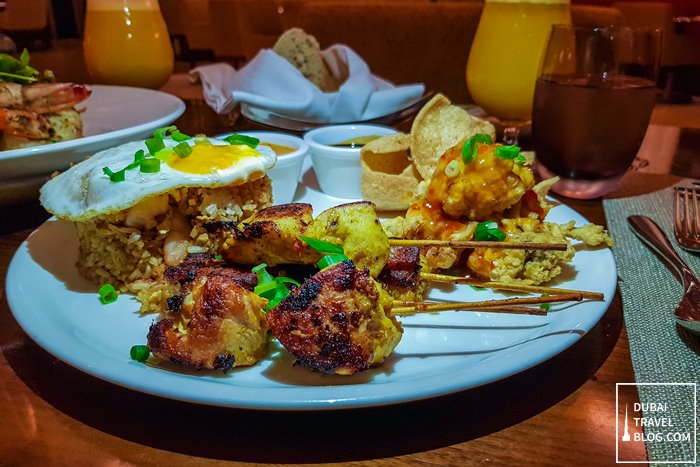 Nasi Goreng Kampung – AED 80
fried rice with seafood, chicken, vegetables, fried egg, chicken satay, prawn crackers, light peanut sauce, sweet soya sauce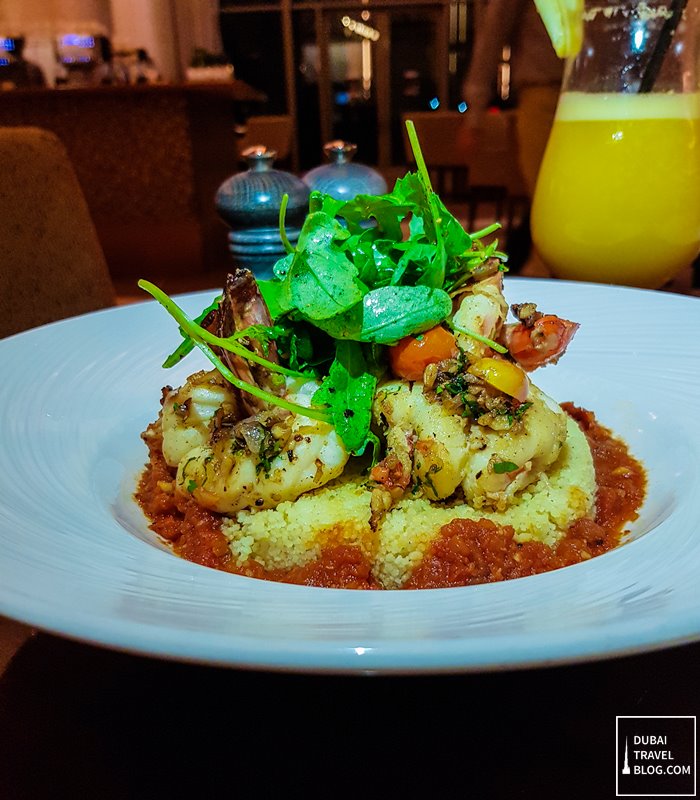 Grilled Jumbo Prawns – AED 163
cous cous, tomato tarragon coulis, arugula salad
Desserts
We had one dessert during each night and I enjoyed the presentation of both desserts. We had an Apple and Cinammon Crumble and Hot Chocolate Fondant. Both were good, but I preferred the chocolate dessert.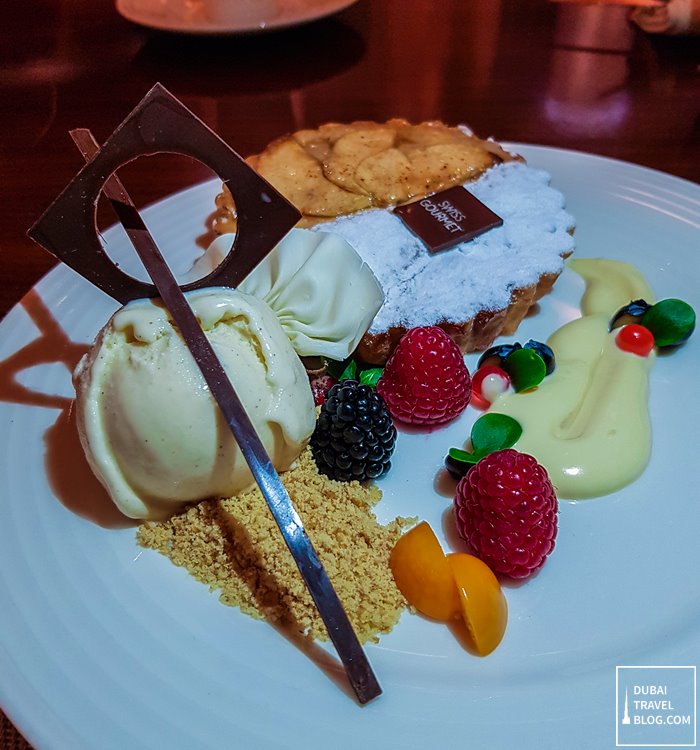 Apple and Cinnamon Crumble, Vanilla ice cream, raspberry – AED 40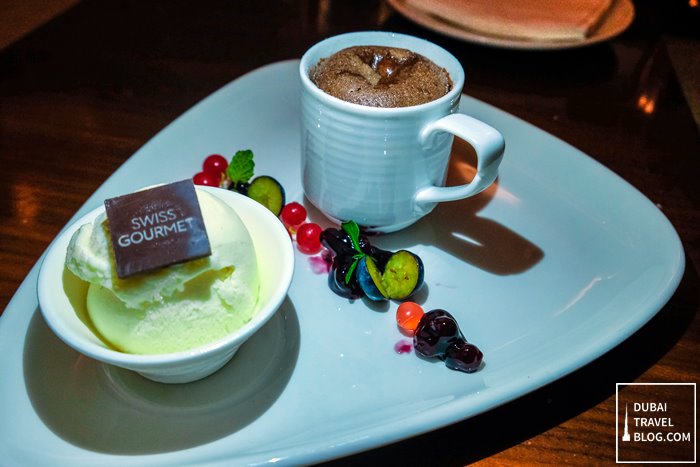 Hot chocolate fondant, berry coulis, vanilla gelato – AED 40
I am happy that I am seeing more and more Pan-Asian dishes in various restaurants in Dubai. There are now more options in terms of types of cuisines whenever you go out to different places.
Aside from the food, I was also impressed by the fresh beverages prepared by their bar. While this restaurant does not serve alcohol, they have a variety of fresh smoothies and refreshing mocktails.
Opening Hours
Breakfast: 06:30 – 10:30
Lunch: 12:00 – 15:00
Brunch: 12:30 – 16:00
Dinner: 19:00 – 23:30
Terrace Lounge food starts: 17:00
Dress Code: Casual, no sportswear for dinner
Note: We were invited as guests to Swissotel Al Ghurair. All opinions are my own.
Check out the rest of my feature about Swissotel Al Ghurair below:
Contact Information
Liwan Restaurant
Address: Address: Lobby of Swissotel Al Ghurair, Umar Bin – Omar Bin Al Khattab St – Dubai
Contact Number: +971 4 293 3000
Email: alghurair@swssotel.com
Website: https://www.swissotel.com/hotels/dubai/
Instagram: @SwissotelAlGhurair
Facebook: @SwissotelAlGhurair
Twitter: @SwissotelGhur
Google Map Location
Below is a map guide to the location of Swissotel Al Ghurair. It is just connected to Al Ghurair Centre mall in the Fish Roundabout. The nearest metro station is Union Metro Station (Red/Green Line).