My wife and I visited Liwan Restaurant in Swissotel Al Ghurair to sample their new Friday Brunch concept called "Around the World" which features cuisines from different destinations every Friday.
This weekly Dubai brunch concept is just in time for the opening of the Expo 2020 Dubai event. After all, the Expo is lauded as the World's Biggest Show celebrating different countries around the globe.
Also Read: Iftar Buffet at Liwan Restaurant in Al Ghurair Rotana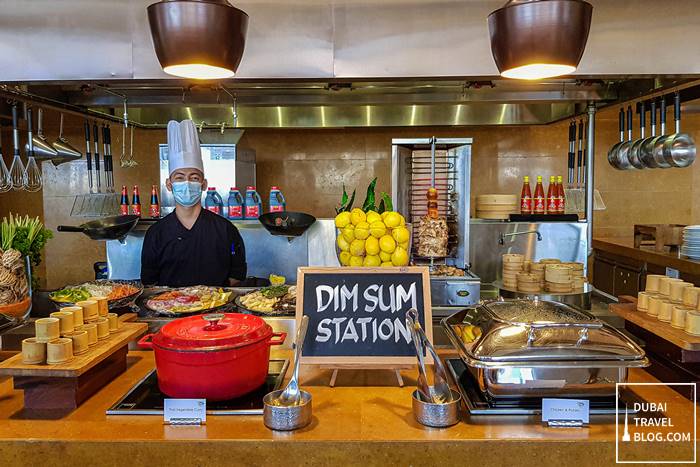 Dim sum station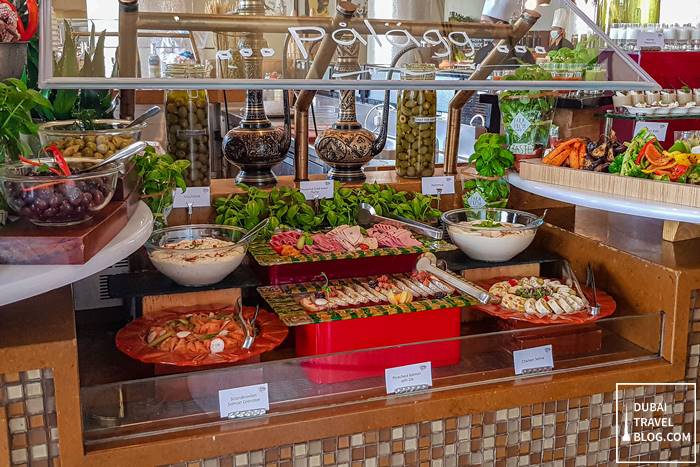 cold cuts and cold mezze
Swissotel Al Ghurair Friday Brunch at Liwan Restaurant
While there are already a variety of cuisines offered in the sumptuous buffet stations, Swissotel Al Ghurair has a special spread where they highlight a country cuisine for the week. We were able to taste the Apple Strudel, Raclette, cheese fondue, Zurcher Geschnetzeltes, and many more.
For 7 months, guests can visit  15 different destinations and commemorate special celebrations such as Diwali on 5th November, International Children's Day on 19th November, Orthodox Christmas brunch on 7th January, Chinese New Year on 28th January, Japanese National Day on 11th February, Italian Carnivale on 4th March along with Christmas and New Year's Brunch.
seafood and salad bar
Mongolian Grills – fresh grills
Roast Beef with Yorkshire Pudding and Roasted Vegetables
Blackened Filet of Fish

lamb chops
Swiss Food Theme
During the day of our visit, it was the country of Switzerland that was featured so they prepared a nice presentation of Swiss cuisine which included items that I've never tried before.
It is best that you can contact the hotel to inquire about the type of cuisine being featured during the Friday of your visit.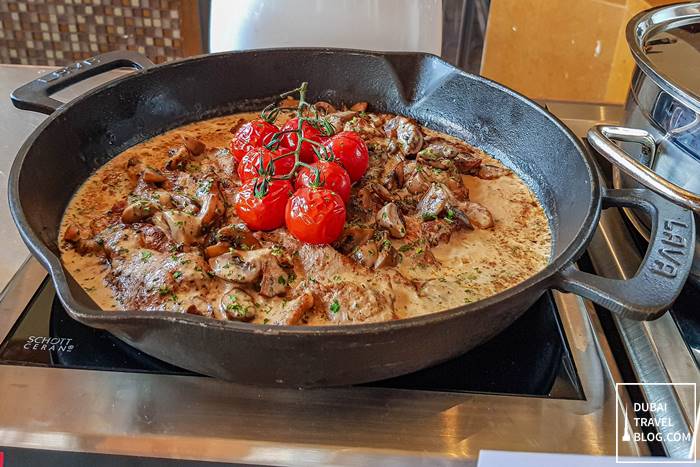 Zurcher Geschnetzeltes – sliced veal strips, cream, and demiglace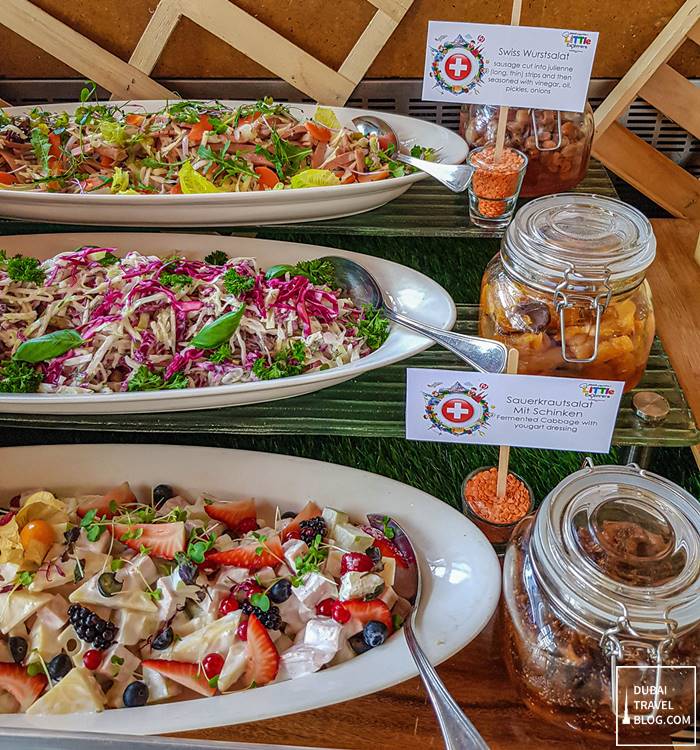 Swiss salads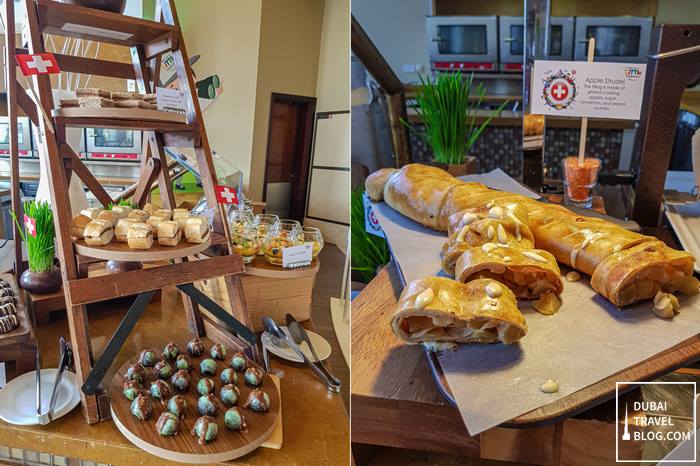 Swiss treats, Apple Strudel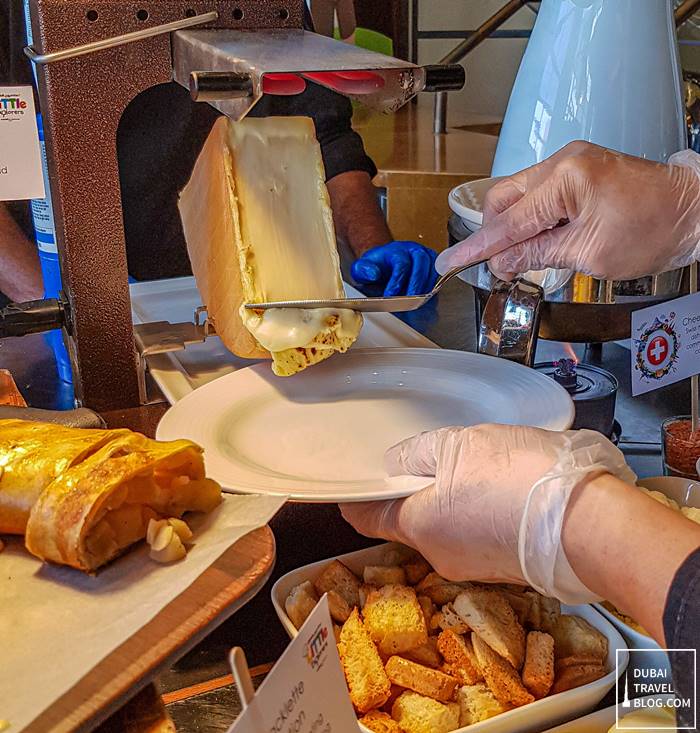 Raclette – melted cheese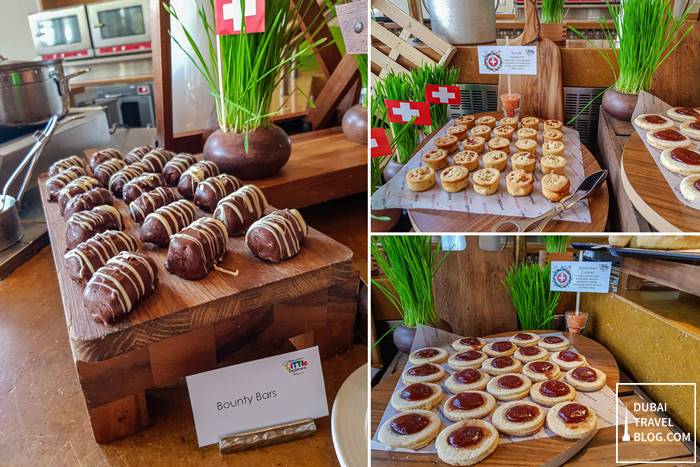 Bounty bars, Bunder Nusstorte, Spitzbuben Cookies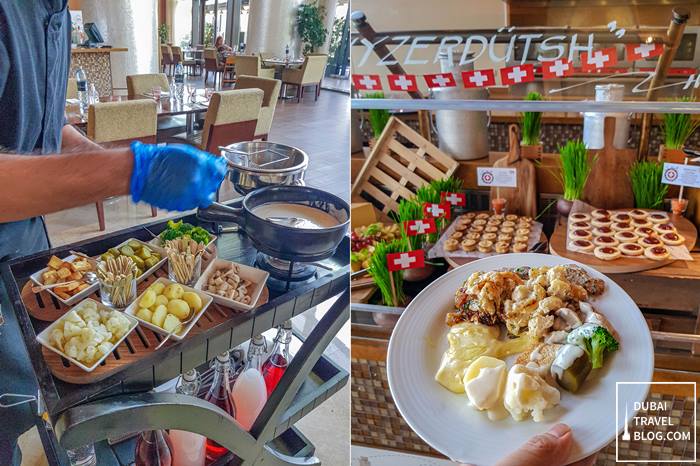 Cheese Fondue cart
Kids Can Enjoy Too!
Aside from the buffet spread, Swissotel Al Ghurair is also preparing a number of activities and programs for children. There's a "Little Picasso" painting, "Little Chefs" cooking workshop, Treasure Hunt, gardening, Zumba class, and so much more.
The hotel is making sure that parents can can enjoy this Friday affair with their "Little Explorers" and fill it with excitement and fun.
pasta station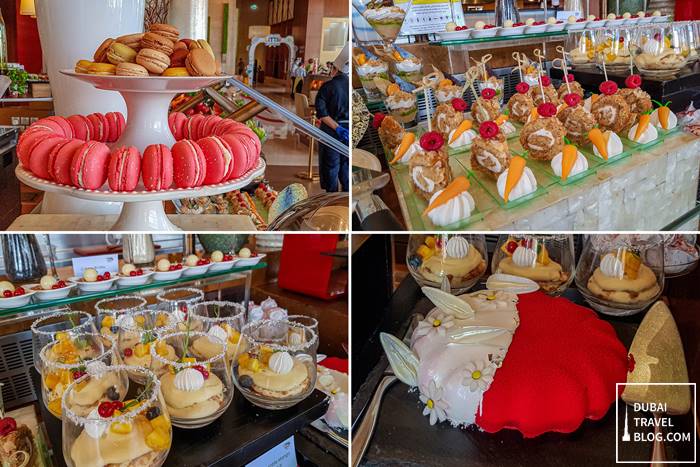 desserts!
Raspberry Bavarois
Swiss Chocolate Milkshake
24 Photos: Swissotel Al Ghurair Friday Brunch Around the World
Here are photos of our experience dining during the Swiss cuisine theme during the Friday Brunch Around the World at Swissotel Al Ghurair:
Prices and Opening Hours
The "Around the World" Brunch launches on 17th September and is available every Friday until 25th March 2022 at Liwan restaurant, from 12.30 p.m. until 4 p.m. The brunch is priced at AED 175 per person and AED 88 per child, while children below 6 years dine complimentary.
Contact Information
Swissotel Al Ghurair
Address: Address: Umar Bin – Omar Bin Al Khattab St – Dubai
Contact Number: +971 4 293 3000
Email: alghurair@swissotel.com
Website: https://www.swissotel.com/hotels/dubai/
Instagram: @SwissotelAlGhurair
Facebook: @SwissotelAlGhurair
Twitter: @SwissotelGhur
Google Map Location
Below is a map guide to the location of Swissotel Al Ghurair. It is just connected to Al Ghurair Centre Mall in the Fish Roundabout. The nearest metro station is Union Metro Station (Red/Green Line).