During our two-night staycation at Swissotel Al Ghurair, we had the opportunity to order room service before checking out. This was one of the things I looked forward to experiencing as we rarely wake up early and at times we get a bit lazy to go down for breakfast.
The room service by Swissotel Al Ghurair is available 24 hours a day so even if you arrive later in the evening or at dawn, you can still order properly cooked meals at the comfort of your room.
breakfast inside our room during our staycation
omelette with grilled tomato, asparagus and sauteed mushrooms – part of the Swissness Breakfast
In Room Dining Experience at Swissotel Al Ghurair
In our case, we ordered one breakfast item (Swissness Breakfast) and a chicken pollo pizza. The Swissness Breakfast caught my eye from the menu as I felt that this was going to be a generous meal great for the morning.
The food arrived on time and I am very glad that the staff made a lovely presentation of the dishes and cutlery on the table.
Swissness Breakfast – AED 114
Choice of freshly squeezed orange, pineapple, watermelon, apple juice or vegetable juice
sliced seasonal fruits & berries
Low-Fat Bircher muesli with berries & roasted almonds
Egg white omelet with grilled tomato, asparagus and sauteed mushrooms
Decaffeinated coffee or herbal infusion tea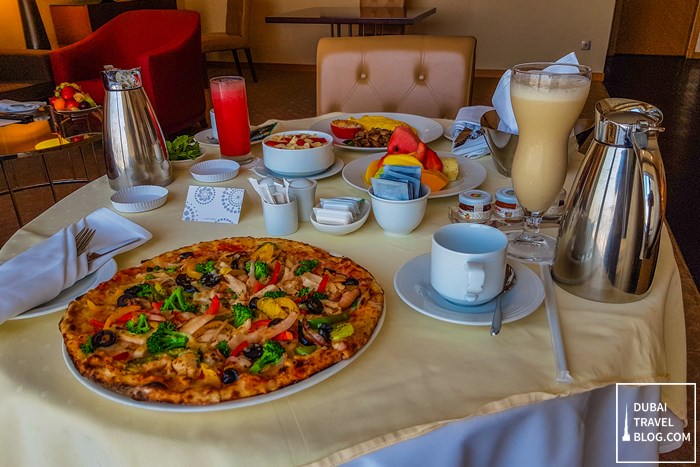 Pizza Pollo – AED 70
Chicken, bell pepper, black olives, broccoli
Tropi Colada – AED 35
Banana, pineapple, coconut
We did not order the very heavy items such as the steaks, lamb chops, seafood grill, etc. Even if it was almost lunch time as we were still a bit full from last night's dinner.
But I didn't pass up the opportunity to order another refreshing drink from the freshly prepared beverage items. This time, I ordered Tropi Colada smoothie, which is a combination of banana, pineapple and coconut.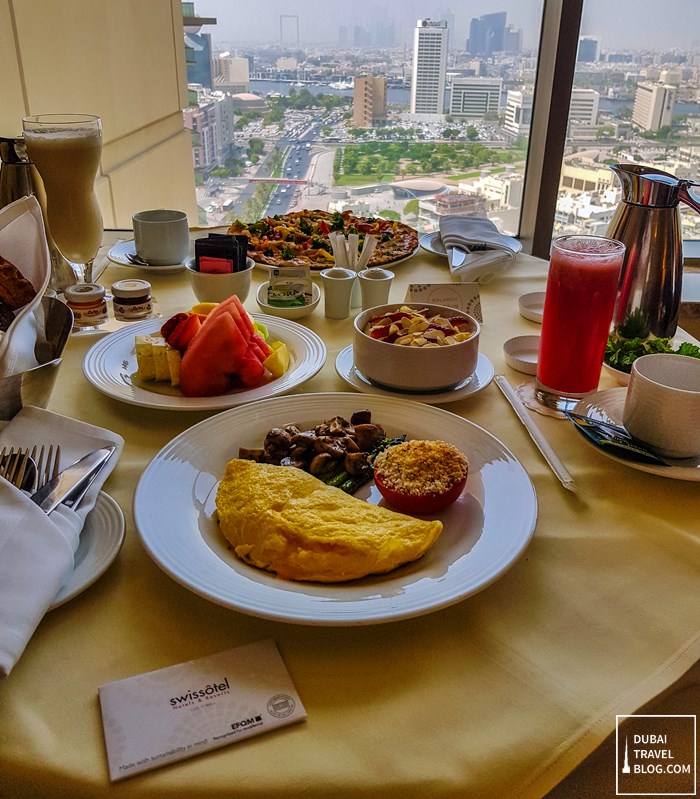 enjoying the view of the Dubai skyline from our Deluxe Suite
Even if Burj Khalifa didn't show up to us due to the hazy weather, I still had a good time dining with a view of Dubai.
Note: We were invited as guests to Swissotel Al Ghurair. All opinions are my own.
Check out the rest of my feature about Swissotel Al Ghurair below:
Contact Information
Swissotel Al Ghurair
Address: Address: Umar Bin – Omar Bin Al Khattab St – Dubai
Contact Number: +971 4 293 3000
Email: alghurair@swssotel.com
Website: https://www.swissotel.com/hotels/dubai/
Instagram: @SwissotelAlGhurair
Facebook: @SwissotelAlGhurair
Twitter: @SwissotelGhur
Google Map Location
Below is a map guide to the location of Swissotel Al Ghurair. It is just connected to Al Ghurair Centre mall in the Fish Roundabout. The nearest metro station is Union Metro Station (Red/Green Line).