We had a relaxing and luxurious staycation at Swissotel Al Ghurair in Deira. This five-star hotel is attached to Al Ghurair Centre mall and was previously operating under a different name. Running under Accor Hotels Group, it's only been a couple of years since it rebranded and is actually the first Swissotel hotel launched in the UAE.
It was only a few weeks ago since we had a staycation in the same area, and now we have been fortunate enough to experience the hospitality and luxury comfort for two nights at Swissotel Al Ghurair.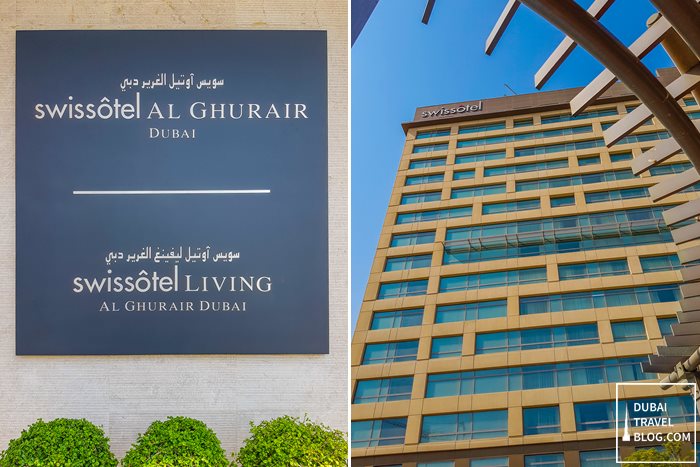 Swissotel Al Ghurair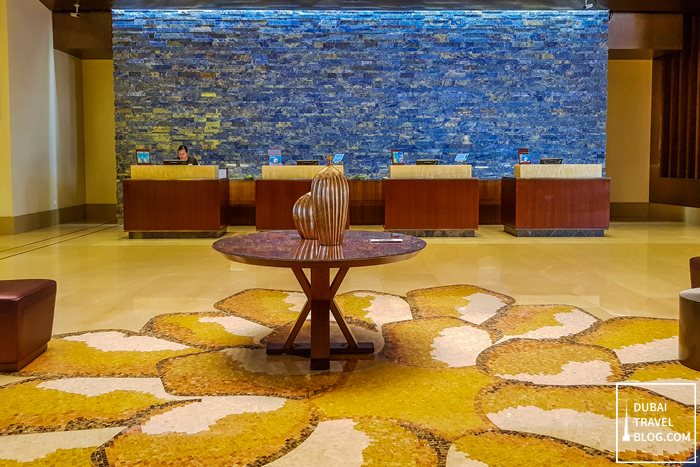 Swissotel Al Ghurair Dubai
Swissotel Al Ghurair Hotel Staycation in Deira Old Dubai
The lobby of the hotel is gorgeous with glass chandeliers from the very high ceiling and the beautiful artwork on the floor. A wall centerpiece also accents the overall design. Oh, I also love the cascading water fountain that surrounds the huge lobby. The space is very grand and wonderfully showcases its elegance.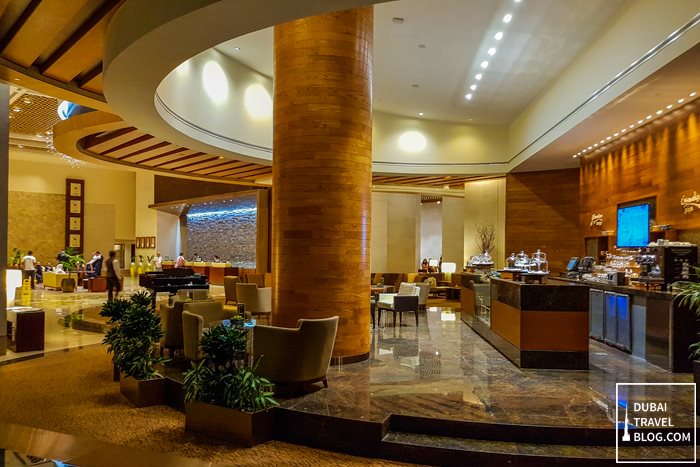 Yasmine Lobby Lounge
lounge at the lobby
Check in was quick and upon entering our room, we were ecstatic that it was also massively spacious.
Deluxe Suite
Swissotel Al Ghurair houses over 428 rooms and 192 apartments for its apartments. They assigned us a Deluxe Suite room and upon entering our room, we immediately noticed how immensely spacious it was.
At 111.6 square meters, this suite comes with a king-sized bed, living area with five-seater sofa set, dining table for 3 persons, two 42-inch flat screen TVs, a huge walk-in shower and tub, separate division for the closet and vanity desk, and comfortable sofa seats inside the bedroom, coffee and tea making facilities, etc.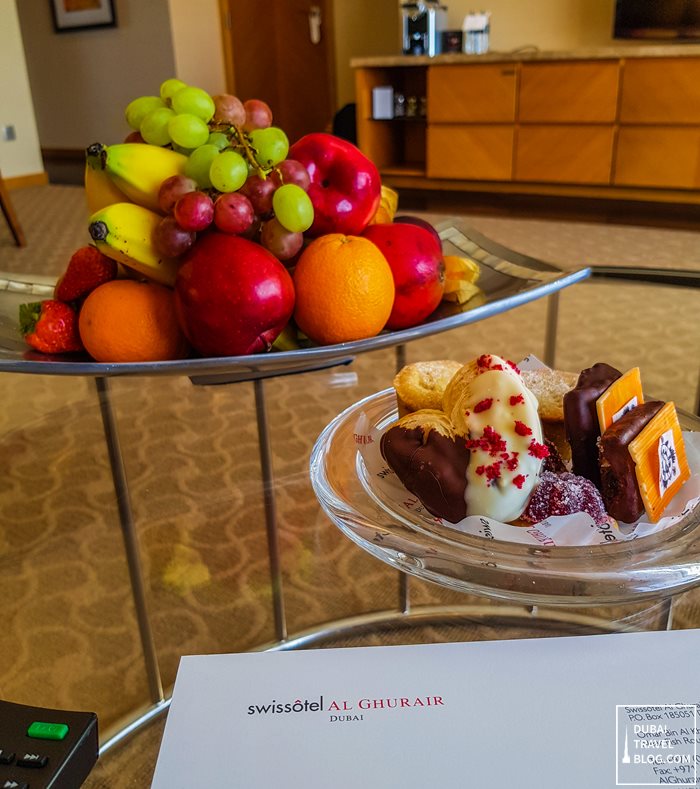 thoughtful welcome note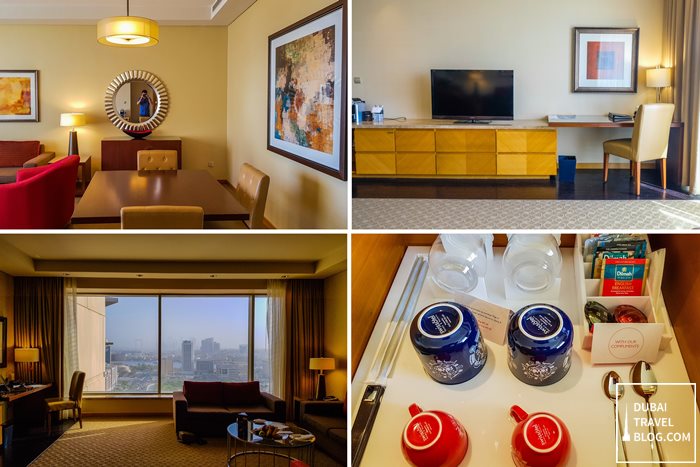 living and dining area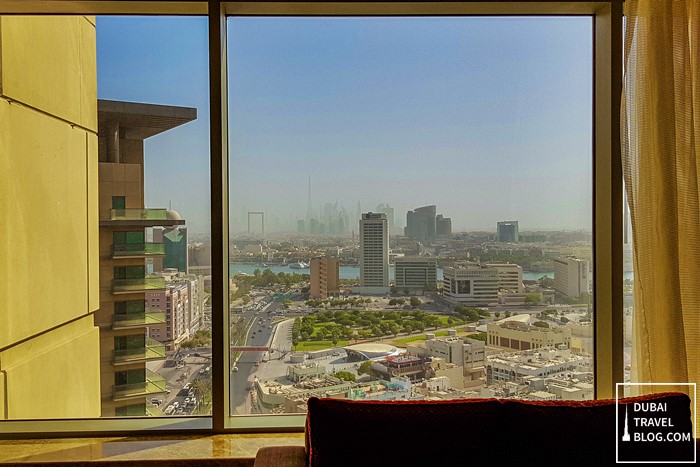 view of the Dubai skyline from the corner Deluxe Suite
May I also mention that the our Deluxe Suite was located in the corner of the building and it offered a sweeping view of the Dubai skyline and the Dubai Creek.
My wife just came from a 17-hour flight and I also haven't had enough sleep the night before. The king bed was very inviting that we immediately dozed off for a quick nap after I finished my routine of taking pictures of the room (#bloggerlife).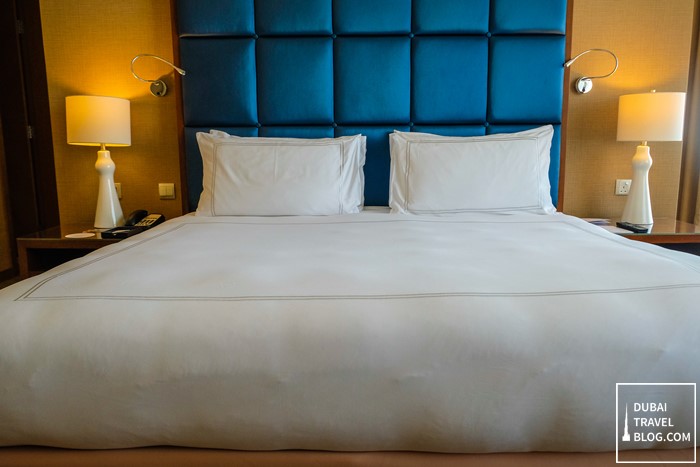 comfortable king-size bed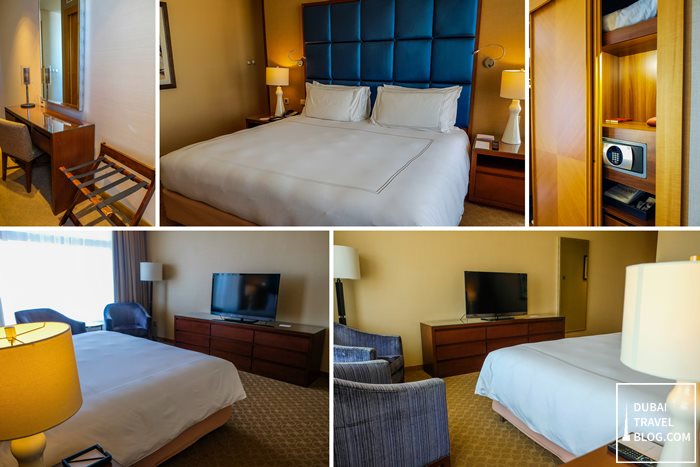 inside the spacious bedroom in a Deluxe Suite
WiFi Speedtest
WiFi internet is complimentary during the stay and when I ran a speed check online, the internet registered a speed of 10.56 Mbps which is quite fast. I was able to complete a few pending tasks online during the stay.
Bathroom
The elegance and spaciousness of the suite was even more highlighted when entering the bathroom. I had to pause for a moment and admire the huge bathtub occupying the center, a his and her bathroom sinks, as well as a large walk-in shower with rainshower head. Oh the space just left us surprised that we kept commenting how big it is to fit another bedroom!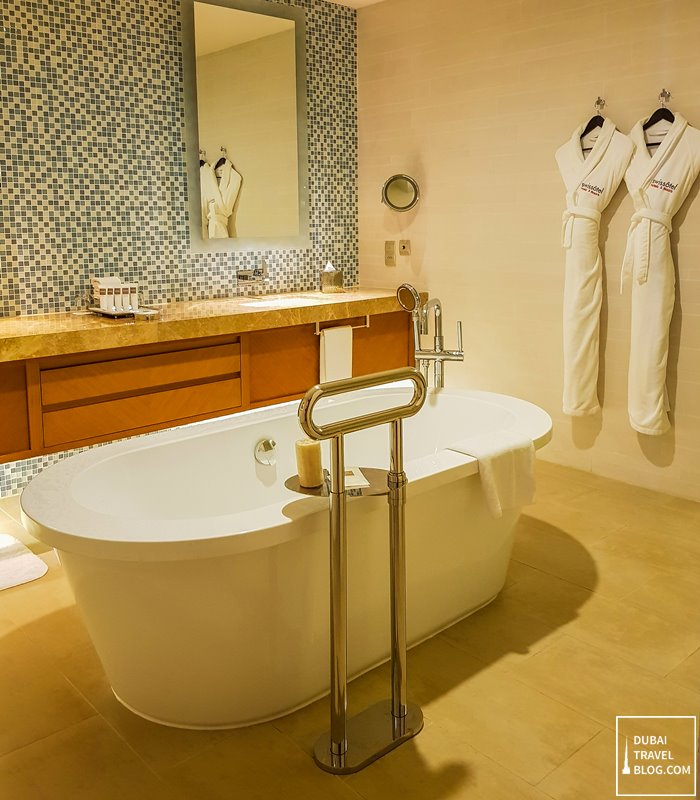 spacious bathroom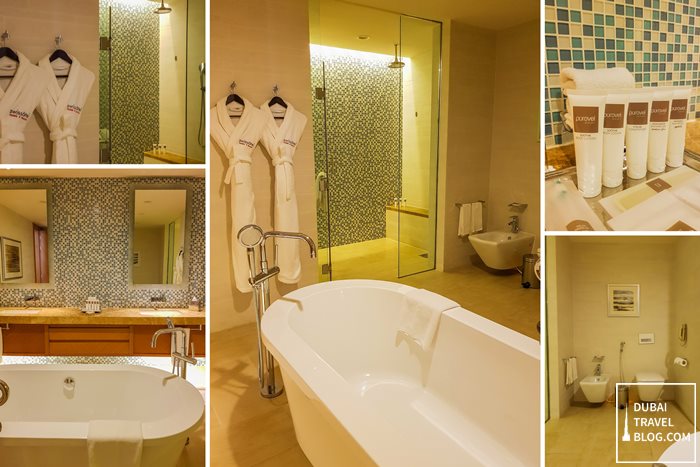 inside the bathroom – personal care products by Purovel
Restaurants and Lounge
Swissotel Al Ghurair houses a variety of restaurants and F&B outlets. We spent our most of our meals at Liwan restaurant. We've been to Liwan a few years back, and our experience was nothing short of exemplary. So it was great to revisit it again under the Swissotel management.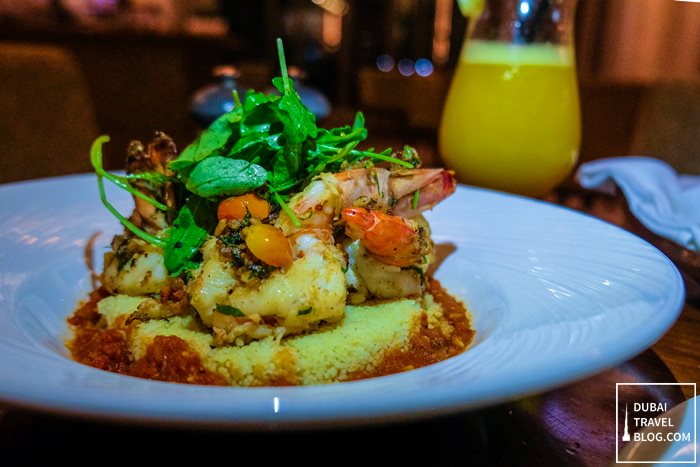 lovely dinner at Liwan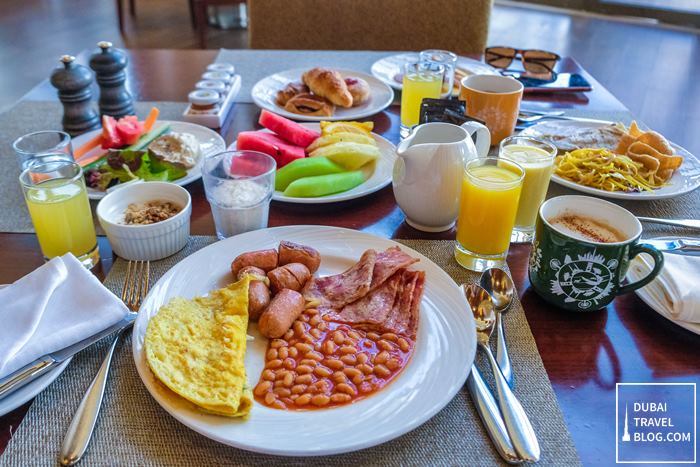 breakfast time at Liwan
Below are the list of dining options available when you stay here.
Liwan – the hotel's all-day dining restaurant
Shayan – the hotel's signature restaurant offering a selection of Persian cuisine.
Yasmine – Lobby Lounge & Cafe
Room Service – 24 hours in room dining
Pool Cafe – Poolside dining
24 Hours In Room Dining Service
One of the things I was really looking forward to during our 2nd day of our staycation was the In Room dining service. My wife and I rarely wake up early so it takes us some time before we get to the buffet for breakfast. But during the next morning of our 2nd night, we had breakfast inside our room.
I am glad that they offer a 24-hours in room dining option, so we could still order heavy meals even in the morning and for guests who wake up late, they can still order breakfast items in the afternoon. It's really convenient because not all hotels offer this service.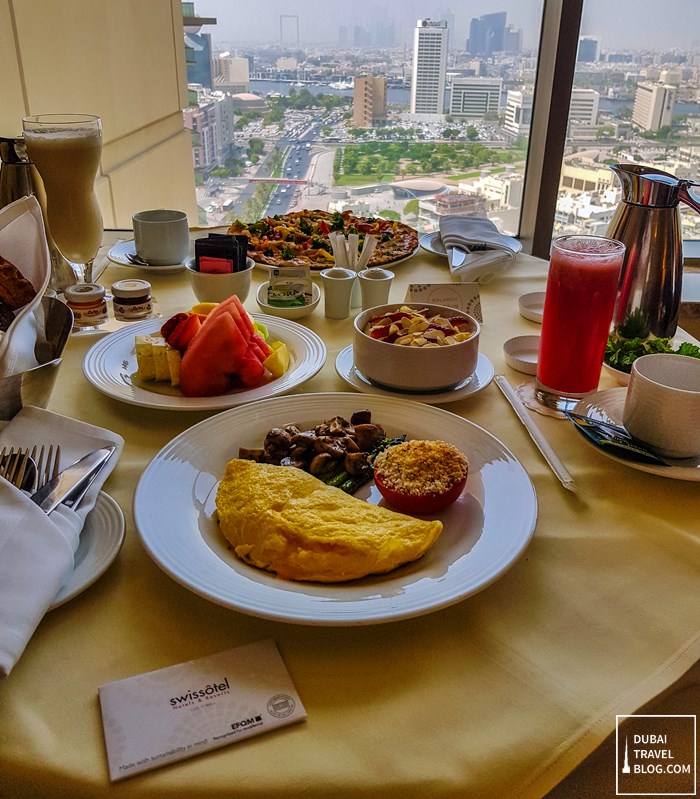 room service dining with a view of Dubai
Swimming Pool
The hotel's outdoor swimming pool is located on the fifth level of the building. The temperature-controlled pool spans 18 meters and they have a number of sun decks available so you can lounge in the area. As it's the peak of summer season, spending time dipping the pool was a nice way to counter the hot temperature. They also have a Kid's pool available.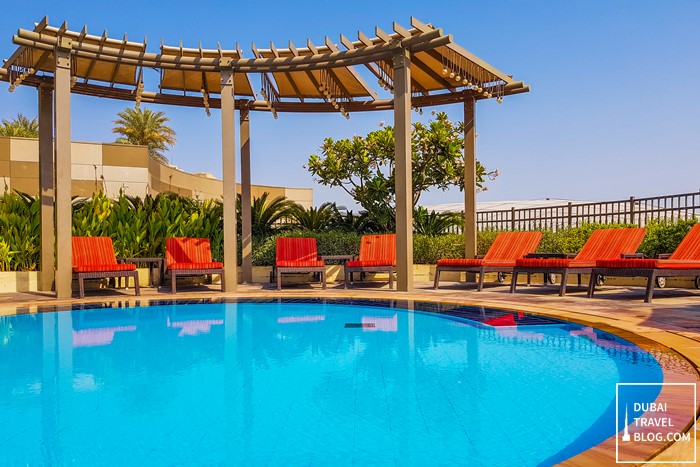 kiddie pool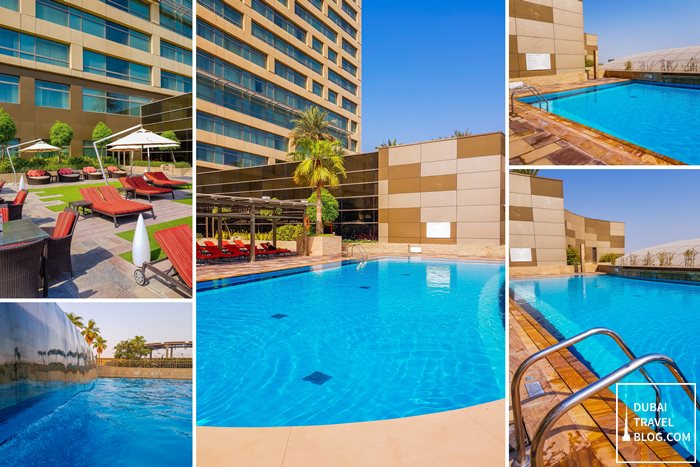 adult pool area
Gym & Fitness Centre
The gym is located at the same level as the pool. They have state-of-the-art facilities available for fitness and exercise enthusiasts. So if you want to work up a sweat, you can head to this fitness centre at the fifth floor.
They also have separate lockers for men and women with each having a sauna and steam room facility.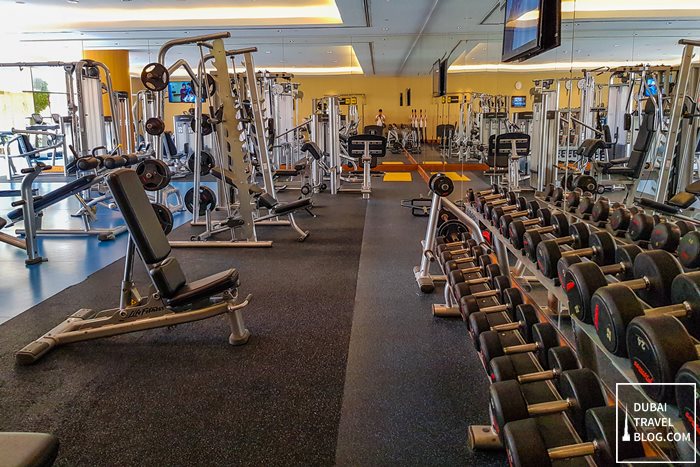 gym at Swissotel Al Ghurair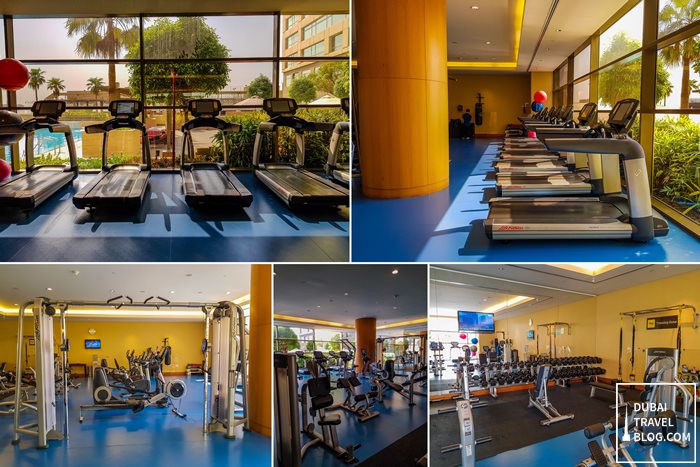 fitness centre at the 5th floor
Spa Massage Experience by Swissotel Spa & Sport
I've been aching for a much-needed spa experience in Dubai and I'm glad that a couple's massage experience was reserved for us. My wife and I enjoyed a relaxing treatment by Swissotel Spa & Sport.
Their spa is also huge with separate lockers for men and women with each having steam & sauna facilities.
wet area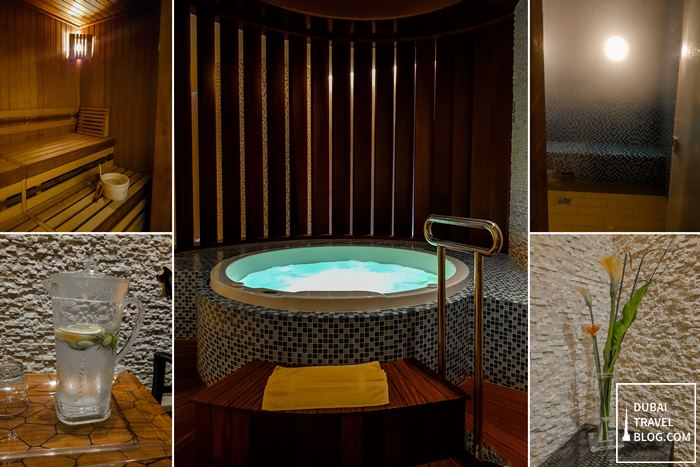 Sauna – Jacuzzi – Steam Room
We felt really pampered during our stay at Swissotel Al Ghurair. I could sense that the hotel aims for a total wellness retreat for the whole family.
Video: Swissotel Al Ghurair Staycation
Want to get a peek at our staycation experience? Check out this video which summarizes our overall stay at this luxury hotel:
Swissotel Al Ghurair is an elegant five-star property for you to check in especially in this charming area of Old Dubai. Its location is strategic as various shopping outlets and restaurants are very much accessible given it is attached to a shopping mall. Also, you will easily access various tourist places in Deira district such as the Gold Souk and Spice Souk.
Aside from the location, the facilities and service are important things to mention as we felt very pampered during our stay. The staff and team were very friendly and made our staycation very comfortable and enjoyable.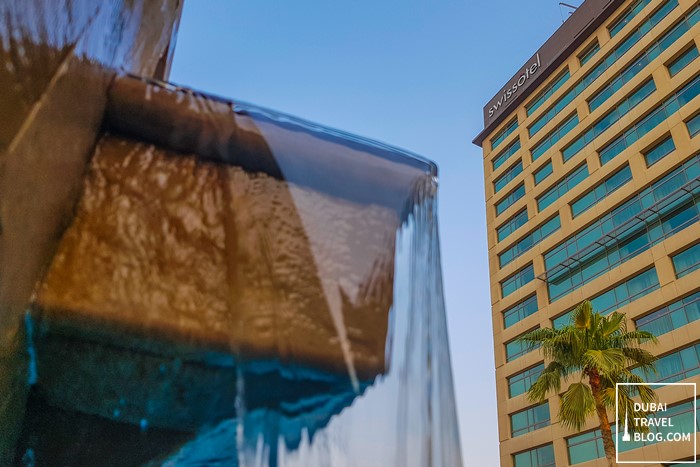 staycation at Swissotel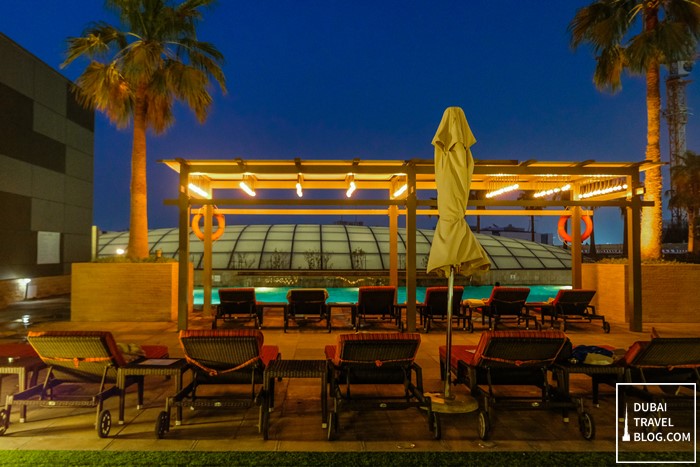 night time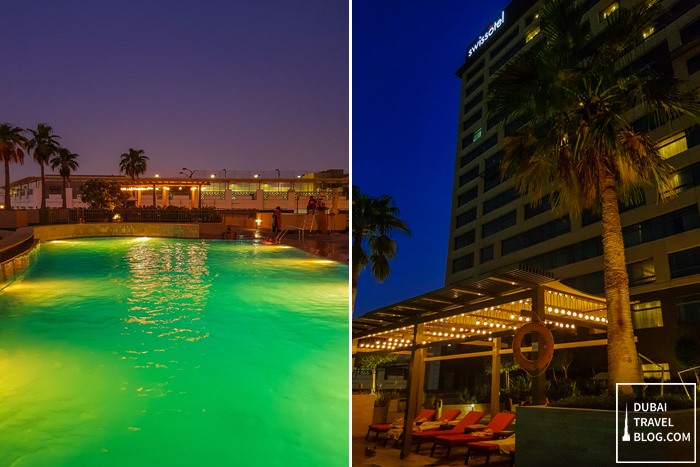 pool opens from 6am up to 11pm
Note: We were invited as guests to Swissotel Al Ghurair. All opinions are my own.
Check out the rest of my feature about Swissotel Al Ghurair below:
Contact Information
Swissotel Al Ghurair
Address: Address: Umar Bin – Omar Bin Al Khattab St – Dubai
Contact Number: +971 4 293 3000
Email: alghurair@swissotel.com
Website: https://www.swissotel.com/hotels/dubai/
Instagram: @SwissotelAlGhurair
Facebook: @SwissotelAlGhurair
Twitter: @SwissotelGhur
Google Map Location
Below is a map guide to the location of Swissotel Al Ghurair. It is just connected to Al Ghurair Centre mall in the Fish Roundabout. The nearest metro station is Union Metro Station (Red/Green Line).