One of the fun and extreme activities you can do if you're in Dubai is ride a gyrocopter and tour Dubai from the sky. I was able to experience this adventure recently when my wife booked me a Skyhub Gyrocopter Flight (BOOK HERE).
The Gyrocopter is a 2-seater sport aircraft that fits 1 passenger and 1 pilot. This interestingly small aircraft will let you enjoy an exclusive flight at 1,500 ft. The experience lasts for 20 minutes and the route covers the coast of Dubai which allows you to have an aerial view of iconic landmarks like the Burj Al Arab, Ain Dubai, Dubai Marina, Palm Jumeirah Island, Atlantis, The Palm, and The World islands.
Buy Gyrocopter Flight Tickets Here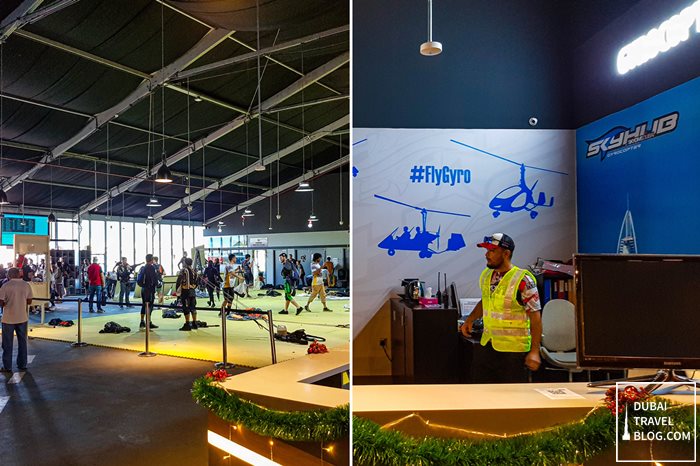 arriving at the SkyDive Dubai Palm drop zone where the SkyHub office is also located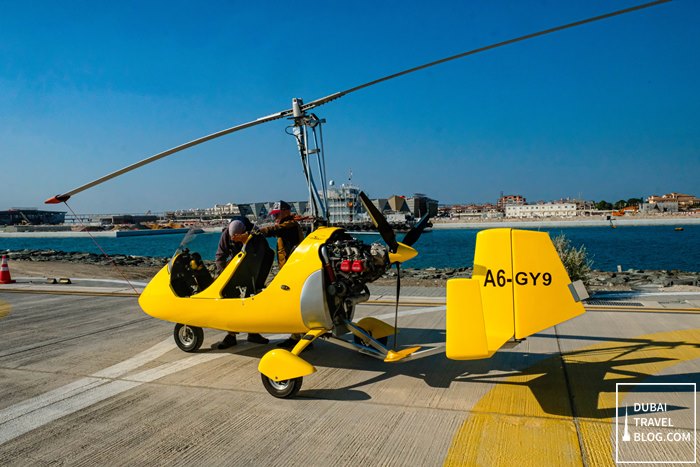 the yellow and 'open' gyrocopter
Aerial View of Dubai via Gyrocopter Flight by SkyHub Dubai
My wife and I arrived at the SkyDive Dubai Palm Drop Zone as this is where the SkyHub Gyroscope office is also located. While we arrived earlier than expected, the staff immediately welcomed us and informed us that if I was ready, I could go ahead and start the tour. I immediately said yes and they drove me towards the jump off point.
I met the pilot, Captain Rolando, who briefed me what to do in case of emergency. He assured me it was going to be a fun experience. The thrilling part was the takeoff but as soon as we were on the air, it was quite an exhilarating experience.
Buy Gyrocopter Flight Tickets Here
Palm Jumeirah islands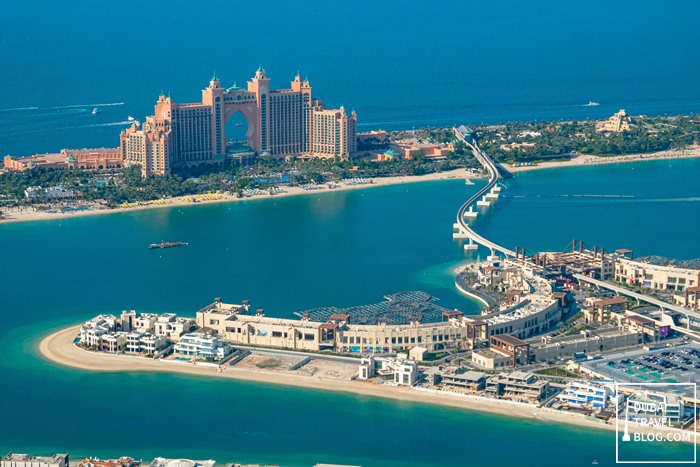 Atlantis The Palm Resort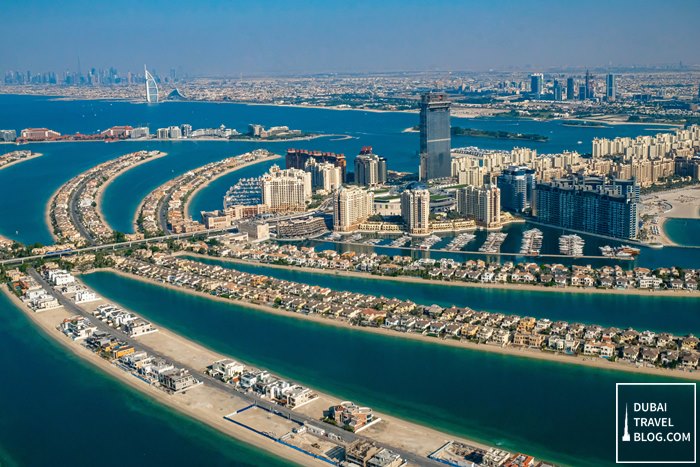 view of The Palm
that's Anantara The Palm Dubai resort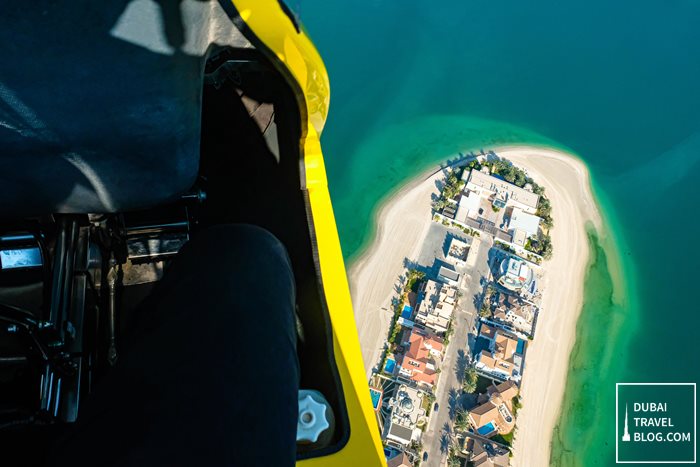 view below
I remember a few years ago, I rode a seaplane together with other Dubai bloggers and toured Dubai from the sky while capturing some cool aerial shots. Now I got to fly over the city again, but the flight is even more daring as I rode on a 'naked' gyrocopter. It was an open aircraft so I got a very clear view of the landscape from both sides.
We flew from the drop zone towards The Palm Jumeirah Islands, hovered over the area and then over to Burj Arab, then turned around and flew towards Dubai Marina and back to the Palm and then to the Drop Zone.
Buy Gyrocopter Flight Tickets Here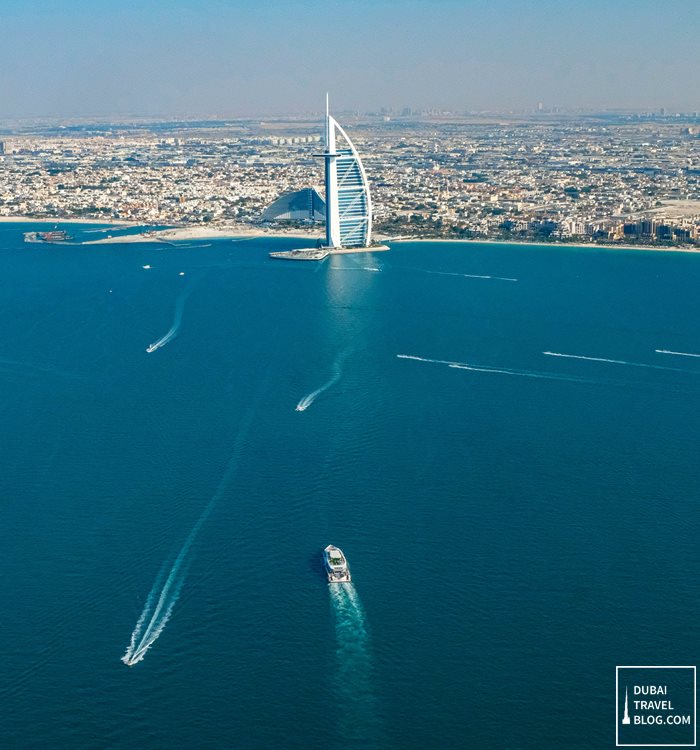 Burj Al Arab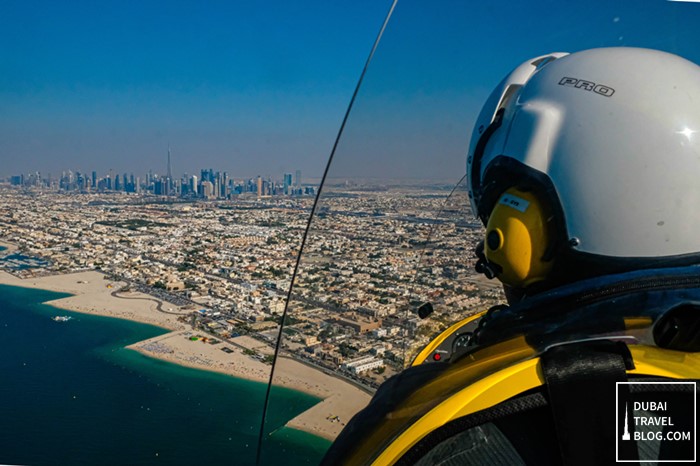 view of Downtown Dubai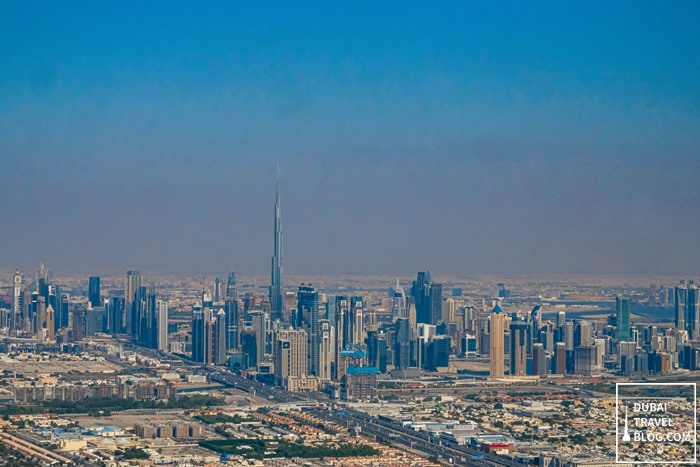 couldn't go nearer, this photo was zoomed from my camera
It was a quick 20-minute ride which I wish would last longer. I got to enjoy the sights of the city and I was lucky enough that the weather was clear so I could view the iconic sites in their full glory.
Prior to landing, Captain Rolando, after I agreed, did a quick acrobatic turn which tilted the gyrocopter a bit. It felt like I was on a rollercoaster and showcases the capabilities of the aircraft.
Buy Gyrocopter Flight Tickets Here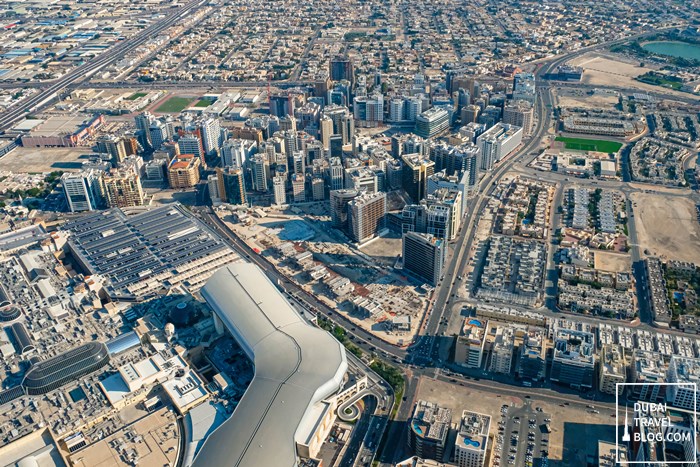 Mall of the Emirates and Sl Barsha below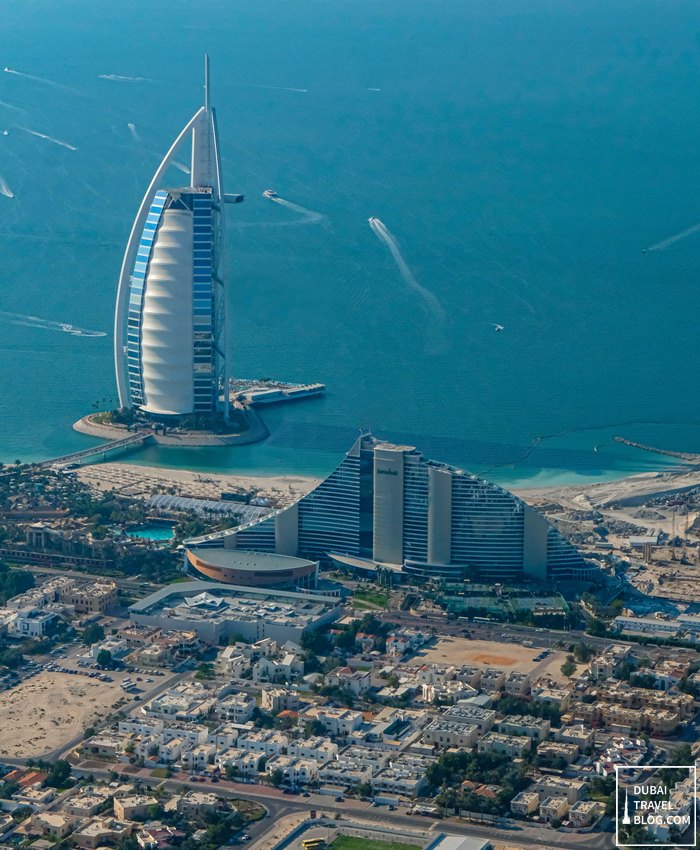 Burj Al Arab and Jumeirah Beach Hotel
It was a cool experience and would recommend to those who're looking for a more exciting and memorable activity in Dubai.
Things to Know and What to Expect
1. Minimum Age is 17 years old.
2. As a legal requirement, the maximum weight limit of the person is 105 kg.
3. You can reschedule your flight at least 24 hours before the date of flight.
4. The gyrocopter flight is subject to weather conditions and operates everyday from September to May months.
5. Pictures and videos can be taken for an additional fee.
6. Check in 30 minutes before your time of reservation.
7. Unsecured cameras or phones (without a neck strap or wristband) are prohibited on board.
8. Bring a jacket as it's cold and windy if you ride the open gyrocopter.
Buy Gyrocopter Flight Tickets Here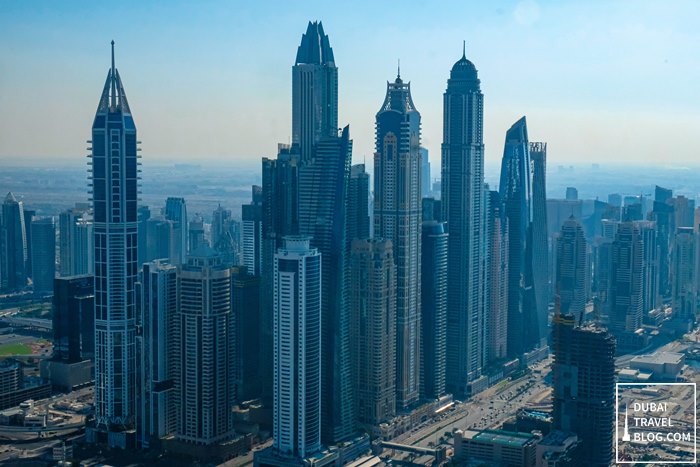 Dubai Marina towers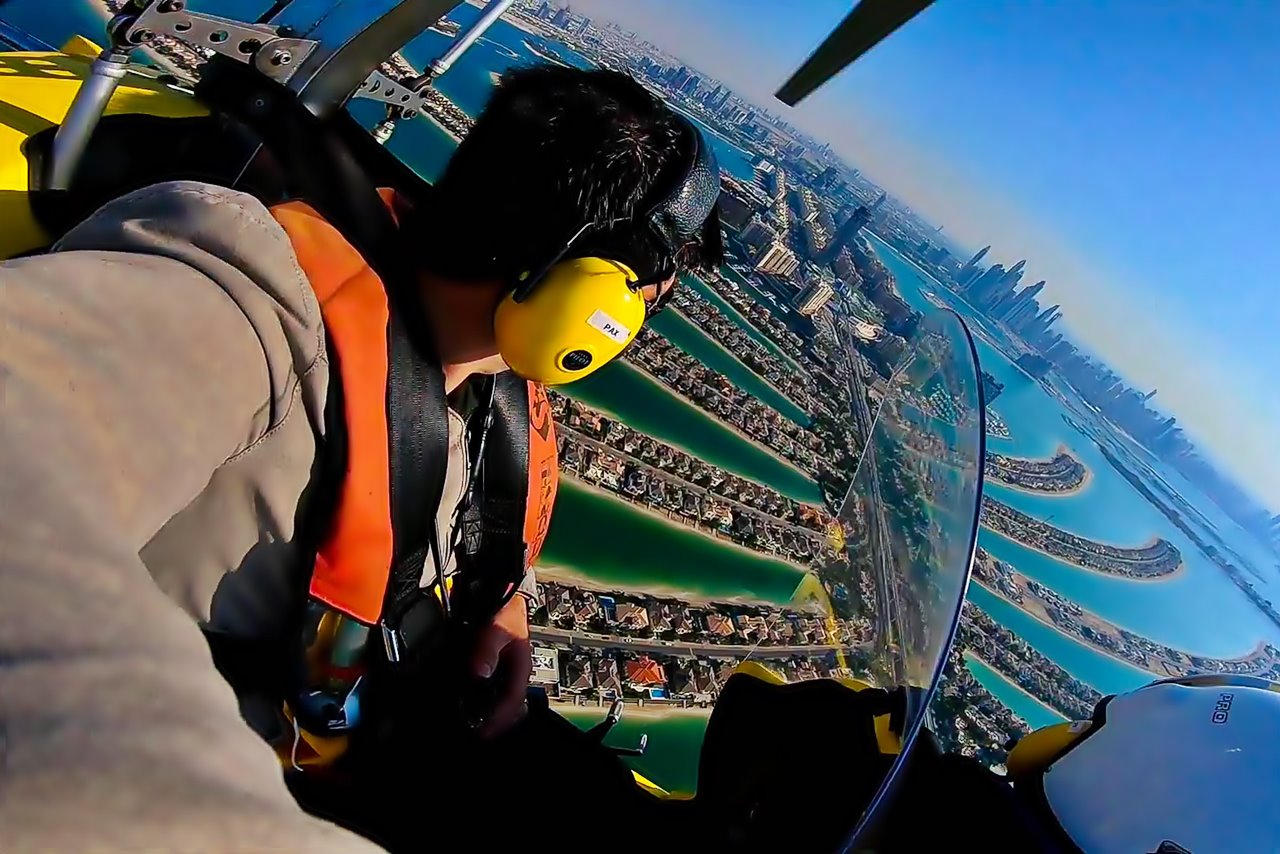 me on top of The Palm Jumeirah
Contact Information
Skyhub Gyrocopter Dubai – BOOK HERE
Address: SkyDive Dubai, Al Seyahi St, Mina Seyahi area, Dubai, UAE
Mobile: +971564069630
Email: gyro@skyhub.ae
Website: http://www.skydivedubai.ae/gyrocopter.html
Instagram: @skyhubdubai
Facebook: @skyhubdubai
Google Map Location
Below is a map guide to the location of SkyDive Dubai where the Skyhub Gyrocopter office is also located. There are plenty of free parking slots available in the area.