With plenty of pools, slides, and all sorts of rides, Aquaventure is the biggest waterpark in Dubai. Along with Atlantis The Palm Resort, it is situated on the magnificent Palm Jumeirah island. We have visited the park for a day trip and it was quite a great experience being in this waterpark.
Also Read: List of Theme Parks in Dubai
True to its name, the park is "aqua" and "adventure" rolled into one. It is filled with the grandest, most thrilling, and heart-stopping rides you can ever imagine!
Buy Tickets at Aquaventure Waterpark + Lost Chambers Tickets Here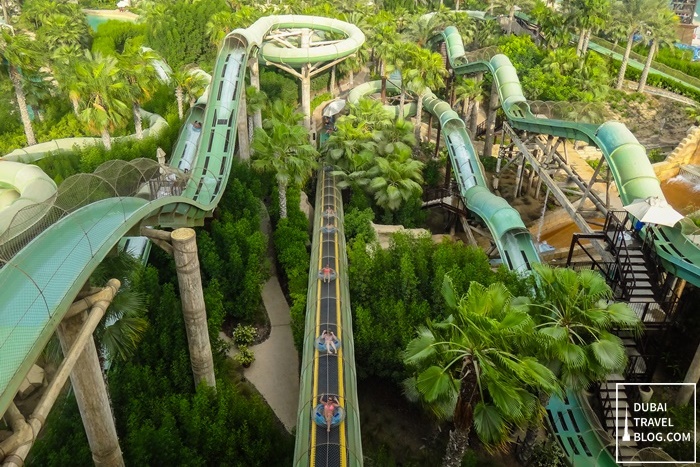 waterslides at Aquaventure
Aquaventure in Atlantis The Palm
Buy Tickets at Aquaventure Waterpark + Lost Chambers Tickets Here
What to Expect in Atlantis The Palm's Aquaventure Water Park
The waterpark adventure begins with two major towers: Tower of Poseidon and Tower of Neptune. Guests should be at least 1.2 meters tall to be admitted into the towers and their rides.
In Greek mythology, Poseidon is the king of the sea. At Aquaventure, the Tower of Poseidon includes the following rides fit for kings and queens:
Aquaconda. This is none other than the world's biggest waterslide. Resembling a gigantic sea serpent, the Aquaconda plunges its riders into a dark, meandering tunnel. It then drops them suddenly into world's biggest fiber glass tube.
Poseidon's Revenge. This one is not for the faint of heart. Riders are asked to enter a capsule and wait. Without warning, the floor falls out from underneath and they plummet down at about 60 kilometers an hour!
Slitherine. This is the first ever dual "waterslide within a waterslide" in the world. Riders can race each other to see who completes its numerous twists and turns first. They need to be careful, though, as one wrong turn could lead them to the belly of the Aquaconda!
Zoomerango. This is not your usual waterslide. It contains vertical drops and sudden plummets, both of which creates a sense of weightlessness. For those who want to overcome gravity itself, the Zoomerango is the perfect ride.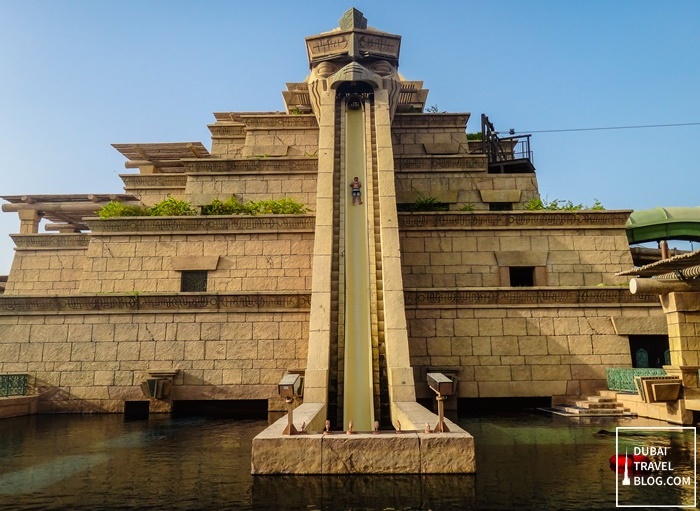 Leap of Faith waterslide in Dubai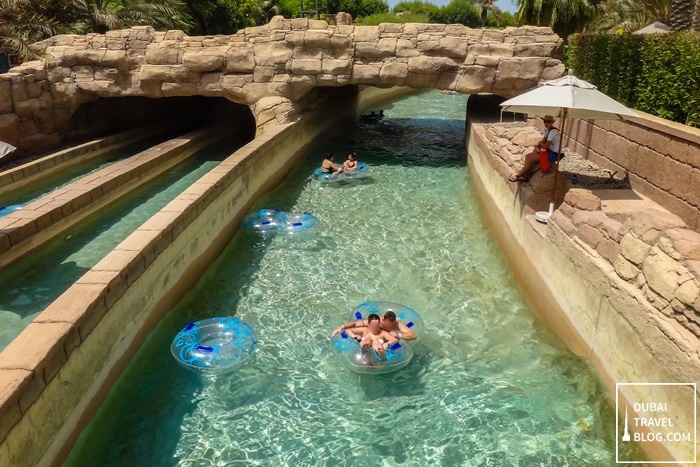 chilling on inflatables
Buy Tickets at Aquaventure Waterpark + Lost Chambers Tickets Here
Just like the first tower, the Tower of Neptune includes these adrenaline-pumping rides:
Shark Attack. This is one ride that guests rarely forget: gliding into an inner tube towards the heart of the Tower of Neptune. Moments later, they are in an underwater lagoon filled with different kinds of sharks!
The Leap of Faith. True to its name, it takes a huge amount of courage to attempt this ride, which stands tall at 9 storeys. It involves a near-vertical drop at high speeds, then hurtling through an acrylic tube. Swimming around this tube are lots of cownose rays and sharks.
Water Coasters. This is a wild ride that uses jets of water to propel riders up, down, and then into a maze of dark tunnels. Towards the end of the ride is a calm river.
Meanwhile, children who do not meet the 1.2-meter requirement for the Towers of Poseidon and Neptune can head to Splashers. Here, young kids can have the time of their life in the pools, fountains, and mini-waterslides.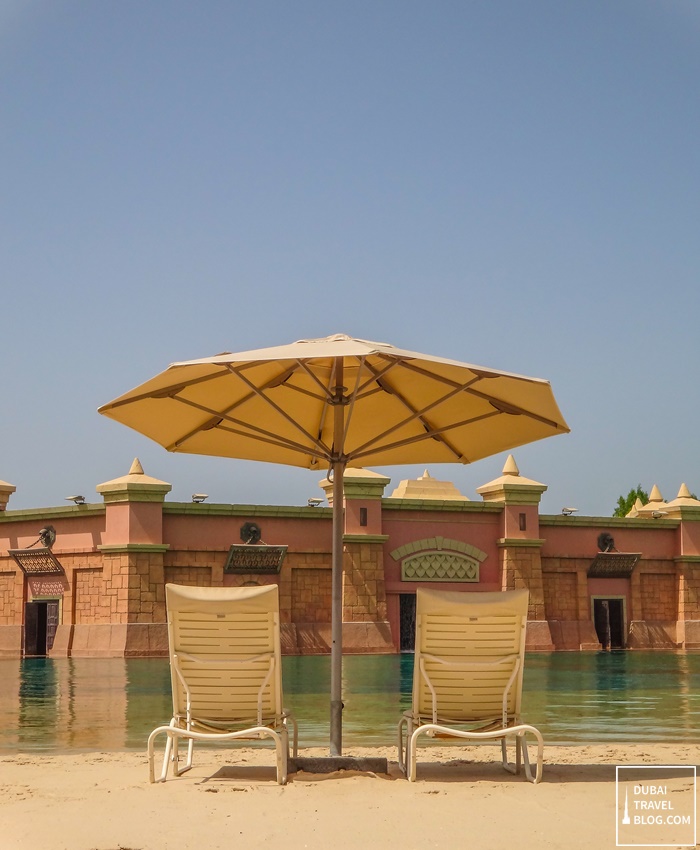 chairs while waiting for the dolphins
Buy Tickets at Aquaventure Waterpark + Lost Chambers Tickets Here
Prices, Policies, and Other Info
Entrance to the Aquaventure Waterpark is free for in-house guests at Atlantis The Palm Resort. But you need to book tickets if you want to visit the resort for a day use – BOOK TICKETS HERE 
Notably, children entering the park should be at least 12 years old if they are not accompanied by an adult. Moreover, the 1.2-meter height requirement is strictly enforced at certain rides.
The Aquaventure Waterpark is open everyday, from 10:00 AM until sunset, which depends on the time of year. Guests can enter the park through the Avenues and take advantage of the complimentary parking at Nasimi Beach.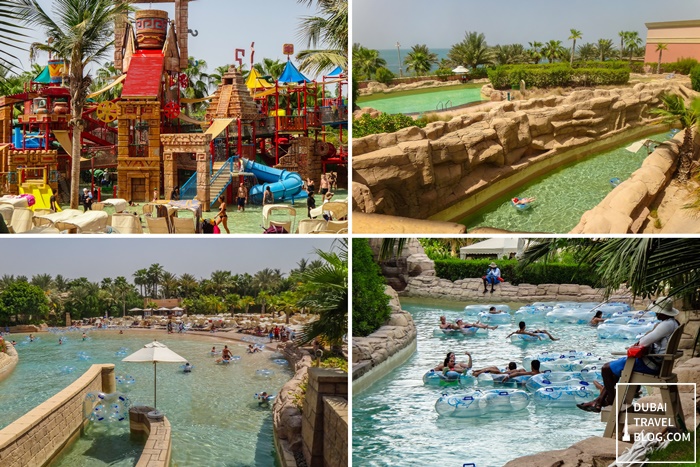 fun adventure for  family and friends
waterslide
A Family Adventure
The Aquaventure Waterpark features rides that every member of the family can enjoy. Indeed a day (or two) at the waterpark is the ultimate "aqua" experience!
Buy Tickets at Aquaventure Waterpark + Lost Chambers Tickets Here
Contact Information
Aquaventure Waterpark – BOOK TICKETS HERE
Address: Atlantis The Palm – Crescent Rd – Dubai
Telephone: +971 4 426 2000
Website: https://www.atlantisthepalm.com/marine-water-park/aquaventure-waterpark
Google Map Location:
Below is a map guide to the location of Aquaventure Waterpark: