As we all use gadgets in Dubai, it is important to know where you can find the best deals on electronics, computers, tablets, cameras, smartphones, and other gadget accessories. Here, we share with you a list of the top places to buy electronic gadgets in Dubai.
There is no question that modern technology affects everyone's life. After all, it allows us to accomplish daily activities more easily and enjoy our day to the fullest extent possible.
Also Read: 9 Tips When Shopping during GITEX Shopper in Dubai
Given Dubai's reputation as a shopper's paradise and the importance of technology in attaining Dubai's future vision, numerous international companies have established electronic shops in the city. And we all know that Dubai is home to some of the newest gadgets and best bargains available.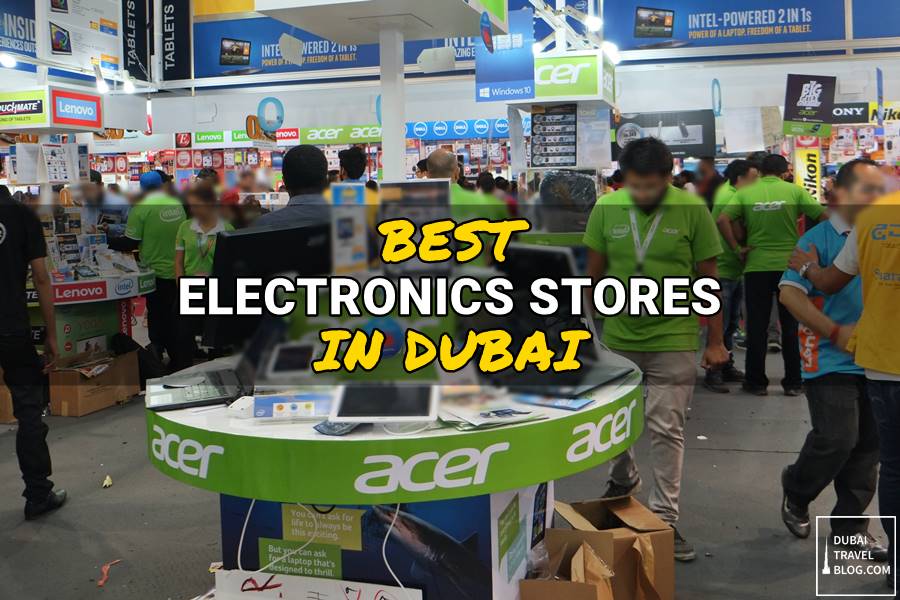 1. Sharaf DG UAE
Sharaf DG is one of the popular electronics stores in Dubai. Under the Sharaf Group brand, this company has made a long journey and has reached several milestones in order to become one of the region's major retail stores. You can visit many Sharaf DG stores in shopping malls and dedicated gadget stores in the emirate.
Some of the many items that one can buy in Sharaf DG store include smartphones, electronics, home and kitchen appliances, TVs, and many more. You can also find good deals that they offer every season. So if ever you drop by any of the Sharaf DG branches, you can surely find something to buy in this shop.
Sharaf DG is a Dubai-based real estate developer that, among other things, houses numerous well-known names such as Apple, Samsung, Sony, Dell, HP, Lenovo, and Microsoft. Every customer may discover their favorite brand at Sharaf DG.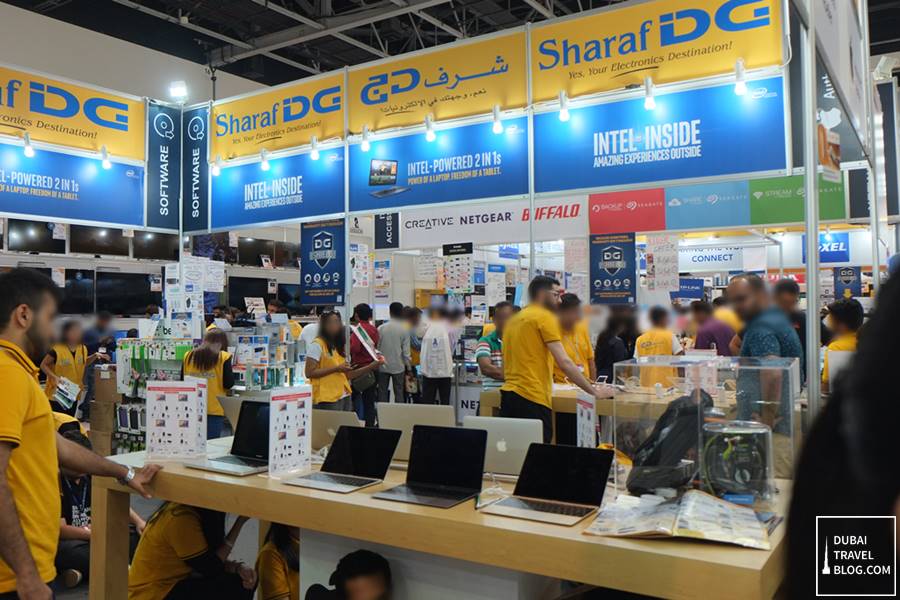 2. Jacky's Electronics UAE
Jacky's Electronics is one of the UAE's most well-known and reputable retail companies. In 1988, Jacky's Group established its first Jacky's store in Al Nasser Square, Dubai, becoming the company's first major subsidiary. The group subsequently expanded and created additional businesses in Dubai throughout the years.
Jacky's runs various offers and they can be found in various locations in UAE including The Dubai Mall, City Centre Deira, City Centre Ajman, City Centre Sharjah, and many more
Jacky's Electronics specializes in a wide range of electronics goods that meet the demands of everyday consumers. It provides items such as Laptops, Tablets, Desktops, Smartphones, Gaming consoles, Home Appliances, and more. Jacky's Electronics is a one-stop-shop with the world's top brands for clients who want to
Jacky has a global perspective and understands her clients' needs, which is why she works with industry leaders in the market. It's worked with well-known companies such as Apple, Samsung, Sony, Dell, HP, Lenovo, and Microsoft to name a few. Every customer may discover their trusted brand at Jacky's Electronics.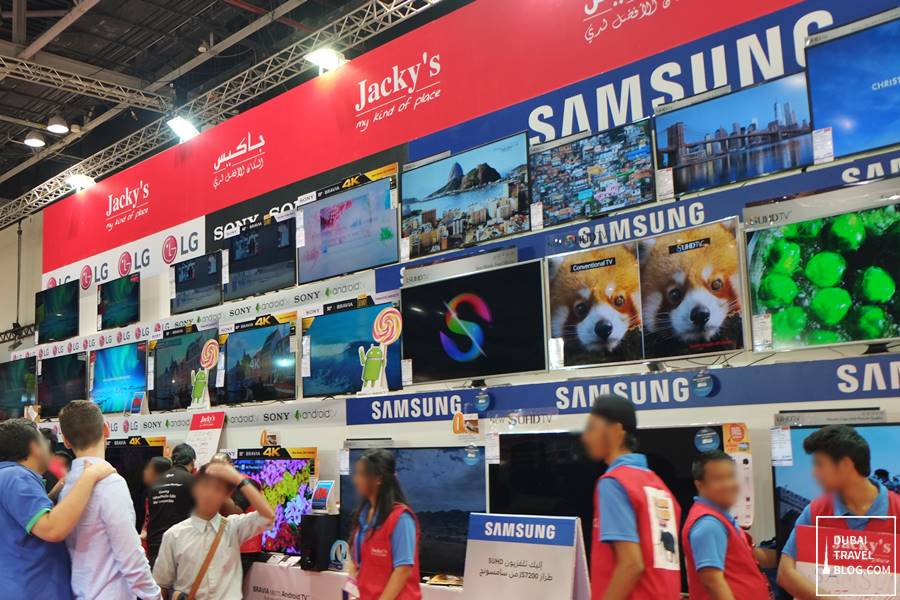 3. JUMBO Electronics
Another popular retail electronics outlet is JUMBO Electronics. The JUMBO brand in Dubai is a well-known shopping destination for consumers looking for the best prices on Dubai electronics. For almost four decades, the firm has taken advantage of the newest technology and innovations. It has also created an internet shop that sells phones, computers, home theater systems, amplifiers, games, cameras, accessories, and other goods.
Jumbo has knowledgeable staff. Please contact Jumbo or visit the big Dubai Electronics Show if you have any queries about a brand you're looking to buy.
4. Virgin Megastore UAE
The Virgin Megastore shop is a renowned destination for fashionistas, and its electronics division includes some of the most popular brands. It's well-known in the Dubai gadget scene as a supplier of high-quality electronics. Headphones, computers, and games, as well as phones, accessories, and other goods are included.
With Virgin Megastore, you can surely find some interesting gadgets as well as other favorite electronics. Based on our visit, they highlight cool items in their display from gaming computers, mobile phones, smartwatches, high-end gadgets, and many more.
5. Emax Electronics UAE
Emax is one of the Middle East's largest electronics stores, with 37 locations in UAE, Saudi Arabia, Oman, Qatar, and Bahrain. You can find all the electronics you are looking for in Emax, such as laptops, tablets, televisions, refrigerators, washing machines, electronic game equipment, and more. The store also provides the best discounts on its website.
Emax Electronics is a one-stop destination for all your gadgets and electronics needs. They offer high-quality products at competitive prices, ensuring you get what's best without breaking the bank!
The friendly staff are always on hand to help whether it be with choosing from their extensive selection or repairing broken devices – they can even send someone out within 24 hours if needed because their customer service really does go above expectations
6. Ecity
Ecity has been operating a chain of world-class multi-brand electronics retail stores across UAE's leading shopping malls for quite some time now. Personally, I bought a few gadgets, including a mirrorless camera through E-City.
E-City General Trading LLC is a company incorporated in Dubai in 2008 with its headquarters located at Al Batha Group of Sharjah. The group has more than 20 autonomous companies that focus on diversified sectors such as automobiles, pharmaceuticals, and contracting manufacturing among others for an ever-increasing business climate within the UAE
Their e-commerce website offers not just services but also products that can be delivered anywhere worldwide without restrictions from their site's delivery area!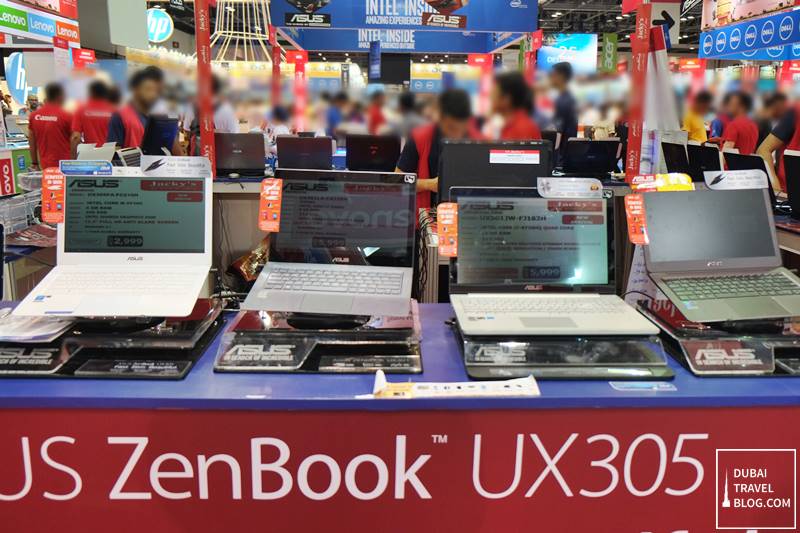 7. Eros Digital
Eros Group is a global retail company with ambitious plans to expand into the Middle East and North Africa region. The UAE-based business has already successfully partnered up with some of the world's best-known brands for distribution, as well as managing their own brand boutiques across selected markets in MENA. They have a number of departments and some of the highlights include electronics and appliances, lifestyle, retail, and corporate sales.
Some of the electronic brands they distribute include Samsung, Hitachi, TCL, Amazfit, Huwaei, Midea, Linksys, etc. Personally, we bought a couple of gadgets via Eros digital, including iPhone, and Samsung phones.
8. Grand Stores Digital
The Grand Stores is a leading distributor and retailer in products from the technology, luggage, beauty, and home sectors since its establishment in 1981. The wide variety of world-class products offered include imaging equipment like computers or smartphones; consumer electronics such as soundbars for your TV set which can make it louder without distortion; medical systems that help people live healthier lives through things like blood pressure monitors – all these are some examples how we strive to improve one's living conditions at every level with innovative ideas!
I remember buying my Fujifilm mirrorless camera in Grand Stores in The Dubai Mall, and buying some camera accessories in City Centre Deira branch.
9. Carrefour Supermarket
Carrefour Supermarket is a popular grocery store in the UAE. They have a section dedicated to selling computers, TVs, mobile phones, and other gadgets from various brands for their customers to buy at discounted prices. You can get massive price offers especially during the gadget shopping season in Dubai.
Aside from getting great deals, you can also get rewards in the form of Carrefour points so you also can get your cashback if you purchase a high-value item. Just what I did when my wife bought me a Samsung Note 8 phone at Carrefour.
Watch out for their appliance and electronics section especially during the Gitex Shopper season sale in Dubai.
10. Lulu Hypermarket
While Lulu Hypermarket is also a hypermarket, you will be astounded by the many electronic items you can find from this shop. Lulu offers discounts on electronics, gadgets
Lulu Hypermarket is a one-stop place for all your electronics needs. From televisions and video games to laptops, there's something here that will suit any need you could possibly dream up!
The Lulu Hypermarket is a treasure trove for anyone looking to buy electronic items. You're bound to find what you need, and with their great deals on gadgets too.
As they house many brands, expats in Dubai can also find low-cost gadgets at Lulu especially during the sale season.
11. Nesto Hypermarket
Nesto Hypermarket is also the same as Carrefour and Lulu, they started as a supermarket that caters to grocery items but has evolved and included gadgets, appliances, and electronics as part of the merchandise they sell. You can get some good deals during digital gadget sale season in Dubai.
I remember buying a 42-inch LG LED TV in Nesto Hypermarket. They also have laptops, home and kitchenware, etc. Nesto is a good place to search for some good offers on electronics in Dubai so do check it out when you have the time as they have plenty of branches in the UAE.
12. Al Ain Computer Plaza
It is a place where you can buy cheap laptops, hardware, and software, Macbooks, computers, etc. In case you are wondering why this is a good place to buy electronics, it is because the shops here are the ones selling wholesale items to different companies and technology shops inside the malls.
If you plan to buy in bulk, you can head to this place and choose among the stores available. You can also find many computer repair shops in Al Ain Computer Plaza. Just head to the Dubai Metro Green Line and exit the Al Fahidi Metro Station to get to this place.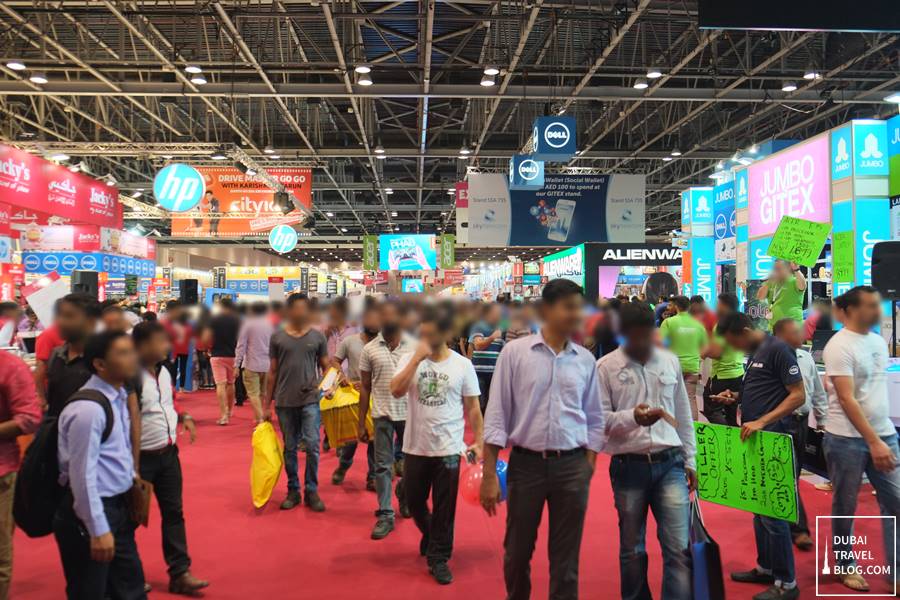 13. Computer Shops in Meena Bazaar, Bur Dubai
Meena Bazaar in Bur Dubai is known as a popular place to buy textile, fashion, and other cheap finds. But there is also an area here where you can buy cheap laptops and computers. There are some used laptops and refurbished computers you can buy if you're buying something at a low-cost rate.
Be advised that it is important that you have some technical knowledge about computers before purchasing these items as most of these items are not brand new. If you just wish to buy brand new items, you are better off buying computers/laptops in the listed electronics stores mentioned above.
14. Gitex Shopper Event at DWTC
While this is not a shop, but an event itself, this is one of the places where you can get the best deals possible if you chance upon this event during your visit.
The Gitex Shopper Dubai is an event held at the Dubai World Trade Center where many electronics shops offer the biggest sale. It is a great way to get deals while also supporting your favorite brands by purchasing their products through third-party retailers.
Different participating shops offer the best prices and freebies to computers, laptops, mobile phones, cameras, tablets, and other electronics and appliances. The sales people work really hard in order to make sure that they can provide customers like yourself with fantastic prices on items.
15. Dubai Online Shopping Websites (Noon, Amazon.ae, Awok)
There are also online shopping websites where you can buy electronics and gadgets. SOme of these popular Dubai websites include Noon, Amazon, and Awok. The downside to this is that you can't really have a look at the item on hand.
While these are not physical stores, you can also find some good deals on smartphones, tablets, laptops, and electronics when you shop especially during sale season.
Tips When Buying Electronics in Dubai
These are the best electronics shops in Dubai. It is good to choose among these places if you buy computers, laptops, mobile phones, tablets, and other electronics and devices
• Save time by narrowing down your choices to the best electronics shops in Dubai
• Shop without the hassle and with confidence
• Find a variety of high-quality products at reasonable prices
• Find a staff that is knowledgeable and knowledgeable
Summary
This list of shops will help you find the perfect electronic gadgets in Dubai. Make sure to take your time and choose an electronics store that suits what you need; we know it can be hard with all these great options, but at least now there's no excuse not too!