We spent a Friday evening of South American cuisine at Pachanga Restaurant and Cuban bar in Hilton Hotel – JBR. Despite a sandstorm which seemed to signal the change of season, we managed to drop by this place and have a great dinner experience.
Related Post: Friday Salsa Night at Pachanga
Dubai is home to plenty of restaurants offering various cuisines sprawled all over the city. As an expat, you are bound to taste dishes from many different countries. We haven't gone out as much in past weeks so this was a timely occasion to try something new.
Pachanga restaurant at Hilton JBR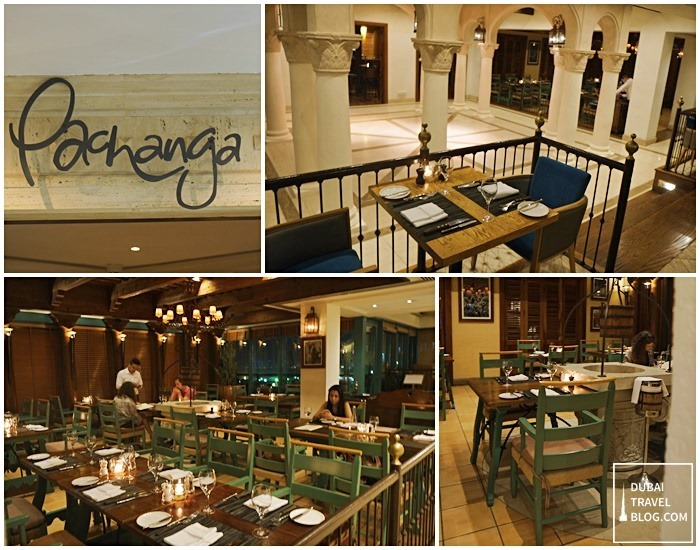 inside the restaurant and Cuban bar
Pachanga is located at the Hilton hotel, The Beach at JBR. You would have to pass by the lobby of the hotel with a huge,  beautiful chandelier and take the escalator leading to the entrance of the restaurant.
Pachanga Dubai doesn't look like a typical restaurant , with a hall that greets you as you enter and big wooden tables in the dining area. To me, it felt more like a entering a traditional home – a place that offers a warm and relaxed atmosphere.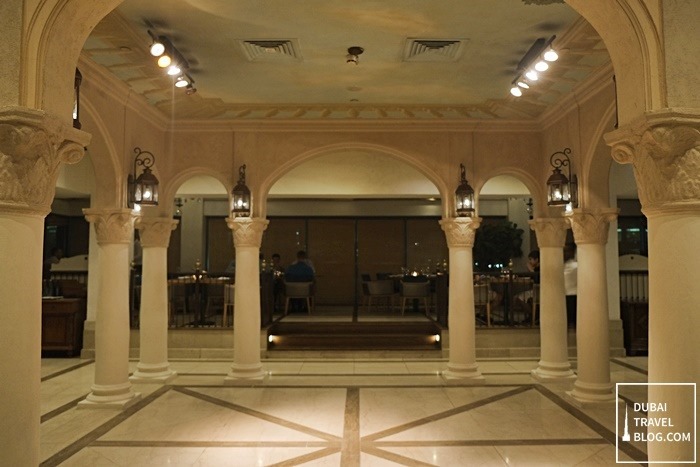 dance hall during salsa night!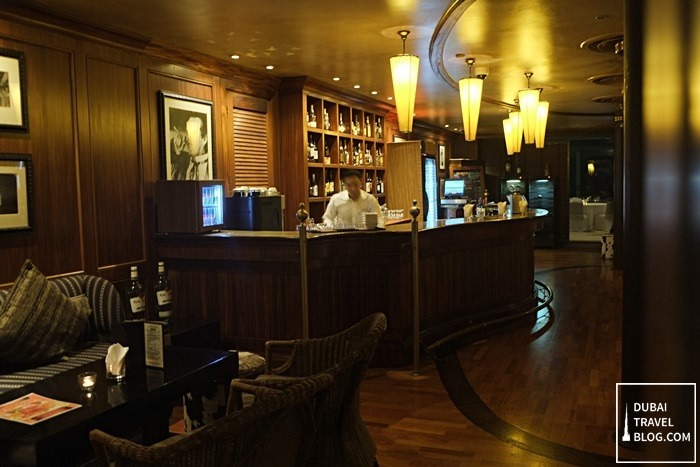 Cuban bar
South American Cuisine by Chef Jorge Rivero at Pachanga Restaurant Dubai
Our menu was prepared by Chef Jorge Rivero and we were famished to try what this Latin American steakhouse has to offer. Below are photos of the food.
"We proudly cook our meat on a charcoal grill to give a more authentic and distinctive flavour, Pachanga's flavour" – Chef Jorge Rivero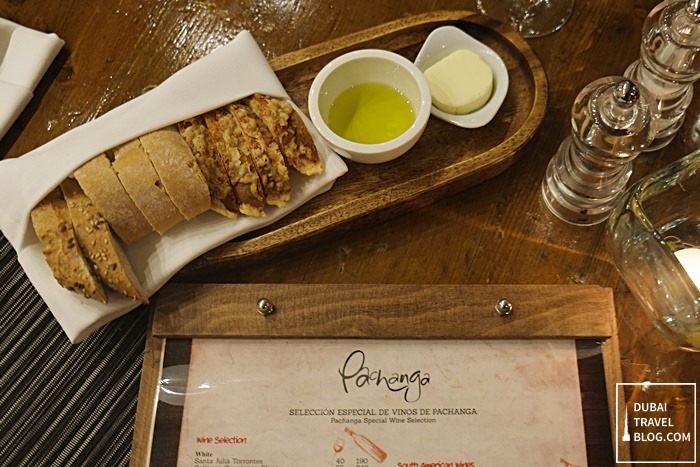 complimentary bread spread
Appetizers / Starters
For starters, we had the octopus and spinach salad. The egg on the spinach salad was very tender that when I used the fork to move it a bit, the yolk burst and let out a beautiful ooze, giving a lovely contrast to the dark green salad.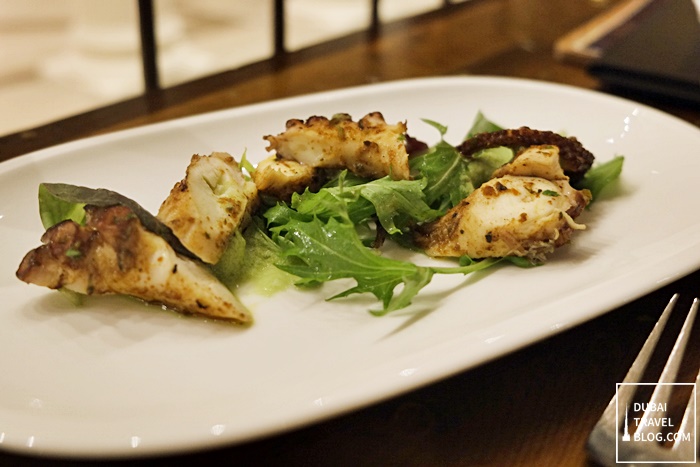 Pulp Grillado Con Espuma de Limon, Ajo, Cilantro Y Aceita de Oliva – 40 AED
Charcoal grilled octopus with foam of lemon, garlic, coriander & olive
Ensalada de Espinaca Bebe – Tomates secos, hongos, esparragos y huevo Coccion Lenta con Aderezo de Lima – 50 AED
Baby spinach, sun dried tomato, mushroom, asparagus, & slow cooked egg with lime dressing
Main Course
The staff recommended the sirloin steak so we chose that and added a side of asparagus. We also ordered a grilled seafood platter.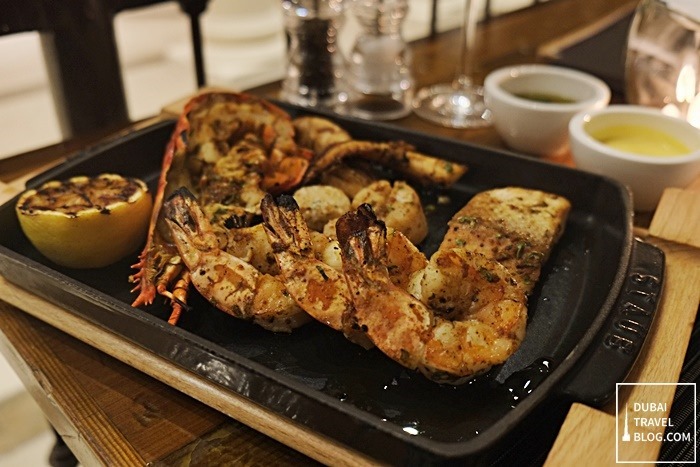 Parillada de Frutos de Mar Langosta, Langostinos, Vieiras, Pulpo Y Salmon  – 180 AED
Grilled seafood – lobster, prawns, scallops, octopus & salmon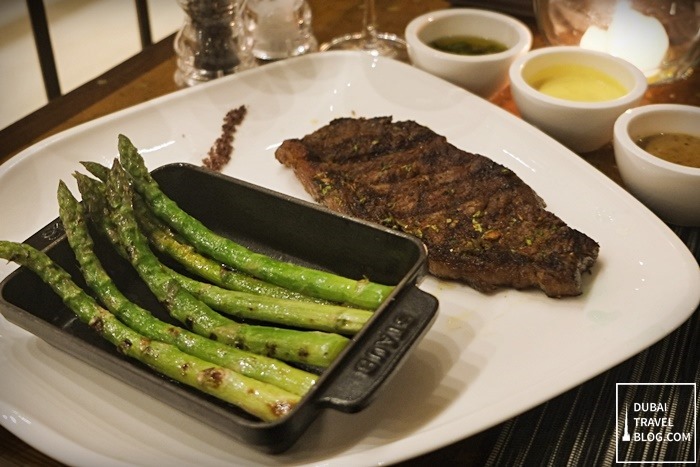 Recomendacion del Chef – Bife Angosto Wagyu 8+ 200g – 250AED
Chef Recommendation: Wagyu Sirloin 8+
Esparragos Grillados – 20 AED
Grilled Asparagus
Drinks
Pachanga has a wide selection of wines, alcoholic and non alcoholic beverages in their Cuban bar. We ordered Amor and Envy. The Amor was really good!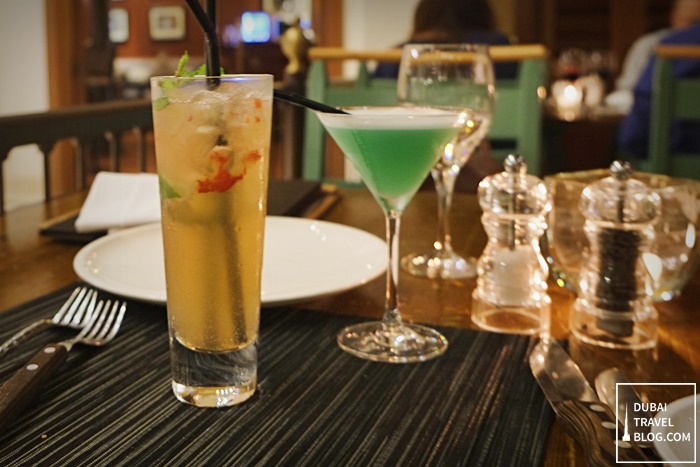 Amor – 45 AED
Gin fresh strawberries, cucumber, lemon juice, sprite
Envy – 45 AED
Tequila, Blue curacao, pineapple juice
Desserts
Lastly for dessert, we had a banana dulce de leche which had a rich creamy texture, and a chocolate molten cake where the chocolate fudge beautifully gushed when we sliced the cake.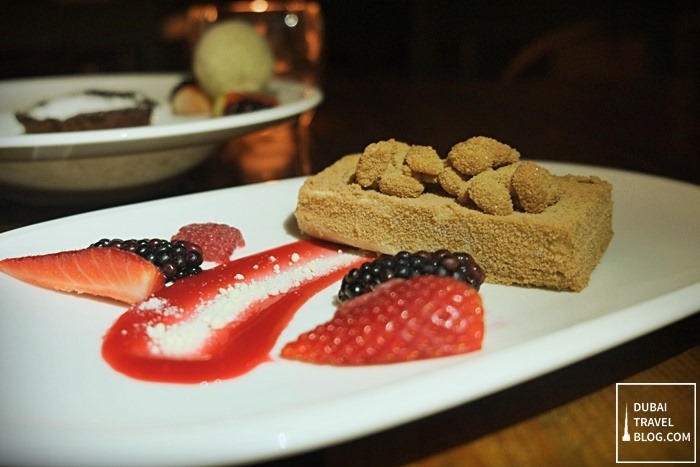 Banana con Dulce de Leche y mani – 60 AED
Banana with peanuts and dulce de leche toffee
Torta tibia de Chocolate, salsa de vainilla y helado de manzana-mazapan – 45 AED
Chocolate molten cake with vanilla sauce and apple-marzipan ice cream
Live Music by a Cuban Band, ASESU
What we love best about the experience was the Cuban band (ASESU) that played songs and complemented the food and overall dining atmosphere. Come late night, the place was crowded with salsa dance enthusiasts all ready for a fun night of salsa. More about it in our next post – Friday Salsa Night at Pachanga.
If you're looking for a different and lively vibe, head over to Pachanga restaurant at Hilton JBR for some relaxing nights over a sumptuous feast!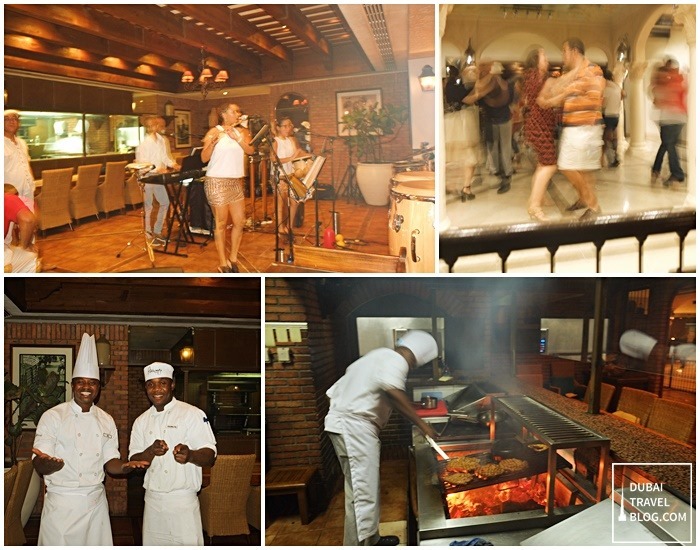 ASESU band and the chefs in action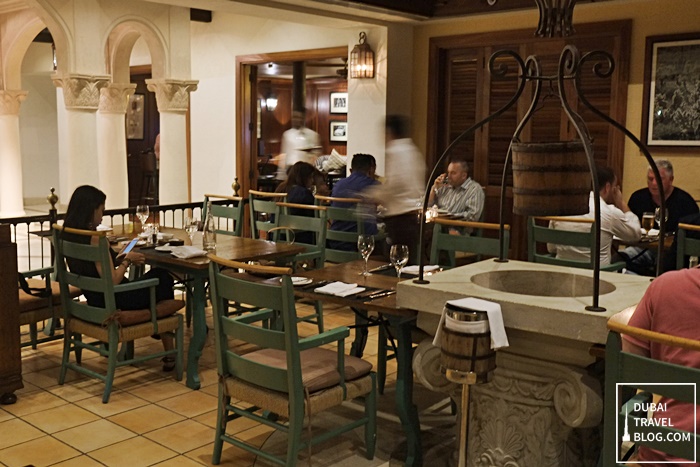 lively night on Fridays
Discover South American cuisine in this lively Latin American Steakhouse or pop in for evening tapas and cocktails at the traditional Cuban-style bar. Stay entertained all night long with our live entertainment of the most popular songs in the continent.

Don't miss Argentinean night, offering sharing Argentinian starters ranging from empanadas to bifesitos de cuadril.

-from the Hilton website

Hilton Dubai Jumeirah Resort
Note: Pachanga is open for dinner everyday except Saturdays.
Contact Information:
Pachanga Restaurant in Dubai
Hilton Dubai Jumeirah Resort – JBR
Website: http://www3.hilton.com/en/hotels/uae/hilton-dubai-jumeirah-resort-DXBJBHI/dining/index.html
Facebook: https://www.facebook.com/HiltonDubai