Dubai offers the thrill-seeker a variety of water adventures. With the sun shining all-year round, here we round up some great watersport activities you can enjoy. From kitesurfing to paddleboarding, from scuba diving to wake boarding, even surfing, the emirate has plenty to offer.
Also Read: Theme Parks to Visit in Dubai
Here we try to share the activities you can do in water. Please do bear in mind some activities may vary on availability based on the season.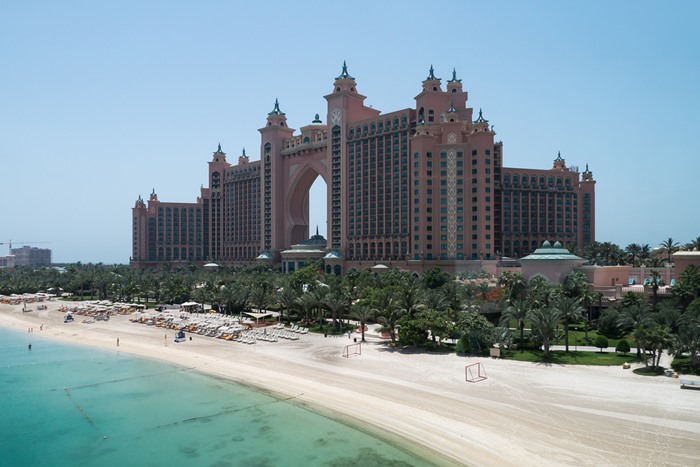 Image: Atlantis, The Palm
Top Watersport Activities in Dubai
When we think of the dreamy Dubai, we first think of its various architectural wonders and the many distractions the city offers tourists. We even tend to forget that the city is surrounded by the Arabian Golf, and that most of the pleasures we expect of a sea resort are available here. Let's remind you of the water and share some of the top water sports you can enjoy in Dubai.
KITESURFING
Are you planning to do some kite surfing while in Dubai? You'll have to remember that without wind, there's little chance of kite surfing, so try to be in Dubai between December and April. Also, any time during the year, there is more wind in the afternoon than in the morning. You can practice kitesurfing on two beaches, Kitesurf Beach (Nasimi Beach) and Kite Beach (Fazza beach).
If you are a beginner, chose Kitesurf Beach as its bay form makes it a better place for those who need practice. Kite Beach, has predominant onshore wind direction and is a little more delicate to handle.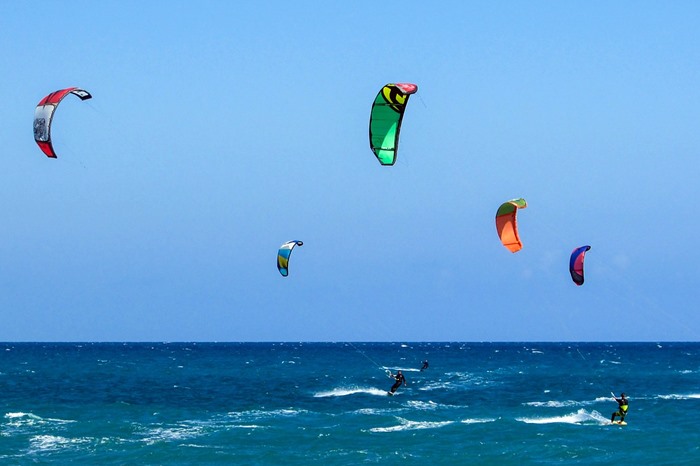 WINDSURFING
When there is wind, why not go windsurfing? The best time of the year is from March to July. After July, you'll find it more difficult to stay in the sun and will have to windsurf early in the morning or late in the afternoon.
Jumeirah beach is one of the places you should try for windsurfing. Should you need to rent equipment or take lessons, you can also contact and go to the tip of Palm Jumeirah: you'll get to windsurf close to the spectacular Atlantis hotel!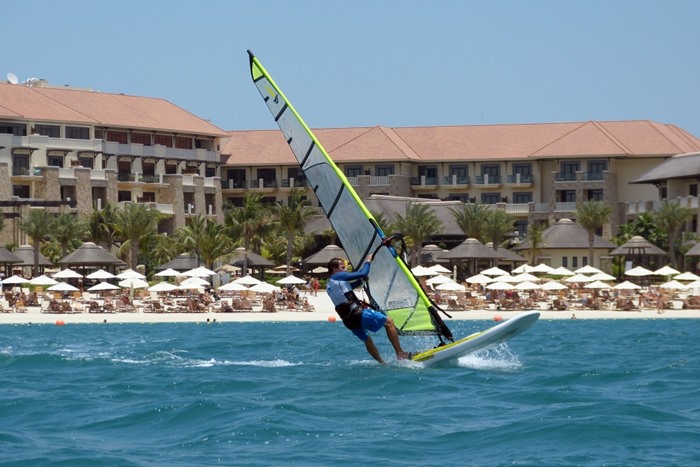 SCUBA DIVING
Many hotels in Dubai offer scuba diving for beginners, so you might consider taking a few lessons in the hotel swimming pool. The next step will be joining a diving school, which will take you diving in the best areas around Dubai. The sandy beaches and general activity of Dubai don't attract fish and there will be more to see when scuba diving further from Dubai.
JET SKI
Plenty of opportunities to jetski in the waters. There are various hydro sport businesses that have set shop in the beaches and you can approach these shops in order to rent a jet ski.
FLYBOARDS & JETPACKS
Another adrenaline-packed activity are flyboards and jetpacks which offer you to hover above water. You can stand on a board and do acrobatic stunts (once you're a bit more advanced) as you are connected by a long hose to watercraft.
SAILING
Sailing is becoming popular in Dubai. This is probably why the city is involved in famous races such as the Dubai to Muscat Offshore Sailing Race. For those who would just like to practice sailing, why not take some dinghy lessons or join a club?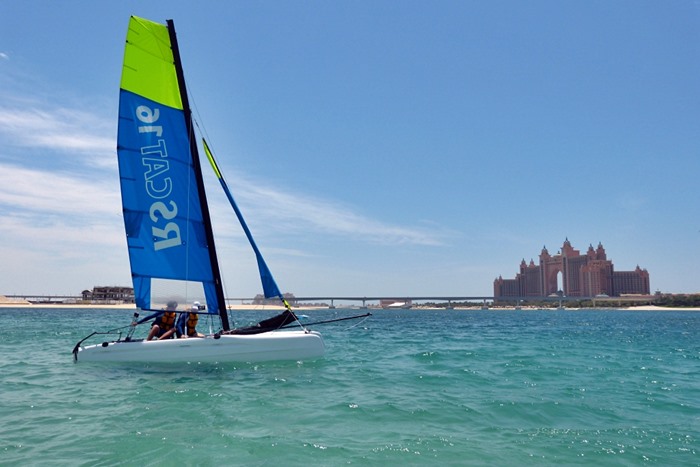 CATAMARAN SAILING
You are a sailor and would like to try to cruize on a catamaran? This is your opportunity. You can get basic instruction on land or ask for an on-water instructor.
STAND-UP PADDLEBOARDING
What is the perfect water-sport for the days when there is no wind at all? Stand-up paddleboarding (known as SUP), of course! For this sport, you will have to learn to stand up on a board and use a paddle to move over the water. This is an excellent exercise that will keep you fit! You can even use your board for a yoga routine. Good luck!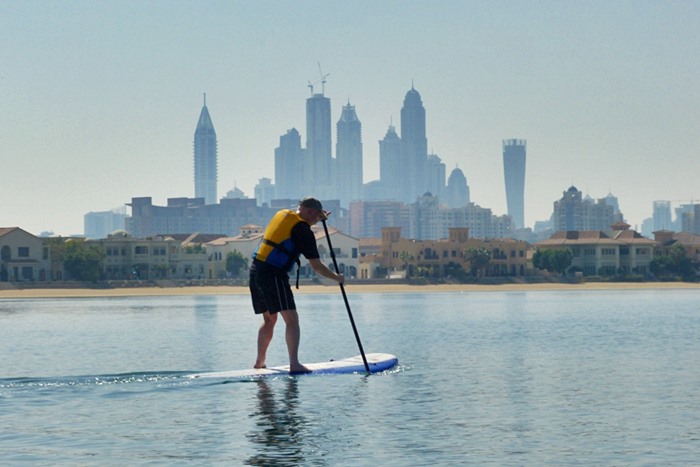 KAYAKING
What about taking a quiet tour around Palm Jumeirah and having the time to admire it from the sea? This is one of the options offered by SeaYou where you can participate in a guided kayak tour. If you are over 16, you may choose a single kayak. Adults, or an adult accompanying a child (from 8 to 15) may prefer a double kayak. The tour lasts two and a half hours, including a twenty minutes pause on land. Before the tour, you will be given instruction on how to paddle for hours without getting tired. Another option is to find kayaks for sale .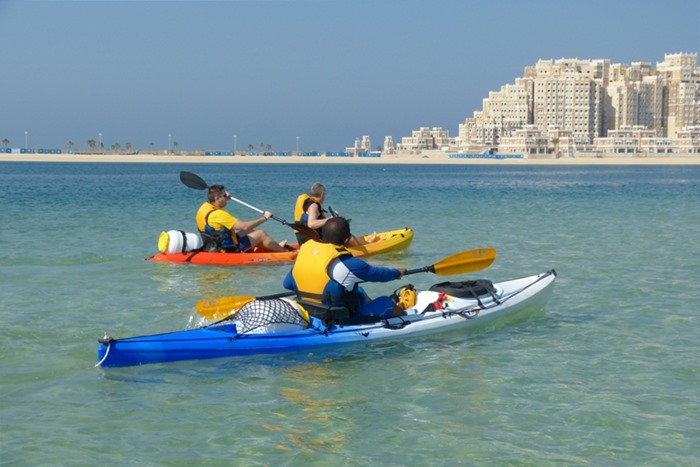 PARASAILING
Ride a parachute that's dragged by a motorboat which raises you high above the sea, parasailing will allow you to witness a nice view from above.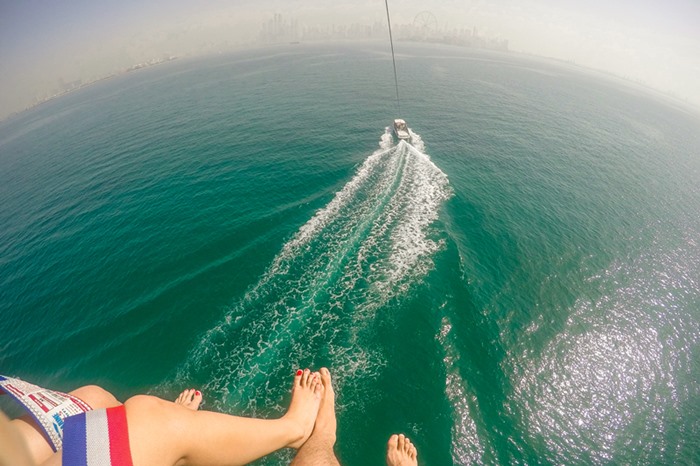 SURFING
The waves of Dubai are not the best in the world, yet it is possible to surf here. Although you can learn to surf and take lessons anytime, the best time of the year for surfing is from October to April.
Most people will recommend you to go to Sunset Beach to surf, however, this beach gets a bit crowded on the weekend. Another quieter beach to check is Umm Suqeim beach.
SWIMMING
This is the water sport most of us are familiar with, and there is no lack of places to practice it in Dubai. There are swimming pools everywhere, and at least a dozen beaches to choose from, so you should not have any difficulties finding a place to swim.
Jumeirah beach is very popular, but you may also find it a bit too crowded. Why not spend the day at Al Mamzar Beach Park? You can choose between five beaches, all provided with watchtowers, lifeguards, changing rooms and shades for beach users.
The park also has a large swimming pool divided into 3 pools for children and adults. There, you'll find seats, sunshades, changing rooms, showers, and a snack-house. Again, lifeguards will be on duty to make sure you swim safely.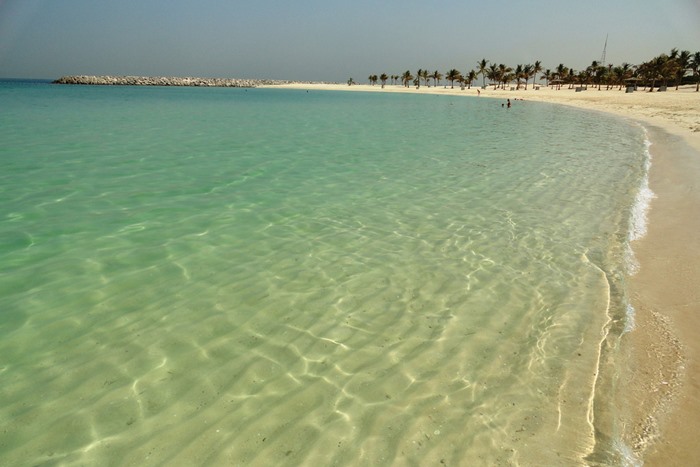 Image: Al Mamzar Beach Park
ROWING 
Would you like to get a chance to watch the flamingos and dolphins around Dubai? Are you looking for a good group activity? Well, why not try rowing? Even if you are a beginner, you can find a club where you can take rowing classes.
Have fun, and don't forget you'll need sunscreen, sunglasses, bottles of water and common sense to survive the heat!