Radisson Blu Deira Creek's Fish Market restaurant is the flagship restaurant of the five-star hotel which celebrates the culture of the old days given that the Dubai Creek started as a fishing village and fishing was a main source of livelihood.
The dining experience in Fish Market lets you you grab a basket, choose from the fresh catches of the day from their seafood display, and have your catch cooked according to your preference and liking. It's a cool experience that this luxury hotel is able to master as they've been serving guests for over 30 years.
Alcohol: YES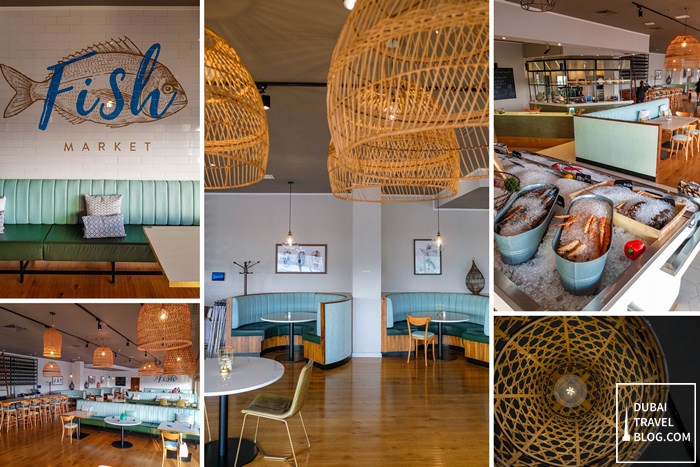 Fish Market Restaurant in Dubai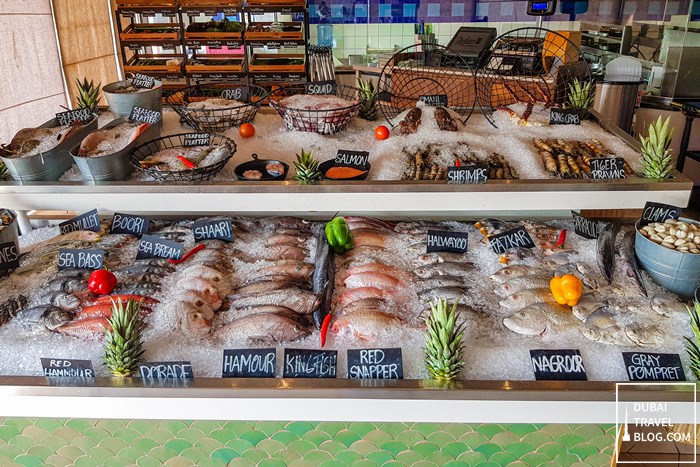 choose from the fresh produce and have it cooked according to your liking
Unlimited Seafood at Fish Market Restaurant Deira Creek
We are no stranger to the food experiences offered by Radisson Blu Deira Creek as we have dined in their other restaurants in the past (Sumibiya, Minato, Aseelah), so when the opportunity arose to eat at their signature seafood restaurant, we gladly welcomed the invitation.
The atmosphere in Fish Market is quite relaxed. I later realized that the restaurant has been revamped from what was previously wooden Thai decor, to now a modern and stylish interior. The colors of the sea on the comfy benches, the wooden floors, and fish baskets, these designs are inspired from the fishing village history of Dubai.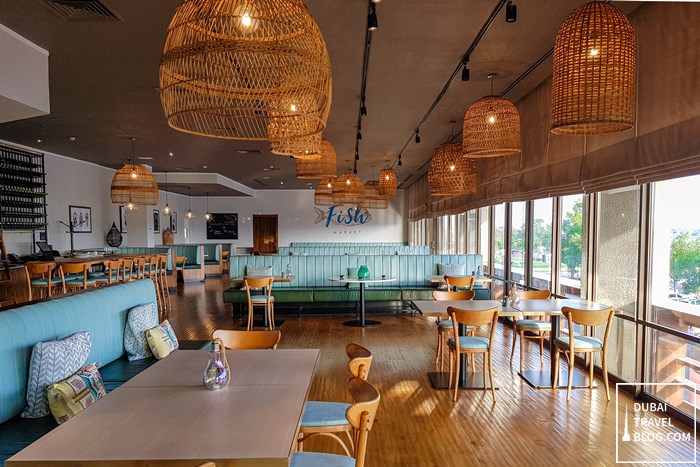 inside the modern and trendy decor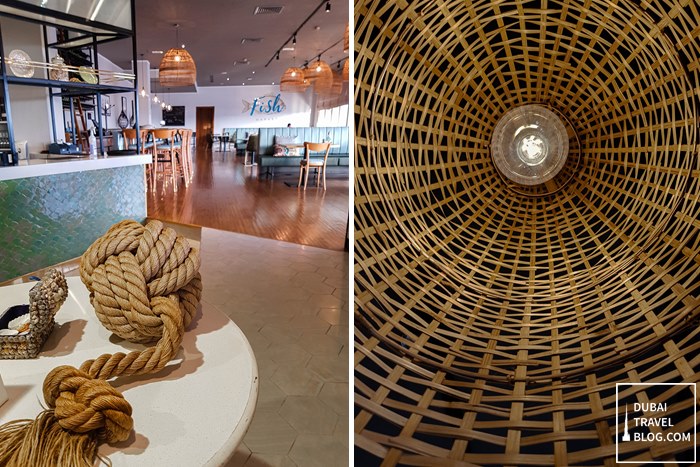 rope, fish baskets and other decor that pay tribute to the fishing village of Dubai
Overwhelmed by the seafood on the display area and the variety of ways to cook each dish, we asked the staff, Manilhyn, to give us her recommendations. We were so satisfied with the seafood feast served on our table.
Fish Market is known for the quality of its fresh produce, its stylish decor, and the view of the Dubai Creek. It's fitting to watch the beautiful view of the creek while sampling fresh produce from this restaurant.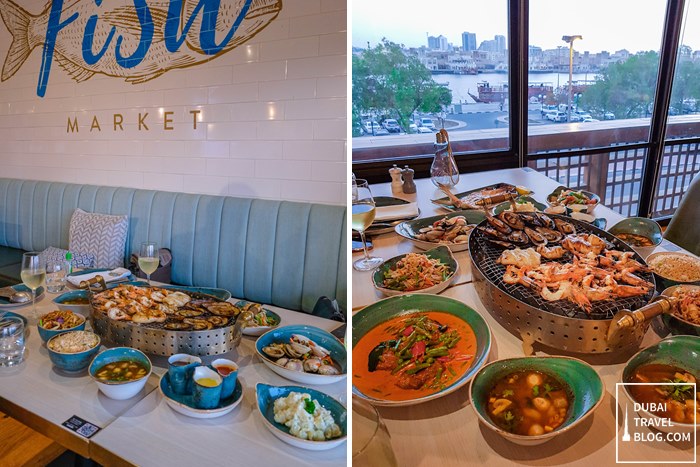 seafood feast!
view from the restaurant
Red Thai curry, clams in oyster sauce, Tom Yum Soup, mixed vegetables, fried rice, and a mussels, squid, and prawns on a grill served on our table. The seafood spread made for a wonderful feast.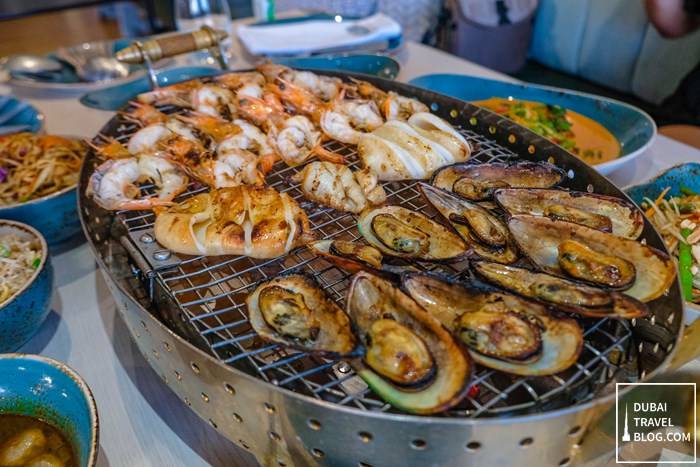 grilled mussels, shrimps, and squids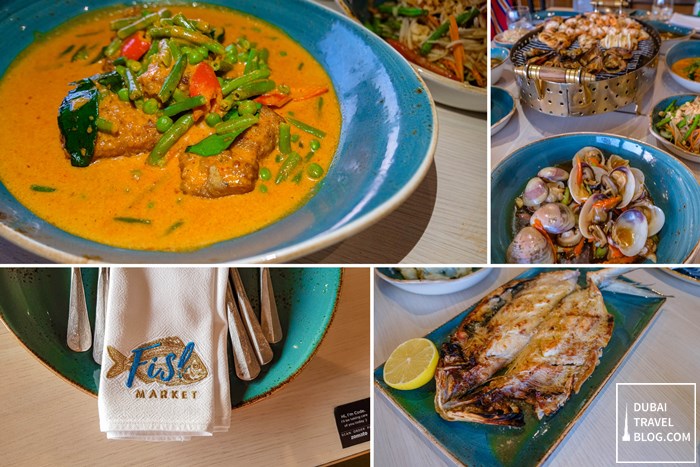 Thai Red Curry fish (Dory), clams in oyster sauce, fried milk fish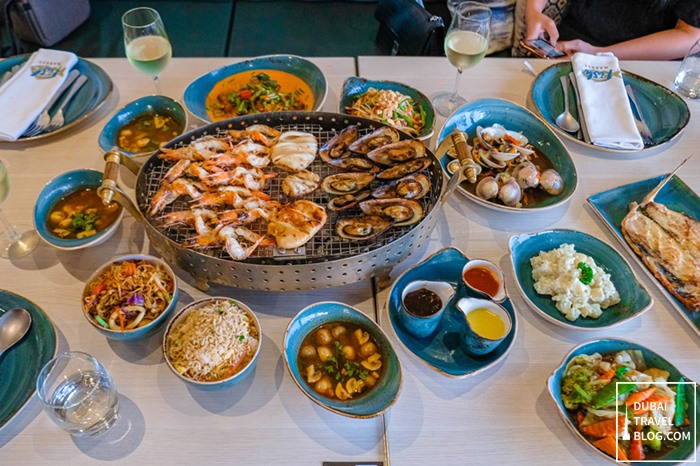 As restaurants in Dubai are adjusting to the new norms of dining, a number of establishments are also finding creative ways to adhere to the strict laws when it comes to the handling of food to their customers. Radisson Blu Dubai Deira Creek's Fish Market has dedicated staff to assist in choosing the catches you wish to have for your meal.
Tables are limited given that social distance should be maintained so it's best to make a reservation to reserve a table beforehand.
Fish Market Dubai
enjoying our dinner
You can surely enjoy a seafood feast at the Fish Market!
Fish Market is currently running an offer Treat for OFWs (Overseas Filipino Workers) in the UAE. You can get a Buy One Get One offer for your meal, just make a reservation via 04 205 7033. Terms & conditions apply.
For non-OFWs, you can get a Buy One Get One deal via Entertainer App. 🙂
Note: We were invited to dine at Fish Market. All opinions are my own.
Contact Information
Fish Market Restaurant
Address: Level 2, Radisson Blu Hotel Dubai Deira Creek, Baniyas, Dubai
Telephone Number: +971 4 205 7033
Website: https://www.radissonhotels.com/en-us/hotels/radisson-blu-dubai-deira-creek
Google Map Location
Please check the map guide below to see the location of Radisson Blu Hotel Deira Creek. Fish Market restaurant is located at the 1st floor of the hotel.