We spent dinner at Azur Restaurant during our last night at Al Raha Beach Hotel in Abu Dhabi. Located just at the basement area of the hotel, this is a restaurant that specializes in Italian cuisine.
After spending the afternoon in the pool, we were ready to have a bite to eat. Azur is adorned with quaint decoration. Walls are filled with pictures, frames, and shelves. Blue accents on white tables and chairs as well as colorful potted plants add for an even more charming interior. It's quite warm and inviting to dine when you sit inside.
ALCOHOL: YES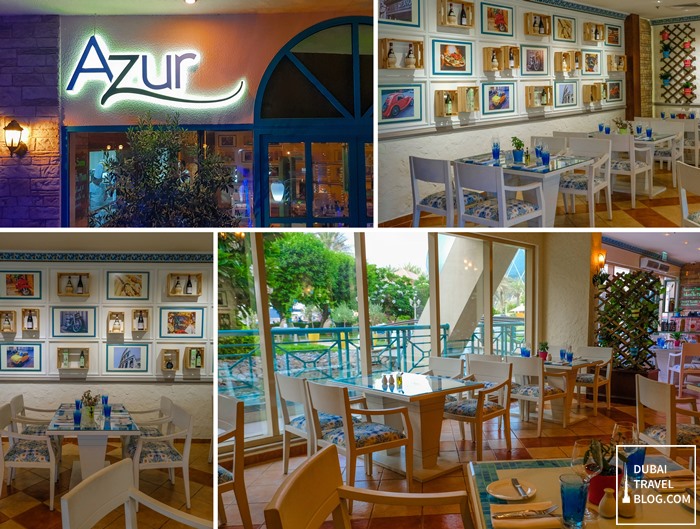 Azur restaurant interior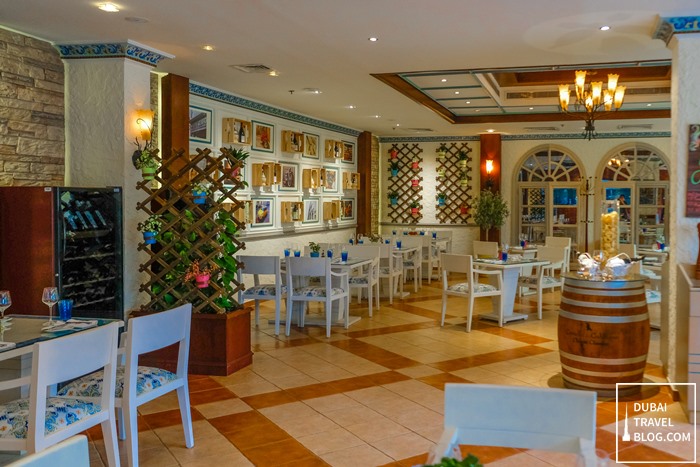 lovely set-up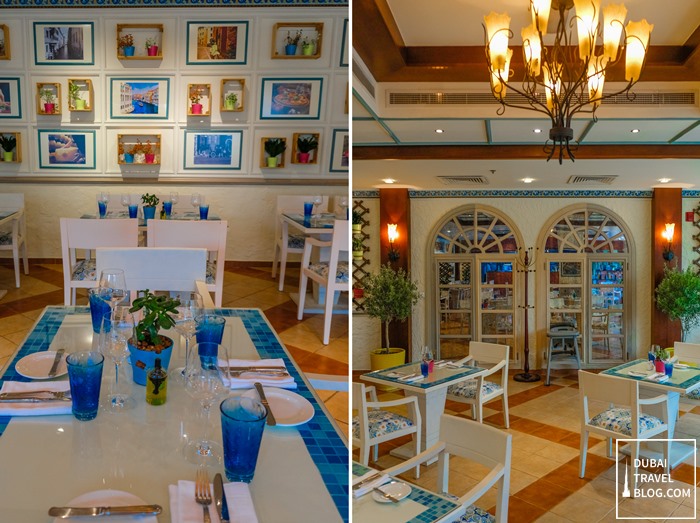 lovely decoration
Restaurant Review: Azur in Al Raha Beach Hotel, Abu Dhabi
They have a nice al fresco set-up with a view of the Aldar HQ building, but the weather was hot so we opted to dine inside.
While choosing our orders, the staff gave us complimentary bread with sundried tomatoes and cheese. It's been awhile since we ate out in Italian restaurants here that I forgot they always come with complimentary bread to start the meal. 🙂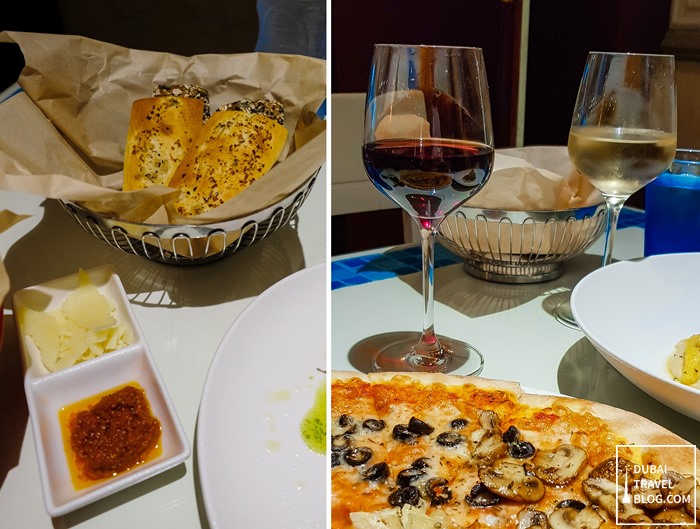 complimentary bread
red wine and white wine
Primi Piatti (To Start With / Starters)
For appetizers, we had the caprese salad and the fritto misto. We loved the combination of the fresh salad and the fried light bites.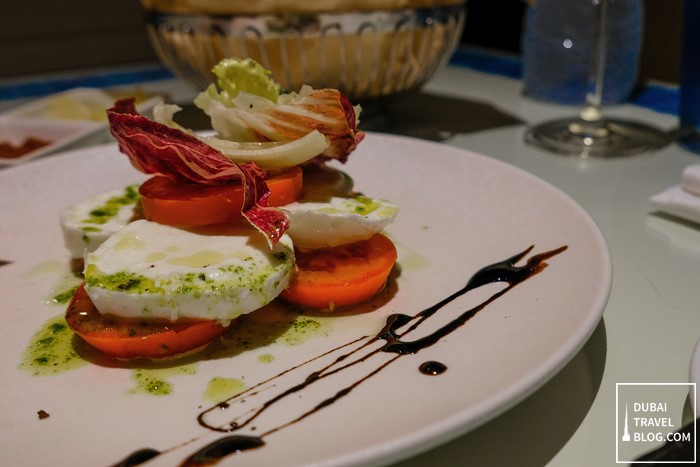 Caprese Salad
Mozzarella, fresh organic tomato and basil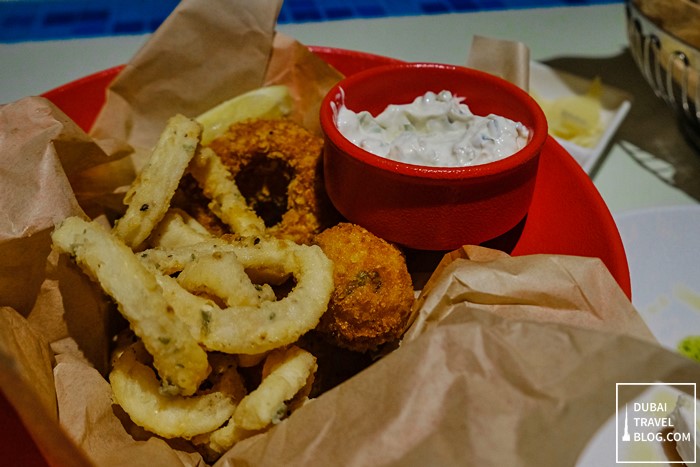 Fritto misto
Saffron arancini, crispy fried calamari, tartar sauce
Piatti Principale (The Big Eats / Main Course)
For our main course, my wife ordered a seafood option of their grilled selection which a pan fried stone bass while I ordered their pizza. The pizza was alright, but we really enjoyed the sea bass.
Pan fried stone bass
Fennel puree, crispy onions, wilted spinach, orange brulee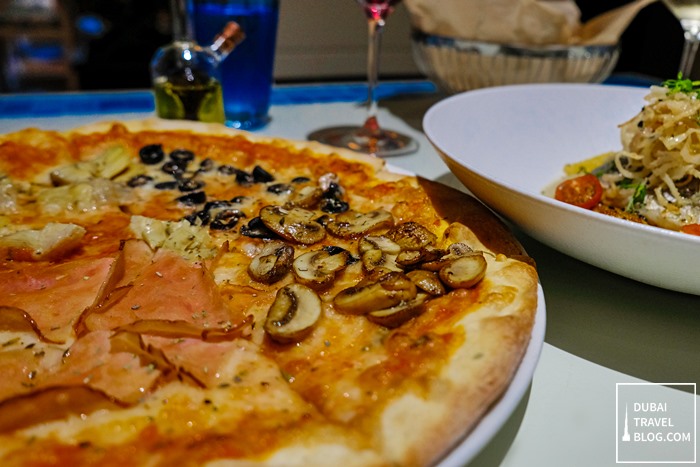 Pizza alle Quattro stagioni
Tomato sauce, mozzarella, turjey ham, mushroom, artichoke, olives
Piatti Dolci (Desserts)
Lastly for desserts, we had the vanilla panna cotta and tiramisu. The tiramisu was light, delicate, and delectable!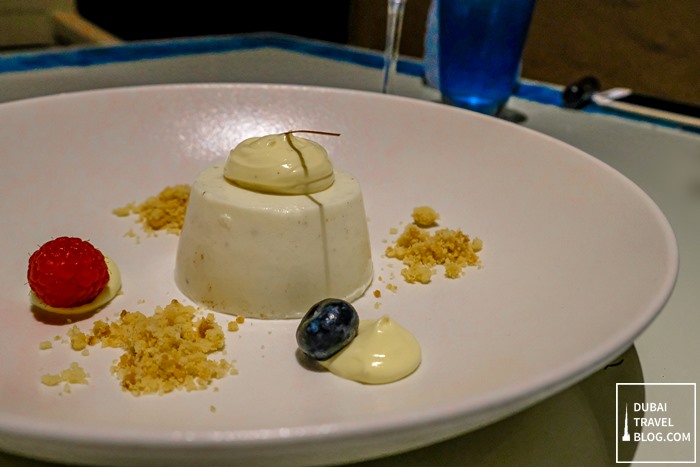 Panna Cotta all vanilla
Vanilla panna cotta with raspberry coulis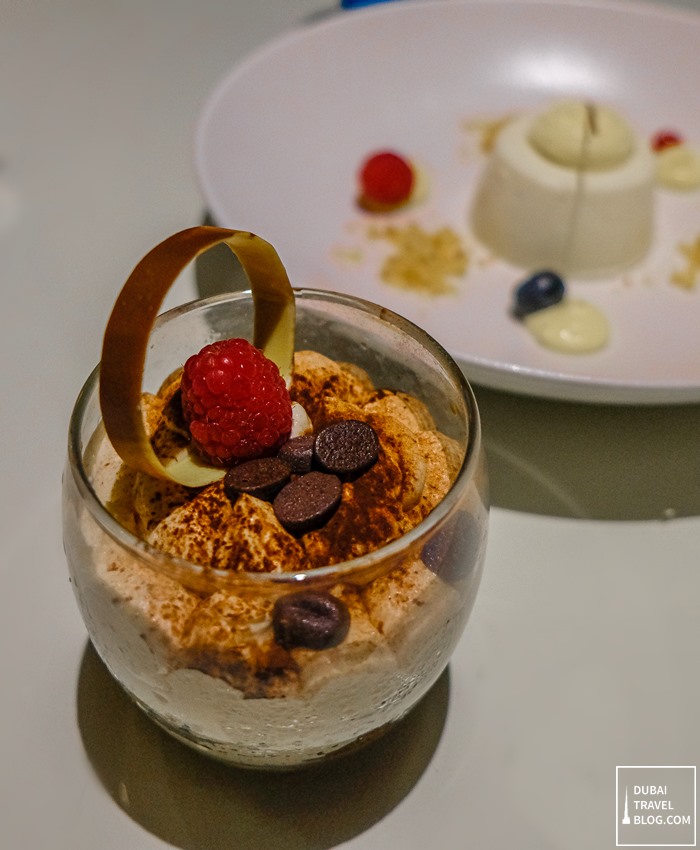 Tiramisu
Mascarpone cheese mousse, boscotti, cocoa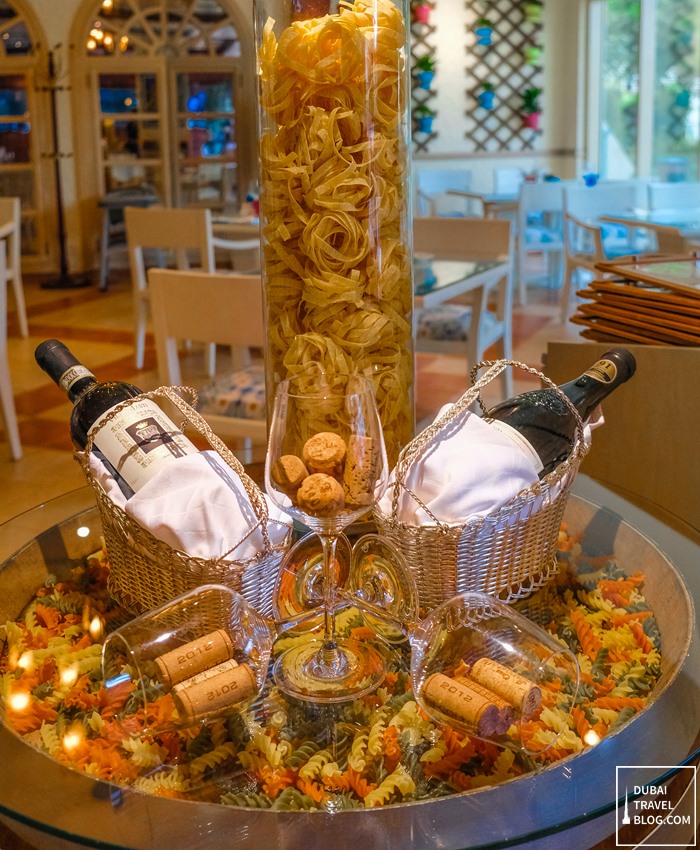 pasta and wine 🙂
Intrinsically Italian, Azur is an exquisite Abu Dhabi restaurants showcasing a unique blend of art and cuisine. Savour the creative daily specialties as well as tailor-made menus that will definitely satisfy your tastes. Dine alfresco under the stars, with breathtaking views of the manicured garden and pool, or in the relaxed and intimate dining room. – Al Raha Beach Hotel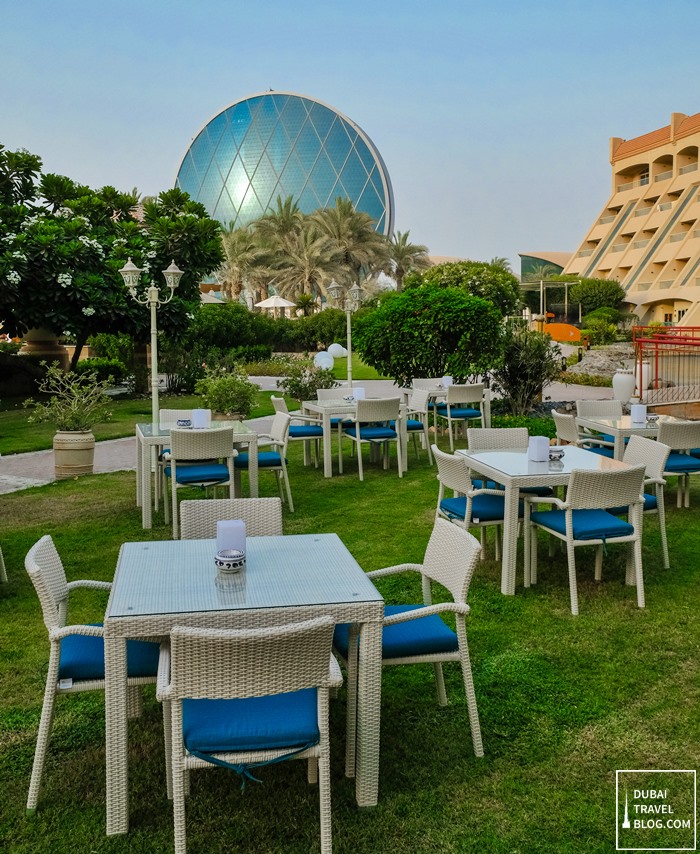 dining al fresco with a view of Aldar HQ building
Note: We were invited to a complimentary stay at the hotel. All opinions are my own.
Contact Information
Azur Restaurant
Address: Al Raha Beach Resort, Abu Dhabi-Dubai Road (E 10 Road) – Abu Dhabi – United Arab Emirates
Phone: +971 2 508 0555
Google Map Location
Below is a map guide to get to Azur. You have to go to the lobby elevator and head to the Basement level to get to the restaurant.