We had the opportunity to have a staycation and book a room at InterContinental Abu Dhabi for the weekend. It was our first time staying at this particular hotel, but it's a well-known brand and we were excited to check it out. The InterContinental Abu Dhabi is a five-star hotel that overlooks the stunning Marina.
The five-star hotel has 390 guest rooms with panoramic views of the city and coast. It is a stunning urban resort that features inviting light-filled, sophisticated spaces and award-winning dining options along with premium wellness facilities.
The InterContinental Abu Dhabi has many firsts under its belt. It was the first hotel in Abu Dhabi to have a stretch of white sandy private beach and pool as well as a grand ballroom. The hotel was built in 1981 and since then, it has kept its pioneering spirit alive by providing excellent dining options and all sorts of leisure facilities in a serene environment situated right in the center of Abu Dhabi.
arriving at the hotel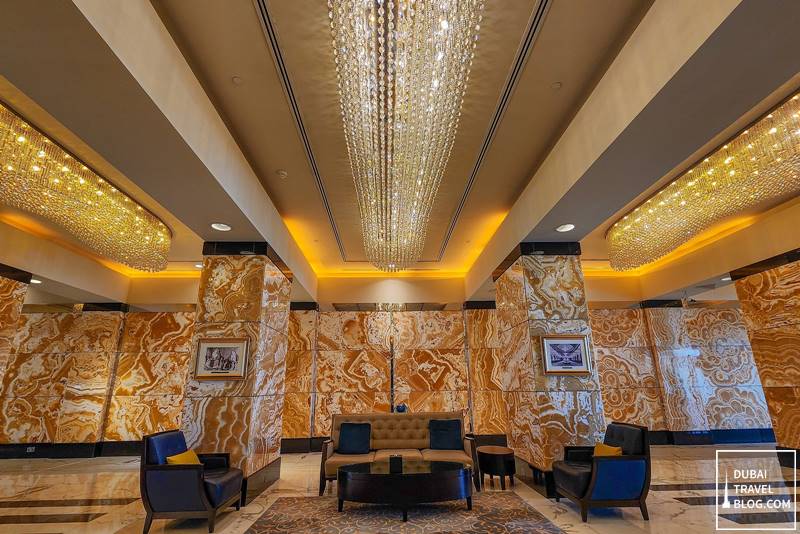 elegant hotel lobby

Marina Walk
Staycation at InterContinental Abu Dhabi
We easily found a parking spot in front of the hotel and after a few seconds' walk, we were already inside their lobby. Loved that they added a great inviting scent upon entering the hotel. It set for a great first impression of the hotel. After checking in, we headed straight to our room.
Piano Lobby Lounge
hotel lobby – checking in
sweet gesture – welcome treats from InterContinental Abu Dhabi!
1 King Bed 1 Bedroom Suite
At 65 sqm, our room was a 1 bedroom suite located on the higher floor and features separate dining and living areas. It was very spacious and provided an extra space for entertaining. The bedroom has a comfortable king-size bed. Facilities were great as they feature Smart TVs.
spacious 1 BR with a view of Abu Dhabi
inside our 1 BR suite
Living Area
The living room has plenty of seating with a sofa, armchair, and coffee table. This is where we found the stocked minibar as well as the tea and coffee-making facilities. It also had a working desk should you need to get some work done while on your staycation.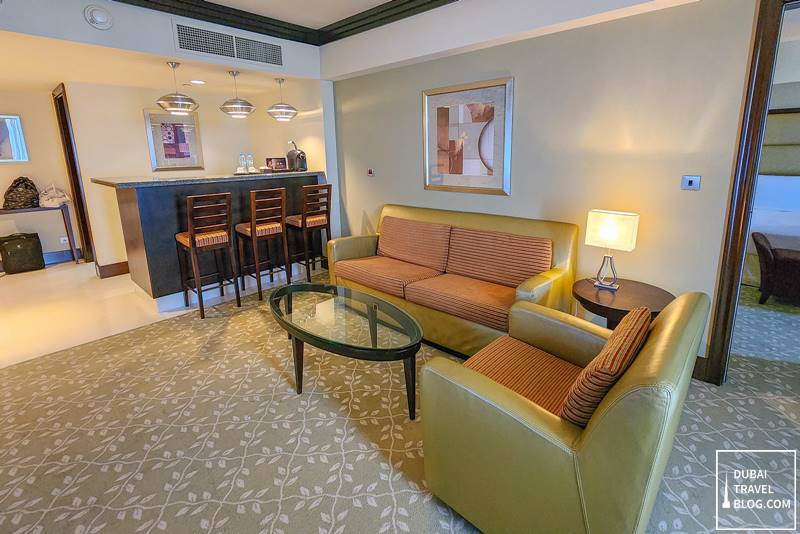 kitchenette and living area
living area
Bathroom
This 1 BR suite features 1.5 toilets. The main bathroom has a separate walk-in shower, toilet, bidet, and soaking bathtub. It was also stocked with quality toiletries.
bathroom toiletries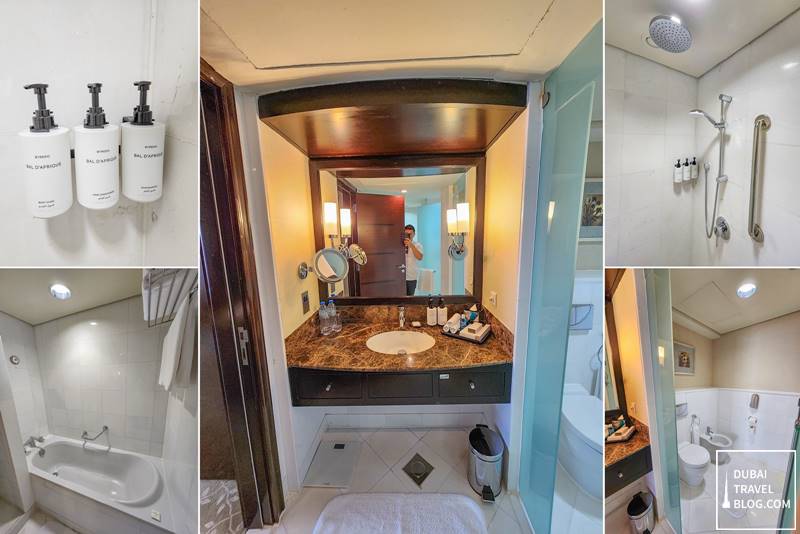 inside the bathroom
WiFi Internet
The WiFi was good at 7.5 Mbps download speed and 4.6 Mbps upload speed with a strong signal throughout the room and lobby.
view from our room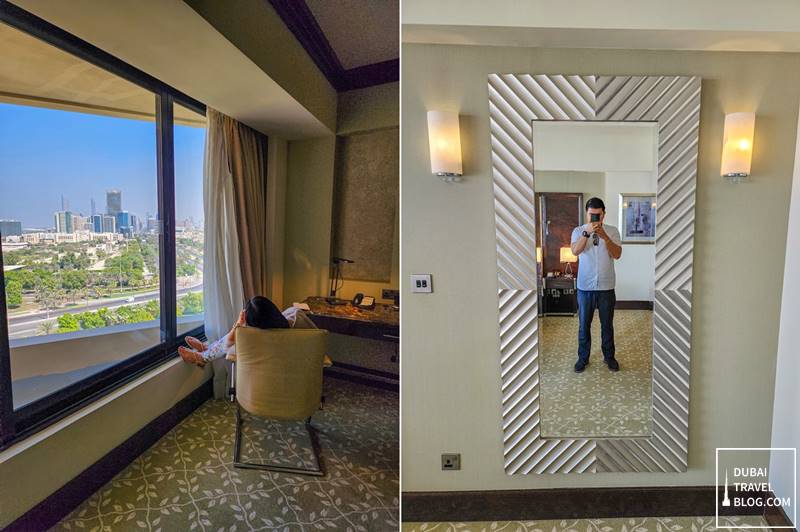 view from our room and selfie
Restaurants
InterContinental Abu Dhabi guests have the opportunity to explore different cultures without going more than a few steps from their rooms. With an array of award-winning indoor and outdoor restaurants and bars with views of the marina, Marina Walk boasts the best dining scene in town. Here's a list of restaurants you can choose from:
Belgian Cafe – a brasserie-style restaurant that serves classic Belgian fare such as mussels, fried bites, pork servings, etc. The coolest spot to hang out in during the colder months, the Belgian Cafe beer garden features a big screen where they show all major games. And for music lovers, they have live music and a resident DJ playing Chill-Out tunes.
Chamas Restaurant – Chamas is a Brazilian restaurant that specializes in Churrascaria where Passadores (meat waiters) go around the restaurant with skewers of meat and carve it directly onto your plate. There's also a salad bar where you can help yourselves to unlimited side dishes such as Brazilian cheese bread, various salads, and more.
Cho Gao – Guests at ho Gao Marina Walk can enjoy pan-Asian cuisine in a fun and festive atmosphere. The menu features signature dishes from across the continent, all of which are complemented by lively décor in a chic and stylish waterfront setting.
Selections Restaurant – their all-day dining restaurant located on the 3rd level of the hotel building. Selections features international cuisine and boast one of the most spectacular views around.
Fish Market – Fishmarket is InterContinental Abu Dhabi's most successful restaurant. The popularity of the restaurant is due to its winning combination of fresh seafood and attentive service.
Byblos Sur Mer – This is an authentic award-winning Lebanese restaurant operating on 2 levels with terraces offering stunning sunset views out to the Gulf of Arabia. If you're looking for an amazing array of mezze and grills, look no further than Byblos Sur Mer.
The Bayshore – There are dining options in their Bayshore area where you can enjoy some light bites as you lounge on their sunbeds on the beach or by the pool area.
Piano Lounge – Located in the hotel lobby and decorated with luxurious Egyptian marble, the Piano Lounge provides a warm and relaxed environment for you to gather with friends over coffee or cocktails.
In-Room Dining – If you're not in the mood to go out, you can always order from their room service menu which features a wide variety of international dishes that will be delivered right to your door.
Chamas Churrascaria BBQ experience
Arabic mezze
sushi and sashimi
breakfast with a view from Selections restaurant
Belgian Cafe dinner – pork belly and Wagyu burger
We were glad we arrived on a Saturday as we got to experience the hotel's Marina Brunch, sampling different dishes from the restaurants while enjoying the view of the boats on the Marina. As you can see, there's no shortage of dining options at InterContinental Abu Dhabi. No matter what time of day or night it is, you'll always find something to eat.
Swimming Pool
The pool is located on the 3rd level of the hotel building. It's a spacious pool where you can go for a casual swim or just take a dip to cool off.
Note: They also have another pool in the Bayshore area.
enjoying the pool
main pool of the InterContinental Abu Dhabi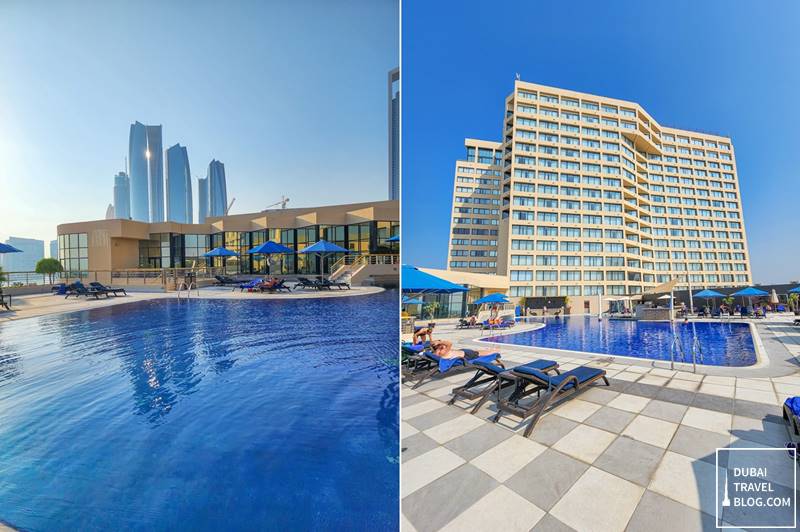 swimming pool
The Bayshore Beach Club Access
We were pleasantly surprised to know there is a beach area just a few minutes' walk from the hotel. If you are a hotel guest, you get access to Bayshore. This is an urban resort with a secluded private beach, tropical gardens, and a selection of pools for visitors of all ages, Bayshore beach club with its south aspect ensures the sun all day long is the place you deserve to enjoy.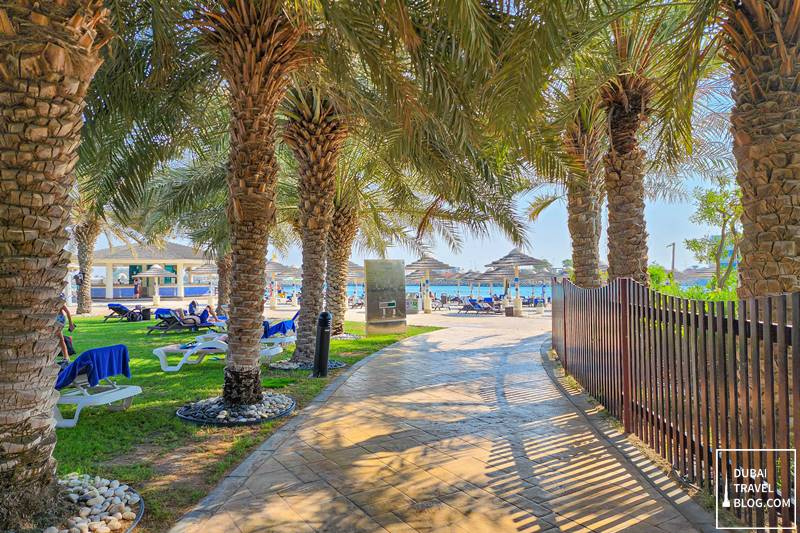 Bayshore beach club
beach at Bayshore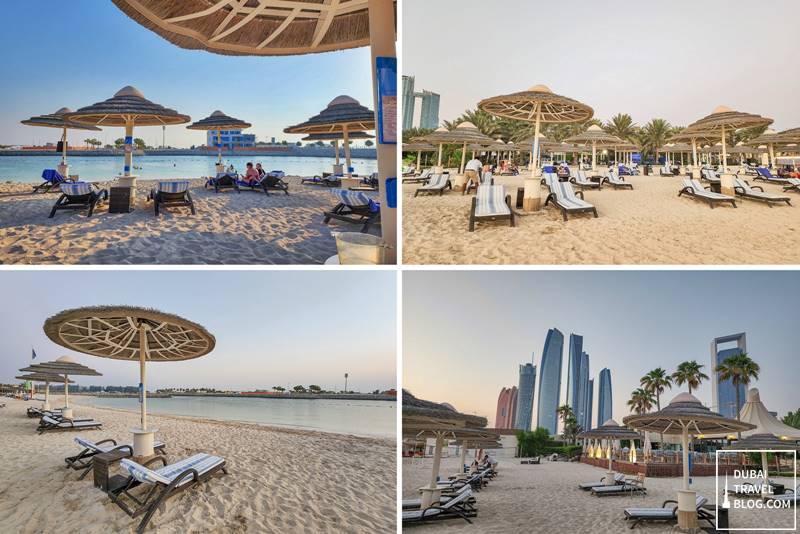 great place to swim
night swimming at The Bayshore pool
Gym & Fitness Center
The gym and fitness center are equipped with state-of-the-art facilities. There's a wide range of cardio and weight training equipment available. You can run on the treadmill while having a view of the marina, too.
gym with a view of the marina
spacious gym and fitness center
Spa Services
The hotel also has a spa where you can enjoy different treatments such as massages, facials, and body scrubs. You need to call in advance in order to book a treatment.
Wet Area Facilities (Steam, Sauna, Jacuzzi, Cold Plunge)
There are separate men's and women's wet area facilities available. The wet area facilities are located next to the gym. The sauna, steam room, and Jacuzzi are perfect for relaxing after an exercise. They also have a cold plunge pool where you can dip yourself for a few minutes for optimum recovery after an intense workout.
steam room and sauna room at the male spa area
jacuzzi, cold plunge pool
106 Photos of InterContinental Abu Dhabi
Check out this photo album of images during our staycation at InterContinental Abu Dhabi experience below:
Video: Staycation at InterContinental Abu Dhabi
Check out this video clip of our staycation experience to give you an idea of what to expect when you check into this hotel:
Summary
The hotel has been around for quite some time, but it has been well-maintained. The rooms are spacious and the beds are comfortable. The staff is attentive and they offer great service. There are plenty of dining options available, as well as a gym and fitness center for those who want to stay active during their stay.
Overall, our experience at the InterContinental Abu Dhabi was great and we would definitely recommend it to others looking for a luxury staycation in Abu Dhabi.
sunset view of the marina

night view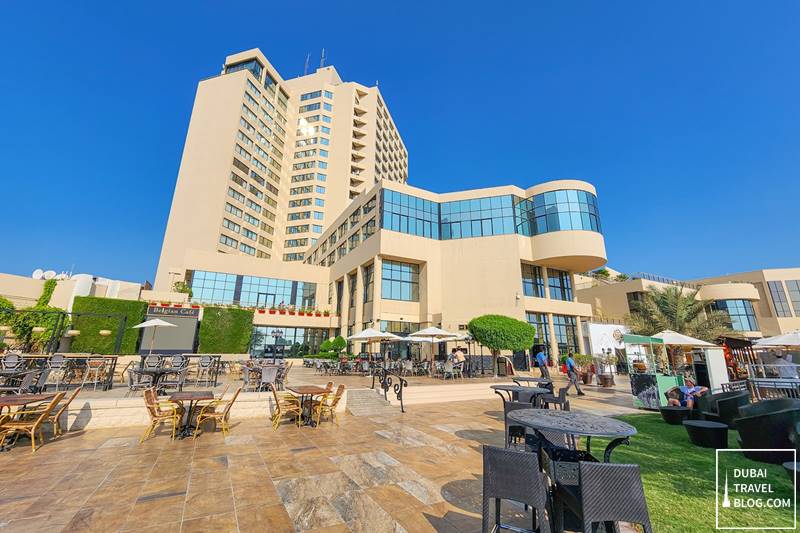 InterContinental Abu Dhabi staycation
Contact Information
InterContinental Abu Dhabi
Address: King Abdullah bin Abdul Aziz Al Saud Street, PO Box 4171, Abu Dhabi, UAE
Telephone Number: +971 2 666 6888
Website: https://abudhabi.intercontinental.com/
Instagram: @interconad
Facebook: @InterContiAD
Google Map Location
Please see the map guide below of the location of InterContinental Abu Dhabi: